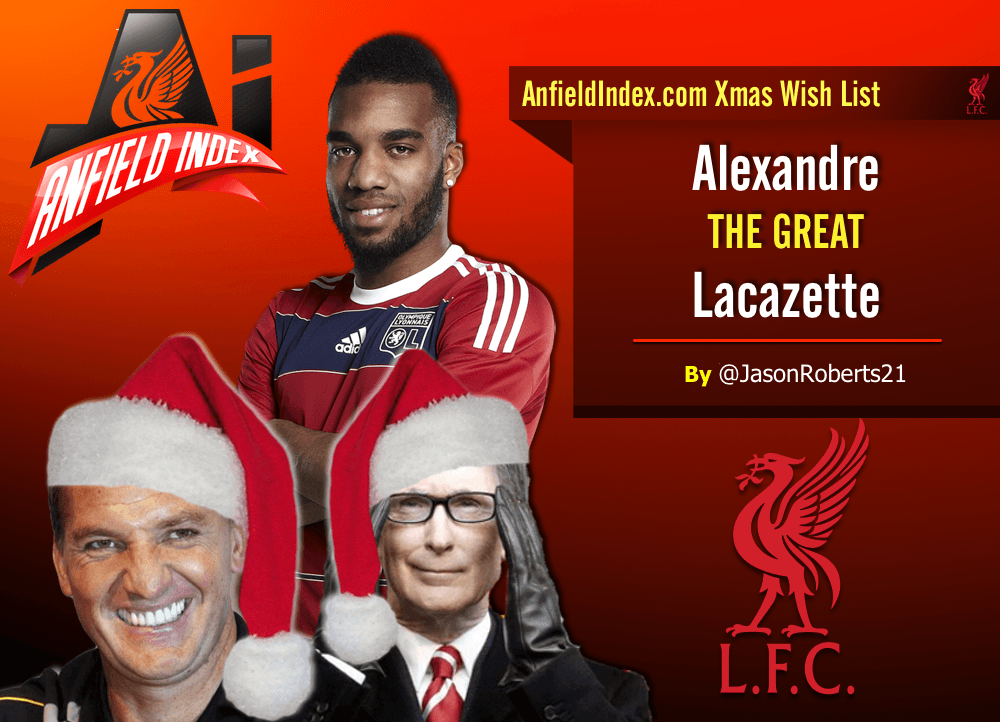 Alexandre 'The Great' Lacazette | AI's Christmas Wish List

Possessing the ability to score a wide variety of goals, tenacious, direct, a good dribbler, able to play in a number of attacking positions …. A fighter. Now you could be forgiven for thinking that I was talking about a certain Uruguayan superstar whose absence from our football club continues to bring a tear to many a supporters' eye. But I'm not. Whilst King Luis is arguably irreplaceable individually and it would be naïve to suggest that one player alone could bring to the team everything that Suarez did at the level that he did it, it would be equally naïve to suggest that there aren't players who posses similar qualities and characteristics that would benefit our team. Players who would allow us to play the expansive, electrifying football that carried us on the crest of a wave last season all the way to the gates of the promised land. They do exist, they are attainable and one such player who encapsulates all of the qualities listed is Alexandre Lacazette.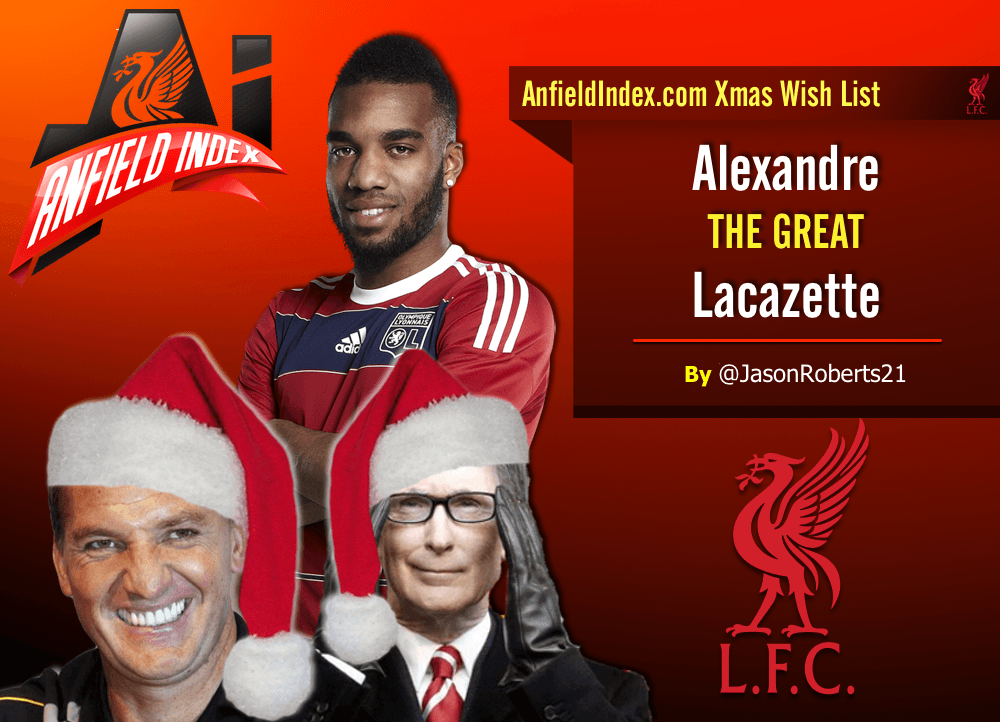 Up until the summer of 2014 many Liverpool fans didn't know who this man was and even now some would recognise his name but won't have seen him in action. In terms of reasons why he'd be perfect for us, this actually represents a significant one. Why? Because whilst his stock is rising with each passing game, he is still regarded as a relative unknown quantity – a hidden gem if you will – who has yet to be snapped up a European giant and has yet to cement his place as an integral part of the French national team. I say yet as it is only a matter of time before both happen. With that in mind, now is the time to make the move for him whilst he would be debatably affordable to us, before his inevitable elevation to superstardom takes place and we are left wondering "what if?"
So, a bit of background information on him for the uneducated – Lacazette is a product of the Lyon youth system who has been highly rated within French football and touted for big things since playing in their youth team from the age of 16. Having represented his country in each youth age group, his crowing glory came in 2010 where he scored the winning goal in the UEFA European Under 19 Football Championship Final in a 2-1 victory against Spain. In that same year he made his debut for the Lyon first team. Being utilised as a winger predominantly in his first few seasons in the first team, his goal record didn't make for the greatest of reading (16 goals in 92 appearances being far from prolific) . However, similar to a certain Thierry Henry, his time on the wings has been extremely beneficial as it gave him the opportunity to utilise his speed and creativity, whilst gaining first team experience and enhancing his technical and tactical prowess. As a result he matured into a key senior player and began playing as a striker for the club in 2013 to great effect, leading to a far more impressive return of 36 goals in 75 games (at the time of writing) from the start of the 2013/14 season.
However the stats only say so much. To truly appreciate a player, you need to see him in action. And believe me, when you watch Lacazette, the chances are you won't forget him in a hurry! As hard working without the ball as he is with it, the lad never stops moving. When the opposition has the ball he's busy closing them down, harassing them, pressing them, not giving them a moments rest. When his team mates have the ball, he's occupying defenders, dragging them out of positions to make space for his team-mates and – most importantly for a striker – he's also making dangerous runs into key goal scoring positions for himself. But don't be fooled into thinking that this man needs goals laid on a plate for him, quite the contrary in fact! Lacazette is building a fine reputation for his ability to score a variety of goals, from long shots to cute finishes to scrappy goals. Although predominantly right footed, he is also very comfortable using his left. In fact, his only "weakness" is his heading.
---
Video exhibiting Lacazettes goals made by Marvellous Comps on YouTube:
https://www.youtube.com/watch?v=vtK48nYgWvY
---
So, where would he fit in in our current set up? From an attacking perspective, anywhere you bloody like! Want to play 4-3-3? He can be the main man up front or cut in from a wing to support the other striker. Need a lone front man in a 4-2-3-1? Yep, he's more than comfortable playing that role too (he's played this role frequently for Lyon). 4-4-2 in any variation? He'll enjoy playing on the shoulder of the defenders and accelerating through on goal, or he'll happily drop deep to support his partner, creating chances and shooting from distance.
Since the departure of Suarez and the continuous absence of Sturridge through injury, we have completely lost our verve. The explosive, high octane football that became our identity last season has been replaced by passing without penetration. We are currently unable to fly out of the blocks from the first minute because we don't have the personnel up front to allow us to do so. We are totally restricted and have suffered as a result. But if we bought Lacazette, we suddenly have a player who adds that missing ingredient and would allow us to regain our identity. Sterling and Coutinho would have someone new to play with who is on their wavelength. Balotelli and Lambert would have someone doing the running form them, taking the pressure off and allowing them to concentrate on scoring. Sturridge (when fit) would have someone to interchange with, to swap positions with and keep defenders on their toes. And Rodgers would have a player who will give everything for the cause and allow him to be flexible with his tactics both pre-game and in-game.
I mentioned that the summer of 2014 is when many would have first heard about Lacazette. This was because Newcastle (whose scouts seem to be permanently based in France) were heavily linked with a move for him. Then as the window progressed and our pursuit of a striker continued to frustrate, we too were linked with him. At that point the fee being speculated to acquire his services was somewhere around the £13m-£15m mark. He has since signed a new contract at Lyon and has continued to impress, therefore you can safely assume that he'd cost £20m+ to prise away from them. Big money for a player currently plying his trade in a "lesser" league? Maybe. But at 24 years of age, possessing all of the tools that we are currently crying out for in a striker, with Champions League experience under his belt and having broken into the senior French team in the last 18 months, the skies the limit for Alexandre The Great.
If we're looking to invest in another attacking player – and there's no doubt that we should be – then our committee doesn't need to look any further than this man. Liverpool FC desperately needs an injection of adrenaline, and Lacazette is the shot in the arm that could restart its heart and give the team a new lease of life.