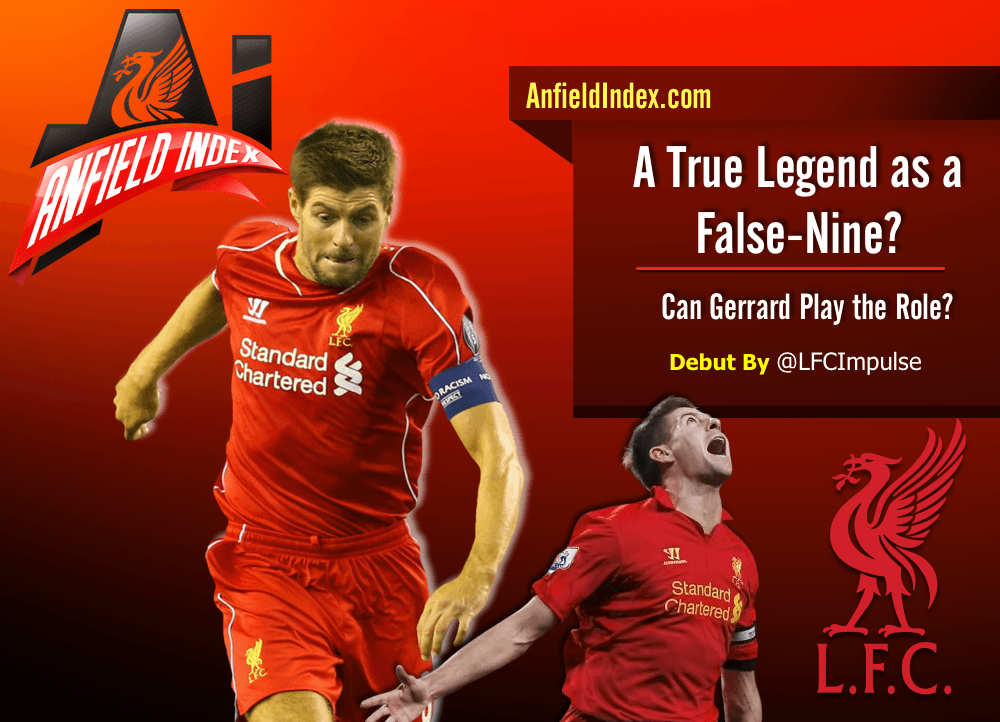 A True Legend as a False-Nine? Can Gerrard Play The Role?
Who needs a history lesson these days, especially as an article opener, right? Pfft. Let's fast forward to the end of the summer of 2014 – past the shambles of Woy, the overly-domestic Kenny, and the brilliance of 'SAS' along with another 2nd place finish.
To a time where only half of the feared 'SAS' duo remained, with the other heading over to sunny Spain – Barcelona, to be exact. To a time where football veterans reunite with their boyhood clubs; an Italian rejecting a return to Italy; while on the other end of the Italian spectrum, a "calculated risk" chose NOT to stay in Italy.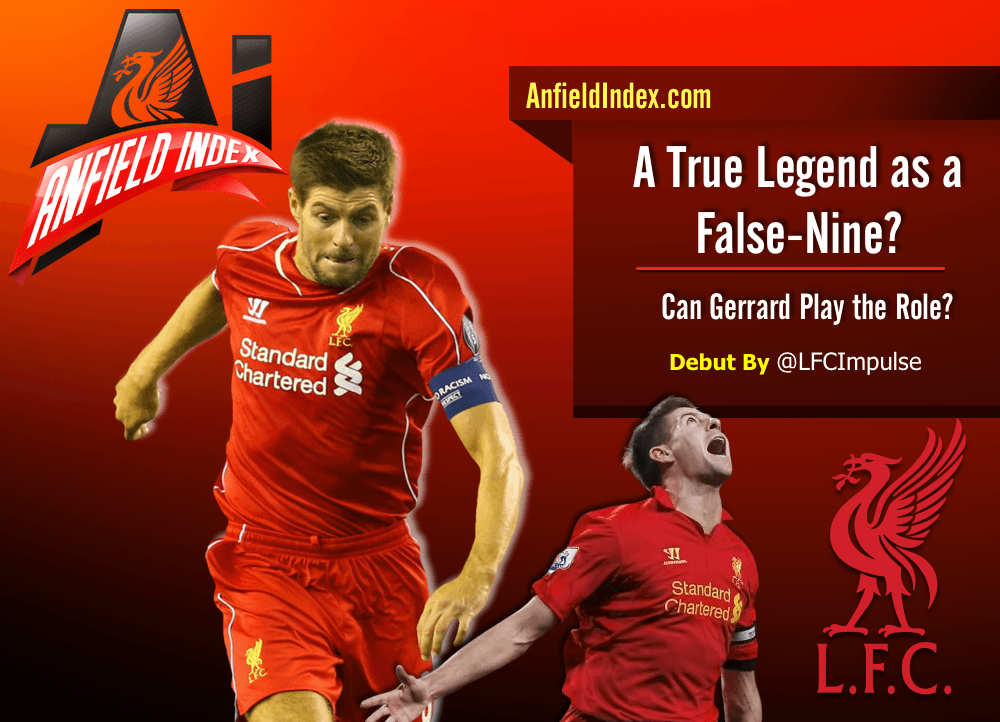 However, the dawn of the new season started off pretty well, despite a revamped strike-force. Come the end of August, Liverpool scored another 3 goals past Tottenham, and that's when the cheers begun, and the unwavering hope remained. "We are Liverpool….Trala-la-lala!" echoed and the "Watch out for Liverpool!" tweets were, well, tweeted.
But boy how wrong most of us were as we quickly realised that the initial hype was short-lived. Back-to-back injuries to Sturridge, followed by an injury to Balotelli whilst training with the Italian national team just a few weeks later spelled disaster.
And just like that, our third-choice striker in Rickie Lambert became a forced inclusion into the starting line-up on a weekly basis. Reason all you want, but all sugarcoating and sentiments aside, he hasn't been good enough. It's harsh, but there's no denying that it's a fact. Oh, and when poor ol' Fabio's not on the bench, he's usually left out of match-day squads altogether. So without Sturridge and Balotelli, are Liverpool confined to only Rickie? Is Lambert really all we have?
Well, there is an alternative – and that man is Steven Gerrard.
After weeks of stubbornness and persistence, Rodgers finally realised that Gerrard should be utilised for his attacking abilities a lot more. With the switch to a free-role behind a main striker, glimpses of the "old" Gerrard started to show. In fact, some of his better games were from him being in a more advanced role – against West Brom and Leicester in particular – and that's where the case for Gerrard playing as a false-nine shall begin.
What is a 'false-nine'?
A 'false-nine' is a rather modern role which shifts away from the conventional paradigm, whereby the line-up is normally spearheaded by an outright striker or two. Instead, teams running a false-nine would drift away from the norm in favour of having an attacking midfielder (typically) as their 'striker'. A notable example of this is Francesco Totti being used as a false-nine for AS Roma, or Cesc Fabregas in Spain's set-up. However there are cases where a versatile forward would play as a false-nine, like how Pep Guardiola deployed Lionel Messi in that role.
By-and-large, the false-nine plays deeper than where an archetypal striker normally would, but it's still dependent on the type of player being used. A false-nine like Messi still plays within the vicinity of a second-striker at the very least, while Fabregas tends to drop a lot deeper down the pitch. Regardless though, due to having an attacking-minded player who has the freedom to pull-away from the opposing defensive line, multiple objectives can be achieved.
(The drifting-away of the false-nine from the orthodox centre-forward spot – as highlighted in the red rectangle. The yellow arrows indicate where a false-nine can drift off to, which means that the zone that defenders have to cover can potentially overlap with full-backs, or even with midfielders.)
First and foremost, an additional player is made available to ease and facilitate the offensive build-up by opening himself up as an extra passing option as he closes the gap between the forward line and the midfield. This comes from the extra bit of freedom to either drop deeper or to pull wide to link the play.
As the false-nine drops and/or drifts away from the final third, it leaves defences wondering as to who is suppose to track such unorthodox movements. Should the back-line follow the false-nine into midfield, or should they maintain their defensive line and let a midfielder pick him up? The former would leave a gap in their defensive third, but the latter means that they'll be a man short in the midfield contest, ultimately distorting marking set-ups and systems.
Almost simultaneously, the spot up-top is being made void by the dropping of the false-nine coupled with possible positional errors by defenders may lead to space in final third areas being created. These gaps invite the exploitation of runs in behind, and past opposing defences – be it by midfielders who are aggressive enough to push up and intelligent enough to run into channels; but especially by wing-forwards from wide areas who are keen to get into central areas.
Now for the false-nine himself: he may operate like a target-man would – receive an inbound pass, and make the outlet one which usually helps in an attacking build-up, but can also lead to chances being created – but in a deeper position on the pitch. Otherwise, he may deploy his abilities to resemble a centre-forward, which is to say, making darting runs at defences with or without the ball, or to make use of his finishing capabilities.
However this is not where the full-stop comes into play in terms of how a false-nine can be played. The added freedom in terms of positioning and the types of players being used as a false-nine means that a vast variety of roles can be played out, making use of the many abilities that player may possess.
"Oh shut up already! Where's the part about Gerrard?!"
– Yes, yes. I'm getting there!
The Case for Gerrard
Steven Gerrard's attacking prowess doesn't require any recognition – from his long strides to get to the end of through-balls, to his crossing abilities (even with the outside of his foot!), to his set-piece mastery, and let's not forget, his long shots which have been dubbed as 'screamers', 'thunderbolts', or even 'crackerjacks'!
However, what you'll find in the 34-year-old version of Gerrard is somewhat the same as above, but stripped of (some) pace, consistency, and intensity throughout the full 90 minutes. The free-role currently being enjoyed by Stevie keeps him a lot fresher and energised as he isn't chained to defensive duties full-time. But on the flip-side, this implies that additional work has to be done by the midfield unit.
By being a false-nine, Gerrard takes up a striker's spot instead of a midfielder, and without sacrificing a midfielder in the line-up, it allows for the midfield core to be remain solidified. In Liverpool's case, the three-man midfield being used by Rodgers will remain intact. A potential line-up which implements the above is as follows (keep in mind that this is without the likes of Sturridge and Balotelli):

(Gerrard as a false-nine, as highlighted in the red circle. The yellow arrows and the area within the yellow rectangle representing the areas in which he can potentially drift-off to, while the red rectangle shows the area he may still roam around in.)
By virtue of him staying higher up the pitch – receiving the pass in central areas in between the halfway line and the final third – Gerrard is able to act as somewhat of a pivot which links the midfield and the attacking line. This makes full use of his attacking awareness which seems to cover almost 360-degrees, allowing the (oh-so-familiar) diamond midfield to take its shape on the pitch (as seen above), with an offensively-intelligent player in Gerrard taking up the onus of being at the tip of the diamond to either initiate attacks, or to be part of it.
His ability to read the runs of his teammates and pick them out has never been short of pristine, seeing that he is one of the best when it comes to executing a pass. This is even more so when it is to thread the perfectly-weighted through ball for a runner to get on to – like how he did with Michael Owen, and Fernando Torres.
(A simple illustration of how Gerrard can drop from a typical centre-forward spot, as per the yellow circle; and how much space is left up top for midfielders or wide-players to run into – as represented with the white rectangle and the white arrows respectively. The black arrows, finally, indicates the passes that can be made into the space created.)
This is not to say that through-balls are his only forte that can be utilised. Dropping deeper from the typical striker's spot on the pitch advocates other players to push up as well, such as full-backs (Alberto Moreno in particular) or players playing wide (be it Lallana, Sterling, or even Henderson who tends to drift wide-right), where his pinpoint, diagonal passes can open up the pitch, stretch defences and ultimately, create space.
(Another simple illustration which shows that players in wide areas, represented by the white rectangles, may also be beneficiaries when Gerrard plays as a false-nine, acting as a pivot higher up the pitch.)
Passing aside, to deploy Gerrard as a false-nine would mean that he'll be playing a position that's within the final third of the pitch and inevitably, closer to the opposition's goal. This advocates the use of his finishing abilities, that is, when he's not (and I repeat – when he's not) taking forced, overly-optimistic long shots.
Many argue that Gerrard is one of Liverpool's best finishers and even more so when complemented by his instinct to make the short bursts into attacking positions. Bar Sturridge and perhaps Balotelli, Gerrard is the most natural finisher that Liverpool has at the moment, given the array of techniques he has at his disposal that we've seen over the years – be it to slot away the ball, hit a first-time placement shot, or to just stick his laces in it.
With all of that said, the long and short of it all is that the case for Gerrard as a false-nine would be:
To maximise what he brings to the team while on the ball – passing, through-balls, shooting, and even crossing abilities – but without forfeiting the extra midfielder which is a key factor to Liverpool.
To omit him from being an integral part of the defensive system, where his weaknesses in that department become evident.
To facilitate a more fluid and purposeful attacking line-up, rather than to just play long-balls to Rickie Lambert, or to force attacks through Sterling and/or Coutinho.
Even so, a pre-requisite pertaining to Gerrard that still holds true is the fact that the number of minutes he plays has to be well-managed. In order for him to stay sharp and effective, Gerrard simply cannot be playing the full 90 on a regular basis, but instead needs time to recuperate and to stay fresh game in, game out. But all-in-all, it would seem like a fool-proof way to "solve" Liverpool's toothless frontline has been found, but let's all be extremely blunt – no one has; not even Rodgers himself!
But would it really be the worst thing in the world to play with ZERO strikers in favour of a change that could potentially lead to a line-up which advocates more fluidity, more purpose, with less rigidity, and less predictability?
Well, as long as Glen Johnson starts, nothing can be worse than that!