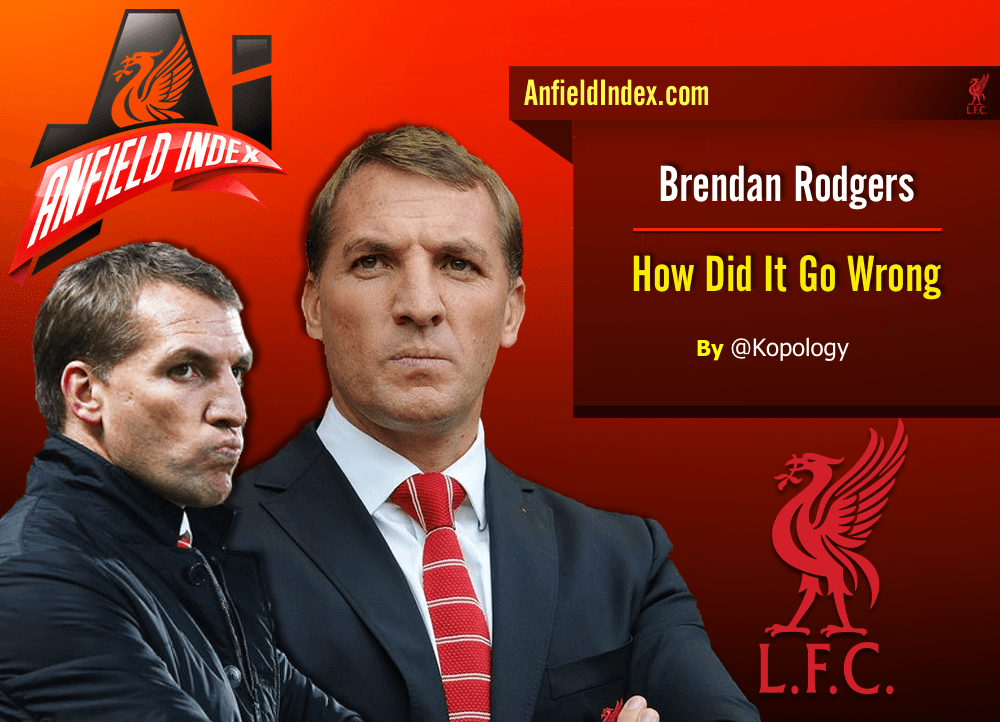 How Rodgers Went Wrong

If you've ever read any of my football writing you will know that I've been a huge supporter of Brendan Rodgers. You might have also noticed that I tend not to refer to myself in articles that I write, until now. I generally refrain from doing so for a few reasons. The first is that I think mentioning myself in an article about something to which I am not of central importance is somewhat hubristic and unnecessary. Another is that I was taught that to say "I think" has a similar effect to breaking the fourth wall in film, detracting from the tone and pace of the writing and lifting the reader out of the ideas expressed. The final and most important reason is that by making a point of categorising your opinion as merely your opinion you diminish the authority of your prose. The first tip I'd give any writer is to never say "I think Brendan Rodgers is an intelligent manager" and instead say "Brendan Rodgers is an intelligent manager". Anyone who doesn't understand that what they're reading is opinion need not be catered to, and if you are not sure of your own opinions how can you expect anyone to invest time in hearing them?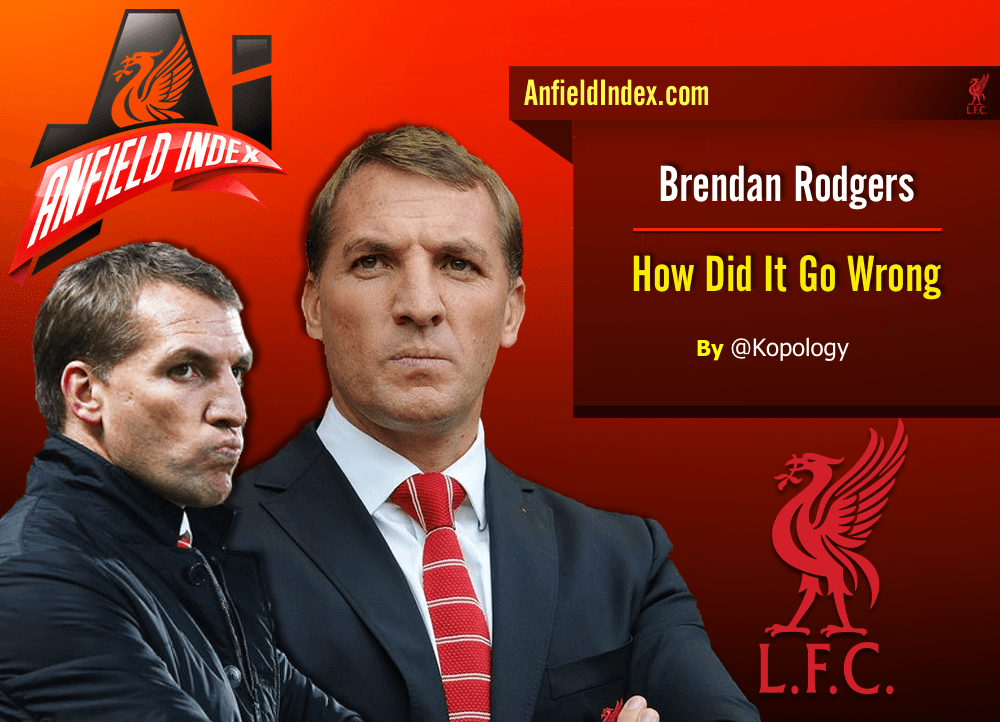 Of course, the flipside to writing with conviction is that you leave yourself no leeway. When you say "this is how it is" you pin your opinions to the wall and live and die by their longevity. Which is why in this article I must reference myself so heavily.
When Liverpool finished second last season, scoring a century of goals as I predicted they would, I was admittedly pleased with myself. Having seen what I thought was great potential in Brendan Rodgers and several players at his disposal, and predicted that, despite a rocky start, they would achieve great things, the side's second place finish gave me huge confidence in my own judgement. To an extent, I was right: we did score 100 goals playing some great football and finished far higher in the league than almost everybody else thought we would. I'd like to think that those predictions were the result of a sound football knowledge and critical thinking, but the truth is that I didn't see the downturn this season coming. In hindsight, I think it is fair to say that I believed my own hype. I'd made wild predictions and got them right. I could see Jimmy when so many others were blind to what was coming.
There's a reason that phrases like "believed their own hype" and "pride comes before fall" exist. Acknowledging that pride does often precede a humbling doesn't mean there wasn't some cause for that pride in the first place. The pride/fall juxtaposition suggests that success can lead to taking your eye off the ball and forgetting what it was that made you successful in the first place. An opinion or talent initially formed via critical thinking or hard work can easily become blind faith or complacency, which can prove fatal when circumstances change, necessitating a rethinking.
I'm surprised more people didn't pick me up on my lack of conviction (or, perhaps, extravagant flip-flopping) last summer. At one point I was aghast at our transfer dealings. Then, later, I did my best to rationalise our signings, telling myself that this manager that had repaid my faith had proved that decisions the fanbase had perceived as foolish were actually genius, and that my doubts were more likely due to my failings than his.
As football fans we are bound to subjectivity because by definition we so badly want certain possibilities to be true.
I'm reminded of a poet called Han Shan who, in fearing that the opinions of his readers would influence his writing, climbed up into the Himalayas where he could pen his stanzas onto the side of mountains to keep them true and away from the judging eyes of others. The flipside to Han Shan are writers who write only for money, in the pursuit of popularity or those who fear being proved wrong, so perpetually sit on the fence.
Like writers, managers must have belief in themselves if they want anyone else fwillto believe in them, and like writers, managers can believe their own hype and become lazy in their work.
For anybody who saw great things in Rodgers' work last season to completely write him off now would be foolish. He is still a young manager who has shown great coaching ability, periods of tactical nous and, when he wants, excellent man management. To claim now that he is totally useless when you were full of admiration towards the end of last season would indeed be fickle and lazy. As someone with a tendency towards Marxism I'm inclined to look at this conundrum dialectically, which in real people's terms means to take two apparent contradictions and from them extract a truth, or synthesis.
Rodgers *did* do brilliantly last season, regardless of how good Luis Suarez is. He *did* have us playing some wonderful attacking football and he *did* have the players (on the whole) firmly on his side and full of confidence. Anyone denying as much is engaged in agendas and revisionism. Yet, now, he *isn't* performing well, our football (both in attack and defence) *is* woeful and Rodgers seems to have morphed from everybody's best friend to a spiteful pedant in a matter of months. If both of these perceptions are true, then what is the key factor that combines the two? How do we synthesise these two realities? Is it as simple as Suarez making Rodgers look good? If so, why didn't he do the same for Dalglish? Why don't Uruguay win every international competition? Football is a team game, so only a philistine would believe one world class player could drag a team led by a poor manager to second in one of the most competitive leagues in the world.
I think it's fair to say that myself and others – in truth, most of us by last April – went overboard in our evaluations of Rodgers last season, but he still did a lot right. Of course, it's easy to keep players and the media happy when things are going right, and perhaps we should be as suspicious of our perceptions now as we should have been six months ago, but there is also clear evidence of a change in the way Rodgers is going about his work.
Purists like me have long criticised traditional English coaches for their emphasis on "passion", so during his first two seasons Rodgers' emphasis on technique and tactics were music to our ears. More recently we've been subjected to a Stuart Pearce-like symphony of praise for the character of a team that has shown little fight, along with a borderline delusional insistence that performances have been "outstanding".
When Rickie Lambert was initially signed my initial reaction was disbelief before the general consensus persuaded me that at just £4m, the veteran Scouse striker was a clever purchase whose desire would make up for a lack of pace. In reality, it's hard to understand how such an immobile 32-year-old could ever fit into the forward line of a manager who used to speak of "intensity" and "movement" to the point that he was mocked for it.
With Lambert came Dejan Lovren and Adam Lallana, the latter whom I think is a good technical footballer but worth nowhere near the £25m we paid for him at 26 years old. Lovren has been a complete disaster, solidifying the common belief that while Rodgers remains a good attacking coach, he has a blind spot when it comes to sound defensive players and how to organise a watertight backline.
Suarez didn't totally obscure reality last season, but alongside Sturridge (who, were it not for Suarez's brilliance, would have been recognised as having an amazing season himself) and the youthful phenomenon that is Raheem Sterling, he largely negated the woeful state of our defence. You'd be hard pressed to find a Liverpool fan who didn't think the defence was horrible despite a second placed finish, and most of us assumed that Rodgers' priorities would be to bring in a dominant defensive midfielder and solid centre back over the summer. Suarez would leave taking his mastication and racism with him, but a solid core could make up for what we would lose in attack.
Having pursued Willian, Henrikh Mkhitaryan and Diego Costa the previous summer Liverpool fans could be forgiven for salivating over the prospect of new arrivals drawn by the newly acquired lure of Champions League football. But instead of stepping the recruitment efforts up a notch, a lesser calibre of player was brought in. Willian, Mkhitaryan and Costa were three players regarded as top class but not yet at top class sides; the exact kind of astute signing you'd expect from a club aspiring to compete at the top but not quite there yet. All three moved to top draw Champions League sides, yet 12 months later Rodgers was shopping almost exclusively at Southampton, and not even in the luxury aisle.
Rodgers' tenure has been rife with debate and conjecture over where the lines of committee recommendation and manager decision meet. On the back of last season's relative success, it would seem logical that the manager was given more control over signings last summer, and none of Rodgers' comments suggested that any purchases had not been his choices.
So why did he opt to sign a clutch of players that all still had a lot to prove at the exact time when Champions League football meant we could finally attract genuine quality? The only explanation I can think of is that, high on his own hype, Rodgers believed that the huge overachievement was down to his talent as a manager, and that he could create brilliant players and a brilliant team from components not yet deemed brilliant in their own right. In short, Rodgers believed he had the Midas touch, and that might well explain why he has been so stubborn this season, too.
Most fans accept that managers need to believe in themselves to be successful. While Socrates was right in saying that true wisdom lies in an awareness of what we may not know, too much uncertainty can render you impotent. So far this season, Rodgers could have done with a little more self-doubt. Lovren was an obvious liability long before Rodgers hauled him out of the side, and his stubborn refusal to drop Gerrard became an embarrassing case of The Captain's New Position; see-through to all but the most sycophantic fanboys while the rest of us pointed and said "he's past it".
Rodgers' singings and selections have increasingly looked like the decisions of a man lacking a sense of security and looking to surround himself with 'yes men', either through youth (Moreno, Markovic, Can), gratitude (Mignolet, Lovren, Lallana) or loyalty (Gerrard, Skrtel). Simultaneously, players with a mind of their own like the popular Reina, principled Sakho and determined Borini have all been sidelined for not bowing to Rodgers' authority. Alienating Borini, particularly, has made Rodgers look weak. Telling a footballer he isn't in your plans is one thing, but a strong manager does that through talking, allowing the player to believe he can change your mind and try to prove you wrong. Excluding a member of your squad whose only sin is to want to play for a top side not only shows your hand, but reveals a spiteful insecurity as well as a desire to put one's own ego above a great club that does not belong to any one individual, let alone a young manager who has won nothing.
We all make mistakes. Sometimes we get ahead of ourselves, and that has applied to the people who have achieved the greatest things in life as well as football managers and irrelevant football bloggers. The important thing is to know when to have a word with yourself, self-examine and aim to come back better, stronger, and maybe a little less arrogant.
Brendan Rodgers is still young. He's still the manager of a magnificent football club. Despite the dramatic decline this season, he still has time to make fools of us all. Pointing out that Alex Ferguson took six years to win the title at Man United has become football's version of Godwin's Law, but that doesn't make it any less true. Of course, football has changed a lot since then, and Rodgers won't get the same patience from FSG, let alone the fans.
I was convinced Rodgers was the real deal. That confidence has been badly shaken. Having backed him so strongly I'd be a fool if I didn't reassess my belief in my own perception too. But if you're still reading, maybe I've still got something in the locker, and maybe Rodgers has too.
If not at Liverpool, Rodgers will be a big success somewhere, someday. That I'm still sure of. I desperately want it to be in L4.