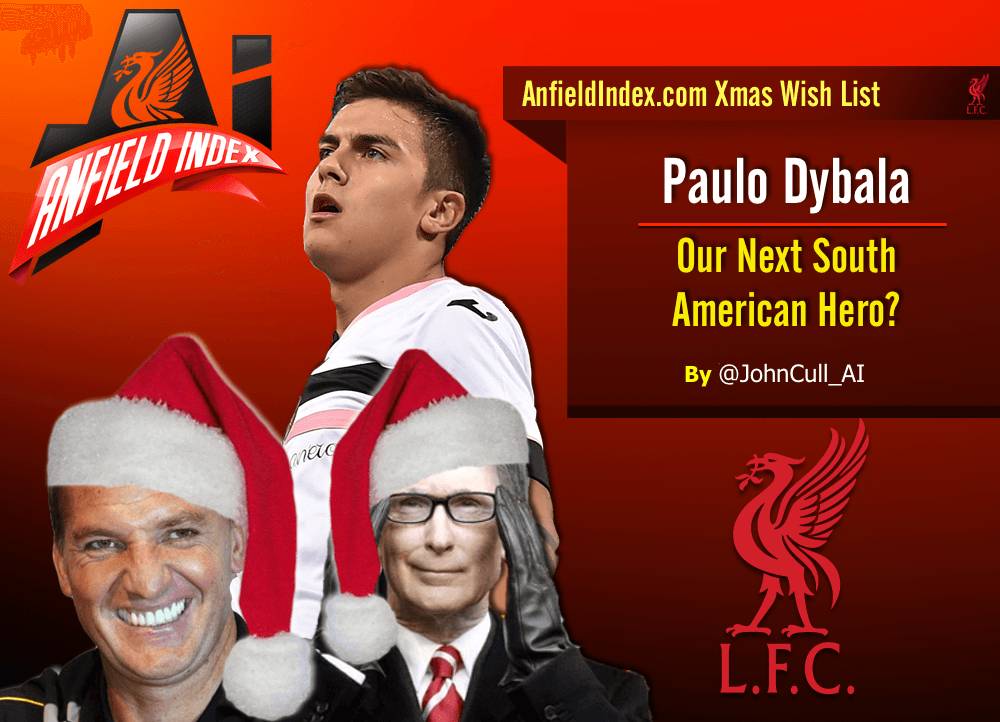 Paulo Dybala: Our Next South American Hero? | AI's Xmas Wish List
ALL I WANT FOR CHRISTMAS IS GOALS!
Because the team is certainly missing them. A far-cry from the inevitable blitzkrieg of net-bulgers in the 2013/14 season, this current Liverpool team struggle to hit the proverbial barn door this season. Of course losing the talismanic Luis Suarez to Barcelona didn't help, nor the four-month long injury to his previous sidekick Daniel Sturridge, nor does the unreliability of the enigma that is Mario Balotelli help the team's goal crisis. Liverpool are then left with the incessant starting of the supposed fourth-choice 32-year old target man Rickie Lambert. Now it would be unfair to criticise him as he does possess his own traits and qualities suited to a certain set-up, however, if he applied for a position in Liverpool's 2013/14 strike-force, he would be laughed out the Melwood door by Brendan Rodgers and co. So maybe it's time to go back to the high-pressure, lighting fast, goal-scoring forward game that brought the team so much success last season?  Maybe it's time Liverpool's recruitment team got their pro-active hats on in searching for the next fast, intelligent, workman-like goal-machine that broke Kopite hearts during the summer?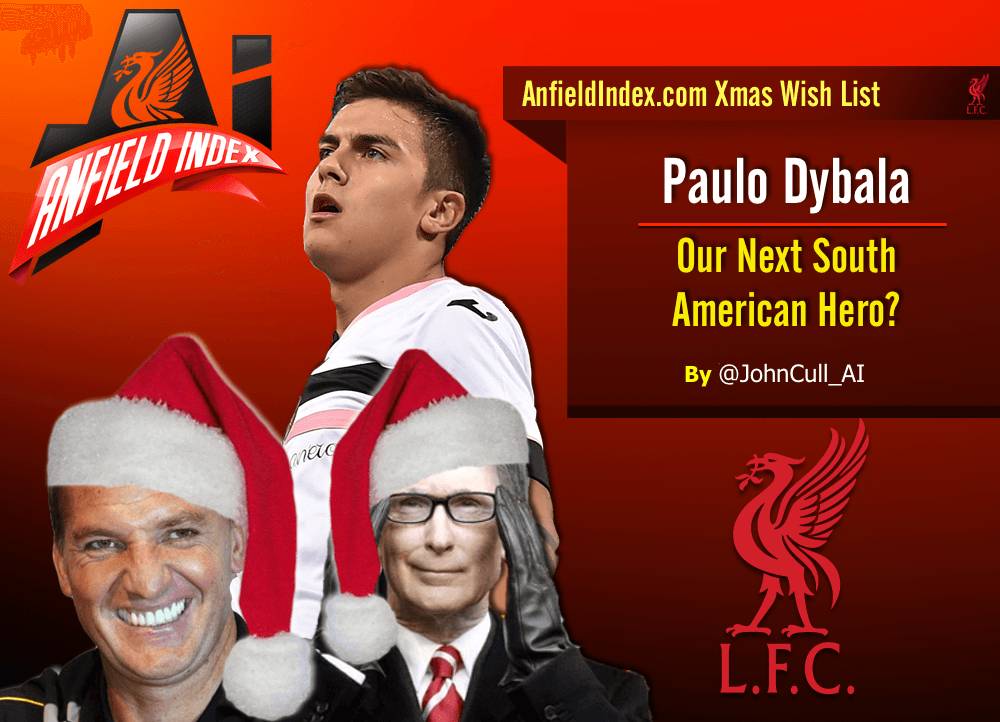 Introducing Argentina's and Palermo's Paulo Dybala
Dybala began his career at his local club in Laguna Larga before later joining the youth system of Instituto de Córdoba. Following the death of his father at the tender age of 15, Dybala moved to Córdoba permanently and by the of age 17, he was ready for the first team where he became the youngest player ever to score a goal beating 1978 World Cup hero Mario Kempes. By the end of the 2011/12 season, Dybala had scored 17 goals in 38 appearances including two wonderfully taken hat-tricks. He subsequently then caught the eye of Palermo president Maurizio Zamparini that led to his transfer to the Italian club in the summer of 2012. Without loading the then 18-year old with too much pressure, Zamparini introduced Dybala as "The New Sergio Aguero". Whilst obviously not on the level of his future Argentinian team-mate as of yet, the gumptious Palermo president could be forgiven for making such a claim having seen the now 21-year old in action.
A typical slight-framed (177cm), low centre of gravity, South American who possesses an array of striking talents, Dybala can play in a variety of positions across the front-line. While predominantly a second-striker, you can usually find him drifting to the right-hand side where he likes to cut in onto his favoured left peg and caress the ball into the far corner of the net, as he frequently has done this season with 7 goals in 14 appearances; giving him a distinct 1 in 2 goal scoring average. An impressive feat giving his slender age and the fact he is seldom played as an out-and-out number nine.
One area where Dybala arguably beats Aguero, and undoubtedly Liverpool's former South American, is pace. Dybala has regularly left Serie A defenders for dead with his counter-attacking runs from deep, and also his intelligent off-the-shoulder accelerating bursts to latch onto penetrating through ball's, where also his cunning movement comes into play. Generally a scorer of 'the wonder goal' Dybala has no doubt added the clinical in-box finishes to his game this season. It is not all just goals though, he does his necessary share working back to help his teammates out also. Not to laud the youngster with too much praise, but he doesn't seem to grasp the concept of 'tiredness'. Now where have we heard that before?
Just gone 21, it would be foolish to expect him to be the finished article. Dybala is heavily reliant on his left foot and seems to shirk opportunities to come on to his opposite side, even when the option looks to be more prosperous; nonetheless, this is a trait which usually comes with age and experience. Despite containing some of the technical elements of his comparable countryman Aguero, he has yet to attain the physical strength which the latter has in abundance. Again, something you would expect to come with the passing of time.
So where would he fit in the Liverpool team? I have offered two possible formation scenarios where he could potentially flourish.
4-3-3
Dybala-Sturridge-Sterling
4-4-2 (diamond)
Sterling
Dybala-Sturridge.
The 4-3-3 could potentially be more favourable as having two left-footed strikers up front in a diamond system could counteract each other's qualities. Nevertheless, this front three would scare the life out of opposition defenders with the collective pace, intelligent and flexible movement and the goal-scoring potency of Dybala and Sturridge.
Whilst not a household name yet, Dybala is rapidly making a name for himself on the European stage. And though it might take a hefty fee to prize him away from Palermo, it is imperative that Brendan Rodgers, the transfer committee and whoever is in charge of scouting, takes notice of this young starlet and firmly places him on their Christmas wishlist. Before we see him jingling-all-the-way to the top in rival colours.