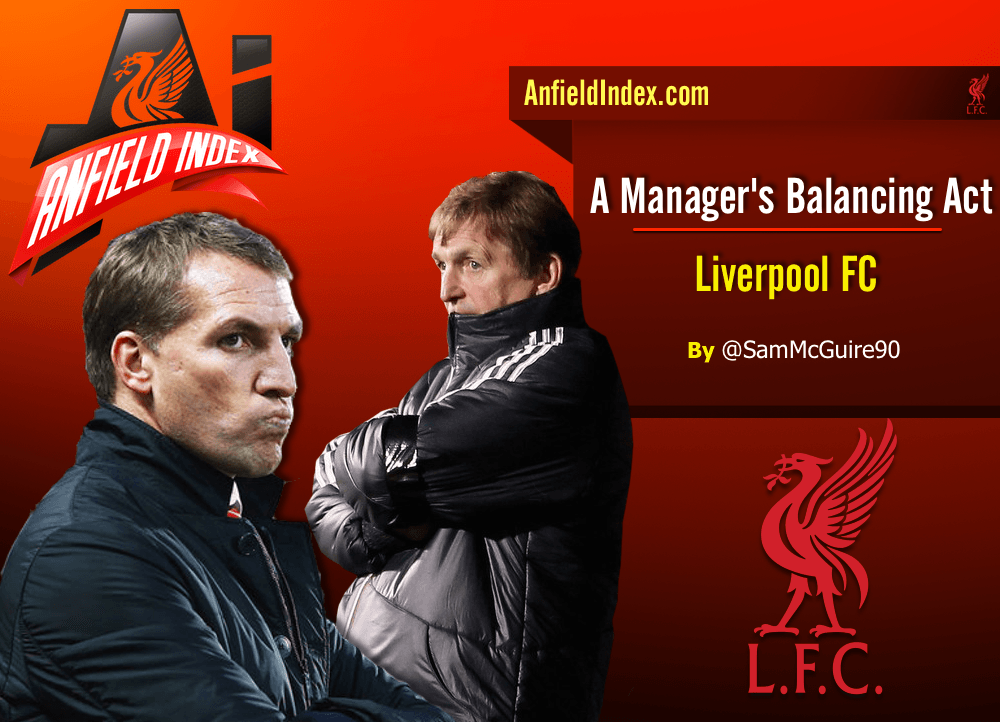 A Manager's Balancing Act | Liverpool FC
Is there a perfect Liverpool Manager?
There have been twenty two people fortunate enough to manage Liverpool Football Club. Some successful, a few who failed to live up to the high expectations of the great club, and one, to my recollection, that was disastrous.  There has been a trend amongst them all since the 1990's though: they've all not delivered the title. Whilst the club's expectations may differ from the glory days, the fans still seem in the mindset of 'Liverpool will win the league' and the 'next year will be our year' jibes from opposing fans. Is it time Liverpool fans reassess their expectations and start judging managers fairly?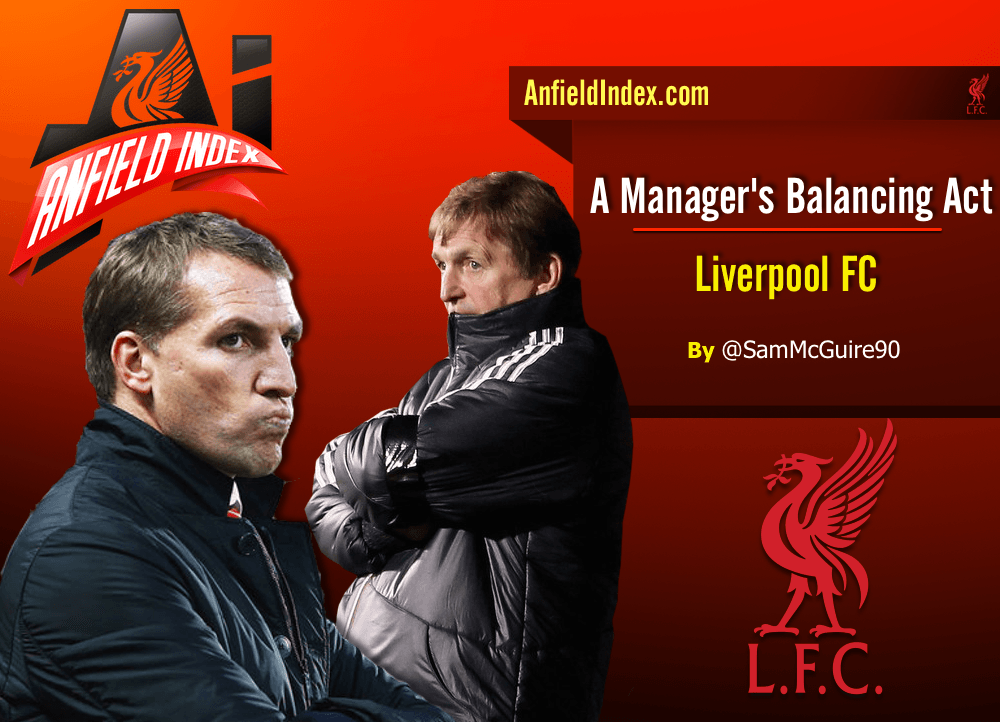 Fans want two things from their club; attractive football and trophies. Previous Liverpool managers have flirted with the idea of attacking football, but failed to deliver trophies, or, delivered trophies using defensive football, which doesn't meet the approval of some fans. It's a balancing act very few have mastered and this is why people's opinions differ on Liverpool Manager's.

Each and every one of you will have a favourite manager from your time watching the Reds. My first memories of watching Liverpool is when they tried the fateful experiment that was Evans and Houllier, as joint manager, which lasted a mere 18 games.
What followed was Houllier taking over, which the majority of the fan base envisaged as soon as that partnership was announced. Houllier was successful in terms of trophies; the treble winning season of 2000/2001, then adding the Charity Shield and the European Super Cup the following season. It was a trophy crammed few months and Houllier could do no wrong. Were we all satisfied with Houllier as Liverpool manager? No. The trophies did a good job papering over his transfer failures. Who could forget the 'New Zidane' Bruno Cheyrou? Or overlooking Nicholas Anelka to instead sign the Senegalese duo, El Dadj Diouf and Salif Diao. My Dad remembers the fact whenever he gave an interview in his final season he was forever mentioning "turning the corner" or "we've turned the corner", sentences uttered to try to give him the benefit of the doubt, and that his side would eventually come good.  You can only turn so many corners until you're back where you began!
A magnificent trophy haul, but the Premier League trophy eluded his grasp during his tenure. Houllier failed to deliver and meet the heights of the Liverpool of old, despite all those memories he left us with. The man himself even acknowledged this in a press conference leading up to his departure: "If they want to go back to the 70's and 80's they can do that but not with me." This coming from the man who delivered them five trophies in a devastating 7 month period.
Rafa Benitez arrived in 2004. He was an in demand manager having broken the oligopoly in La Liga. He spent three seasons at Valencia, winning La Liga twice; they've only won it six times in their history, the last time they reigned as champions in Spain was 1971. He topped his impressive spell off at the Mestella by winning the UEFA cup. A title-winning manager that played attractive football, Liverpool fans thought they'd struck lucky. 'The Tinkerer' was a master in knockout competition. During his time at the club Liverpool reached the Champions League final twice in three seasons, winning it once and adding an FA Cup. He gave the fans number five. Were the fans happy with Rafa? No.
What started off so well, ended in similar ilk to Houllier's time at the club. High hopes ended with disappointing league positions, poor transfer dealings and to top it off, they split the Liverpool fan base. For all the good Rafa did at the club, his poor man management of certain players, aswell as the style of play, just didn't impress fans. Xabi Alonso, a player loved by the Anfield faithful, was to be sold and replaced with Gareth Barry. In no world or universe does that make sense.  Many of his signings were ones you look back at now and go 'what could have been'.
His incessant need to buy a right-back in, as every transfer window saw him purchase the likes of Josemi, Kromkamp, Barragan, Arbeloa, Degen and Johnson. He even used Skrtel in that position a few times. He was known as an obsessive manager but that amount of right-backs, its frankly quite weird.
Then if you look closely at his tactics, during the season he guided Liverpool to a second placed finish they dropped so many points early on due to his incessant tinkering and squad rotation in the league. The now much maligned 4-2-3-1 formation was a staple of a Rafa team. Reina was always in consideration for the Golden Glove (winner for most clean sheets in a season) however, just his final season, the one following on from the summer of losing Hyppia and Alonso and replacing them with Kyrgiakos and Aquilani, you saw a different Liverpool. A 7th place league finish, knocked out of the FA Cup in the third round by Championship opposition, out of the League Cup in round 4 and being knocked out of the Champions League in the group stage, winning only two of the 6 games (one more than Rodgers many will say, but compare the sides).
People will argue Rafa never had the financial backing that other managers have had; although he did make some big signings. Robbie Keane who lasted a whole 6 months, and Alberto Aquilani.
He gave the fans old big ears for keeps, which I'm sure every Liverpool fan is eternally grateful for, he won us an FA Cup and a second place finish. At the end of his tenure many were sad to see him go but at least acknowledged the fact change was needed.
He then committed the sin of managing Chelsea, and still some Liverpool fans stubbornly reverberate the Rafa song around Anfield.
Then came along the one man that unified all Liverpool fans: Roy Hodgson. A man that endeared himself to the Liverpool faithful by saying the following:
'Liverpool aren't too big for a relegation battle'
'I don't think Torres will be the only player they'll (Man Utd) be targeting'
Good way to instil confidence and embrace yourself to the fans Roy. If any manager didn't understand the club, it was him.
He lasted six months, six months more than he deserved. The only highlight being he finally got the Liverpool fans signing off the same hymn sheet.
The Return of the King. It had been on the cards ever since the fans blasted his name out and near enough every game Roy was in charge of. Having not witnessed his first reign, I was excited to see him get Liverpool back to where they belong. He had my 100% backing for all of 23 days; it took a battering, when on Deadline Day we paid £35million for Andy Carroll.
I gave him the benefit of the doubt, who was I to question a Liverpool legend. I was told it's fine, it's not my money and the club can spend it however they saw fit. I'll admit, during his early days at Newcastle, I did say Carroll would be a good squad player to use alongside Torres, max would be £5million though.
The last man who last gave the fans what they craved, the title. The honeymoon period only lasted six months. It all looked perky when Carroll, on his debut, lashed two in against City following on from a magical Uruguayan scoring on his debut months earlier. His first full season gave us two finals, and a few days out at Wembley. But, finishing 8th, level on points with Fulham, who had the devil himself, Roy, at the helm, wasn't good enough.
To some, questioning Kenny is treason for all the success he brought the club, in the past. The Liverpool purists weren't impressed, despite his legendary status, he shouldn't be and isn't immune to criticism. He spent big on average British players and Liverpool ended the season with an embarrassing +7 goal difference.
Of all the signings under Kenny, only Henderson could be considered a success and oddly enough, the 'proper Reds' seem to not rate him. The same Reds that want Kenny back, the manager who bought him despite him not being good enough, but you aren't allowed to criticise Kenny, so by saying Jordan isn't good enough you are, by association, saying Kenny made a boo boo, right?. This is giving me a headache.
Brendan Rodgers arrived, said all the right things and made all the right noises but was immediately written off by a large part of the fanbase for being the man that replaced Kenny. Despite all the successes of last season, he has his biggest season, to date, coming up. Yes, when his team are on form they're a sight to behold. But again, questionable decisions in the transfer market have left him open to criticism (a common trait amongst Liverpool managers it seems), it's up to him to show his worth this season and put his name in Liverpool history.
This season hasn't been the best so far, but not every season will be like last season. Rodgers could still get top 4, there are still three trophies up for grabs. Mistakes have been made in the past and personally I'm fed up repeating them over and over again.
Sack manager that brought us some success after one bad season.
Bring in new manager, watch them waste money on players as we all know better players (shout out to Football Manager for this)
Have an above average season, get ahead of ourselves and offer the current manager a new deal.
Have a below average season and we're back at step 1.
It's a boring routine. Manager's need time to see their team come to fruition. With so many young players in the squad, shouldn't Rodgers have another season so they develop with his ideas?
The names banded about on Twitter as potential replacements are far-fetched to say the least. Klopp, Frank DeBoer and Simeone, any could walk into nearly any job in the world. Then there's Rafa. Oh Rafa, wait there a minute whilst I take my Champions League Winner's tinted glasses off, and judge your time at Napoli fairly.
No doubt if Rodgers is sacked, and someone else comes in there will be a section of the fan base who fondly remember the 13/14 season and use that to beat the new manager with. It's been 25 years since we won the title, football has changed and the pecking order has changed. It's absolutely pointless comparing our legendary class managers to those we've employed in the past 15 years otherwise we're never going to be happy. We need to stop living in the past.
We knew when we hired Rodgers he would be learning on the job, but as a few people have pointed out on Twitter "Liverpool FC isn't a crèche". I'd argue a manager is forever learning on the job and when you stop learning it's time for you to move on. I want a forward thinking coach who is eternally thinking of new ways for Liverpool to win, adapting and being tactically innovative. Which Rodgers has showed he can be.
You sometimes need to take a step back and look at the bigger picture and just be thankful, as you could be managed by David 'football genius' Moyes.