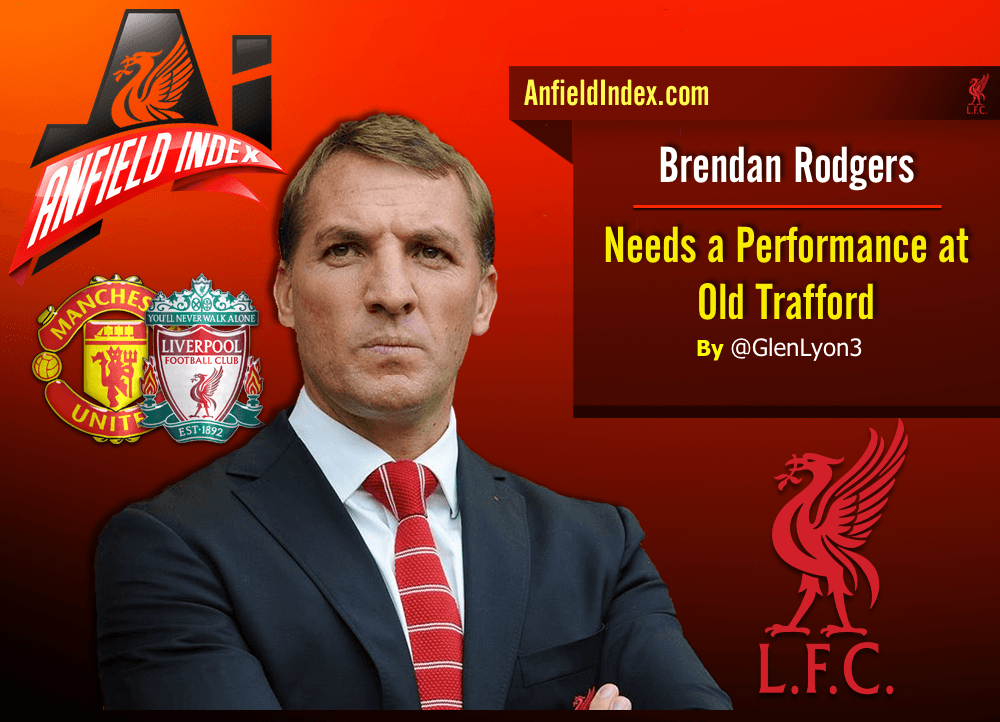 Rodgers Needs a Performance at Old Trafford
A lot has been made of Liverpool having a poor start to this season, but sitting 9th in the Premier League having accrued just 19 goals and with no Champions League campaign to speak of, it's fair to say the state Liverpool find themselves in is more than just a poor start. The Liverpool manager, Brendan Rodgers, has come under heavy scrutiny of late leading to some fans calling for his head following disappointing performances, attributed mainly to his team selections – which of late have been nothing short of baffling for many fans.
The summer saw an incredibly active transfer window as 8 new faces entered the club, with the talismanic Luis Suarez leaving for Barcelona. £120 million was spent, with over half of that money going on attacking talents Adam Lallana, Lazar Markovic and Mario Balotelli, yet Liverpool fans are still waiting to see anywhere near the attacking prowess Rodgers' side demonstrated last season.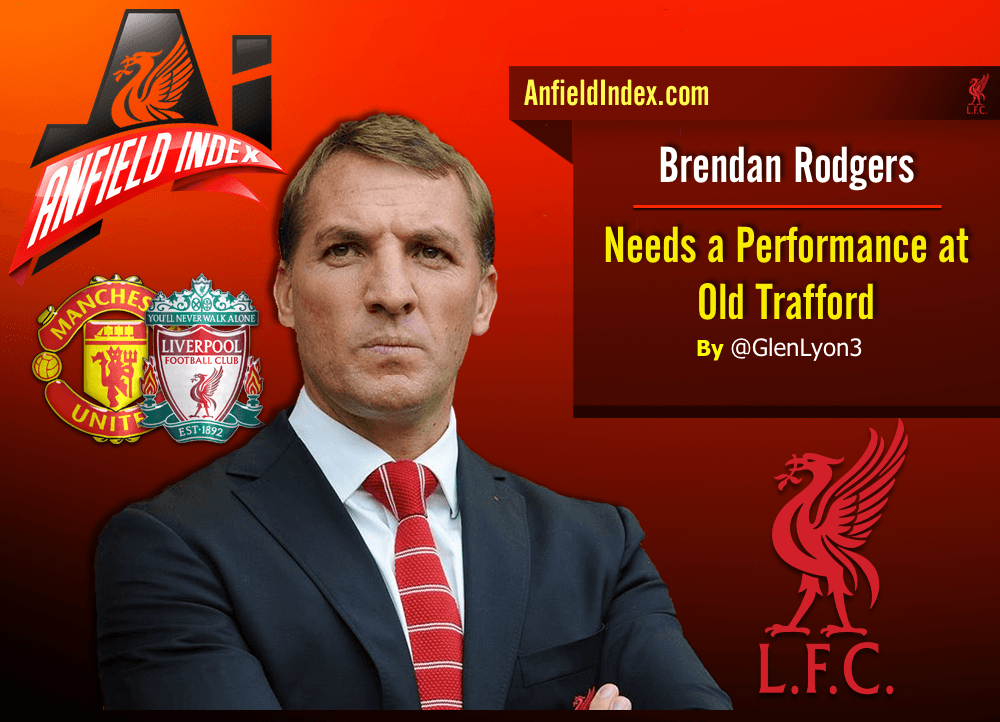 Liverpool's decline since last season has come at a quite ridiculous rate, with Liverpool fans one minute cheering Rodgers' name from the rafters, to the next minute describing him as a David Brent impersonator who managed to fluke his way to 2nd in the Premier League thanks to the brilliance of his strike duo. The magic of last season didn't just happen as a matter of course though, there was clearly some kind of directive and coaching excellence behind it, but watching Liverpool this year, it remains a mystery as to how the team has lost so much of the zest and flow that made them so threatening.
Cast your mind back 8 months to when Liverpool last played Manchester United in a competitive fixture. Old Trafford was the venue and Liverpool were in the middle of one of their most impressive streaks in recent history. The buildup to that game was surreal from a Liverpool fan's perspective, it was wonderful yet strangely uncomfortable that United fans were watching the game with such low confidence. The 3-0 scoreline that day didn't surprise anyone, and arguably it should have been 5 or 6 given Liverpool missed a penalty and squandered several other opportunities. These were times when every single player took responsibility; pressing the ball was drilled into the players, tackles were firm, and the passing was crisp and incisive resulting in a lethal dissection of United's midfield and defence. On the other hand, the United team lacked pace and a cutting edge. Juan Mata, who occupied wide areas that game, wasn't able to carve any openings for his teammates with the tenacious Jon Flanagan hassling him into picking the ball up his own half. Robin Van Persie hardly got a sniff and Wayne Rooney rarely threatened.
Back in the present then, Liverpool enter this game as underdogs as United will be looking to stretch their 5 game winning streak and tighten their grasp on the Champions League places. Liverpool, meanwhile, will be thankful Angel Di Maria will be watching from the stands in light of his recent injury. The significance of this fixture doesn't just lie in the rivalry the clubs have, but instead how the fans' perspective has completely flipped since the last time the sides met at Old Trafford. Last season I would have been laughing at any United fans who suggested they would get the better of Liverpool, arguing that their team took no authority in games, and that their forward line paled in comparison to the front three of Sterling, Sturridge and Suarez. Now though, I look at the probable Liverpool line-up and I think "where are the goals going to come from?" or, "who will take control of the game and spur the team on?" Unfortunately, the answer appears to be no-one, despite the likely presence of Steven Gerrard in the midfield.
It does get boring talking about Luis Suarez so much, believe me. But watching highlights from last season makes me realise what it is I miss about this team so much. Seeing Suarez wave his team forward, commanding full-backs to get in positions where they can influence attacks and the sheer abuse he would give his teammates if they played a sub-standard pass or let the side down encapsulated everything that was great about Brendan Rodgers' side. Looking at the team now though I don't see anything of the sort.
Liverpool enter this game with a likely midfield of Joe Allen and Lucas Leiva, with advanced options of Steven Gerrard flanked by Jordan Henderson and Raheem Sterling. I'm a huge fan of Jordan Henderson, but screaming "F*** OFF" at the top of his voice following a goal doesn't really embody the encouragement and drive Liverpool are missing. Similarly, I can imagine Joe Allen, after playing a pass, muttering "well in, Joe" to himself, waiting in expectancy for someone further up the field to drag the team along. Meanwhile, I never thought I'd see the day Lucas Leiva's inclusion in the team brought so much joy to the Liverpool fan-base.
I don't think the players Liverpool bought this summer are of a particularly poor quality, in-fact I was pretty pleased with most of them. However, Rodgers doesn't seem to be fielding the side that many fans would like to see. The inclusion of both Joe Allen and Lucas Leiva in a 4-2-3-1 against Basel this week stinks of negativity, and the inclusion of Jose Enrique left most fans scratching their heads in perplexion. At the same time, Mignolet's lack of ability to distribute from the goal drains confidence throughout the spine of the team that doesn't seem to have any clear direction.
Emre Can has made only a few appearances this season but when he does he drives the team forward, his size, power and positivity is something Liverpool have missed greatly now that their forward players don't seem to possess it, yet for some reason, he is regularly excluded from the team. To me, a player of Emre Can's characteristics should command a place in the first XI, particularly if Rodgers persists with Coutinho in a more advanced role.
The problems Liverpool are facing aren't insolvable, nor are they devastating to the season (yet). The issue seems to lie with Rodgers' seeming stubbornness and ignorance toward them. Personally, I don't think for one minute he should lose his job, but it took too long for him to drop the Lucas-Gerrard pairing last season and it took too long for him to rest Gerrard this season. If Liverpool's season is to be salvaged, the game against United must be the turning point and it must be instigated by a Rodgers self-realisation that he cannot just line his team up in a way you would do during your 7th season on Football Manager, but instead that he must consider the very fundamentals of his tactics now that he has lost the spearhead of his team.