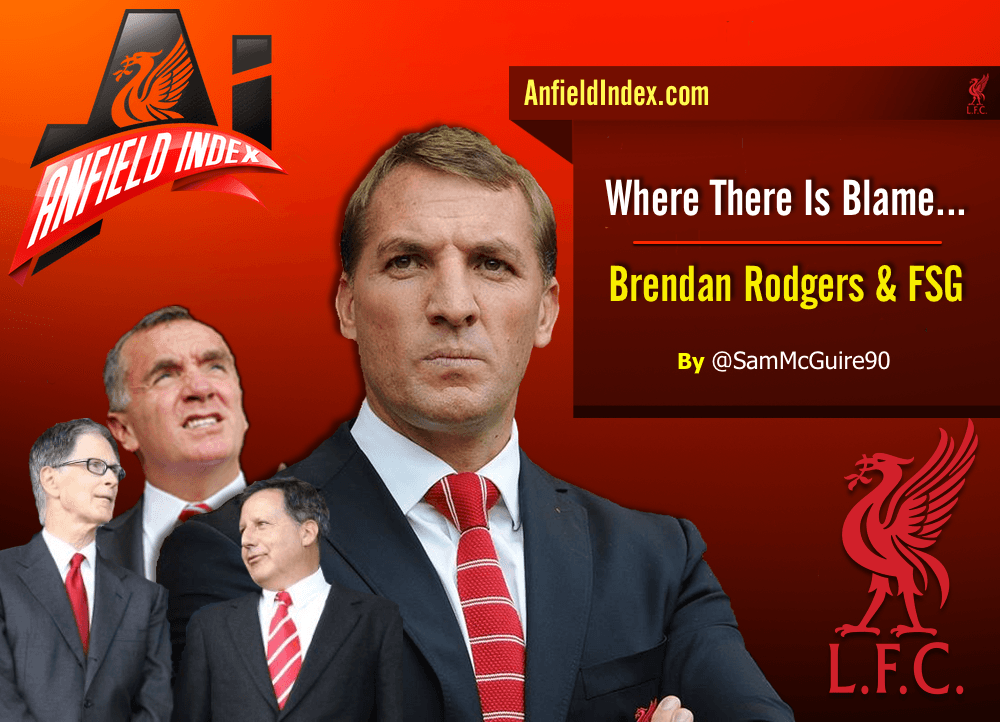 Where There is Blame | Brendan Rodgers & FSG

Where there is blame…
You're approached by a business that wants you to become their new manager, you're part of a shortlist of five people and you're probably the least experienced of the lot.
You prepare for the interview, after all this is a big opportunity, one you didn't expect. You write up a 180 page dossier showing your visions for the job if you were to get it and show them the business plan you'd worked so hard on. The only chink in the armour is the business wants you to report to a manager above you, so you can run your ideas past them. It's not an offensive thing to ask, after all, you are fairly inexperienced and this isn't a role you can afford to mess up.
The interview was a success, you impress them and the 180 page report says all the right things. They want you but you need to work under a manager and for some reason you're that arrogant/confident you reject the role if you have to work under a manager.
The company stands firm, you miss out but it makes you a better man in the long term as you now know you aren't all that and you can't demand such things when your CV isn't the greatest out there.
That's how it should have gone. However, the day FSG changed their visions to align and cater for Rodgers was the day a precedent was set, and a monster was created.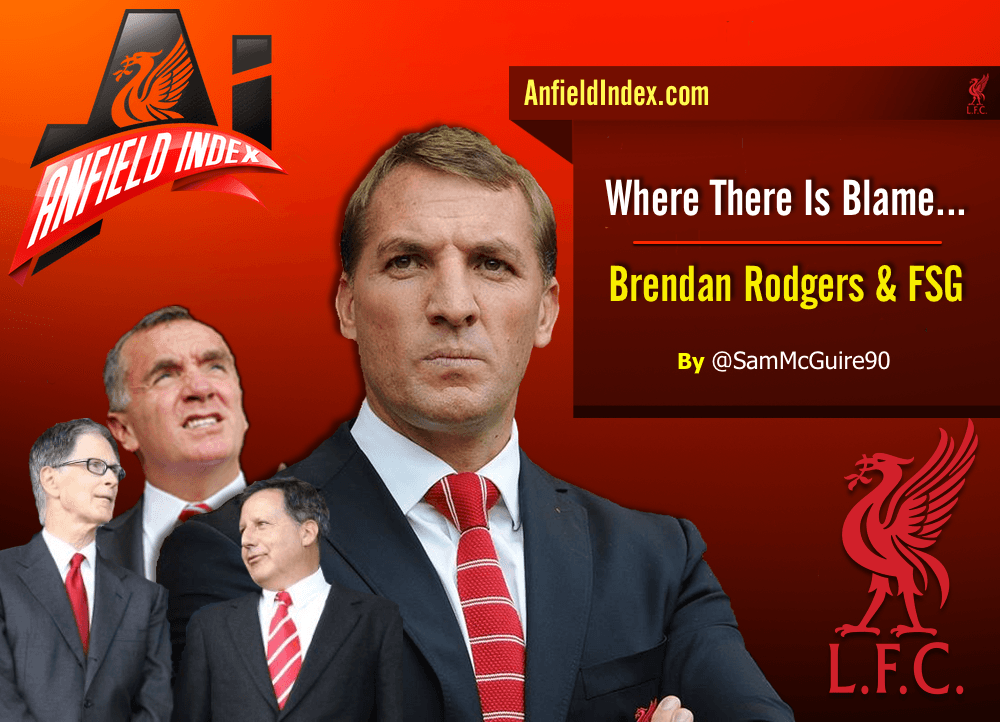 Brendan Rodgers' ego is currently the omnipotent power at Liverpool Football Club.
By immediately giving in to his first demand of not wanting to work under a Director of Football, the owners gave Rodgers the power and showed their naivety. It was surely a surprise to Rodgers, who replaced the outgoing Kenny Dalglish after FSG got rid of him and showed no sentiment in ruthless fashion. These cut throat businessmen bowing to your first demand must have been satisfying for the already confident Northern Irishman.
As a business, unless it's someone or something special, you shouldn't change your business plan/idea. It's bad for business. Would anybody consider Brendan Rodgers special enough, at the time he was appointed, to justify such a dramatic change?
A good start for Rodgers in the Liverpool role, not results wise, but for his ego. How else do you massage your ego than to have a club legend, Steven Gerrard, on your side. To do this though you need to give him something, which Rodgers did. He made Gerrard a key component in the squad and this lead to certain players being moved around, such as Nuri Sahin playing in an unnatural position. Sahin, who at the time was such a coup for Liverpool when rivals Arsenal were also after his signature, had to play further forward when it's obvious for all to see he's better deeper. This lead to his loan move being terminated early, such a waste of what could have been a key squad player in our first season under Rodgers.
Rodgers' treatment of players that he just doesn't fancy also leaves a lot to be desired. Firstly, Henderson, who he tried to flog for next to nothing as part of a deal to bring Clint Dempsey to Anfield. Fast forward a few years and Henderson is Vice Captain and Dempsey is plying his trade in the MLS. This goes to show Rodgers' doesn't always know best.
Next up, Andy Carroll. Yes he's injury prone, yes he cost the club a fortune and yes he isn't prolific. Rodgers said he wouldn't fit his system yet you'd argue we now have two players of similar style playing for us. How exactly did Rodgers persuade the owners to loan out the club's record transfer buy? Was this 'you appointed me, so you back me now' type moves?
The following season introduced us to a new concept: The committee buys vs Rodgers'.
I for one am now fed up with this debate. It's an issue the club should have put a stop to before it even started, but they allowed it to fester when allowing Brendan to not work under a DoF. You need a club pulling in one direction and this debate causes divide. The fact it crosses fans' minds that Rodgers doesn't play certain players because they weren't his signings shouldn't ever be part of the thought process of a fan. The fact some people go "Oh well Brendan made it clear he didnt want a DoF, he's partaking in boardroom politics by not playing them" is laughable. Yet scary as it *could* be true.
"This player is shit because Rodgers doesn't play him"
"No, Rodgers doesn't play him because he's a committee buy"
People use whatever narrative they feel like to suit their argument at the time. We must be one of the few clubs who have a manager and a transfer committee in place that clash so much. Simon Mignolet was a compromise between Rodgers and the committee. Mario Balotelli was a compromise. That's the best part of £26million spent on compromises. How can you run a business when you're wasting money like that?
Liverpool are in a situation where the owners don't trust Rodgers in the transfer market, and rightly so may I add, yet still try to work with him. So this begs the question once again, why appoint him to begin with?
The summer of 2013 was filled with signings; Mignolet, Aspas, Alberto and Sakho to name but a few. £45million spent and in the line up today, against Utd, £0 worth of them started. Now that's what you call a waste of money. People will say only Mignolet and Sakho could have started, yet Sakho wasn't in the squad despite being fully fit.
'Ego is the only requirement to destroy any relationship'
The Rodgers side, inspired by Suarez, gave Liverpool fans a season to remember in 2013/14. Brendan Rodgers had built a relationship with the fans, he 'made us dream' and has us 'on our way to glory'.
Then the ego, fed by the success of that season, the new contract and the apparent shift of power when signing players we've seen the Reds manager make some baffling acquisitions in the summer.
It's true, we as fans don't know the ins and outs of players but it's safe to say Lallana, Lovren and Lambert were Brendan Rodgers-inspired signings, flexing the new muscles he was awarded in that new contract. Those three came in for an outlay of close to £50 million.  You can't help but feel there were better value for money options available in Europe but Rodgers had 'earned this' with his performance the season prior. He got us into the Champions League so had every right to spend the money on who he saw fit, right?
Despite so much money being spent, Liverpool failed to address their biggest weakness. The defensive midfielder. I've been told on many occasions that "Brendan Rodgers hasn't and never will use a defensive midfielder." It's this arrogance that led to Liverpool paying £25 million for a defender that's worse than what we had already in the hope of shoring up the backline instead of actually investing in a player that would've corrected the actual problem. The defence gets no protection.
Next up, failure to invest in a striker of similar skill to Daniel Sturridge. One who can lead the line on his own, play in a partnership or even play as an inside forward. There are ones out there, for example Alexandre Lacazette. The Frenchman is currently in a rich vein of form scoring 15 Ligue 1 goals already. Jason Roberts did a recent article on Lacazette here.
Instead, we brought in a 'calculated risk' in Mario Balotelli and Rodgers persisted on using him in a formation that got nothing out of him.
The formation, favoured by Rodgers throughout his career is one that doesn't suit the current Liverpool squad. A squad full of pace and direct players being asked to play patiently, 'Tika Taka'. A term the English media jumped on as a positive style of play when actually Pep Guardiola says:
"I loathe all that passing for the sake of it, all that tiki-taka. It's so much rubbish and has no purpose. You have to pass the ball with a clear intention, with the aim of making it into the opposition's goal. It's not about passing for the sake of it. Don't believe what people say. Barca didn't do tiki-taka! It's completely made up! Don't believe a word of it! In all team sports, the secret is to overload one side of the pitch so that the opponent must tilt its own defence to cope. You overload on one side and draw them in so that they leave the other side weak. And when we've done all that, we attack and score from the other side. That's why you have to pass the ball, but only if you're doing it with a clear intention. It's only to overload the opponent, to draw them in and then to hit them with the sucker punch. That's what our game needs to be. Nothing to do with tiki-taka."
Extract from Pep Confidential by Martin Perarnau
That's exactly how Liverpool are playing this season. Without a purpose. Brought on by the fact the majority of the players are wasted in a 4231 yet Brendan hasn't been quick to change it, but instead persisted with using it regardless of the poor performances and results.
During the defeat to Manchester United the team created chances at will, 19 shots, 9 on target, yet if you look at those chances properly you have to ask. Did De Gea have to make any extraorindary saves? In my opinion, all but the Balotelli one he tipped to the bar, he should be saving them all. It's poor finishing on our part.
Sterling as a lone striker. Yes chances were created but not taken. You can blame the players for not being prolific enough but it's Brendan that selected that side and saw fit to play Sterling as the striker despite his finishing not being good enough. It is Brendan that leaves Borini out of the squads for no other reason other than he doesn't rate him. It takes a special kind of ego to drop a striker from two must win games. He may not be world class but he's a striker. You can't help but feel had he been in a position for one of those Sterling chances it may have been a goal, it's clear to see the Italian has a lot of self belief.
Again, It's Brendan's decision to play Johnson, who isn't even the club's best right-back, at RCB despite Kolo Toure and Sakho both being fit. It's Rodgers that chooses not to pick Emre Can, despite his physical presence, distribution of the ball and all around positional awareness being superior to many, if not all, of our other midfielders.
Thomas Edison once said "I haven't failed, I've just found 1000 ways that don't work", that was Rodgers last season before he finally stumbled upon a formula that worked. The same formula he hasn't felt confident enough to try this season. This season he's failed.
Can FSG really sack Rodgers though? They hired him and to some extent haven't fully backed him. Will they do the same with any future successors? Rodgers may have taken advantage in some situations but as stated earlier, the precedent was set when FSG backed down to him.
Like a spoilt child, how can you punish them when you're guilty of making them like how they are. I'm certainly not saying this is down to FSG but their actions at the start of all this certainly influenced how Brendan Rodgers has acted and increased his sense of self entitlement.