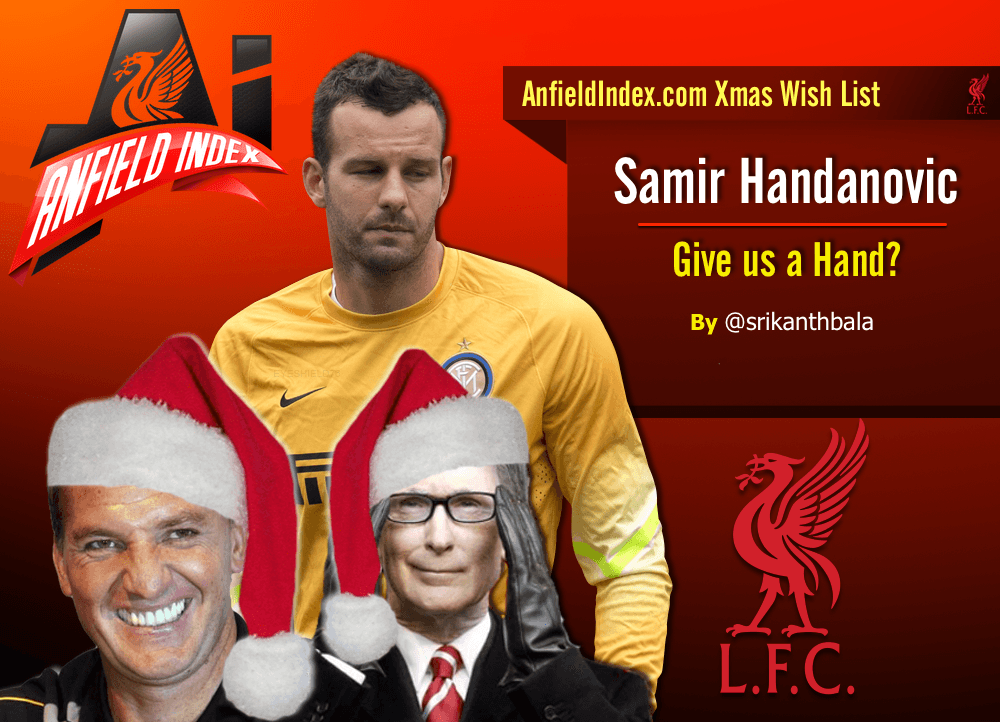 Give us a Hand - Samir Handanovic | AI's Xmas Wish List
As I was in a maze on how to begin this piece, I was duly provided a helping hand by our manager himself as he outlined the reason for dropping Simon Mignolet in favour of Brad Jones for the game against Manchester United.
I felt I had to change it because we have to find solutions throughout the squad to be better, I said to Simon that it's for an indefinite period – Brendan Rodgers on Dropping Mignolet
I have come to the conclusion now that this piece needs to be written, as the solution to fix Mignolet is (keep your 'You must be daft!' expressions handy!) Brad Jones.
Since there is a consensus that we need a helping hand in front of the goal post, I propose that the man to helm that position should be the Slovenian goalkeeper Samir Handanovic.

Most of our readers might be very familiar with Handanovic, the towering goal keeper belonging to Inter Milan and Slovenia.
Following five successful seasons at Udinese, Samir Handanovic joined Inter Milan in 2012. The Inter Milan side were under transition and Handanovic was often the savior figure in the team that season as Inter finished 9th, with a negative goal difference. He was so highly rated in that Inter team, that his nickname was coined as San-danovic – San standing for Saint.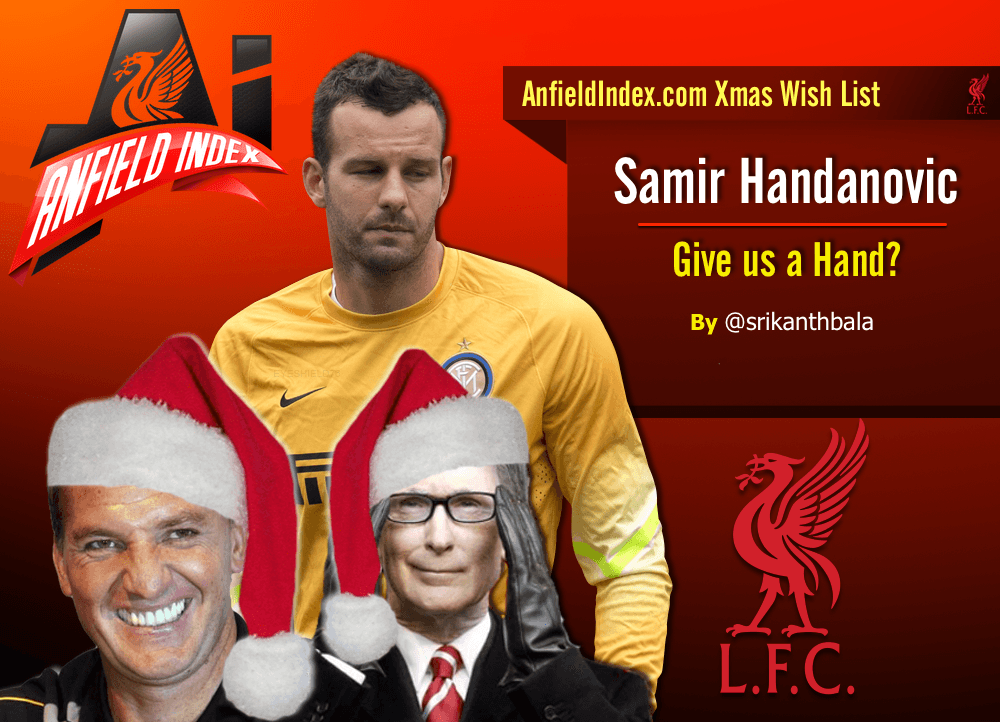 What does he bring to the team ?
1. Skills
We go to a restaurant predominantly for the food they serve. That is the primary quality we look at. Similarly the key thing to look for in a goal keeper is the ability to keep the ball away from the net, and Handanovic excels at that primary skill. His towering frame of 6'4″ assists his reach, while not hindering his mobility.
A combination of agility and range helps Handanovic save clear cut chances, especially in saving penalties. Handanovic recently saved his sixth penalty in a row, an astounding feat for any goalkeeper. He has also saved four penalties this season.
The ability to save penalty kicks is in-born though the craft, and can be enhanced and fine-tuned by training and tactics. Former Inter Milan Keeper Pagliuca once told Tutto Sport
 "You've either got it or you don't, You can improve in training, but it's a natural gift. Sure, you need to put work into it like studying your opponents. I watched DVDs. I documented how specialist penalty-takers kicked the ball and I believe Handanovic does too. You also need explosiveness and strength in your legs, perhaps some height to cover the goal like Handanovic does. But you also have to understand the psychology of the penalty taker".
Handanovic himself went on to offer an interesting assessment on his penalty saving skills in an interview to Gazzetta
" Saving penalties is not a yardstick to judge whether a goalkeeper is good or not, if one keeper makes a lot of saves from 11 meters, he is no more worthy of praise than another who doesn't neutralise them. It's clear: the stats are important but they are not the only measurement by which to judge a goalkeeper."
So the text and quotes do sound impressively nice, so how do the numbers look?
Below is a comparison between Handanovic and Mignolet for the 2013/14 season
.
 We can observe straight away that Handanovic has better numbers than Mignolet in all key parameters last season as part of an Inter team that finished 5th.
To further this comparison, is a comparison between Liverpool FC and Inter Milan for the season 2013/14
While we can see that the individual and team parameters are more or less the same w.r.t Mignolet and Liverpool, there is a difference in Clean Sheets and Saves/game stats for Handanovic and Inter Milan, clearly highlighting the impact of Samir Handanovic in that Inter side.
The below statistical graphs compare the above two keepers with commonly mentioned keepers in LFC related transfer forums; Mattia Perin of Genoa and Kevin Trapp of Frankfurt
A few immediate observations on seeing the stats comparing the various keepers is the contribution of Mattia Perin to the high flying Genoa team.The Genoa team, ably managed by Gasperini, is on an all time high and Perin has been a vital cog in this team.
Also interesting to note is the sheer amount of saves made by Kevin Trapp for Frankfurt. Eintracht Frankfurt are firmly lodged in mid table and currently do not look like being involved in a relegation scrap and Kevin Trapp has played a huge part in keeping them there. But there have been some serious questions on Trapp's positional sense, especially last season. The goal scored by Sami Allagui of Hertha Berlin last season was a typical example where Trapp got caught in a no man's land resulting in Berlin scoring a goal.
Also looking at Distribution stats, Handanovic has the highest distribution accuracy this season excluding Mignolet and has the lowest distribution length of a pass. Sounds like what Brendan Rodgers requires.
So if the numbers suggest that Perin and Trapp are performing better than Handanovic this season, why should Liverpool go after Handanovic?
 2) Experience
Samir Handanovic has played close to 200 games in top flight Serie A and comes with a wealth of experience. He also been capped 74 times for his country and is a mainstay in the national side. Samir Handanovic has been voted into the Serie A Team of the year twice and has arguably been the best keeper in the league over the last five years alongside Buffon. If there is something that this Liverpool back line needs, its that of a calm and experienced figure in goal. To crisply summarise, Samir Handanovic is not a flavor of the season, he is more of your Butterscotch; always there, always reliable. Tough to screw it up.
3) Age Profile
Most players are said to approach the peak years of their playing careers when they reach the age of 27-28. But goalkeepers are an ilk of their own and tend to peak a lot later than players playing in other positions. This is primarily because of the fact that the goal keeping position involves a lot more mental attributes than physical attributes, and players tend to develop their mental faculties as they get on with age and become more mature. This is the general hypothesis though, and exceptions are there as in any other position or field.
Thus the peak years of a goal keeper is usually between 30-33/34 when they are at their best with respect to the 5C's of goal keeping namely
1) Control of their own actions
2) Communication with players in front of you
3) Calmness in decision making
4) Concentration – Prevention mechanism to failure
5) Confidence in one's own ability – Redressal mechanism to failure
Guess the age of Handanovic? 30! Which means we are buying a keeper who is at the cusp of his peak abilities as a footballer. A footballer for the now.
Potential Pitfalls
1. The pace of EPL – Handanovic would be coming from Serie A, a markedly slower league and a league which do not possess world class attackers any longer (sadly). But as mentioned above, his experience and age profile should enable the adjustment to be far smoother.
2. Transfer fee – The transfer fee is bound to be high, with his contract with Inter running till June 2016 currently, and considering the fact that Inter were in no mood to sell until the recent summer transfer window. He could easily cost Liverpool £15m, but it would be a wise investment if Liverpool choose to make it.
3) Current form – This is an interesting factor to be considered. Inter Milan have had a huge flux of managers in recent years, leading to no consistent philosophy in the team. The current season, under the now ex-manager Walter Mazzarri has been disastrous, to put it politely. The mindset of Handanovic under the constantly changing team environment and philosophy is a point to be considered.
End Note
Samir Handanovic has been in the spotlight for many years now and people expect the unexpected from him as a daily chore. Former Inter legend Sandro Mazzola once said
"He is reminding me a little of Dino Zoff."
What more can one say?!