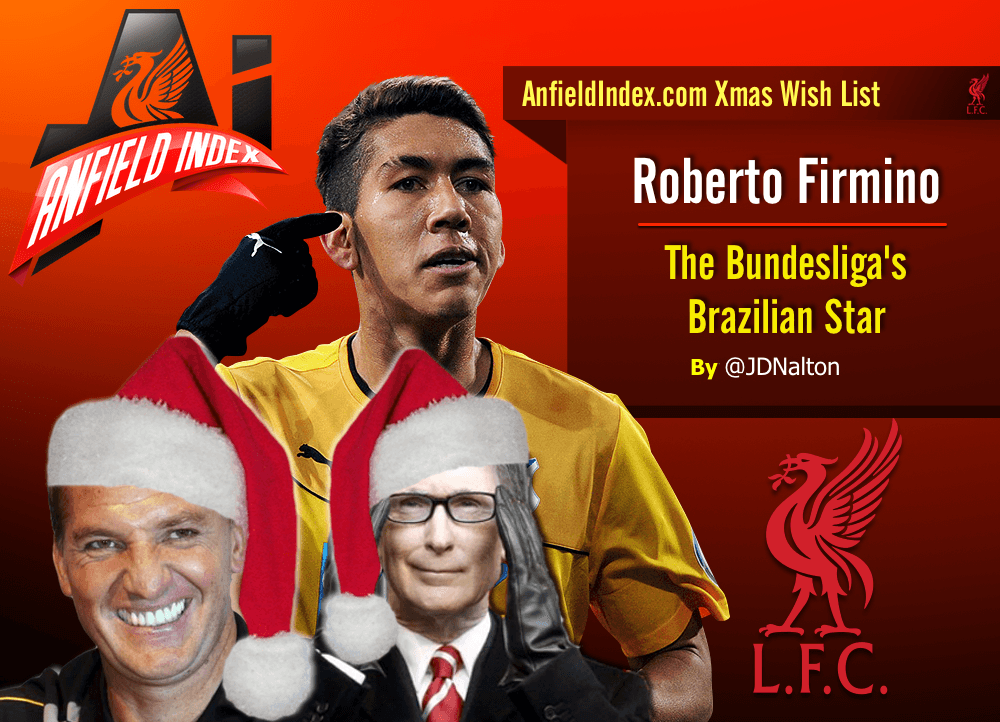 Roberto Firmino - The Bundesliga's Brazilian Star | AI's Xmas Wish List
Hoffenheim's Brazilian attacker Roberto Firmino was spared the embarrassment of his country's World Cup nightmare, as Luiz Felipe Scolari chose to ignore the then 22-year-old's impressive form for his club. As a result he's remained relatively under the radar, but not for much longer.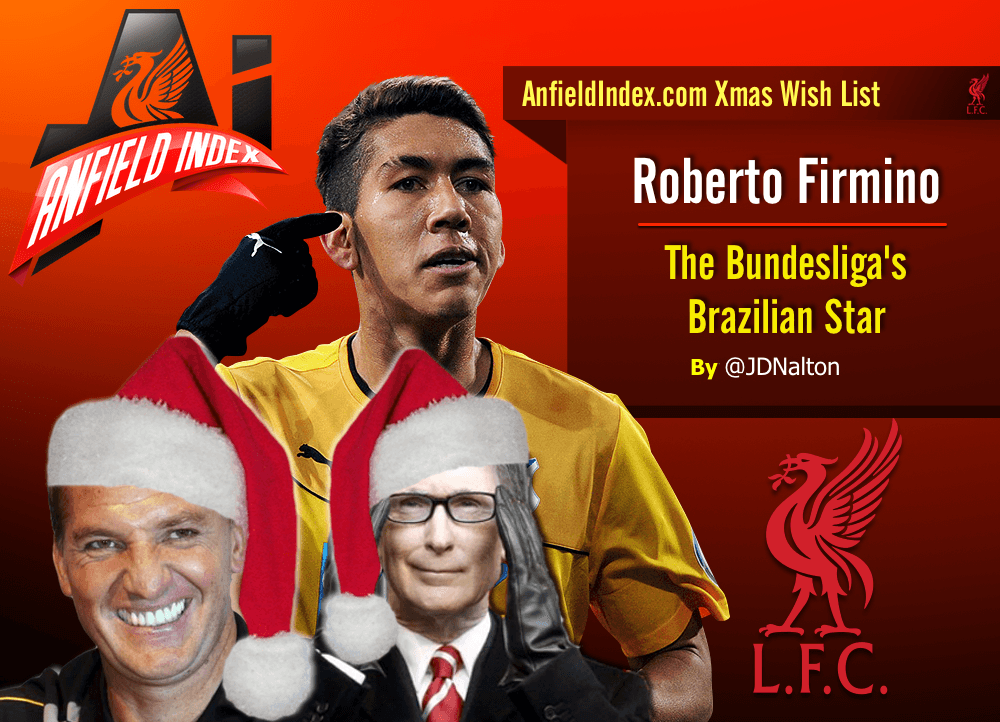 Scolari's successor, Dunga, had no hesitation in calling up the young Brazilian upstarts who've lit up leagues across Europe in recent seasons, and Firmino made his debut for Nike's yellow marketing machine in their friendly against Turkey on November 12th.

His first goal came in the subsequent game against Austria, as he entered the fray as a replacement for Luiz Adriano and went on to win the game for his country with this wunder-strike.
https://www.youtube.com/watch?v=eMIpJaReick
Exit cult status. Enter mainstream recognition.
European heavyweights will now be sitting up and taking notice of the player, who'll be attracting the attention of their traditional scouts, as well as ringing alarm bells for those who watch football on statistical software.
He finished last season as his club's top scorer with 16 league goals as well as 11 assists, putting him on a par with the much hyped Marco Reus, who racked up the same amount of goals and just a couple more assists. Reus was a player who most Liverpool fans were urging the club to sign in the summer, but Firmino, a younger and more realistic target, would have been the more sensible option after losing out on Alexis Sanchez.
Firmino's goals have come from a variety of situations, and have showcased a wide range of attacking skills. They've been scored predominantly with his stronger right foot, but he still manages a reasonable amount with his left, and has even nodded in a couple of headed goals over the past two seasons.
Roberto Firmino – Goals Scored 2013/14 Season
Goals Scored 2014/15 Season So Far (16/12/14)
Some of his best displays have involved link-up play with young German forward Kevin Volland, whose career is taking a similar trajectory. Like Firmino, Volland won his first cap for his country this year, and the pair are best described as forwards rather than pigeonholed as wingers, strikers, or attacking midfielders.
His roots as an all-round attacker began at youth sides in his hometown of Maceió in northeast Brazil, before he ventured further south where the interest from European scouts would begin. He was named the best player in Série B during his time at Figueirense, with his 8 goals helping to propel them to the top division in Brazil.
As much a playmaker as he was a goal-getter, Firmino's potential to become the complete attacking footballer persuaded German club Hoffenheim take the plunge. There are few guarantees that a Brazilian moving to Europe will be a success, but the relatively low transfer fee of €4m, coupled with the relatively low profile of a club like Hoffenheim meant there was less pressure on the player to perform instant Brazilian heroics.
The fact that the club's official website describes his signing as "a stroke of luck" tells you all you need to know about what happened next. The 23-year-old is now up there with the Bundesliga's best, which is great for his club, and for the league, but at the same time it attracts the prying eyes of the money-laden clubs across Europe.
Roberto Firmino – Comparison with Marco Reus and Thomas Müller (2013/14 Bundesliga – Stats Per-90′)
Moving closer to home, if you were to compare him with three of Liverpool's recent attacking signings, he would have been a more versatile acquisition than Rickie Lambert, Mario Balotelli, or Adam Lallana as, unlike this trio, he'd fit into almost any system.
He'd be a great foil for the much maligned Balotelli in a forward pair, and could easily have slotted in alongside Daniel Sturridge. He could play wide or central in a front three, and the thought of him and Coutinho linking up as play moves from the centre of the park to the attacking third, rekindles the idea of Brazil's long lost "jogo bonito". Add to this list a role as one of the attacking three in a diamond or 3-4-3, and you have the complete player for Liverpool's current philosophy and systems.
Liverpool should have signed Firmino in the summer, but in typical fashion they appear to have waited until he's at the peak of his value, or too difficult to sign. All fans are hoping that the club can pull something out of the bag in a January transfer window which could play a key part in salvaging something from the club's disastrous season so far. Whether this be Vincent Wanyama, Paulo Dybala, Maxime Gonalons, Alexandre Lacazette, Firmino, or one of the other players chosen by the infamous Anfield Index transfer committee, they'll need to hit the ground not only running, but tackling, creating, and hopefully scoring too.