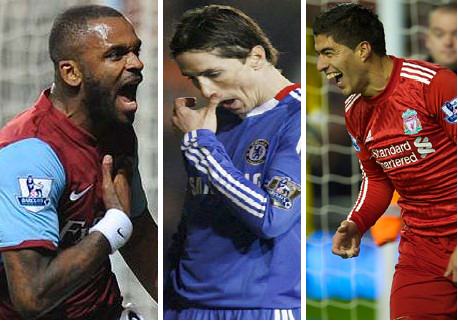 Strikers: Value for money? (Suarez, Bent, Torres)
Last updated: 5th April 2011
Another update to this article for you all as it's received such good feedback. A week makes a massive difference in football and as you can see, from the stats below. Darren Bent has been the main beneficiary thanks to his two goals, against the bitter blues of Merseyside, this weekend. He further improved his stats because the two goals were his only shots in the game therefore improving his accuracy as well as minutes per goal ratio.
Torres didn't actually have any shots on or off target this weekend (we are not counting blocked shots) and is way behind in the stats for the number of shots, minutes per shot and shot accuracy. However he did manage to improve his creativity stats as he created two chances for Chelsea in his 29 minute cameo against Stoke City. He's doing much better than Bent on his front and is sitting in second place behind Luis Suarez who leads the creativity statistics.

Luis Suarez improved his stats for minutes per shot, shots on target, shot accuracy and his creative stats. However his chance conversion rate decreased as did his minutes per goal ratio. He was very unlucky as he had a shot cleared off of the line in the last minute which would have improved these. The only thing left for us this season really is to see Luis Suarez do well as we've pretty much given away our chances of getting a European spot. There is a slight chance but it's nothing more than that and we're dependant on other sides slipping us like we have. Let's hope we can finish well and finish the season on a high unlike the last few seasons.
We'll continue to update these stats and see how many changes there are week to week!
Last updated: 27th March 2011
The feedback to the original article was excellent and is one of the highest viewed for the site. We thought we'd keep updating this article with latest statistics on the three strikers so that we can see how their form improves, or not, after each game they play.
The latest stats table is displayed below. After the Sunderland win Suarez has now improved almost of all the statistics below. The Liverpool No7 is now ahead in almost every discipline displayed below. Suarez had a higher mins per goal ratio but the goal at Sunderland has now moved him above Darren Bent. Poor Torres still has no goals and both his and Bent's figures took a hit this week as neither of them had any shots against Manchester City or Wolverhampton Wanderers, a poor showing really.
Suarez though moved ahead in most shooting stats as he had four attempts at the Stadium of Light with two of these shots on target and one goal. The only area in goal attempts stats that Suarez is not ahead of the other two strikers is in shot accuracy & chance conversion. Nothing a like a hat trick against West Brom to boost those stats eh?
Creativity statistics took a hit for all three strikers as none of them created any chances for their team mates this week. Suarez is still behind Bent on pass completion % however it's something that will not mean anything if Luis carries on having goal attempts and scoring goals!
We'll continue to update this article after each game so keep an eye out on our twitter account for updates or alternatively, bookmark this page!
Original Article Below
An unprecedented amount of money was spent on strikers in the last transfer window. This article will look at a statistical comparison of three strikers, approximately, worth a combined total of £90m. The strikers are: Aston Villa's Darren Bent, Liverpool's livewire Luiz Suarez and, the man my two year old daughter still sings about, Fernando Torres: Chelsea's No 9.
We'll start by looking at their debut performances for their respective clubs.
Two out of Three
The debut's of two of the three strikers were deemed successful, with Darren Bent scoring the only goal of the game against Manchester City at Villa park and Luiz Suarez scoring on his 27 minute debut in front of the Kop against Stoke City. Fernando's debut was a much, much bigger occasion with it being Torres' first game for his new club against… his old club. Stories like this couldn't be written and as it happened Liverpool went on to secure the three points with a fine Raul Meireles goal in which Liverpool had 13 successive passes and 14 touches before putting the ball in the back of the net (also @AnfieldIndex's first ever live stat tweet on Twitter!)
To get more from Suarez's statistics let's look at his full debut rather than the game against Stoke. Suarez's first full game was in Liverpool 1-1 draw versus Wigan Athletic at home. Here are the Guardian chalkboards for their shots in their respective matches:
Just looking at the Chalkboards above, displaying shots from the full debut games, show how much of an impact each player made. Even though Darren Bent scored on his debut, he didn't do much else in front of goal and although what matters is that he scored, in our eyes a modern day forward needs more than just being a goal poacher.
Fernando had a day to forget especially with Kenny celebrating, Raul's winner, right in front of him once he had been taken off after 66 minutes. Being Liverpool supporters the man we really want to talk about is Luis Suarez. The Liverpool No7 is just involved in each game so heavily. Against Wigan he had five shots on goal of which two hit the woodwork and one was on target. Judging by the amount of shots in comparison to the other two player Luis Suarez is a player that will always be knocking on the opponents door and at times kicking it down. One of his main strengths is that he isn't going to wait around for his team mates to make a chance for him, he will make chances for himself or his team mates.
Passing
From the data gathered from our Stats Centre we can see that Luis Suarez does in fact pass the ball, on average, more than his rivals. From the analysis below you can see that Suarez has attempted more passes of the ball than Darren Bent, who has played almost 300 minutes more minutes of football than Suarez this season. That is an amazing statistic. Fernando Torres' passing stats do not surprise us as we have been checking his stats for Liverpool for a while.
The pass completion stats trophy goes to Bent. A much higher pass completion than his rivals beating them quite comfortably with a percentage of 72% whilst Torres and Suarez are in the mid-60's.
Shots
Another interesting talking point from the comparison is that Darren Bent is more deadly in front of goal with a chance conversion rate of 21%. However Torres and Suarez both have more efforts on goal per game than Bent with Torres shooting every 42 minutes and Luis, an impressive, every 25 minutes.
Creativity
There's only one winner in the Creativity stakes. Luis Suarez takes this hands down. With nine chances created in 296 minutes of action Luis is creating a chance just over every half an hour. He also leads the assists column between the three strikers with one of these assists being the slalom run against Manchester United.
Last four games
The stats above are showing the results for the first six games for Darren Bent and only four games each for Luis Suarez and Fernando Torres. If we look at their last four games each the stats look as follows:
The 2nd comparison shown above displays the totals for the last four games played by each player. Luis Suarez's statistics improve even further with him passing the ball almost double the amount that Darren Bent has in his last four games. Darren Bent's minutes per goal and shot has increased whilst passing actually improved. Torres is not even in this competition!
Worth their Value?
We just can't get enough of Luis Suarez. Although Darren Bent held his own at Villa with some good passing stats and a good conversion rate, we believe the best value for money signing is Luis Suarez (not being biased, honest). We haven't even touched on his dribbling or tackling skills, or even other aspects of the game yet. The analysis above shows Suarez creates more chances and gets more shots than his rivals. These statistics show how much of a different side Liverpool are when their no7 is on the pitch. When Suarez is on the ball it always seems like something will happen, either he'll create a chance or he'll skin someone and get a shot off. Unfortunately Torres is merely an after thought in this article. There has been nothing positive to say about him at all with his stats being a very big disappointment, just like he has been on the pitch.
As every day goes by the £50m deal for Fernando Torres seems more, and more like a master stroke from Liverpool FC's board, however when it comes to Luis Suarez, we've got value for money and we just can't seem to get enough!
Please use the Facebook Like and Tweet buttons below if you enjoyed our article!