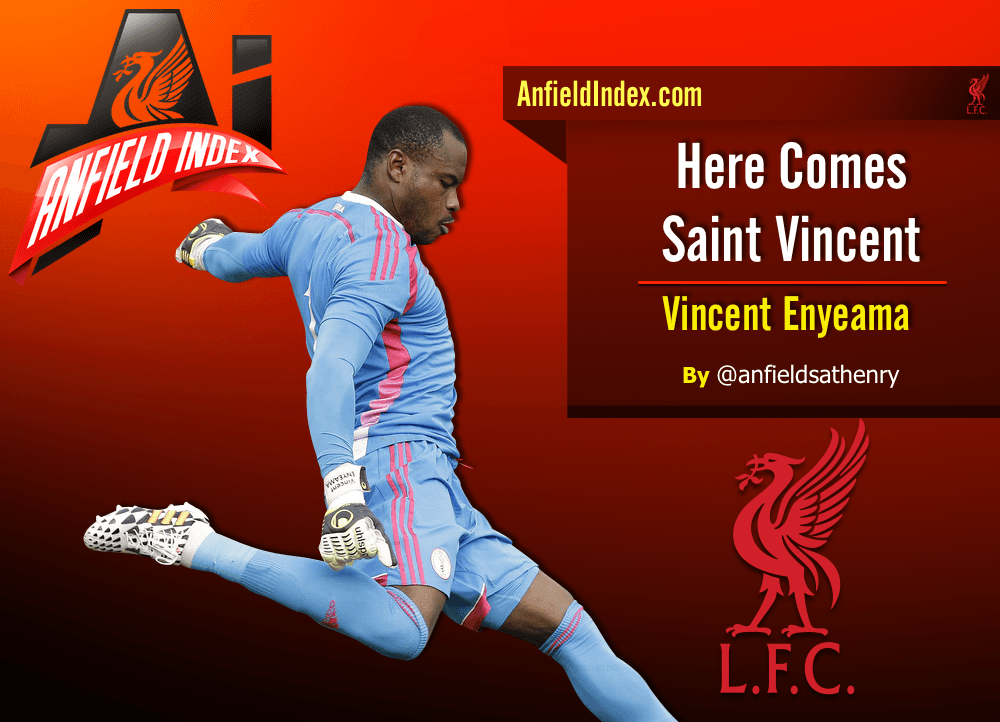 Here Comes Saint Vincent - Vincent Enyeama
Last season Vincent Enyeama went 1,062 minutes without conceding a goal. The record was ended by a tame shot that caught a wicked deflection to smash off the post and into the Lille goalkeeper's goal.
The purple patch ended after eleven consecutive clean sheets but the Nigerian international would go on to add nine more to his season, ending the campaign with 20.
In a week where Brendan Rodgers seems to have finally lost faith in Simon Mignolet, there has been plenty debate about who should replace the Belgian stopper as it is clear Brad Jones is not the answer.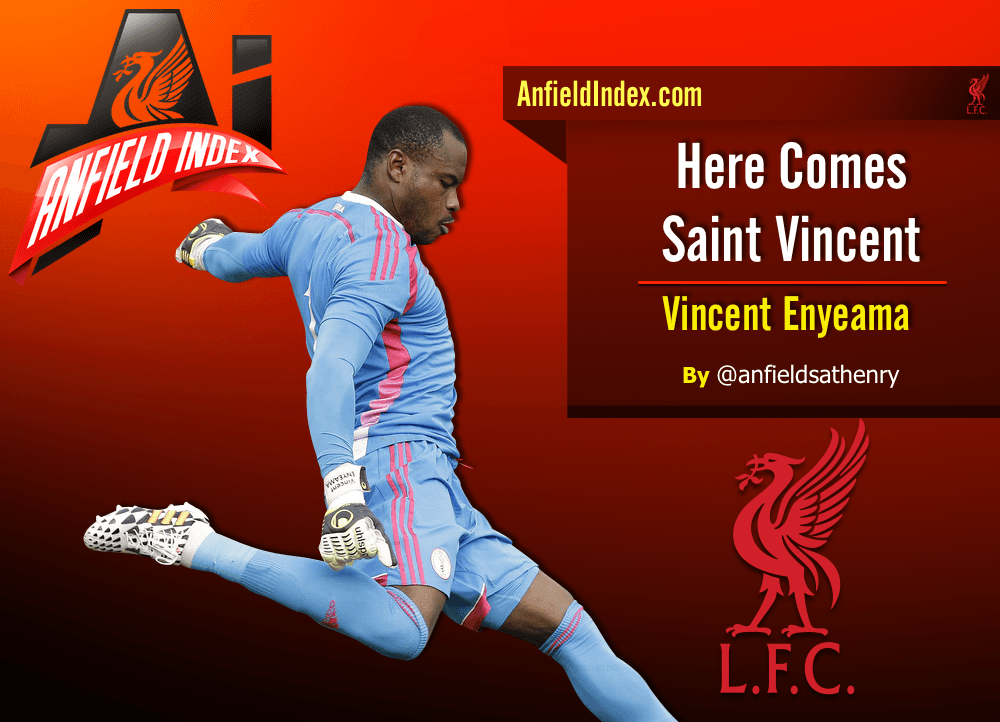 Enyeama may just be the answer to the Liverpool goalkeeper crisis.
The 32-year-old became Lille's first choice last season and excelled with his new found responsibility as he helped his side to a third place finish in Ligue 1. His performances in goal were significant to his team's success as Lille notched up nine one nil victories during the campaign.
This season he has continued to impress even though Lille's form has dropped off. He has seven clean sheets from 17 appearances.
Mr Reliable
Where Enyeama excels, however, is his ability to command his area and make big saves along with little ones. Last season he made an average of 2.24 saves per game and this season he has improved that slightly with 2.29.
Mignolet's averaged only 1.97 saves per game last season and that average has dropped again this campaign to 1.80.
One thing obvious when watching Mignolet is his nerves and tendency to hesitate at set-pieces. He has been exposed this season with Liverpool stuttering up front and has made several high profile mistakes because of his confidence but with Enyeama, Rodgers won't have to worry about that.
The Nigerian is an imposing figure at the back and will be the one doing the bullying. He is renowned for his decision making as he has an uncanny instinct, knowing when to go and when to stay.
After he recorded his eleventh clean sheet of the season his manager swooned over his goalkeeper: "He was equal to everything, and made critical decisions."
Le Chat
His nickname is 'The Cat' and it is not hard to see why. Enyeama stands at 6 foot two but he is surprisingly agile and he is fearless.
He is well capable of producing a penalty save and in the last two seasons he has faced five in the league and saved two. More recently he kept out Bifouma Koulossa's strike to deny Congo an equaliser and send Nigeria on their way to three vital points, keeping their hopes of qualification for the African Cup of Nations alive.
Mignolet on the other hand has only saved one of his last nine penalties.
Enyeama will patrol his area and isn't afraid to impose himself. One feature of his game is standing up at important moments as he is known to rush up to put attackers off who might have thought they were certain to grab a goal with only Enyeama to beat.
He oozes confidence and that swagger translates to his teammates: "He is still going. His strength is that he attributes his success to colleagues, to the team. He knows he has players in front of him giving their maximum. He is grounded."
Liverpool needs a leader at the back and they don't get that with Mignolet. Yes, Mignolet is a good shot stopper but Enyeama arguably is better and he doesn't have the same mistakes in his game as Mignolet.
Mignolet is 26 now but still he hasn't taken on the boss role at the back. He is usually the most quiet player in the side and is rarely heard barking orders. Enyeama on the other hand is a leader on and off the pitch. He is now the captain of his country and is no stranger to single-handedly carrying his teammates.
He was Nigeria's standout performer in the World Cup during the summer and was probably the main reason Lille had so much confidence and success last season. He is 32 and is at the peak of powers and maturity.
Expensive Christmas Gift
Unfortunately though he probably won't come cheap. Lille boss Rene Girard has already warned off potential suitors and Enyeama is contracted with the French side until 2017. Quality though requires money and Liverpool need that across the pitch, Enyeama can provide it and could revitalise Liverpool's shambolic defence.
One thing Rodgers will probably be put off by is Enyeama's style of goalkeeping. He is not the type to play with the ball at his feet and is more likely to punt than supply a subtle pass. Rodgers though should be wary that his side need a top class goalkeeper not just one who will play the way the manager prefers.
Forget style, Enyeama is a proper goalkeeper. Liverpool need to take out the liabilities. Liverpool need a proper goalkeeper.