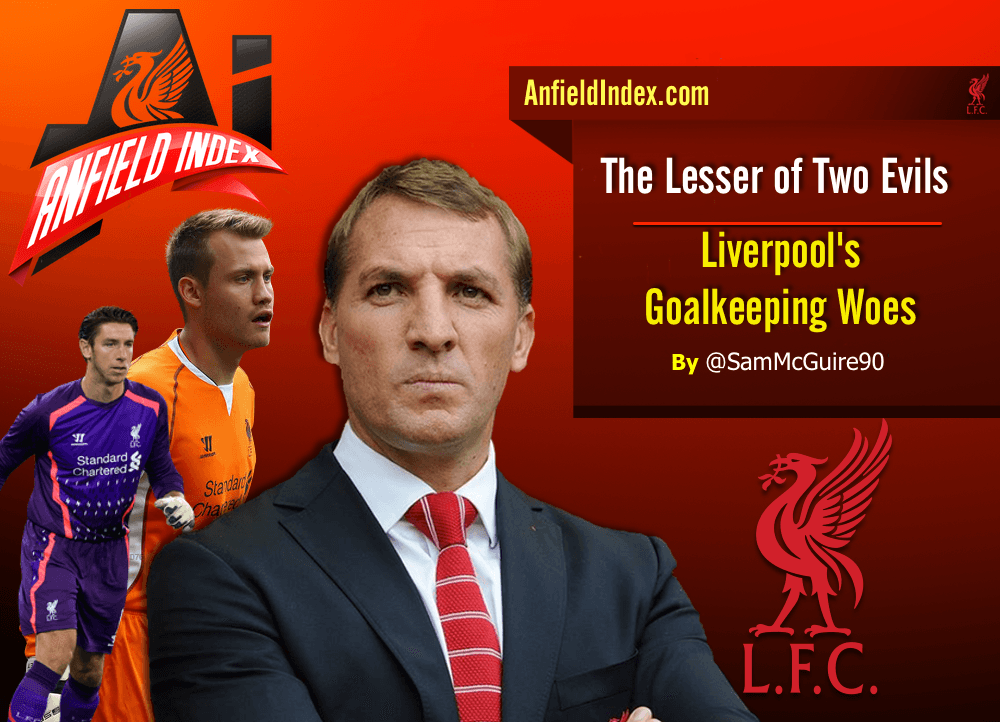 The Lesser of Two Evils | Liverpool's Goalkeeping Woes
Is Brad Jones just a transient in the Liverpool goal? Brendan Rodgers' comments about Mignolet being 'indefinitely dropped' seemed to suggest if Liverpool don't sign a keeper in January, fans may be seeing an awful lot more of the Australian's quiff between the sticks at Anfield.
It's been a rarity for Liverpool to have a reliable 'keeper during the Premier League era having seen the likes of David James, Sander Westerveld, Jerzy Dudek, Chris Kirkland and Scott Carson all appear and fail to impress enough. Jerzy Dudek will forever be an Istanbul hero and a keeper of good quality, but was he really reliable? He had an error in him, and like all goalkeepers his performances were dependant on confidence. That sentence could be said about all of the 'Keepers mentioned earlier.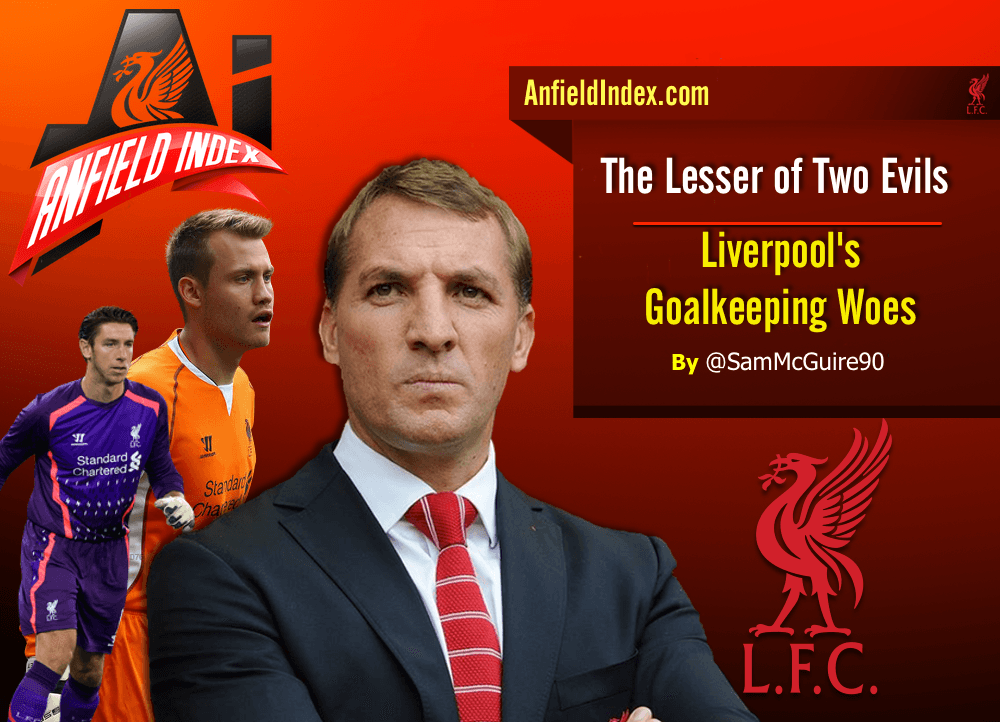 Then came along Jose Reina, he won three consecutive Golden Gloves (awarded for keeping the most clean sheets per season). He kept and impressive 20 clean sheets in his first full season at the club, second highest since the award started in 2004. During his second season he started to catch the Liverpool curse that led to a few errors, most notably in a 3-0 defeat to Everton, yet with a few exceptions he kept his performances to a high standard.The 2010-2011 season was probably when his form began to deteriorate, coincidentally the same season Rafa was no longer the manager. Near post shots became his kryptonite.
In my opinion the club made the correct decision of replacing Reina for the 2013-2014 season. He was no longer the impenetrable wall he once was. For all his positives, it's hard to overlook the fact he was conceding sloppy goals. Rodgers wanted a keeper who, first things first, could prevent the opposition scoring.
Simon Mignolet, a £9million acquisition from Sunderland arrived and instantly became a 'Kop hero', saving a Jonathon Walters penalty in added time in the teams opening game of the season. Though as the season went on it was clear he was making some mistakes but he would pull off a worldie of a save in the odd game, especially early on in the season. The opening three games were 1-0 and were by no means comfortable. Yes, maybe fans made a big deal out of these saves having been so used to an out of sorts Reina, but make no mistake, Mignolet was an important in those opening games as Daniel Sturridge was. You could even go as far as saying he kept the defeat to Sunderland at a reasonable score.
The elephant in the room last season was the fact Liverpool conceded goals. Luis and co did well papering over the cracks but the backline was porous and the only saving grace was the fact the team went into games knowing they could outscore nearly every team around.
In those early few months we seen a player full of confidence and he was enjoying his role as the protector of leads. Was he eventually stifled by the failings of the defence before him? Then the errors started to creep in and certain questions started being asked; If Mignolet is poor with his feet, why did Liverpool buy him and try to make him into that sort of Goalkeeper? If that was the brief when looking for a new 'Keeper, surely there were better options available at the time.
The summer of 2014 was a period of transition, a time to improve the squad and correct last seasons' wrongs. If Mignolet hadn't impressed adequately enough in his first season why wasn't a replacement brought in, or at least a better second choice 'Keeper who could have grown into displacing him? Mignolet wasn't the problem. He is a great shot stopper, brilliant reflexes and fairly commanding when in a one on one situation (think back to Goodison Park last season). Not one of the elite prospects out there but at the time when he was signed Liverpool weren't playing the elite, in the Champions League.
This might not have been a problem though if Liverpool had elite coaching staff capable of coaching players to the next level. However, there is a burning question amongst many Liverpool fans with regards to the Liverpool coaching staff, especially the defensive coach and the goalkeeping coach. The man behind coaching the keepers is John Achterberg, not exactly a well known name and quite the step down from the days of Jose Ochotorena and Xavi Valero. It's during his time at the club we've seen both Reina and Mignolet lose form and stagnate before worsening as a keeper. Could he be the main culprit for Liverpools goalkeeping blues? It surely can't be a coincidence that both number one keepers lost their starting place under his tutelage. It's well noted that Bayern use an outfield coach with their keepers for periods to help improve their footwork, it's no wonder Neuer averages 89% distribution accuracy during games. It's a the small details that pay the biggest dividends.
Brad Jones and why now?
A change in formation that would cater for Mignolets lack of passing ability, as he'd have more men to play it out to, yet Rodgers changed the formation the day he changed his keeper.
You look at the timing of it all and it's perplexing; the draw with Basel with knocked Liveprool out of the Champions League, the Belgian didn't do anything out of the ordinary to warrant being dropped for what was now one of Rodgers' biggest games as Liverpool Manager. A trip to Old Trafford, Liverpool fans had basked in defeating their old enemy, at their own home, less than a year ago. How the tide had turned. The away fans had revealed the 'Moyes is a football genius' banner, that same football genius had accumulated more points than Rodgers had at this stage of the season last year. Rodgers' reds were ravenous on their last trip, now toothless and reeling. It was time for a change, but a keeper change?
The man in question, Brad Jones, has made a mere 107 appearances throughout his long career and a third of them have been at Championship level or lower. A few people on twitter have mentioned they don't think he'd start for Championship teams these days, that's probably a valid opinion. At best he is a third choice keeper.
Since displacing Mignolet, Jones has played three games and conceded 6 goals. Three of which arrived at Old Trafford, the first he, well let's say he anticipated a shot really early. Really early as in Old Trafford was empty and Jones had decided which was he was diving. The Bournemouth goal, as a fan having seen Mignolet since his Sunderland games, I personally feel he'd have saved that. However, circumstances differ, nobody can be 100% certain Mignolet would've saved X many amount of the goals Jones conceded, but you'd like to feel that Liverpool have a professional keeper able bodied enough to save the Debuchy header. It was almost as if you forgot to press a button on Fifa when in a penalty shootout.
There has been a lot of talk about Jones's bringing an air of assurance to the Liverpool backline since his inclusion. However there is no way to substantiate these claims. Does Jones show in training he is more capable on and when using the ball? Does his mere presence in goal put the backline at ease as opposed to seeing Mignolet in goal. At Anfield yesterday whenever Jones had the ball there wasn't a collective sharp intake of breath like there is when Mignolet is keeping goal. You didn't feel the anxiety around the ground when they attacked, rightly or wrongly they felt at ease. This leads on to the picture below (via Squawka).
This picture compares the Liverpool Goalkeepers in Premier League games only. The first stat shows saves per goal and its telling that Mignolet makes almost one save more per goal than Jones. Either the opposition are really prolific when they face Jones, or he isn't at the required level. Second stat, this shows distribution accuracy, and this surprises me. Mignolet, a keeper torn to shreds on social media for his poor passing is almost 10% more accurate than Jones is. This despite the fact people feel more assured with Jones. The last stat, catches, shows Mr Flappy Bird Mignolet catches more than Jones.
You have to remember though a few things; firstly the distribution stat doesn't show if the passes play the players into danger. Mignolet maybe completing more passes but the next phase of play may be poor due to the Belgians bad pass? Secondly, catches. This doesn't show how many catches each of them faced on average, nor does it say how many crosses they failed to catch/dropped. Lastly, you have to take into account the influence each 'Keeper has on their team. There is no stat which says how calm players are with a certain number 1 behind them. This is why the final judgement on the influence of a keeper should be made primarily by what you see. What Liverpool ideally need is a 'Keeper with Jones' calmness, but Mignolets shot stopping ability.
It's worth noting during Rodgers' time as Liverpool manager Liverpool have conceded 2 or more in 40% of the games that theyve conceded in. There's something remarkably wrong with Liverpool as a defensive unit as that stat is staggering. The Liverpool backline isn't citadel, the defence isn't in remission so surely you want a Goalkeeper between the sticks who is a good shot stopper? The manager needs to decide wether he wants a 'Keeper that makes saves, or a 'Keeper that radiates calmness and hopes this means as a team they're more confident defensively and in turn don't concede.
Is the Belgian number two a lesser evil? The once famed astute man manager has made errors this season, but could indefinitely dropping Mignolet be the worst of the lot? Has dropping him exacerbated the broken keeper situation? Or could it be the making of Mignolet, could he propel himself into the starting XI for the second half of the season as the Reds inevitably pick up the pace on their charge for top four once again?