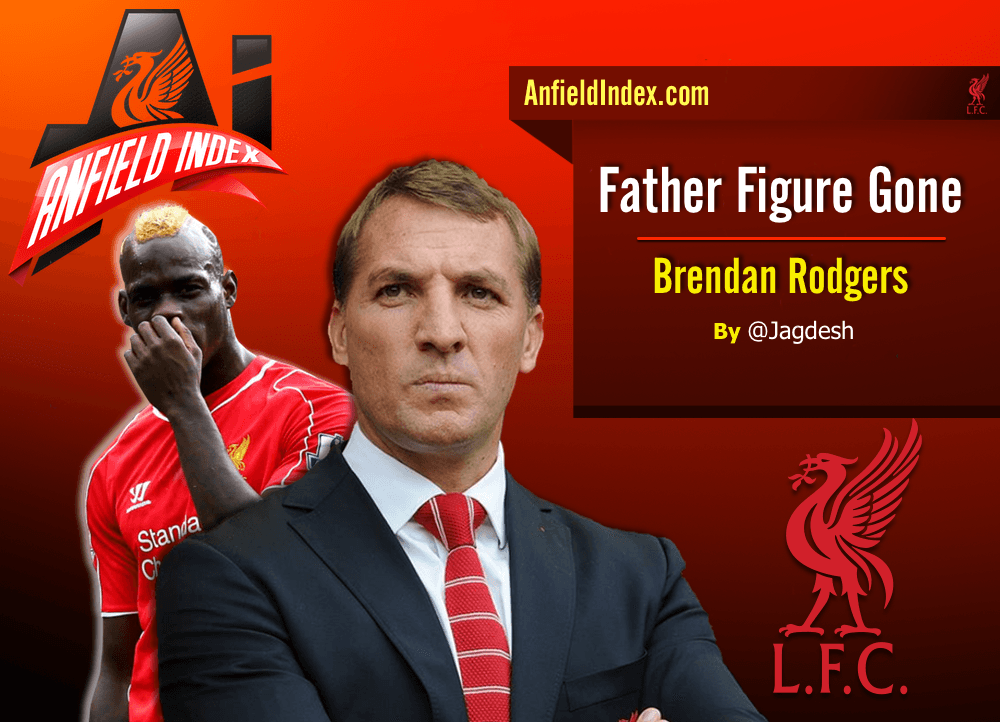 Father Figure Gone
Mario Balotelli, in my mind, has an acute case of Peter Pan syndrome. Why else would he behave like an immature teenager with his somewhat funny antics when not playing football in front of millions? Much has been written about his potential to be a world class player ever since he broke into the Inter Milan senior squad on 16th December 2007, at a tender age of 17 years. Much has also been written why this hasn't come to fruition. Disciplinary problems were always at the root of his descend from that high potential expected of him from his father figure manager at Inter, Mancini. This came to full circle when finally Mancini himself, when at the helm of Manchester City Football Club,  lost patience with Mario's petulance on the field and off the field as well. Evidently, there was a love hate relationship between both father figure and the man-cub, as Mancini sanctioned for Mario's sale to A.C. Milan while describing him as "like another one of my children".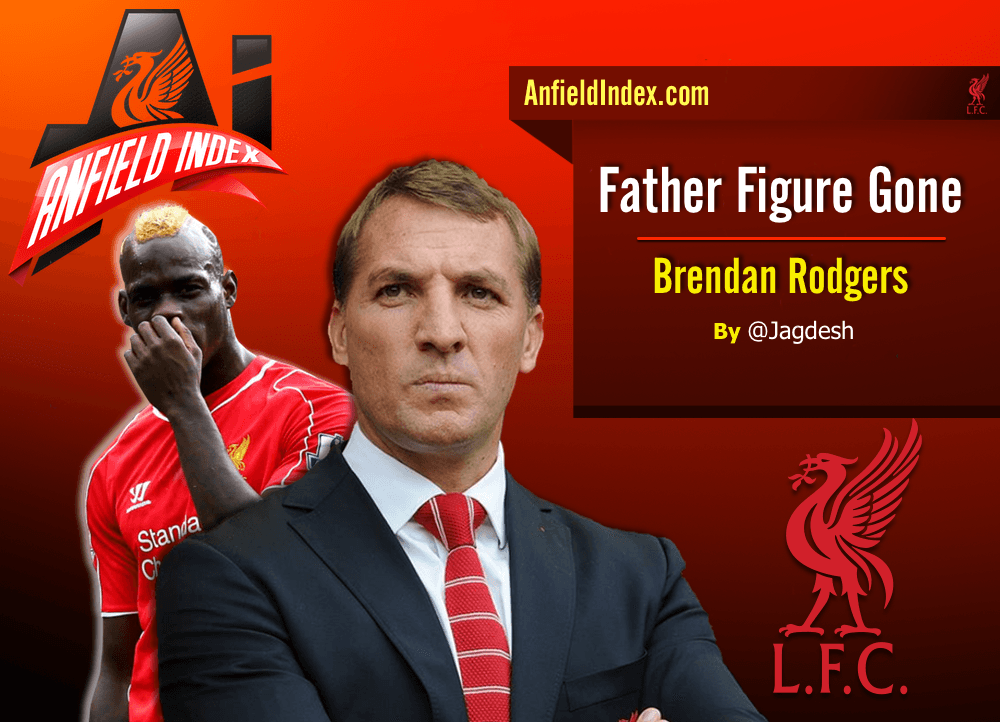 His return to the Premier League with Liverpool F.C. was welcomed with much fanfare, his cult following ballooning even before his unveiling. His somewhat impressive streak at A.C. Milan albeit a short one (26 goals in as many as 43 games), with memories of his antagonising antics that riled Manchester United fans, gave much hope to the notion that perhaps the Liverpool manager, Brendan Rodgers, can pick up the pieces where Mancini left off as father figure and mentor. The narrative was set in stone immediately. Man-management supremo Rodgers had an apparent proven track record of taking troubled souls under his wing and giving re-birth to footballers that can go on to attain legendary status amongst the Kop faithful. Such was the narrative that got supporters from all over the world giddy with excitement.

Rodgers admitted he had not consulted the temperamental star's former managers, saying:
"I didn't because if I'd spoken to too many people you would have got all sorts of stories about him. I know what we are getting. It is a calculated risk, but I have been very encouraged by the man himself. He knows his flaws and faults and he's looking for someone to help him and there is no better club than Liverpool."

"There is excitement with him coming in. As a coach I'm really looking forward to working with him."

"He has that self-belief and football arrogance on the field. Luis Suarez has gone, he was a wonderful talent but now we have to look to the future and hopefully Mario can contribute to what we are doing."
Rodgers goes on to admit that signing Mario is a "calculated risk" and says he can curb his "flaws". This sounded very much like Rodgers took it upon himself to improve the player who had apparent flaws. What these flaws that Rodgers alluded to were not apparent to all that time.
"We can improve him as a player and help him mature," he said. "He's a very bright boy. He was very clever. He understood where he's at, at this stage of his career, and he knows himself that this is probably his last chance.

"Time will tell. Of course it is a risk. I am not going to say it wasn't but he knows he needs to fit into our culture."
We won't know the exact reasons why the club ventured forward and signed Balotelli at that time, one reason perhaps being his slashed fees and substantially lowered wages. But this was a player with Champions League experience, with a name big enough to create stirs among opposition teams. This seemed prudent at that time because we already had the 2nd most prolific striker doing the business for us. The partnership had the angels already singing how it was made in heaven. Alas, the partnership was forged immediately; a shell shocked Spurs team was enough proof for all. And then, the unimaginable happened.
No, wait. It wasn't unimaginable because Daniel Sturridge had the propensity to get injured as an unbiased history tells us.
Then, in October, during the much awaited Champions League home game against Real Madrid, the game which Liverpool supporters heralded as the return of the club into the bright lights of the coveted tournament, the storm in a teacup happened. Mario swapped shirts with Pepe at half-time, angering Rodgers after the game. It wasn't the lack of movement; the lack of output from Mario, the poor naïve tactics laid to bare that angered Rodgers. It was the swap of sweaty shirts.
"It is not something I stand for," Rodgers said. The 'troubled and undisciplined' narrative reared its ugly head again.
But Rodgers was magnanimous and gave Balotelli two months to prove that he had a future at Liverpool.
"We brought in the player to give him a chance and we will continue to do that," Rodgers said. "He is working hard to try to fit into the team ethos here but only time will tell. We will see come January what the team needs."

"Mario is not uncontrollable, he's certainly not that," he said. "I take responsibility for every player I bring in, the manager always will, so there is no problem for me and the issue is very clear with the owners. We knew what we were getting. I said before that it was a calculated risk to bring someone in and nothing has changed. I haven't been overly surprised by many of the things that have happened. We took in a young player with football potential. He still has that potential, though whether we are going to get the focus and concentration that is required to play at the top level remains to be seen. At this moment in time he is working hard and we are still hopeful. We work every day on improving the players, and he is one of them."

"Of course he hasn't yet scored the goals we would like or want but we need to keep giving him the opportunity. I am the type of manager who will give players an opportunity, even players whose confidence needs building back up or people who have been written off elsewhere. I understand the criticism that will come my way because of that; you accept it as part of being a manager. You'll take the praise if things go well and you have to take the responsibility if they don't. Either way I can deal with it."

"We knew there was an element of risk in the signing but I don't mind players that are different. I am not put off by individuality. It would be boring if all players were exactly the same. The key is whether a player can fit into a team or whether he sees himself as an individual."
These words seem to be Rodgers trying to defend his player, to a certain extent. True to his words though, exactly 2 months later, the verdict was passed. Mario has now got to get used to being a regular substitute at Liverpool. Mario is apparently unsuited to the high-intensity, pressing game the manager demands at Anfield, something that was obvious to every keen observer of the game since his first appearance in Red. The blazing partnership with Sturridge for that very one game, or even an hour, was an evident yardstick that Mario could not play up alone with his back facing our goal, a forced modus operandi by Rodgers this whole season thus far. And this verdict was passed after just one appearance for the team since November 8th because of injury and suspension. That's a month short of actual playing time that the manager had set to pass his verdict.
To be fair, Liverpool have steadily improved in recent matches under a 3-4-2-1 system with Raheem Sterling at the focal point of the attack, thus justifying the lack of importance placed to having an actual striker like Mario in the first 11.
"It's something he would have to get used to," said the Liverpool manager. "If the team is going to need him from the bench then it's something he would have to become adjusted to. It's the same for every single player, not just him. When called upon, whether it's to start a game or come off the bench, you ask your players to be ready."
But why not use Balotelli as a striking partner with Sterling, when it's evident that:
We've got a new fledging intelligent attacking player up front in Sterling
Balotelli is at his best with an intelligent attacking player up front like Sterling
On Balotelli's ability to contribute, Rodgers said:
"We have seen it's not really his game. Working with him for the period of time he's been here we have seen that he's probably someone who's better in and around the box."

"That level of intensity and pressing isn't part of his game. But you try to get the best out of the players you have and the qualities they have. So that's something we will focus on. The most important thing is he is now available and adds another player to the squad."
Another fair statement, and accurate as well. He's available and can be used devastatingly but Rodgers knows tactics best. And he knows man-management best as well. So, in him we trust, but the father figure to fulfill Mario's prodigious potential is slowly wilting and dying a slow death.
Now he's just another available player in the squad.