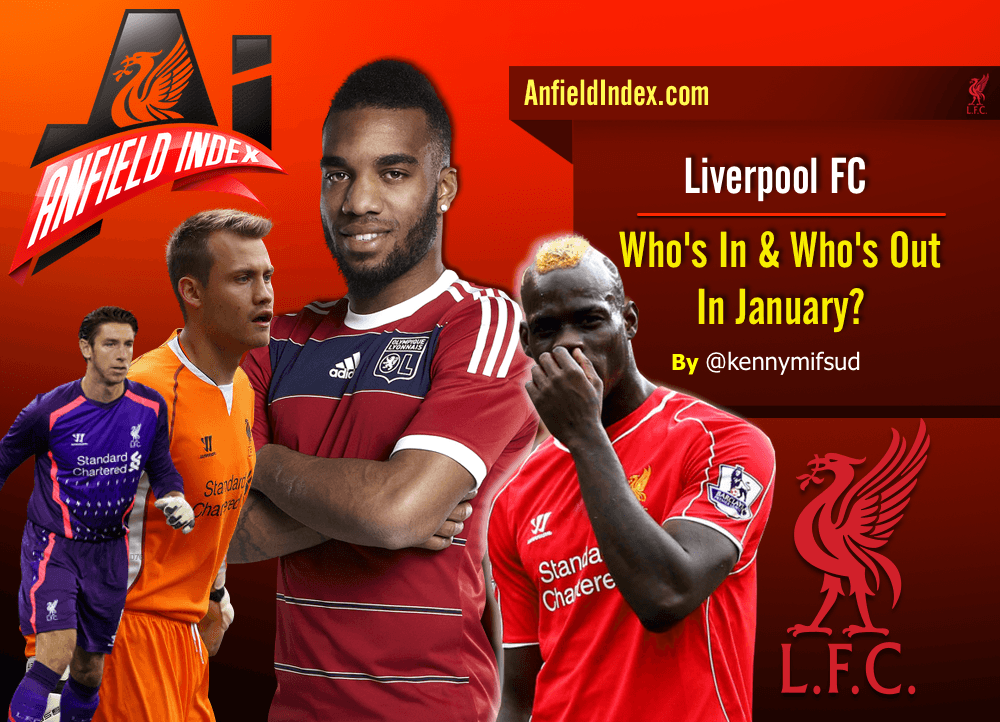 Liverpool FC: Who's In & Who's Out | January 2015
A certain Marco Reus was at the forefront of my arrivals for January in my original piece, written exactly a month ago. Glen Johnson was one of three talked about exits from the club. Since then, Liverpool have won three matches, whilst drawing three and losing two. Have things changed since? Yes, substantially. As the January transfer window draws ever closer, we take a quick glance at who is on Rodgers' Christmas wish-list as he looks to improve on his disastrous summer expenditure.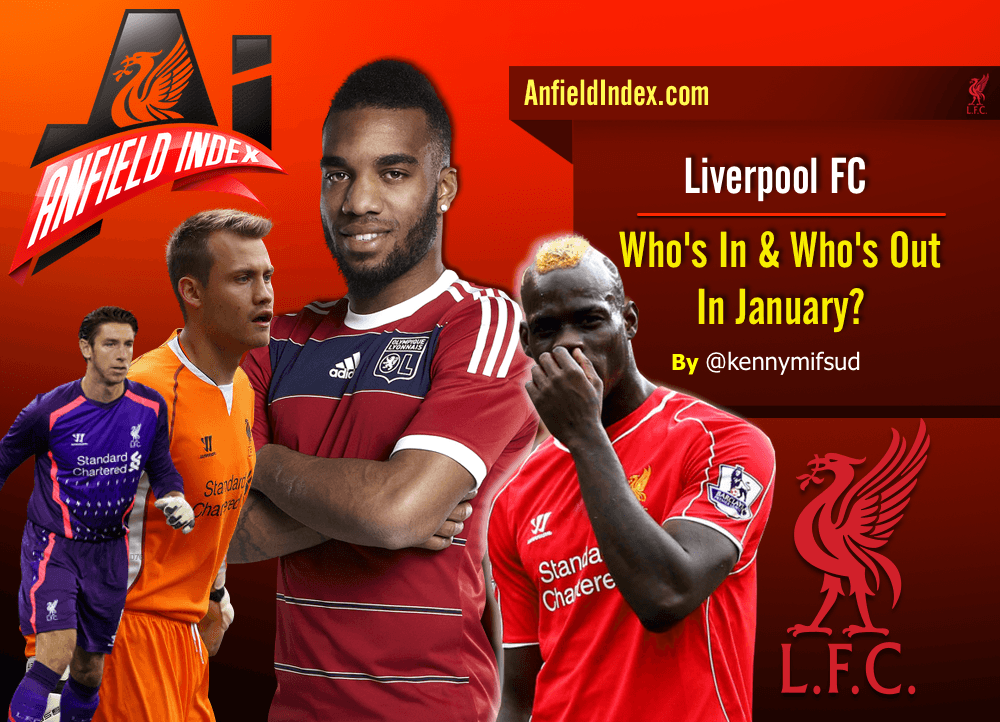 IN
Goalkeeper
The position that, in my opinion, needs strengthening the most in the New Year. Liverpool FC have conjured up an appalling five Premier League clean sheets thus far this season (two of which resulted into 0-0 stalemates). Simon Mignolet has been rightfully met with his fair share of criticism, as has Brad Jones, who is proving to be as shaky as the Belgian. Brendan will hope this hectic Christmas period will pass quickly, as he looks to bring in a solid and reliable man between the sticks.

Guillermo Ochoa (29, Goalkeeper, Malaga)
The World Cup superstar was linked with a move to the red of Merseyside in the summer just gone, however the Mexican decided to join Spanish outfit Malaga instead, and a mere couple of months later we are talking about the possibility of the 29 year old finally making his move to Anfield. That is mainly down to the fact that Ochoa is yet to play a single league match for the Spaniards. He has played second fiddle to Carlos Kameni ever since joining, which has sparked rumours of a growing interest in the 'big-haired' Mexican from Rodgers. Can he tempt the Malaga with a four million pound bid? Securing Ochoa's services will no doubt be an extremely positive move made by Rodgers, as we see a man who was nothing short of outstanding in last summer's World Cup.
Petr Cech (32, Goalkeeper, Chelsea)
If there ever is a man to bring in to shore up a team's defensive problems, it is Petr Cech. Probably holding the mantle as the best 'second favoured keeper' in world football, the Czech has found it extremely difficult to find a way past the ever-favourable Thibaut Courtois in the Chelsea goal. When he has been called upon, he has undoubtedly produced the goods, with two clean sheets to show for in just two league appearances. Strangely enough, the news of a possible bid from Liverpool emerged just a couple of weeks ago, and it did not come whilst the Czech was curled up in bed, cup of tea in hand. No, the news materialised during Chelsea's Capital One Cup fixture the other week, with none other than the man himself playing in goal. Weird timing, huh? I, personally would love to see this deal come to fruition. Petr will undoubtedly walk into this Liverpool team, and the experience he brings to the squad will prove to be a massive boost for us. Will Mourinho stick to his 'no selling to rival club' policy, however?
Defender
I, for one, am in total bewilderment at the fact Liverpool are still in dire need of a defender. Apparently, spending 25 million pounds on a centre-back, and a further 15-20 on a left-back in a summer of mass expenditure is not enough to content the Reds' faithful. No, Liverpool's defensive options have failed Brendan several times thus far, in particular our record signing central defender brought in from Southampton. Another fact to anger Reds' fans worldwide? A world-class defender such as Raphael Varane (Real Madrid) would have cost us a meagre 5 million pounds more. (Whether the Frenchman would have departed the Spanish giants is another question, however). Kolo Toure and Mamadou Sakho have brought us cause for optimism, however an incoming defender could be high on the bosses Christmas list this term.
Winston Reid (26, Defender, West Ham)
Although not a name to wet one's appetite and force us to open several links to YouTube, the West Ham man has endured a positive season with the high-flying London club. The 26 year old is out of contract in the summer and has found his place in Allardyce's team under threat of late by team-mates James Collins. Could Brendan be tempted by a move for the New Zealander in January? Is Reid a cut above the current defensive options Brendan possesses? I would personally pass on this move. The 26 year old is a promising lad, yes, however I reckon there are a number of stronger options out there at the moment, one of which comes in the form of a certain Belgian defender.
Jan Vertonghen (27, Defender, Tottenham)
The man who calls himself 'Superman' after his famous goal-celebrating antics, Vertonghen is a player who has found securing his place in Pochettino's Tottenham plans an uphill task this campaign. The defender, who was once touted 'Mr. Spurs' can be deployed in numerous positions such as centre-back and left-back, the Belgian himself has expressed his personal interest in joining Liverpool in January, and who could blame him? Currently a bit-part player at Spurs, Vertonghen is conscious of the fact that he could be the one to enter the Anfield club and would relish in stamping his authority in the heart of Liverpool's back line.
Will 'Super Jan' come to the rescue and save Liverpool's lacklustre start to the season? I fully expect at least 90 % of Red fans reading this to feel as optimistic as myself regarding the possibility.
Central Midfielder
I'll be the first one to admit doubting Gerrard's capabilities to keep performing week in, week out as the season approached us in August. Then again, so did Rodgers, who accepted the fact that 'Captain Fantastic' would not be able to maintain a similar season to last. Stevie began the season 34 years of age after all, so we simply can not blame him for feeling his legs fail on him occasionally. One thing's for certain, he has proved us all wrong and has delivered miraculously where others around him 'could not seem bothered.' If not for Stevie G, we could well find ourselves amongst the relegation battlers as we enter the Christmas period. Rumours of an exit for Lucas is gathering pace, whilst Emre Can has not exactly lit the league on fire as of yet, therefore Brendan will no doubt be on the prowl for an 'anchorman' to introduce to the team.
Fabian Delph (25, Central Midfielder, Aston Villa)
Fabian Delph, the next of the emerging talents in English football, apparently. (And you know what that means; the kid is certainly not going to come cheap). I have recently come across an on-line poll which read: "Henderson vs. Delph, who is better?" I stopped myself the moment I saw Delph even mentioned in the same sentence as Jordan, and after nearly falling to the ground in laughter, I recovered myself to find out that 37 % of people actually voted for Fabian Delph. (Them pesky United fans always interfering in other club's problems).
Jokes aside, the 25 year old does not yet deserve the mantle of being mentioned in the same breath as Henderson, let alone the captain himself. With that being said, the youngster is a definite emerging talent, and one who has kept Aston Villa battling on in mid-table. This is a move I would personally prolong to next summer, as the Englishman will be out of contract and would thus cost the club absolutely nil to bring in.
James Milner (28, Midfielder, Manchester City)
Never in a lifetime would I have foreseen myself writing a piece on 'Boring James Milner.' (I'm sorry, the Twitter account has caught up on me a little). The 28 year old has been one of Manchester City's stand-out performers this season, and although never portraying even a slight hint of a smile in the process, he has been regarded very highly of late, so much so that Vauxhall have awarded him with the 'English Player of the Year' award for 2014.
The midfielder is one of the most underrated of players in world football, much like Lucas, however more effective attacking wise, in my opinion. I am bewildered by the fact that he has become a bit-part player for the champions, and apparently so has he, as talks with the 28 year old regarding a new contract have seemingly stalled. Milner would be a great addition to the squad in my opinion, and the 28 year old may be available on the cheap as well.
Striker
Luis Suarez exited the club, we mourned; Mario Balotelli entered the club; we welcomed him with open arms and ice bucket challenges of all sorts. Four months later, we are sat 9th in the table, 21 points off top spot, whilst sending several 'come back Luis' tweets to Suarez, whilst Balotelli is on the brink of an exit. YES, ALREADY! 70 pounds spent on the new Liverpool home kit, with Balotelli's name at the back, however the Italian is yet to muster a single Premier League goal as we approach the midway point of the campaign. I did not expect Super Mario to set the league on fire, however this a horrible start I did not foresee in the summer.
Will Brendan once again be given the cash to fork out on a world class striker next month? If so, here are some of the possible names being brandished about.
Wilfried Bony (26, Striker, Swansea)
The 26 year old Ivorian has continuously been linked with the red of Liverpool ever since his days at Vitesse in Holland. Now at Swansea, he is once again amidst the talk of the town as whispers of a 20 million pound deal gathers pace. The Reds were in hot pursuit of the forward last summer of course, but much to the amusement of the Reds' fans back then, Rodgers opted for Mario Balotelli, and the duo's goalscoring stats since paints a perfect picture of karma biting Brendan in the backside.
Mario Balotelli = 10 Appearances, 0 Goals.
Wilfried Bony = 12 Appearances, 7 Goals.
Alexandre Lacazette (23, Striker, Lyon)
An unknown figure to many Reds worldwide, Alexandre 'The Great' has slowly gone on with his business this season, netting a staggering 17 goals in 19 matches for Lyon thus far. (That certainly beats the total of one scored by Liverpool's four available strikers). The Frenchman is on blistering form, and his performances have not come unnoticed, as Brendan ponders a move.
With this being said, Lyon boss Hubert Fournier has recently come out and confidently warned the Anfield club that their star man is not currently on the lookout for a move away from the club. At just 23 years of age, Lacazette will undoubtedly light the Premier League on fire with his pace, eye for goal, and ability. (No pressure, lad). Will the lure of a club of Liverpool's stature be enough to tempt the striker in joining come January? Definitely one that will gather pace once January enters the picture.
Saido Berahino (21, Striker, West Brom)
Liverpool 'close to signing West Brom striker Saido Berahino in £23.5m transfer deal'
That extract from the Metro on Sunday morning proves an encouraging read for Liverpool fans. The Englishman has been included in the past two of my 'Ins and Outs' lists, and his goalscoring stats prove exactly why that is. The 21 year old has netted seven goals in 18 matches for a struggling West Brom team, and although finding it difficult to find the net of late, his sheer presence and skill upfront is one to wet any a fans' appetite.
Will Rodgers fork out the 20 + million pounds required for yet another Englishman? Has Rodgers not learned from previous misjudgements regarding paying highly for 'young, English talent.' One to ponder for the Northern Irishman, as Berahino has proved to be one of the stars of the Premier League this campaign.
Stephan El Shaarawy (22, Striker, Milan)
The last of the striking reinforcements comes in the form of an Egyptian who is never shy of a wild hairstyle or two. Roll back a couple of years, and El Shaarawy is being dubbed the 'next big thing'. (Then again, so was Mario Balotelli). The lad was being likened to the Neymars and Iscos of the footballing world, however, since then he has found it extremely difficult to portray this talent to the world for a team who are currently sat 7th in Serie A. That has caught the attention of many of Europe's elite, including Brendan's Liverpool.
"Stephan will not leave Milan in January unless there is a sensational offer, the type that no-one can be sure will arrive." These words, quoted by the player's agent, have dampened and stalled the possibility of a future deal for the moment, however we have witnessed in the past that Brendan is not one to shy away from paying the big bucks for players.
OUT
In contrast to my original piece a month ago, of which consisted of just the two Liverpool players on the departure list, recent performances have resulted into quite the outgoing list accumulated. (A number of names coming in the form of players we only just recently signed in the summer, quite astonishingly.) Yes, I reckon there may be a greater number of out-going players than incoming ones over the next month, as Brendan looks to re-shape his squad.
Mario Balotelli (Sell)
Quite incredibly, a mere four months ago I was including the Italian amongst possible incomings to the club. Now, we sit here possessing a grumpy Italian on 100k + a week, with 80 % of the Reds' fans calling for the forward to be sold come January. I do not entirely agree with the large majority of you. Although the enigma has looked disgruntled and disinterested every time he enters a football pitch, accumulating not one single league goal, the large matter of Daniel Sturridge keeps me bearing an optimistic view regarding Balotelli.
The duo have only started one league game together thus far, resulting in the 3-0 mauling of Spurs. Super Mario has not exactly been spoilt for choice where replacements to partner him are concerned. I do believe we will see the best of Mario once Sturridge returns next month. If not, then he will undoubtedly be moved on in the summer. Here is what Brendan thinks regarding the possibility of offloading our centre forward:
"It is not something I have even thought about. We have had a lot of games this season in a lot of competitions."
Lucas Leiva (Sell)
From one rumour I disapprove of, to another. Sometimes I begin to wonder what exactly the Brazilian has done wrong. He has been the most loyal of Liverpool players and has always given nothing short of 110 % for the red shirt, yet, Liverpool fans worldwide still hurl abuse the Brazilian's way, which has worked somehow, as Lucas finds himself amongst Rodgers' departure list.
Apart from the constant hate the Brazilian receives, competition for places in that defensive midfield position is intensifying by the minute. (So much so that we have deployed Henderson out wide). Then again, the experience Lucas beings is a necessity for any top team, and I reckon Brendan should not rely on some of his young guns to produce him the goods.
Rickie Lambert (Sell)
On to the second of Brendan's disastrous summer signings. Die-hard Kop fan Lambert entered Melwood with a massive grin etched across his face, and expressing high amounts of optimism entering the league season. Fast forward to the present day, and many fans would give their right hand to swap Rickie for ex- 'flop' Andy Carroll. It has gone unbelievably horrendous for the 32 year old, where everything that could have possible gone wrong, has indeed failed miserably.
Will Brendan release the number nine flop, just six months after signing him for four million pounds? If the Rodgers does dig in to his wallet and brings in one or two striking reinforcements come January, I believe that will spell the end for poor-old Rickie. A massive pity for an ever-so determined lifelong Reds fan.
Glen Johnson (Sell)
19th August, 2009. A then youngish Glen Johnson scores on his home debut against Stoke City. Red fans worldwide go ballistic in praise for the right-back. (I remember a friend of mine stating that four years from then, Madrid will offer us 50 million pounds + Sergio Ramos for the Englishman). Boy, how I would take that now. Johnson endured an excellent first two to three years at the club, however, ever since Brendan has entered the fray, we have seen a substantial decline from Johnson.
The full-back looks a liability every time he is in possession of the ball, something that has angered fans to the point of utter disregard of the 30 year old. Talks of a move to Roma seem to be gathering pace, as the Italians seem content on matching the defender's current wages to force a move through before his contract expires in the summer.
Simon Mignolet/Brad Jones (Sell)
I have opted on effecting something I haven't previously done. I am going to leave the choice to the readers out there. There are several pros and cons to both possibilities, however one thing is for certain, the current goalkeeping situation at Melwood needs to be addressed, and promptly.
The ever-so promising Belgian number one has endured a torrid league season thus far. Errors and misjudgements seem to be arriving at a premium, and his replacement in Brad Jones has not exactly lit the league on fire. Brendan's options are pretty straightforward where the two are concerned; Sell Mignolet and sign a 'world class' keeper to ease his way into the starting line up, or sell Jones and recruit a solid pair of gloves to battle Simon for his place. I would personally opt for the latter. However appalling a large part of the Belgian's decisions are proving to be, selling him would not be the way forward, in my opinion. On to the readers' opinion now; what do you think?
Sell Brad Jones       /          Sell Simon Mignolet        /       Keep Both             /         Sell Both
Conclusion
As I conclude my bumper edition of Liverpool Ins and Outs for January, Brendan's team enter a set of extremely crucial matches, most of which require the three points in order for the Reds to make strides forward and make up the deficit lost. With Swansea up next for Liverpool prior to the commencement of the window, Brendan needs to weigh up his options on both the arrival and departure list, as a repeat of the summer transfer window is not something the Northern Irishman needs at the moment.
It is not all doom and gloom however, as we look back to a number of brilliant January buys from the club in recent years, most notably Luis Suarez, Daniel Sturridge, and Philippe Coutinho.