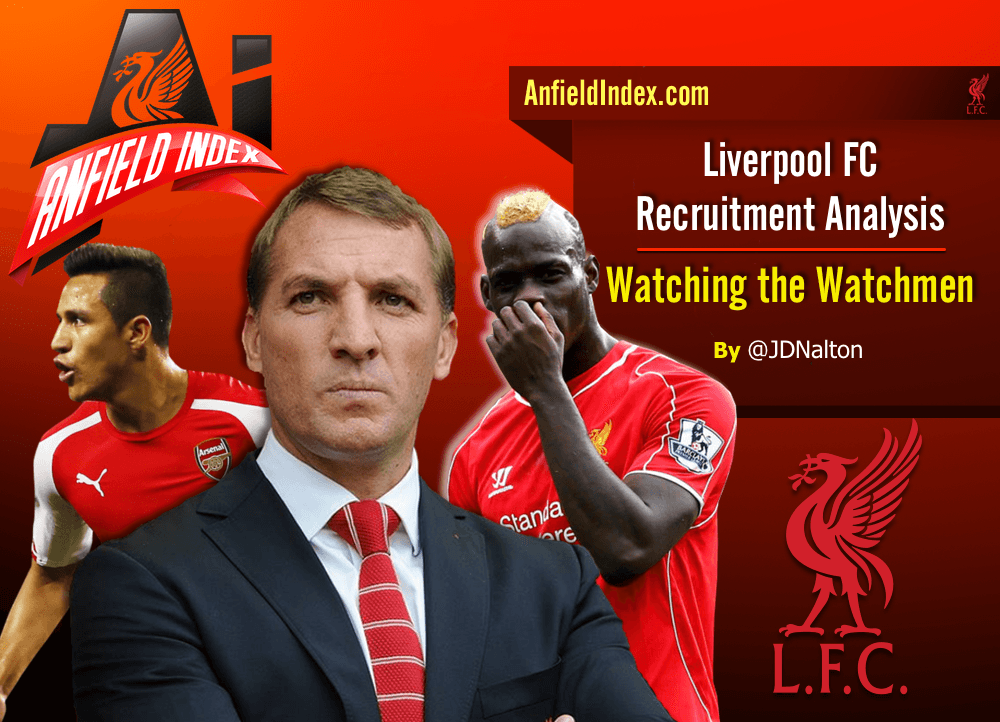 Liverpool FC Recruitment Analysis: Watching the Watchmen
After an exciting summer spending money on shiny new players, Liverpool FC set fans' pulses racing with the promise of defensive leadership, pace up front, guile in midfield, and those full-backs we've been looking for since the days of Stig Inge Bjørnebye and Rob Jones…
Over a hundred million pounds were spent replacing Suarez, but not replacing him, as his only true replacement in terms of player profile (hard working, skillful, South American, high profile, tries crazy stuff) went to Arsenal in search of some mythical London glamour.
Whether, as Brendan Rodgers says, "it was about where the player and his family wanted to choose to live" is true or not, it's still worrying that players still turn down a transfer to Liverpool even with the offer of Champions League football.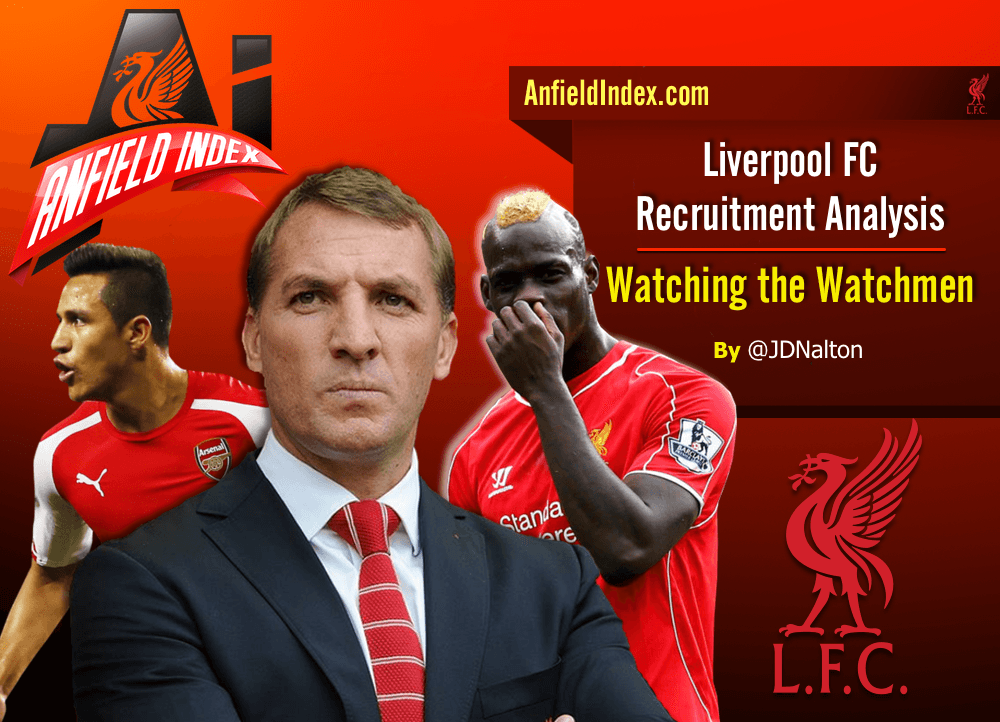 What's even more worrying are the targets Liverpool turned to once Alexis Sanchez chose fajita making with Santi Cazorla, over FIFA tournaments with José Enrique.
VIDEO: See @Alexis_Sanchez and @19SCazorla test their cooking skills on @centrepointuk visit: http://t.co/6psXp3nbia pic.twitter.com/U6AK5OBbOV

— Arsenal FC (@Arsenal) December 4, 2014
There are players out there with similar profiles to Sanchez even if, Carlos Tevez aside, they don't quite make the grade in terms of true world class quality. Having turned 30 this year, Tevez's age doesn't match the profile, but most other things do. Golfing leave aside, the Argentine gave his all at Manchester City despite not being 100% happy during his time there, and helped take the club from pesky pretenders to serious contenders.
If Tevez has fallen out with England, then the next player down the list in terms of profile isn't Mario Balotelli. There's a case to say he should be on a list of possible signings, but not this particular one. The Italian has the potential to be a great player in the right system and under the right circumstances, but he's more of a wildcard than a reliable snugly fitting piece of the football team jigsaw.
He doesn't match the profile of Sturridge or Suarez – the two players who were able to make the 2013/14 season what it was, even in the others' absence. Liverpool's win percentage in the league didn't veer far from the 70% mark with one or both of the deadly strike duo in the side.
With just Suarez – 69.6%
With just Sturridge – 68.9%
With both Suarez and Sturridge 70%
Balotelli's arrival would have been understandable if Rickie Lambert hadn't already been signed, and a strike force of Balotelli, Sturridge, Borini, plus an agile, hard working forward with pace would have made more sense.
Three players recently profiled on Anfield Index; Roberto Firmino, Alexandre Lacazette, and Paulo Dybala would have been more appropriate signings, and even an inside forward such as Xherdan Shaqiri, Lorenzo Insigne, or Ezequiel Lavezzi would have been a better fit for the high tempo attacking game which saw Liverpool challenge for the title last season.
Brendan Rodgers' recent suggestion that Balotelli isn't the type of player to play an intense pressing style, could be seen as an admission that the club brought in the wrong profile of player
"I think we've seen it's not really his game. Working with Mario, we see someone who is better around the box. That level of intensity and pressing isn't part of his game but you try and get the best out of the players you have and the qualities that you have."
However, the enigmatic Italian would have made sense alongside a partner with pace and mobility. Some evidence of this is that both of Balotelli's goals have come when Fabio Borini has been on the pitch, one of which being the result of a direct assist from his compatriot.
His time up front alongside Daniel Sturridge against Tottenham, and with Raheem Sterling against Manchester United, also showed his worth to the side in the right system, and that there isn't the need to sacrifice any intense pressing without the ball to accommodate him.
It's here where the manager and recruitment team need to be on the same page. At the start of this season Liverpool tried to fix a broken defence (only to make it even worse), but in the process broke the attack and then had to fix that too.
Identifying the Weaknesses
The scouts and analysts should be able to present the manager with a list of targets which fill holes in the team, strengthen the squad for the Champions League campaign, and reinforce any areas of the side which showed weakness.
Last season these weaknesses were in the centre of defence – particularly on the right hand side, the area in front of the back four, the goalkeeper's lack of adaptation to the system, and depth in the full-back positions. Add the departure of Suarez and you have a list of targets which include goalkeeper, right sided central defender, two full-backs, a defensive midfielder, and a striker.
In terms of player profile you could say that the targets should have been:
A goalkeeper who's comfortable playing out from the back.
A defensive midfielder in the Lucas mould, but more athletic than the Brazilian.
A commanding right centre-back, preferably with pace, who's also comfortable on the ball.
Two full-backs who are also comfortable on the ball, and can contribute in both phases.
A dynamic forward player, as mentioned earlier.
This is what was needed to maintain and then increase the quality of the first eleven from the 2013/14 season. Any young players with potential on top of this would be a bonus.
Long Conclusion
Liverpool's summer transfer window yielded the following results:
No goalkeeper was signed.
The club spent £20m on a left sided centre-back from Southampton in the shape of Dejan Lovren, despite spending a similar amount a year earlier on Mamadou Sakho who's also left sided, and is one of the highest rated young defenders in Europe. It's safe to say that so far Lovren isn't the commanding, composed centre-back Liverpool needed, and the right side of defence remains in the same state as it was last year.
You could say that the defensive midfield problem was solved with the signing of Emre Can, but for reasons unknown the German youth international spends most of his time on the bench. Can has recently been touted by Germany manager Joachim Löw as part of the future of the German national team, and he has more goals per minute in the league for Liverpool than Rickie Lambert…
Javier Manquillo and Alberto Moreno match the profile of young players with great potential, and at the same time increase the quality of the first eleven. Manquillo is a special case given his lack of senior appearances prior to joining Liverpool, but the evidence so far has shown he's a better defender than Glen Johnson, and given the Englishman's recent decline it could also be said that he's better going forward.
Alberto Moreno is a good attacking full-back with the potential to be a great one, and despite being just 22-years-old he already had more experience in European competition than José Enrique.
The recruitment of forward players seems more haphazard.
Adam Lallana is a neat and tidy squad player who's brilliant to watch at times, and can entertain with his turns and flicks, but he lacks pace and was a touch on the expensive side. His arrival also meant there was no room for other inside forward types such as the aforementioned Shaqiri and Lavezzi, and the previously linked Ukrainian wing forward Yevhen Konoplyanka, who was close to signing for the club in January 2014.
Rickie Lambert seemed like the start of things to come in terms of options up front, but as the transfer window plodded on, it looked more and more like he'd be the only striker Liverpool would sign, until their last minute purchase of Mario Balotelli. The more dynamic player never came, Borini stayed, and Iago Aspas was loaned out.
Lazar Markovic was a bonus signing – a young player with the potential to be great, but one who couldn't be expected to drop into the side and shine immediately. Divock Origi is a similar case, and Liverpool were able to sign the young Belgian international on the understanding that he would remain at Lille on loan this season. Even if he had joined immediately, he could well have encountered similar problems to those suffered by Markovic.
This is where you get the impression that the manager and recruitment team aren't working together as they should. The players which seem to successfully fill gaps and strengthen the side find themselves regularly on the bench, and styles of play have been altered to a more defensive system with Lambert as a target man of sorts, particularly during the team's failed Champions League campaign.
A recent return to the more proactive system has seen several players operating in unfamiliar positions, including some excellent cameos from Markovic on the left of midfield, and an appearance for Emre Can at centre-back.
From the Liverpool line-up in the last game against Burnley, it could be said that only Lucas Leiva, the goalkeeper, and the starting centre-backs were playing in their best positions, even though Raheem Sterling could well emerge as an outstanding striker in the future.
Short Conclusion (TLDR)
Effective recruitment is vital if Liverpool are to move forward, and it's still needed if they attempt to stand still for a while and establish themselves as Champions League regulars. Without the financial power of other teams, as shown by the signings they make and the wages they pay, Liverpool need to be more effective in the transfer market than them. They need more hits than misses.
I partially agree with Rodgers. I'd say that #LFC need to work harder and smarter to avoid recruitment mistakes.

— Dan Kennett (@DanKennett) November 10, 2014
This will only happen if the scouts, analysts, and manager are on the same page, and looking for player with the profiles required to continually strengthen the team. Let those who are good at judging footballers identify the players, let the group decide the right profiles based on the club philosophy, and let the manager attempt to get the most from these burgeoning talents.