Here we go again….another transitional period awaits Liverpool Football Club. In fact, for the past 20 years Liverpool Football Club and the word transition have been together hand in hand.
Only seven months have passed since our title charge and we now need to replace our legendary captain in a few months time. We may also need to find ourselves a new manager considering a fourth place finish is looking a remote possibility based on our inconsistent form. Furthermore, the whole management set up with our much talked about transfer committee will need to be looked given the inability to secure the right signings when we needed them most.
Only Liverpool Football Club can go from the cusp of glory a matter of months ago to having so many issues to deal with like we have now. A transition awaits!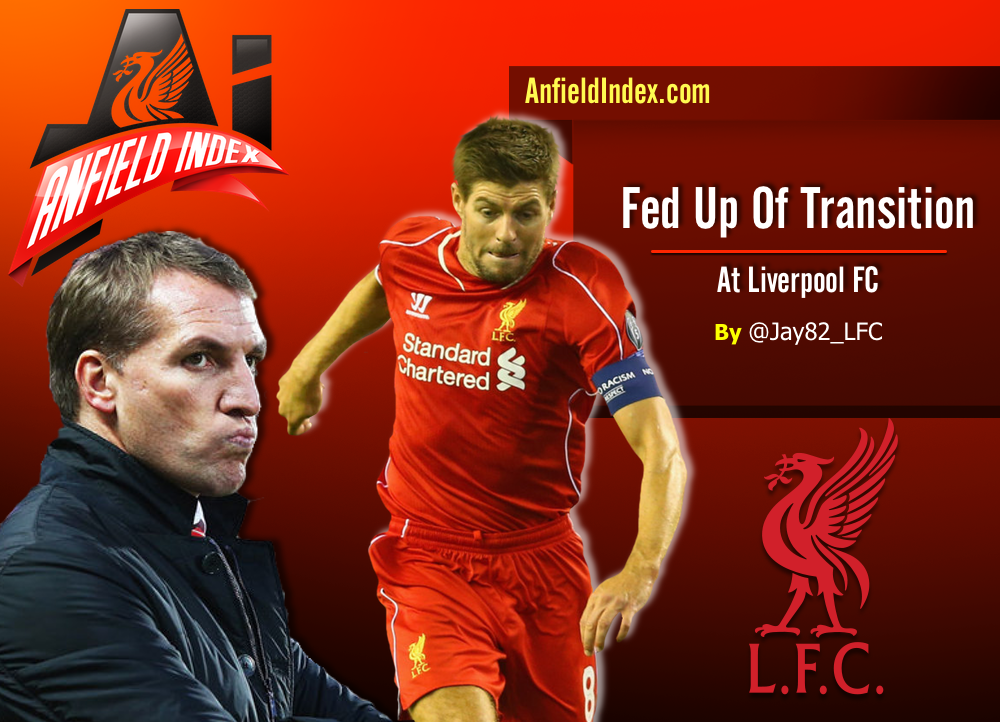 Replacing Gerrard
Steven Gerrard's announcement has now given the club six months to come up with a solution to fill his void. Importantly, the manager and owners will need to decide what are they actually replacing?
On the playing side are they bringing in a dynamic goal scoring attacking midfielder to replace the Steven Gerrard under Rafael Benitez or are they bringing in a deep defensive midfielder to replace the Steven Gerrard under Brendan Rodgers? Do they need to bring an experienced player with leadership qualities to lead current crop of youngsters on and off the pitch like Gerrard has done over the years?
Liverpool has an abundance of attacking players with the likes of Raheem Sterling, Phillipe Coutinho, Lazar Markovic, Adam Lallana and Jordon Ibe and Divock Origi who return from loan next summer. It would be sensible for the club to address the gaping need for a defensive midfielder with a big personality to replace Gerrard. This in turn would better shield our defence and give a platform for the team to attack with real purpose.
Importantly, the club need to think big when replacing a huge player in Steven Gerrard. Whilst bringing in young talent is a sensible model, we do need players who can make an immediate impact. Cesc Fabregas and Diego Costa have done this at Chelsea and it is important for Liverpool to start acting like a big club.
Pepe Reina was replaced by Simon Mignolet. Jamie Carragher was replaced by the likes of Kolo Toure and Dejan Lovren and Luis Suarez was replaced by Mario Balotelli. This has all been due to poor succession planning and the club not thinking bigger when aiming to replace our key players.
Whilst it may be hard to draw the best in the world, money talks and its time we started to make serious efforts to bring in the likes of William Carvalho, Raphael Varane and Mats Hummels to show we are serious about winning on the pitch.
Is Rodgers the right man?
Brendan Rodgers was rightfully lauded for his management last year. He played a variety of systems and maximised the performance of the players at his disposal. Whilst he had the luxury of having Luis Suarez and Daniel Sturridge together, Rodgers should be applauded for what he achieved.
However, that was the past and the present paints a very different picture. Rodgers has frustrated many with his tactics earlier on in the season. Whilst performances have been better more recently in the 3-4-2-1 formation, the rigid 4-2-3-1 that he employed during the autumn months have cost us priceless points and led us to exiting the Champions League. He has also not rotated well and sometimes made changes when they weren't needed. The most recent example was changing the winning line up against Swansea for the Leicester game.
FSG need to monitor the managerial situation closely and if Rodgers can't get us moving back in the right direction and put us in real contention for fourth place they will need to perhaps think of making changes. This could be seen by many as hasty given Rodgers' performance last season, but a great manager won't repeat the same mistake and currently Rodgers is not learning quickly enough.
Sporting Director / Transfer Committee
It has been claimed that Rodgers' power at Anfield grew after last season and he had more of a say on player recruitment. During the summer, Rodgers was extremely vocal about the qualities of players such as Dejan Lovren and Adam Lallana and less so about the likes of Mario Balotelli and Javier Manquillo. You can make your mind up on which signings were led by Rodgers and which were more of a 'committee signing.'
All in all, it has created a mess at the club. Player recruitment hasn't been a strong point for Liverpool since the early 1990s. We have bought some real gems but overall our track record has been poor.
FSG's initial framework was to have a Sporting Director or Director of Football at the club who would oversee recruitment. It was the reason Damian Comolli game into the club, although Comolli was more a scout rather than a Director of Football and he didn't last long. Brendan Rodgers' proviso of taking the job was that he would not operate under a Director of Football which led to the forming of the current transfer committee.
Plain and simple, the structure hasn't worked. There is no clarity on how it is working and it would seem that Rodgers and the committee have their own vested interests. Rodgers' main strength is his coaching ability – not player recruitment.
It would make more sense to have a Sporting Director in place who knows the market to deal on behalf of the club and work closely with our scouting and performance analytics teams. Rodgers involvement would to identify the positions that we need to strengthen and then the Sporting Director and scouts would make it happen. It would also be helpful for Rodgers to discuss matters with an experienced Sporting Director. Everyone would be aware of their roles and importantly everyone would be playing to their strengths. It would also help in succession planning if Rodgers or any future manager were to ever leave the club.
FSG need review what we have in place and refer back to the advantages of the model they first wanted to employ before Rodgers' ultimatum.
What Now?
It is evident that this is a crucial six months for Liverpool (yet again!). The owners need to review many aspects of the running of their club, particularly the manager and player recruitment. FSG also need to decide their strategy for success as making the next superstar for 2020 is great but you also need a winning and competitive team in the present.
It is time to start thinking big, start acting big in the market and the management of this club and finally to move out of transition. Liverpool fans are fed up of the word!