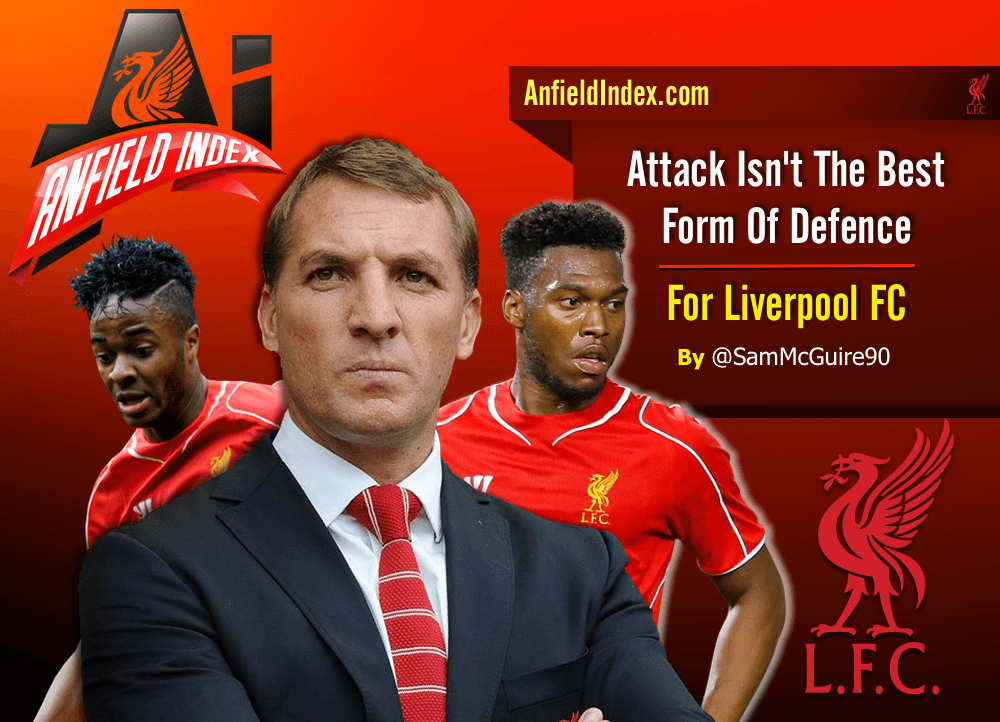 Attack isn't The Best Form of Defence for Liverpool FC
Attack isn't the best form of Defence.
The shambles known as the Liverpool defence has been a, if not THE, topic of conversation amongst Liverpool fans ever since Brendan Rodgers took over at the club.  With the goals against column worsening with each season Rodgers' is at the helm, its little surprise the defensive signings are put under the microscope.
Yet, surprisingly, a number of fans want to strengthen the attack in the January transfer window. After the success of last season, when Suarez and Sturridge did their very best to paper over the cracks with goals, there are fans out there who think same tactic will save our season once again.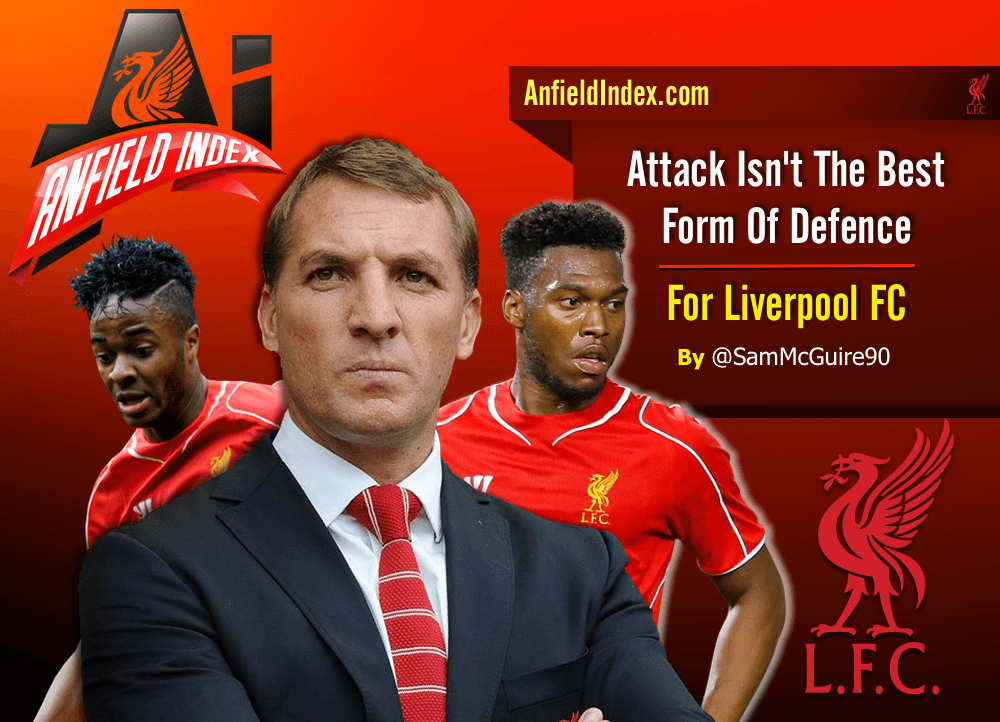 The constant shouts for 'Goals!' makes me think of a Spandau Ballet song. You might have grown up during the 80's but times have changed.
A few factors prevent last season being repeated, there's of course the obvious reasons; No Luis, and an injury plagued Sturridge. Then we also have to take into consideration the fact we no longer have the element of surprise, and of course, teams can nullify that breathtaking counter attacking style of play by sitting deep. Many teams won't be as effective as Chelsea were last season when they visited Anfield but it's safe to assume teams won't be as naive enough to be so open.
You also have to think about the in game tactical battles. If the game is 0-0 after 75 minutes it's not too absurd to think the opposition would consider it a winnable game and open up for the last 15 minutes, allowing Liverpool's talented attackers to exploit that space and get a win themselves. As much as all fans want 4-0 home wins I think 99% of us would take a 1-0 win if the alternative was a 0-0 draw reminiscent of the Hull game this season.
Over the past 14 Premier League seasons, the team that's won the league has been either first or second in conceding the least amount of goals a staggering 13 times. The only exception to that was Manchester Utd in 2012/2013 when they conceded more goals than 4 other teams in the league. This shows you simply can't score your way to a title win, it's based on a solid defence.
The below table shows the least goals scored to get into the top 4, and the team that conceded the most goals within that top 4 per season over the past 5 seasons.
I excluded Liverpool from last season to see what the most goals conceded would have been amongst the rest.
I found the average for the least amount of goals amongst those finishing within the top 4 was 64. The average for most goals conceded was 41. These numbers show on paper to qualify for the top 4 you're looking at scoring 64 or over and conceding 41 or less.
Those numbers don't look that scary. A squad containing Sturridge, Sterling, Balotelli, Markovic, Lallana and Coutinho should be able to help Liverpool score that magic number of goals needed, but where this falls down is the team needing to concede so few, 41 or less to be exact.
Team being the key word here, every part of the starting XI has to help out defensively.
What is it that Arsenal don't have? A quality defensive midfielder. They're the team that celebrate 4thspot as if they've won a Champions League. It's never entirely comfortable for them as they don't have the balanced squad that others do.
This is where I think Liverpool should be looking to strengthen.
The clubs main aim is Champions League football. The gung ho approach of last season was fun, it was enjoyable and it was memorable and it did the job; we got Champions League Football.
We destroyed Everton and Arsenal at home, had a field day at Old Trafford, scored over 100 goals in the league but in the one game we needed to really shut up shop we showed our naivety and a lack of experience coupled with the fact many of our defensive players, at the time, couldn't do their job. Whether that is a personnel problem or a coaching issue, you can't overlook that fact.
Yet in the summer that's exactly what the club did. We got top 4 and this summer should have been the time we spent big defensively and cemented our place in that top 4. Suarez and the goals left, instead of trying to replace that we should have been strengthening the defensive aspect of the squad. Primarily because that's the weakness but secondly, you can't replace Luis.
I hear people saying Utd have taken a similar approach to Liverpool of last season. Utd spent over £50 million in the summer on defensive players alone, and despite Rooney finding the net on a regular basis they wouldn't be where they are now without David De Gea. I think this again shows how having a couple of goal scorers doesn't automatically mean you finish top 4, you either need a good defensive unit or one of the elite 'Keepers.
If I was building a house I wouldn't start with the roof, Id start at the foundations. That's how a team should be built. If I had a flat back tyre I wouldn't just chuck a new engine in and truck along in the hope it goes ok.
Liverpool could go out and buy Benzema, Higuain, Lacazette and yes they'd probably score loads of goals but we'd also lose loads of games. Many people on social media say it's easier to buy a proven goalscorer than it is a defensive midfielder. The three strikers mentioned above would all cost more than what Chelsea paid for Nemanja Matic, and he's the best of the best in his position. I've written about Maxime Gonalons in the past as an option for Liverpool, again he'd cost less than any of the strikers mentioned.
It's easier, and cheaper, to find a defensive midfielder than it is a guaranteed 30 goal a season striker. Not only would a DM, or even a general midfielder, shore up the defence it would also allow other midfielders to chip in with a more goals as they don't have as much defensive work to think about. It make the core of the team a lot stronger and harder to break down, which then allows Liverpool to get a foothold in games.  It's also of my opinion that with a defensive midfielder we would have seen the Red's put in a better performance in the Champions League as Rodgers could have played a more tactical game knowing he had a strong midfield unit.
Football is a rather simple game all things considered, if you don't concede a goal then you can't lose a game.