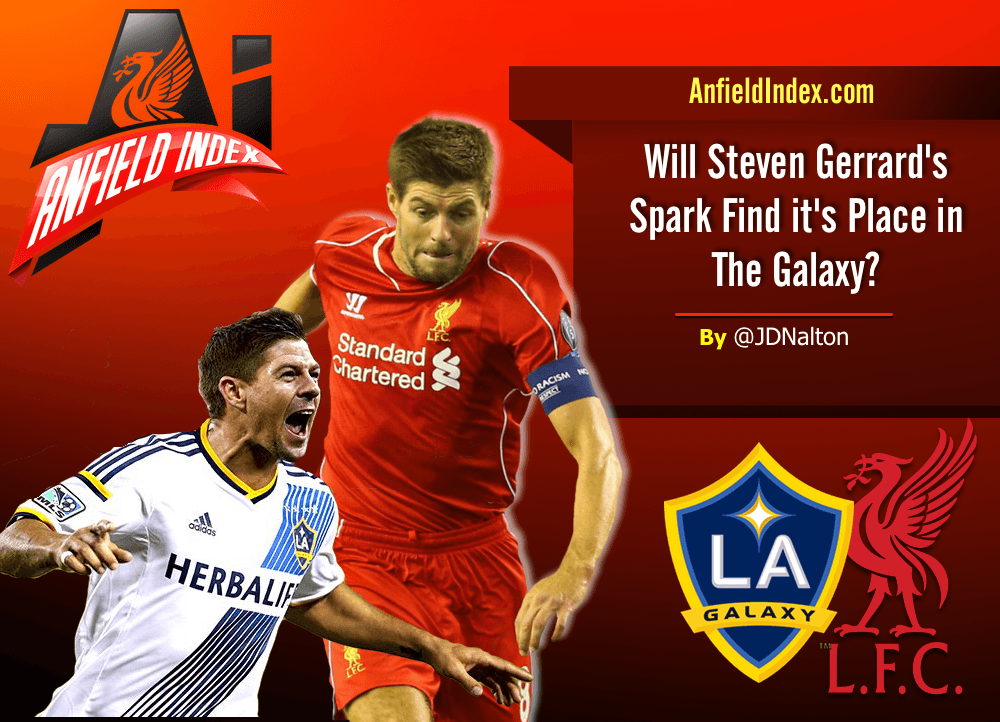 Will Steven Gerrard's Spark Find its Place in The Galaxy?

The recent announcement that Steven Gerrard will be joining LA Galaxy at the end of this season will be met with plenty of questions, not least the age-old quandary of where to play him. His only role so far is that of designated player (a player who doesn't count towards the team's salary cap), replacing the outgoing US soccer legend Landon Donovan. But whether he replaces America's greatest ever player on the pitch, is another matter altogether.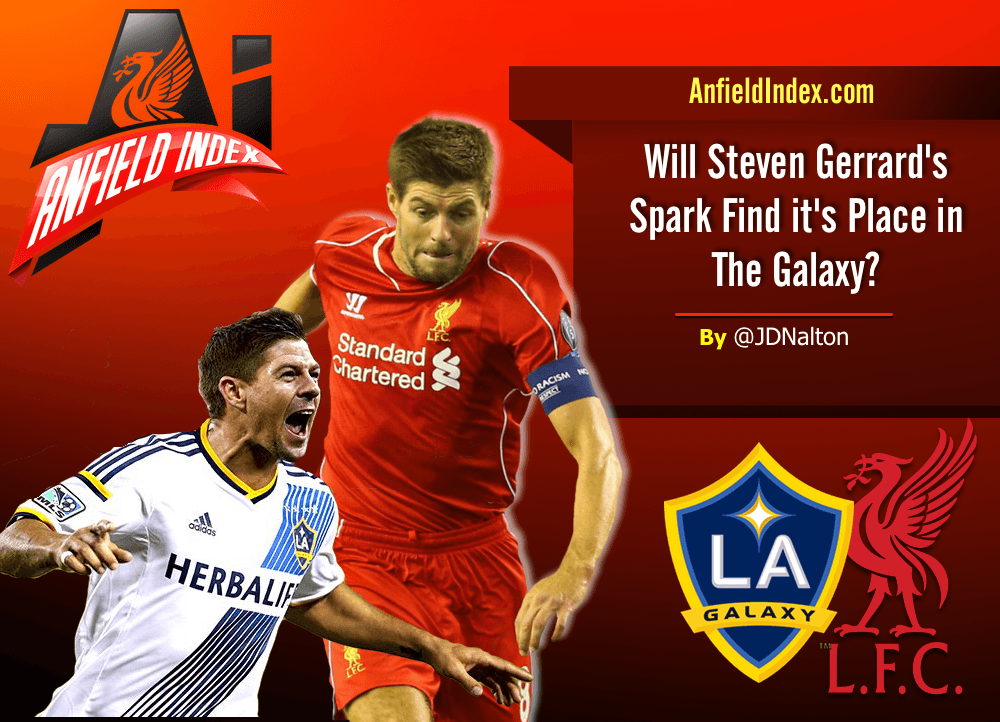 The Liverpool captain has been playing football for a good while now, and for most of this time his best position on the field has been a popular topic for discussion. From journalists to fellow footballers, and from fans to managers; everyone has had an opinion on Steven Gerrard's best role.
Liverpudlian Loose Cannon
Gerrard is one of those rare players you could imagine doing a decent job in any position, and it's this versatility which fuels the positional debate.
He had the footballing tools to play anywhere, with the only weakness in his game being a lack of tactical discipline. His self acknowledged desire to charge into a tackle, rather than maintain a more favourable position tactically, could have been coached out of him on the training field, but this might have resulted in him losing some of the spark which makes him the player he is:
The spark you see when he charges into a tackle he probably shouldn't go anywhere near, especially in the modern game, but somehow wins the ball nine times out of ten.
The spark you see when he spots that crossfield pass he shouldn't really play, but plays it anyway and finds the feet of a slightly surprised recipient, who needs to take a touch or two whilst they let what just happened sink in (or, as often happened, mis-controls it and the ball goes out of play).
The spark we saw in the 2005 Champions League final, as he headed his side's first goal and rushed back to his own half; convincing everyone that Liverpool were back in the game.
The spark you see when he's just been down with cramp in an FA Cup final, and can hardly walk, but still fires in a thirty-five yard thunderbolt to take the game to extra time; penalties; trophy.
In Gerrard's own words:
"I was put on this earth to steam into tackles. For most professionals tackling is a technique, for me it's an adrenaline rush. It's a chance to beat an opponent one-on-one, win the ball and then launch an attack. The sight of the other team with the ball makes me sick.

"If it's Everton, Man United, arsenal, Chelsea, or whoever, I have to claim it back. It's my ball and I'm going for it. Tackling is a collision which sorts out the cowards from the brave. I never hold back in a tackle. I can't. I put my heart and soul into it, as well as my body"
When Wayne Rooney moved to Manchester United, a lot of the natural aggression was gradually drained from him by the staff at the club who wanted a more disciplined player. The downside of this was that they also removed Rooney's spark, and in the process made him more predictable as a footballer. The same might also have happened to Gerrard, but his coaches preferred the Liverpudlian loose cannon.
Central Midfielder?
This internal ignition, which at his age can no longer be removed with coaching, means there are a couple of positions, or more accurately roles, which he can't play. The most notable of these being the traditional disciplined holding role where the back four need to be protected, and a player's demeanour needs to be slow, steady, deliberate, and unruffled. Gerrard can do deliberate, and could pretend to be unruffled, but could never be slow and steady.
Gerrard can tackle, win headers, and play the ball out from the back like the best ball playing defender you'll ever see, but he'll always want to do more. It's for these reasons he needs people either side of him in defensive positions, and it's for this reason he's never been able to play in a central midfield two at the top level.
One of the best articles on Gerrard appeared on The (which sadly appears to be defunct, else I'd link) Liverpool Word website. Written by Sam Drury, who's now writing for Sky Sports, it dared challenge the common misconception of the time that Gerrard was a central midfielder. In the article Sam covered Gerrard's career up until the time of writing (December 2012), and made the assertion that he's never been a world class central midfielder, and instead has flourished on the right of midfield, or off a striker.
In Liverpool's title challenging season of 2013/14, Gerrard's best role was deep in the midfield, but not as a defensive midfielder. His station in a midfield two, early in the season, was rightly abandoned and he became Liverpool's lone deep lying play-maker. There were runners ahead of him and beside him, and defenders on hand to offload a short pass to if needed, but at his best he was picking out the runs of Sturridge, Sterling, or Suarez further up the pitch.
He could run around and pretend he was doing a defensive midfield job if he wanted, steaming into tackles and winning the odd useful header but, if truth be told, Brendan Rodgers had relieved him of all defensive duties, even if this occasionally harmed the team. To use the American football term which has found its way into soccer; he was the quarterback, protected by an offensive line of Henderson, Allen, Coutinho, or Lucas Leiva.
Crossing the Pond
As he makes the move across the pond, the dilemma of where to play Gerrard will become the responsibility of respected American coach Bruce Arena.
With the recent retirement of the aforementioned LA Galaxy legend Landon Donovan, the Galaxy could be well served by playing Gerrard in a more advanced role, going some of the way to filling the void left by Donovan. Here he could operate around quicker forward players, and set them up with probing cross-field passes or through balls.
The emergence of Gyasi Zardes as a more reliable forward option for the Galaxy in 2014, will probably see the home-grown player operate up top in a partnership with last season's MVP, Robbie Keane, and Gerrard could be used in a free role behind them, but ahead of the midfield.
In MLS, Gerrard could become the best [insert position here] in the league, but his new side will need to pick a position which gets the most from a player who is up there with the biggest names to ever arrive in the league.
In an interview with the Liverpool Echo, LA Times sportswriter Kevin Baxter commented
"He does fit Landon's role on the field in that he's a high profile player, an experienced player, wherever you put him a player that other teams are going to have to account for."
His club (and probably even the league given that MLS is a single entity) will want his name atop goal scoring and assists charts, and it's likely that he'll be given the job of set piece taker extraordinaire, even if the groin strains and leg injuries mean some of the thunderous power has gone from his right boot.
Whatever happens in the next chapter of Gerrard's story, his performances for the LA Galaxy will attract attention from Merseyside. Eyes will be on whether his balls are truly Hollywood, or whether they end up in Compton, Long Beach, or Inglewood. His position on the pitch could be key to the outcome.