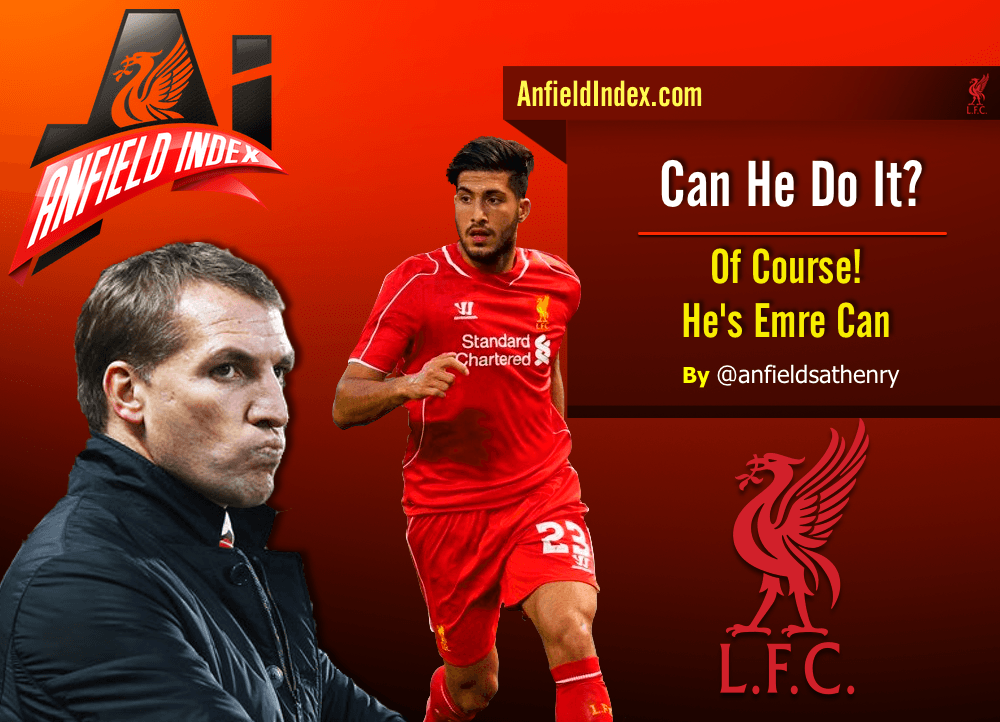 Can he do it? Of course! He's Emre Can

When Liverpool bought Emre Can you would have been forgiven for assuming the young German's role would be as another midfield option. Not many would have guessed that since Christmas he hasn't missed a second of action.
Some might have even seen Can at Bayer Leverkusen and thought no this kid is going to be a star but who could have predicted how well the £10 million defensive midfielder has done since nailing down a starting place at Burnley?
Maybe no-one would have thought that he would be turning heads at centre-back. No-one except perhaps Brendan Rodgers.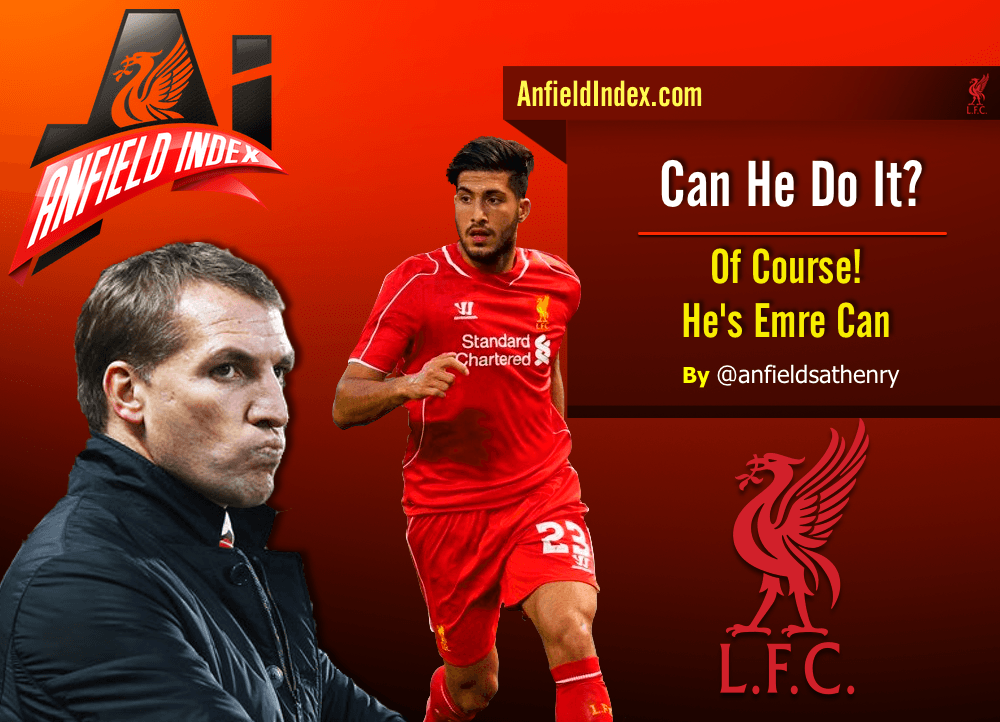 After the Burnley game in late December Rodgers predicted the youngster's success:
''He played centre-back in a 4-3-2-1 in one of the games I watched him last year. Emre has a big future here. He is someone whose influence as the season goes on will be greater.''
The away game at Burnley was hard fought and could have gone very differently if Can remained side-lined. Kolo Toure was struggling at Turf Moor and his passing accuracy plummeted to a 63% success rate. That is some drop considering he managed to complete 38 of 40 passes in his previous two games.
When Can was introduced he not only added physicality to a defence struggling to contain Ashley Barnes and Danny Ings, but his presence pushed Liverpool forward.
Compared to a Liverpool with Toure as the ball playing centre-back, Can's back three were at least a couple of feet further up the pitch. Most of their football was played closer to the half-way line and Can has shown against Swansea and Sunderland that he isn't afraid to power forward or pick out a runner.
Rodgers' tweaking last season almost delivered the title and similarly this season a tactical change has revitalised his side, even if their league ambitions are now considerably curbed.
His system demands a right sided centre-back who can deliver a good ball and begin the forward movement.
Can supplies that.
At Swansea his cross field ball would have found Alberto Moreno if the Spaniard's touch was better. More recently at Sunderland, he made two crucial passes. One on the ground to release Lazar Markovic on the wing, that led to the goal, and another over the top to find Fabio Borini behind the defence.
Because he is a midfielder, he's a natural with the ball at his feet and all of his performances at centre-back have been punctuated by his forward runs. Most people would be surprised to see their side's central defender dribble by the opposition's midfielder on the edge of the box but that is exactly what Can did at Sunderland in the seventh minute against Jordi Gomez.
Rodgers knew what Can was capable post Burnley:

''Emre has great athleticism and has presence on the pitch and is an outstanding footballer.''
Passing is not a problem. At Swansea he was the third best on the team and while he played at centre-back at Sunderland he was flawless, 100% success rate. Reputation blemished at Leicester when both of his defensive companions outdid him but he still came in at 88%.
Rodgers has often been accused of sacrificing attack over defence or insisting on nervy central defenders to play out from the back thus causing unnecessary defensive errors. So far Rodgers has not found a player that can both play and defend, until now?
Can demonstrates strength and reliability at the back and that is perhaps the biggest shock.
Yes, his preferred position is defensive midfielder where he loves a tackle and has a protective mind-set but the fact that he is able to translate that to centre-back, where he is the last line of defence and a missed tackle could lead to goal, is impressive.
At Burnley his tackling was perfect, three from three, and he won five of his six aerial duels. He stifled Wilfired Bony, the Premier League's best goalscorer of 2014, and only Martin Skrtel and Ashley Williams made more clearances than him when Swansea came to Anfield.
In his worst game against Leicester he won more aerial duels than any other player on the pitch and completed eleven clearances.
Sunderland has been his most recent and best outing so far playing at centre-back and midfield. He was a well-built German wall in defence, producing two tackles and three clearances.
Sunderland shows exactly how important he is at the moment. He is versatile, comfortable in any position and far from being just reliable, he is pivotal in attack and defence. His ability opens up Liverpool in attack and keeps them solid at the back.
After raving about Can in December, Rodgers said after the Sunderland game:
"I am sure he has got a position in there. I rarely play with two midfielders, it's usually three or four, so he could definitely be one of those. But equally, it could be in the back line. Did you see his pass for Fabio Borini's (first half) opportunity? He can certainly play at centre half. He likes to get on the ball and control the game, and he has got so much ability. But he is a young player at 20 years of age and we have not seen the best of him yet.''
At Burnley many would have been quick to disagree with Rodgers, reserve judgement only to gloat after the Leicester game, but after six games and two man of the match performances, who would argue with the Liverpool manager now?