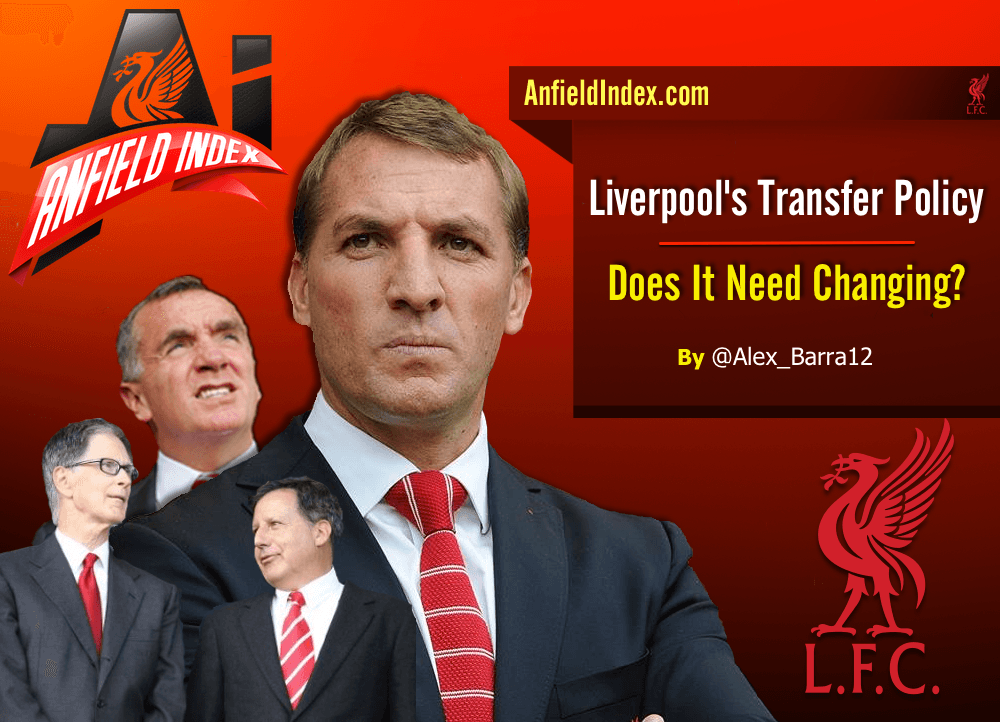 Liverpool's Transfer Policy: Does it Need Changing?
Football, as we are constantly being told, is a game that hovers on the ever-wobbly thread of a single decision. It is not, as we are also constantly being told, a game that is made by a single manager, but rather the circumstances which surround a decision made by a single manager.
Yet it is these single, individual decisions which can form the basis – or indeed cast a swift change of fortune – when considering the entire season as a whole. Make a wrong move in the transfer market: suddenly opposition has a wealth of room to exploit on the pitch; confidence wavers; results start turning and the man (or men) responsible for that single, lonesome decision are shoved under a microscope filled with the eyes of thousands, all giving their own personal decrees in the hope that it might be noticed in the sea of popular opinion. Brendan Rodgers: by his own fault and of his own accord; finds himself pressed against this microscope: especially when it comes to the realm of decisions made during his parlays into the transfer market.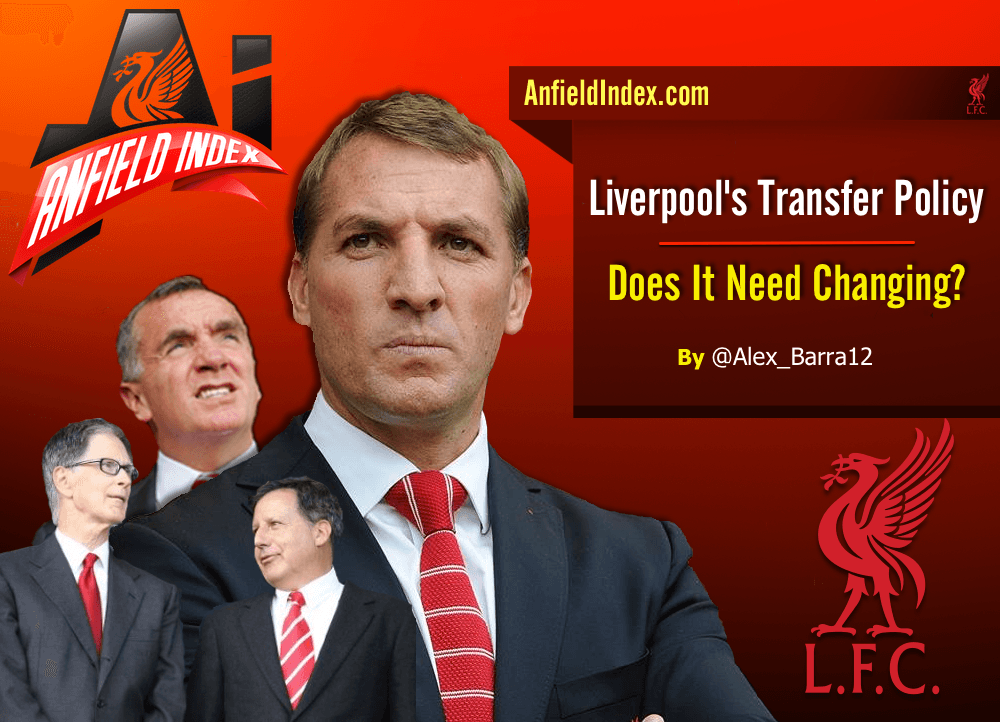 Brendan's criticism is well-justified: recently the microscope has turned, however: its focal point fixated on the ever-illustrious Americans running the show in its entirety: whose recent insistence upon involving themselves with the transfer dealings of world football has possibly left a lot to be desired. Well, this is the sticking point, so what are the questions? Does Liverpool need a change? Is the transfer committee: in receipt of a mountain of cash per the mercurial Uruguayan who recently departed the shores of the Mersey, to blame for the recent transfer failings of the Brendan Rodgers era, and has Brendan's insistence on his personal opinion trumping all others lead to disasters in the form of the diabolical Dejan Lovren and the absence of the true defensive midfielder? Questions, questions, questions, yet none address the key issue.
What is the real problem behind Liverpool in the transfer market?
Recent history suggests: without the proper statistics to enforce this theory: that spending £120 million pounds, in the summer, whilst recuperating from the loss of one of the best players in the world requires some level of patience. Just as Liverpool failed to address key issues in their lineup following their abundance of temporary wealth: so too did Tottenham fail to adequately fill the Gareth Bale sized cavity in their side. So, did either side have this patience? Not particularly. Football isn't a world filled with patience: in fact it's quite the opposite.
Especially when noting that the average age of Liverpool's signings in the summer – excluding the thirty-two year old Rickie Lambert – was under twenty-two years of age. The impetuosity of supporters in believing a side that relied so heavily on two strikers in the prime of their careers to outscore any and all opposition in their path would continue on their rampage with some of the most talented – yet nowhere near prime-ready – stars on the market was sheer delusion. After suffering the effects of a horrendous tactical setup and an injury prone talisman: not to mention a god-awful centre half and centre forward shoved into the wrong system: it was undoubted that Liverpool would struggle to find their feet this season: yet an overhaul of the transfer setup and condemnation of the new arrivals is the easiest way to vent frustrations that such an abhorred season could be permitted: following a season that had supporters riding ever so high.
Systemically, the typical reaction is one of blame: whether it be the manager or the players: the fact that so much has changed from last season means that blame must be put on the vector of that blame. Yet I see very few people condemning Luis Suarez for being slightly overzealous in his bid to win the battle with Giorgio Chiellini: which is, realistically, where this season's biggest failing stemmed from. Not because our entire transfer system was completely atrocious, but because the hole in our side was far too big to properly gorge when you consider a very, very important fact.
Liverpool are not a rich club.
Arguments regarding the £120 million pound kitty received in the summer are null and void when considering the philosophies of the owners: a philosophy that has come under a lot of fire in recent weeks, due to our lack of proper activity in the January transfer market. Besides, FSG's philosophy is far from unique: it's how Liverpool's done business for the past thirty or so years: and how it will, in all likelihood, continue to do business as long as the likes of Chelsea, Manchester City and Manchester United dominate the financial playground.
If you need evidence: take a look at the numbers. Fernando Torres was bought from Atletico Madrid for approximately £26.5 million. He was sold for nearly double that, at £50 million. Xabi Alonso cost £10 million, and was sold on for £30 million. Luis Suarez cost £23 million: and was sold for nearly three times that: for £75 million. These are calculated risks, taken by FSG in order to maintain a profitable business.
Absorb this statistic, if you will: per the excellent Paul Tomkins of the Tomkins Times and their Transfer Price Index: only 40% (approximately) of all Premier League transfers over the last 5 years have been classed as a success.
Right now, there are only three Liverpool transfers made in the summer that could be classed as completely unsuccessful. Dejan Lovren: whose ability, overhyped by a season at Southampton, has now come to be exploited by any attacker with a working pair of legs. Rickie Lambert, who really isn't cut out for Liverpool's relentless, quick-flowing football. And Adam Lallana: whose ability was never in question, but whose price tag was more than double his worth.
That's three out of nine transfers, perceived to be "failures" at this point in time. In a time period where approximately 60% of modern transfer deals are unsuccessful; obviously in varying degrees; Liverpool's summer track record doesn't exactly make for miserable reading. Furthermore, nearly all of the "successful" signings will have some bearing on Liverpool's future in the coming years.
The verdict on Mario Balotelli is out in this writer's opinion: at least until he's played in a tactical setup that caters to his abilities, and the talent of Lazar Markovic was abundantly clear from day one, although somehow his unjustifiable bed-in time to the Premier League has left those impatient fans gnashing as the bit. Supposing Divock Origi requires a season to properly determine whether or not his worth as a transfer can be classified as "successful", that still leaves Alberto Moreno, Emre Can, Lazar Markovic and Javier Manquillo as "successful" transfers: especially based on the popular opinion of supporters. The sticking point within all of this? Combine the four of those transfers together, adding in the potential success of Divock Origi, and the average price tag is approximately £10 million. Once again, per Paul Tomkins' Transfer Price Index, the average price tag of a Premier League player in 2014 is 7.8 million: 2.2 million less than the average cost of our savviest signings. So the argument that the summer was wasted on forking out cash nonchalantly for mediocre signings is null and void: rather mistakes were made in types of players targeted by the administration: a point that falls back to the wavering responsibility of Brendan Rodgers, rather than a supposedly "failed" transfer policy. The mistakes, unfortunately, were made in the key positions: highlighting a lack of foresight and proper awareness from those in charge of targeting players: members of the transfer committee and scouts.
That is where, as a whole transfer system, the key flaws should be rectified. Identifying Dejan Lovren: whose incredibly poor seasons at Lyon surely should have outshone the ten or so games in which he defended competently for Southampton, as a £20 million target is dumbfounding, as is spending £25 million – £5 million more than Toni Kroos – on Adam Lallana, who is effectively a squad player for a Champions League side. More should've been done to replace Suarez's goals than simply stumble into a deal for Mario Balotelli; because he was available, and the inability to comprehend the side's true weaknesses: the exploitation of space in front of the defence, leading to another season without a proper defensive midfielder are all flaws highlighted by this season's frailties. Is that the fault of the transfer policy? Considering these were "big money" transfers, Brendan Rodgers targets and supposedly "Premier League proven" talents: its abundantly clear that these were the exceptions to the transfer policy: exceptions which were not fully thought through: if thought through by more than a handful of people at all.
Furthermore, if FSG's transfer policy is based on the high-risk spending on younger players, it contains no more risk than signing well-established talent in the hope they add an element to the first team, almost instantaneously. Approximately 26% of "big money" transfers hit the ground running. A further 47% are considered to be showing potential. This, in the same way as youngsters show potential, the allure to youngsters is their development, and their potential to be apt business devices. To spend all your money on "bigger players", only to have a 26% chance that they hit the ground running, and risk having a fallible squad without any depth is a risk surely not worth taking, especially when horizons are broadened beyond simply the Premier League and towards European and Continental trophies.
That is where the solution to the real problem reveals itself. In the cases where the Transfer Policy was actually compromised for the betterment of the first team and for the sake of progress; those in charge of the procedure failed to address key needs, and identify targets that would actually enhance the team itself, and therefore the real problem lies not with the transfer policy: but how it is implemented by its key figures.
So don't look at the summer as a waste of potential resources: because statistically, it's going better than most transfer windows at this point in time. Do, however, recognise that if things are to change for the better, and Liverpool are to better themselves in relation to the financial powerhouses of the competition, then more must be done to ensure that when the transfer policy is diverted from: it is not done in vain.
Because sometimes all it takes is one decision.