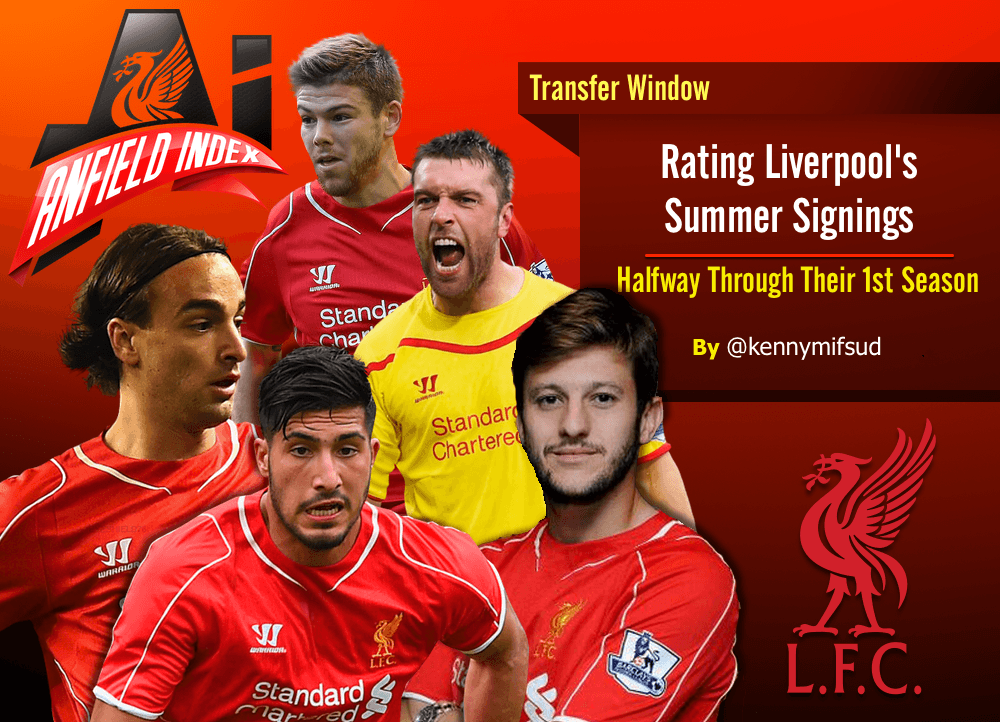 Rating Liverpool's Summer Signings, Halfway Through 1st Season

The 2014 summer transfer window was certainly an eventful one. If Luis Suarez was not biting an Italian in Brazil, Mario Balotelli was being welcomed into Melwood by ice buckets of all sorts. Whilst the former opted to exit the club due to aggravating back problems due to continuously carrying the club in the 2013-14 season, the latter joined the Anfield club in a 15 million pound move that shocked the footballing world. Six months on, and we find ourselves pondering the 'ifs' and 'buts' where a couple of these recruits are concerned. There were nine incoming signings made by Brendan in the summer, and I will rate and assess each one's contribution in these past six-to-seven months.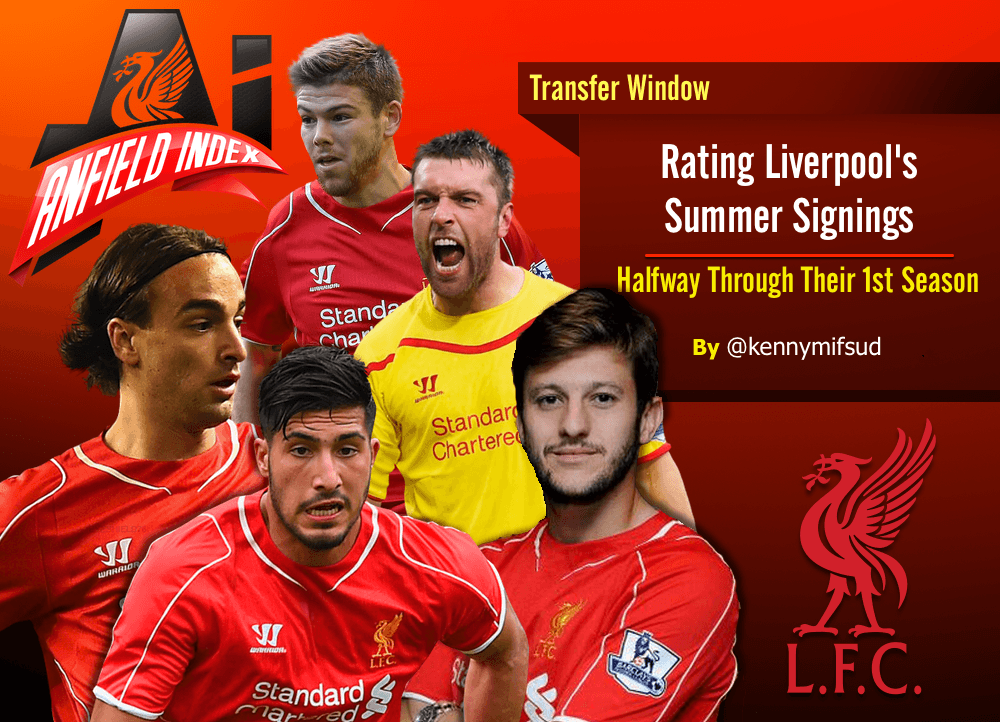 Rickie Lambert – 4/10
We begin with the first of our signings, a player who should be flattered by the 'rating 4' I have elected to give him. However much he has tried, it has just not worked out for the boyhood Liverpool fan. Whether it is his slow pace in getting to the ball, or his extremely poor finishing at times, the forward is yet to reach the deadly goalscoring form he showed at Southampton last year. (Although they do not look like they are missing him too much, at the moment).
His recent lacklustre performances have resulted into rumours of a possible departure for the Englishman, a meagre seven months after his 4 million pound arrival. One thing that remains clueless to me is, why Rodgers let go one individual in Andy Carroll, because he did not "fit Liverpool's style of play", yet elect to buy an older version in Lambert. A question that will remain forever in the clouds, as I doubt we will be seeing Andy in the red of Liverpool any time soon.
Adam Lallana – 7.5/10
Unfortunately, the ever-so silky play-maker began his Liverpool career in abysmal fashion. An injury sustained upon arrival meant we did not get to witness Adam strut his stuff till mid-September. Now we are beginning to observe exactly why Rodgers forked out 25 million pounds for arguably the league's brightest player in 2013-2014. From Liverpool's thrashing of Swansea last month, we began to see stints of the Adam Lallana we watched and admired at Southampton, and his link-up play with fellow-magician Philippe Coutinho is proving a joy to watch each time they both get the nod by the boss.
The only aspect hampering the Englishman's progress, and the reason why I have opted in giving just the 7.5/10, is the lad's continuous injury problems. Lallana seems to get injured whenever he endures a positive run in the team, and Rodgers will need to assess that as the 26 year-old nears a return. He undoubtedly possesses the traits to be one of the stars of the future, as long as he sticks to his guns and continues to 'wow' us with his pace and trickery.
Emre Can – 7/10
The ever-versatile beast of a man that is Emre Can. Right-back, centre-back, left-back, defensive midfielder, attacking midfielder, he has gone through the lot in his short spell amongst Brendan's first team set-up thus far. (Heck, put him in goal and he may do a better job than our current man behind the sticks). Emre could thank the introduction of the 3-5-2 formation as the reason for his current stint in the first eleven. Although he has come out and personally stated his desire at playing in his favourable position, which is the centre of midfield, he seems content with showing his versatility at centre-back, a position he has thrived in and produced a string of solid performances.
From his rock-hard stature to his silky touch of the ball, there is no doubting Emre Can's extremely bright future in the red of Liverpool. Come to think of it, we did happen to possess a 'number 23'  at centre-back once upon a time. (I wonder who that may be, huh)?
Lazar Markovic – 7/10
If only the young Serb had produced the form he is beginning to show now, in the early stages of the season, my rating may well be in the 9s or even a 10. No, I reckon I am being extremely kind on young Lazar with my 7/10. The 20 year old was a non-existent figure in the first few months of his Liverpool career, and when he did get the rare nod, he seemed to scarcely receive the ball, something that frustrated us Reds fans, especially looking at the price we paid for him.
Akin to Emre, the introduction of the 3-5-2 formation brought with it a whole new Lazar Markovic. The Serb is lighting the league on fire in the right wing-back position he has been deployed in, and by some of his silky skills portrayed on the pitch, we are starting to witness why the youngster was likened to the Messis and Neymars of the footballing world. One of these many skills came in the shape of this unbelievable strike against Sunderland, which had it gone in, would have undoubtedly won the 'goal of the season' accolade.
The 20 million pound record signing arrived from Southampton with substantial amounts of praise surrounding him. The Croat was being dubbed the player to replace ex-legend Jamie Carragher at the heart of the Reds' defence, and with performances as solid as the player's debut in our pre-season grubbing of Dortmund, when he scored, you could begin to draw certain similarities between the two. Ever since that faithful day, Reds fans have been left enraged and bewildered at how we let a player like Daniel Agger exit for 3 million, and then forked out 17 million pounds more on an individual who cannot defend for his life. Identical to his defensive frailties, Lovren's attacking capabilities do not prove a good showing either, with the 25 year-old failing to counter up a single Premier League goal so far. (So much for the dominating, tall, goalscoring centre half we were anticipating from Southampton).
It has not worked out for Dejan, and the Croat now finds himself behind Sakho, Skrtel, Toure, and Can in the centre-back pecking order. Brendan needs to think long and careful about this one.
Alberto Moreno – 7/10
Another one of my lucky number sevens. The 'Gerrard and Alonso mash-up' arrived from Sevilla for 16 million pounds in the summer, after watching his ex-team overpowered by Real Madrid in the SuperCopa. The left-back was highly regarded by his peers, and one could see that by the hefty amount spent on securing his services. Unlike his fellow compatriots, Moreno kicked start his Liverpool career in spectacular fashion, netting a wonder-goal in our 3-0 demolition of Spurs earlier on in the season, and has since rode the storm, not playing exceptional, 'out of this world' football, yet not falling below expectations either. The 22 year-old has the pace of a Cheetah and has shown his goalscoring capabilities as well, with a couple of neat strikes from the left-back.
His rendition of "Merry Christmas" for LFCTV sticks out above all however, as we see Alberto's humorous nature portrayed off the pitch, as the youngster starts to settle in to the beautiful city of Liverpool.
https://www.youtube.com/watch?v=H0wFEK297A0
Javier Manquillo – 6.5/10
In modern day football, two year loan deals are a rarity. That is, because they seemingly never work in favour. Fernando Torres' two-year loan to Milan is a prime example, where the Spaniard abruptly bailed out after half a league campaign. Players may seem less motivated to perform, knowing that they are constantly on a trial basis, and conscious of the fact they they could find their loan spell discontinued at a moment's notice.
With this being said, Manquillo has endured a relatively sound six months at the Anfield club thus far. Has the Spaniard improved since August? Yes, undoubtedly. Although with a helping hand from Johnson's sustained injury a long the way, Javier underwent quite a lengthy stint in the first team, until the inception of Rodgers' 3-5-2 strategy, which favours the pace and trickery of Markovic in the right wing-back spot. The Spaniard is a suitable option to call from the bench however, and although he may face further competition by the return of Flanagan and Johnson, the 20 year-old will only grow as a player under Brendan
Mario Balotelli – 5/10
Appalling. Disinterested. Infuriating. You could pull out each and every negative adjective in the book to describe Mario's time on Meryseyside since his arrival in August. Zero is the number of Premier League goals he has scored thus far, and that is the same amount of hoots he has given in the process. (So much for the 70 quid splashed out on having the Italian's name printed on the back of my new home kit). No, it seems the 'Mario Balotelli' plan is failing yet again, however the two following points are the reason I decided to give Mario a 5, and nothing less.
He and Sturridge have played just one match alongside eachother.
Roll back to Balo's debut back in September, a match that ended in the mauling of Tottenham at their home turf. Mario and Sturridge were exceptional that day, and but for a hint or two of good fortune, Mario would have easily netted a hat-trick on his first start. This is one of the main reasons as to why I remain optimistic that 'Super Mario' will come good in the red of Liverpool.
We are not talking about the Italian's off-the-field antics THIS TIME. Apart from the occasional flirt with a woman or two on Instagram, Mario's behaviour has improved rapidly since his time in the blue half of Manchester. Yes, the Italian has replaced his past team-mate brawls and irritable sending offs with more humorous, off-the-field tomfoolery, such as his brilliant imitation of Ronaldo's Balon D'or speech after scoring on FIFA, and his 'Rey Mysterio' pose with his brother Enoch, amongst other shenanigans.
If I were to give an overall rating of our summer signings, the average number will be a solid 6/10, followed by the comments "A lot of room for improvement, however slowly getting better game by game." As are Liverpool right now, who seem to always burst into life when the New Year arrives. (Damn those New Year resolutions…cannot they begin in August)?
Rodgers may look at this summer window as the main reason why he is yet to sign anybody in the winter window thus far. Could we see that change, as we begin the 10-day countdown to deadline day? Let us first maintain belief that our current crop improve, and we see enhanced ratings from myself in my summer 2015 review.