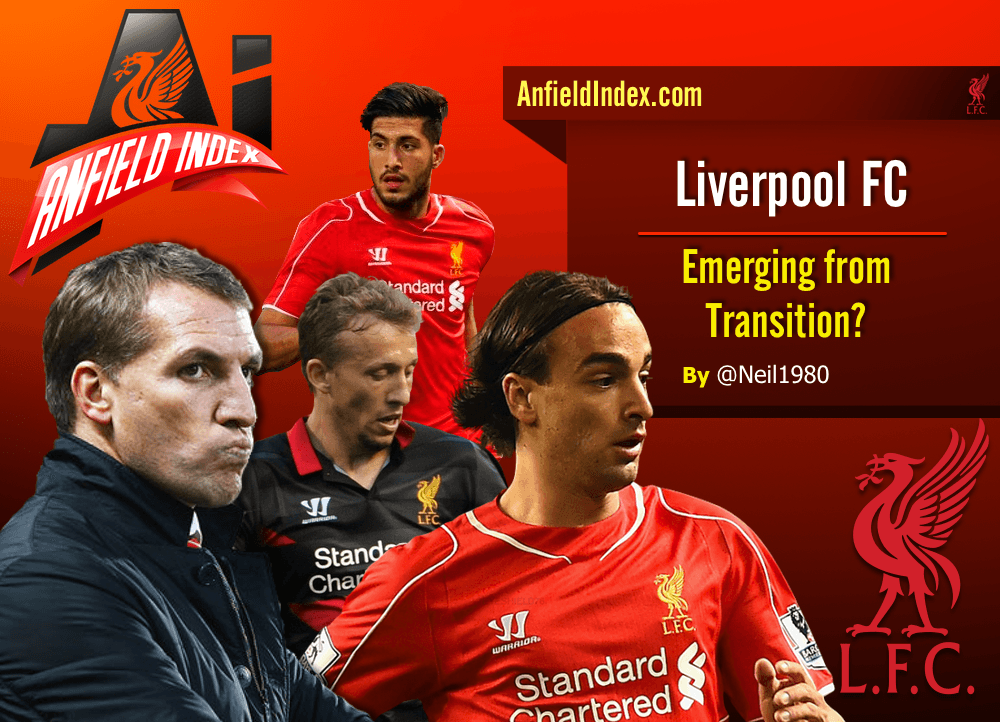 Liverpool FC - Emerging from Transition?
Last time I put pen to paper (metaphorically speaking), it was in some degree of anger. Christmas was still a couple of weeks away and, having had our in -built cushions handed to us by Beavis's sidekick's team of ugly stick victims, led by Phil Jones, Liverpool FC had just endured one of the worst months in living memory.
Brendan Rodgers bore the brunt of my dark mood just five or six short weeks ago. The cocky, young manager from Antrim seemed half a man; his sheen well and truly fading to grey before our very eyes, as he watched in disbelief his "defensive leader" make calamitous individual error, after catastrophic solo blunder, as a matter of course.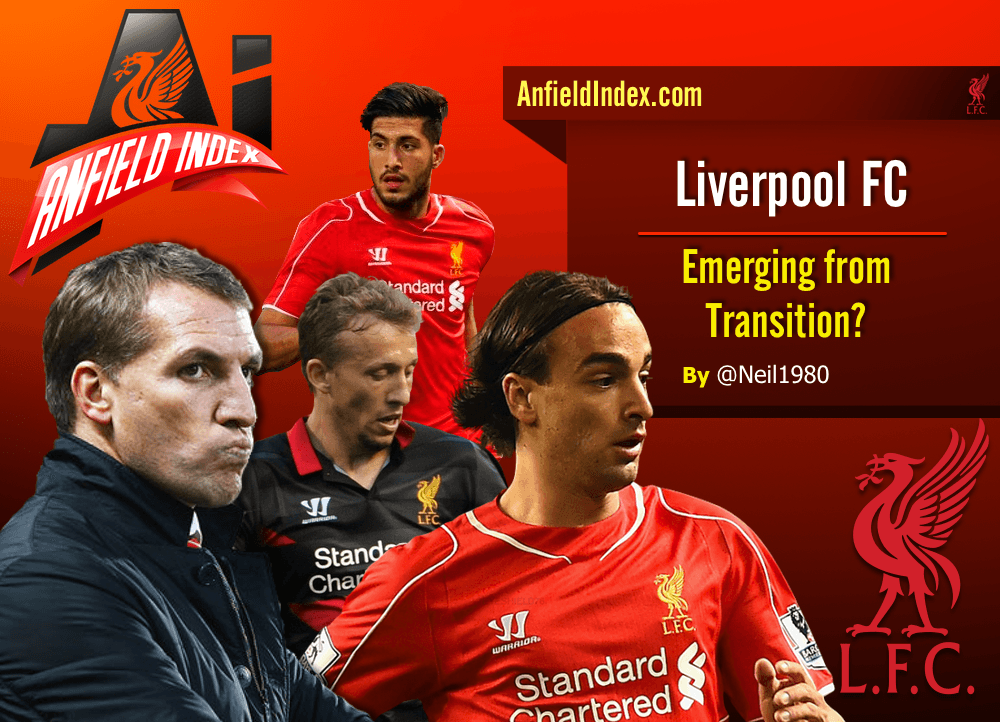 It wasn't just the manager's insistance on shoe-horning Lovren into the team, ahead of an obviously far more competent defender in Sakho, but also his compulsion for using "experienced players" such as Johnson – who offered little, Gerrard as a holder – when clearly he'd been worked out playing there, and the piece de resistance – his affirmation that, with Mignolet dropped "indefinitely", Brad Jones, fresh from his heroics at Old Trafford, would remain LFCs number one, going forward. Add to this mix, the fairly rigid adherence to a 4-2-3-1 system, which suited very few of the players, least of all Lambert and/or Balotelli – who were being asked to provide the movement up front, and you had a pretty foolproof recipe for turgid, tedious, one paced football – defenceless at one end, toothless at the other.
Six weeks on, things are improving. After seeing off a wretched run of form, which provided just two victories from thirteen league and Champions' League games – including defeats at Palace and Newcastle, as well as the schooling at Old Trafford, the Reds have now gone eight games unbeaten, winning six.
So what's changed? The answer is, quite a lot; some by accident, and some by design. It's an old adage in football, "if you can't be a good manager, be a lucky one". Now, every manager probably has a fair enough share of good and bad luck over the course of a career, perhaps even over the course of a season. Take, for example, losing Sturridge; that's bad luck. It's bad enough to know that you'll be without your main striker for six months; much worse for your planning when you lose him for six months to a series of 6-8 week injuries. A manager can, however, be lucky with injuries too, and I would suggest that the injuries sustained by Dejan Lovren, Brad Jones and, to a lesser extent, Glen Johnson have helped Brendan manouevre out of a self-constructed cul-de-sac.
To be fair to the manager, it would appear that he's learnt his lesson, at least partly, when it comes to Sakho and Lovren; talking up the commanding French international star in his more recent press conferences, whilst leaving the hapless Croat firmly out of the starting XI over the last month or so. Sakho has been a pillar of consistency  since his recall to the first team, turning in  several outstanding performances, and is,undoubtedly, a major factor in this side's newly found defensive mettle. Playing alongside the former PSG captain, Alberto Moreno is also beginning to show, with consistency,why Liverpool paid such a high price to secure his signature.
Jones's injury was a Godsend in all honesty; unfortunately for Brad, and for the club, he has never been, nor will he ever be, of the requisite standard to be back-up at LFC and, as such, it was an absurdity for him to have ever been asked to step up to number one. Thankfully, the worst of Mignolet's crisis of confidence appears to have receded; moreover, against Villa he looked back to his defiant best when called upon. Although we're still in need of urgent reinforcement between the posts, I'm fairly confident that Mignolet will steadily improve playing with the current personnel, in this system.
The Steven Gerrard situation, or rather the resolution of it, has also helped Brendan decide what to do with Liverpool's talismanic leader. Having been very reluctant, albeit grudgingly willing, to tamper with Gerrard's deep lying midfield role earlier in the season, news that Gerrard will be leaving Anfield at the end of the current campaign has helped to give Rodgers the shove he needed to play Gerrard in a more attacking position, in turn allowing the manager to give the defence a better degree of protection through his use of Lucas.
Lucas has played his way very much back into the first team after a string of impressive performances. The Brazilian's stats stack up against the best defensive midfielders in the league. Per 90 minutes, Lucas has won a higher percentage of aerial duels and has made more interceptions than Matic, Song and Wanyama, whilst he comes a very close second behind Matic in total number of passes, total number of forward passes and total pass completion – fairly amazing for a player who would've been long gone had a reasonable offer been received over the last two seasons.
Rodgers's politicking, favouritism and poor team/formation selections have been wholly unwelcome aspects of the season to date. Without a doubt, it's he who has to shoulder the lion's share of the blame as to why the first half of the season was close to being an unmitigated disaster, however, he has earnt himself back a little respect over the Christmas period, not least for the change in formation.
The switch to 3-4-1-2 cum 3-4-3 has had a marked effect on performance levels, and results. The formation (along with Brendan's grudging realisation that Fabio Borini is the man currently best suited to leading the line)  has freed up Phil Coutinho, who's becoming the puppet-master of this Liverpool team, and given licence to Gerrard to position himself much higher up the pitch in almost a floating role. In Gerrard's absence, the future captain Jordan Henderson has again stepped his game up a gear, whilst the solidity of the back three (including Brendan's casting of Emre Can as a ball-playing, right-sided centre half) and Lucas has given everybody a confidence boost – even Mignolet looks back to something like his best.
(The use of Can at right sided centre back, all though forced in a way on Rodgers through the injury to Johnson, is surely something to be commended. He could have changed the system, instead we've now seen what  Can offers on a regular basis; he's now an integrated member of the first team, and, in the absence of a place in midfield at the moment, he's shown himself to be a better option there than the man he's replaced.)
Brendan also takes the plaudits for the form of Lazar Markovic. Being played at right wing back, a position more than a little alien to him, the Serb has shown over the last four or five games, why he's rated as one of THE hottest prospects in European football. Not only have we seen his blistering pace, eye for goal and penchant for the spectacular, but also on display have been his battling qualities, reading of the game and sense of defensive responsibility. He has been remarkable and, we imagine, will only get better.
So here we stand, three weeks into January and on the eve of a Capital One Cup semi-final against Chelsea. We've had an awful half a season, and haven't had our main goal-getter in a Reds' shirt since August, yet we're two games off a Wembley final and a mere five points behind the s*um in fourth place. There's been a lot of talk about being in transition this season, but unfortunately we've been in backwards transit for four months. Now, finally, on the back of a decent run of results, with Gerrard's future sorted, some dead wood cut, Sterling rested, Sturridge set to return and, a new formation tried and tested, perhaps Brendan and Liverpool may just be emerging from transition at precisely the right time.