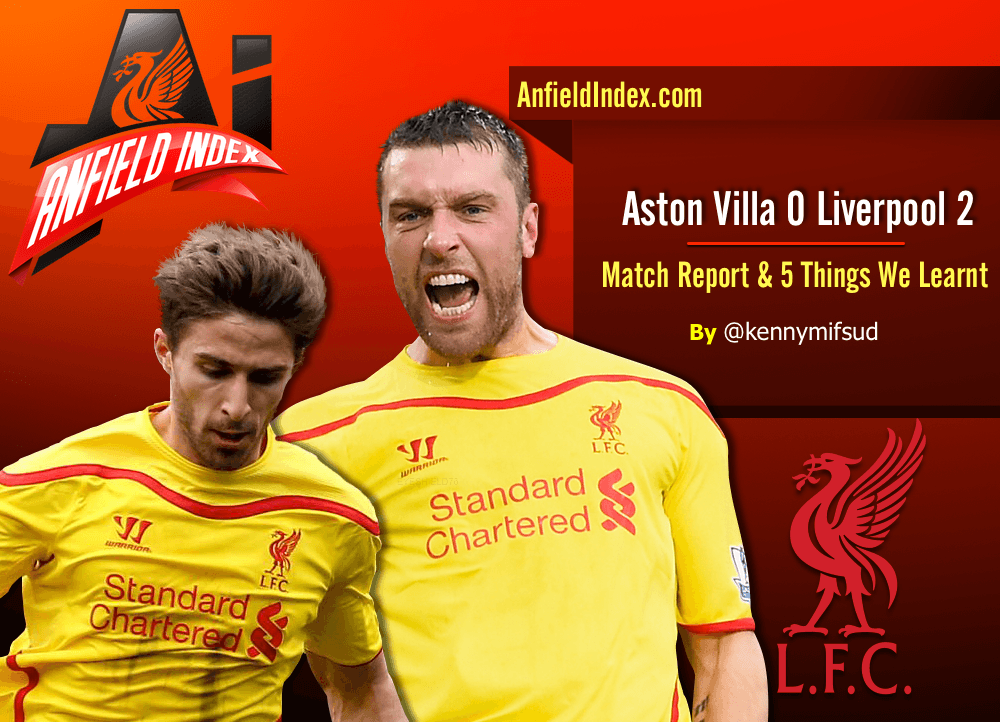 Aston Villa 0 Liverpool 2 | Five Things We Learnt

It has been a crazy, yet magical weekend of football reds fans. Apparent flops Fernando Torres, Rickie Lambert, and Fabio Borini have each netted essential goals for their respective clubs. Although the former's was a brace against Champions League holders Real Madrid, Rickie's and Fabio's were equally as important… to the reds faithful at least. There was an air of confidence with both strikes, something Rodgers will look at with extreme fondness. (I reckon a certain Mario Balotelli could do with a lesson or two from his striking compatriots).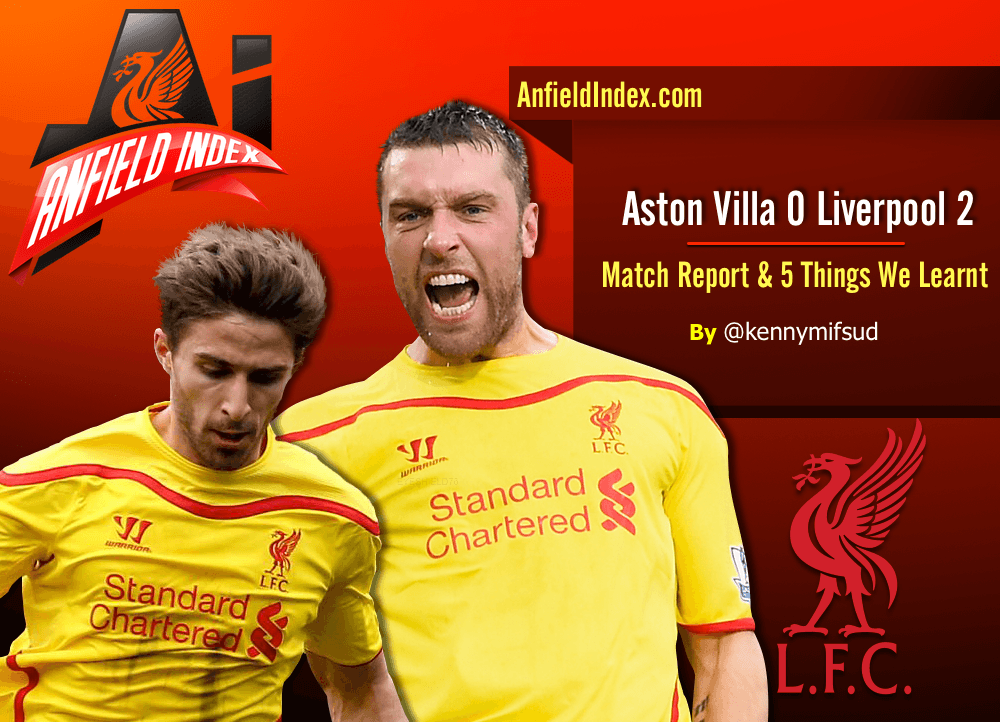 How The Goals Went In
Fabio Borini (24 minutes): Five minutes prior to this goal, and reds fans across the country had already found themselves on the edge of their seats as Borini began the match in a nervy fashion, however all was forgotten as a perfectly-timed cross by Henderson was met by the forward. (His heel rather). That was followed by the Italian's signature 'knife in the mouth' celebration, something that we have not witnessed as much as we would have hoped to, unfortunately.
Rickie Lambert (79 minutes): Prior to Lambert's goal, Liverpool found themselves under heaps of pressure from the home side, forcing us fans to foresee yet another frustrating result on the cards. Not today said Rickie, as just eight minutes into his introduction, the reds broke on the counter, as the ball was then played to Lambert, who took it in his stride smoothly just outside the box, and produced a sweet strike that eased its way past Guzan in the Villa goal.
Heroes, Villains & Talking Points
Man of the Match: Jordan Henderson. Stevie's absence in the starting line up meant young Hendo needed to step up to the plate and lead from the front, and he did just that exceptionally. His assist for Borini's opener brought his tally up to seven for the season, which surpasses the likes of Silva, Di Maria, and Hazard. He was unplayable in the central of midfield, let us just hope he stays there and is not shifted to the right, where in my opinion, he is nowhere as effective. (Does anyone remember us offering Fulham Henderson plus 5 million for a certain Clint Dempsey, a mere three summers ago)? No, me neither.
Worst Player: I always find myself scratching my head at this one when Liverpool win convincingly. However, at times Simon Mignolet proved a nervy watch as one or two set pieces where whipped in, thus he gets my vote this time around. The Belgian seems eager in coming for the ball each and every time, even if it is played in miles away from his penalty area, a habit he needs to cut out in his game.With that being said, his double save off Benteke, with the score still at 1-0 was nothing short of world class, so I will give him credit where credit is due.
Talking Point: The ridiculous yellow card shown to Lambert for celebrating with the away fans after scoring. I have to credit the American commentators on my stream for bringing it up, as they mimicked by thoughts perfectly by comparing this booking shown for "showing your support", to the amount of pushing and elbowing that occurs in the penalty area, of which goes unnoticed most of the time. Rickie should be receiving a medal for showing such tenacity in communing with the fans, not a yellow card. Whilst this is baffling to say the least, it is wrong. If one cannot celebrate with the fans who paid a substantial amount of money to come and watch their team play, then we might as well introduce barriers across each and every stadium in the country.
5 Things We Learnt From The Match
1. Liverpool are starting to show exactly what was missing last season.
In recent weeks, a certain David De Gea was being talked about as one of the best keepers in the game at the moment, whilst Thibaut Courtois was being dubbed the 'perfect all-round goalkeeper'. Simon Mignolet? Disastrous. Appalling. "A crappy version of his Belgian counterpart." Yet, if we look at the statistics, we see that Simon has EXACTLY THE SAME number of clean sheets as Dea Gea and Courtois this season. (In two less games than the Spaniard as well).
The reds have a total of seven clean sheets to show for this season, four of which have come in the last month and a half, in contrast to our last campaign, where Rodgers' men conceded a whopping 50 + league goals. Then again, we outscored the opponent 95% of the time, a trait that needs to be introduced to our current crop of forwards. I, personally am more content with winning by the 1-0 or 2-0 margin, rather than some of the 5-3 score lines we witnessed last season, of which sent us reds fans on a roller-coaster of emotions throughout the 90.
2. Fabio Borini is still not "good enough" to lead the line.
Yes, the Italian netted a superb goal on Saturday, a strike that should boost his confidence enormously as we enter the Capital One Cup showdown with his ex-team Chelsea. However, I reckon the 23 year-old is not yet ready to play week in, week out for a club the stature of Liverpool. His general ball-play lacks tremendously, and his wayward finishing leaves us reds fans frustrated on many occasions. With the forward turning 24 in March, one question remains; Will he improve, or is Fabio just not "good enough" to strut his stuff for a massive club like Liverpool? Time will tell, let the ever-willing lad enjoy his moment in the limelight.
3. Where does this leave Mario Balotelli?
The first question I beg is, where was the Italian on Saturday? "Out due to illness", the media reported pre-match. Heck, I would play on without an arm if I was getting paid 60,000 plus pounds a week , whilst at a club as passionate as Liverpool. With both Borini and Lambert netting on Saturday, where does this leave the ever-exasperated Balotelli? Fourth in the pecking order, once Sturridge returns? If there ever was a game to enter the team and prove you deserve to stay there, it was this one, and Mario blew it, I am afraid. We shall await further comments on the matter from Brendan himself, however this is an extremely worrying factor, as the transfer window nears its climax. T-12 days.
4. The away fans were exceptional, yet again.
Now, leaving to one side my rant on Clattenburg's yellow card and the ethics behind punishing a player for 'celebrating with the fans', I have to personally take my hat off to the 3,000 reds fans in attendance on Saturday. They were nothing short of remarkable from the first to the 90th minute, with the double rendition of 'YNWA' at the end being my pick of the bunch.
Liverpool fans have been heavily criticized for their lack of support of late, and the reds' twelfth man answered those critics perfectly on Saturday afternoon. I am not too sure how Mario Balotelli will act to them transferring his song on to fellow countryman Borini, however. I cannot blame them of course, as we were yet to chant Mario's tune to him scoring a Premier League goal.
5. Five points off fourth spot, whilst still in the chase for three trophies… Do we need to strengthen this month?
Myself, amongst many Liverpool fans out there were eagerly anticipating this January transfer window. A solid man behind the sticks and a proven goalscorer were a must, as Brendan's options up-top were proving as frail as ever. However, as we enter the final ten days of the window, I am beginning to wonder whether we do in fact need to further strengthen. We find ourselves five points off the final Champions League spot, we are still in the running to win three trophies this season, and Daniel Sturridge, the striker who lit the league on fire last season has finally returned from a lengthy injury. Club in ruin? Rodgers Out? I bet the majority of Premier League teams out there would relish being in the position Liverpool find themselves in at the moment.
I do reckon spending the 20-30 million pounds on a 'world-class' striker would only disrupt the mood in the dressing room. (Unless they prove as successful as previous January buys Suarez and Sturridge, of course). As for Mignolet, I believe he only needs a few minor, yet pivotal tweaks to some of his decision making in matches, and he could turn into one of the world's greatest. A question to ponder for Rodgers as the first of our cup games looms in the distance.
No Steven Gerrard? No problem. His vice-captain comes up with the goods with yet another key assist.
'Wonderboy' Raheem not amongst the goals? Not a problem. (Although he probably should have made it 2-0 in the first half). Apparent 'flops' Lambert and Borini will get the goals.
Liverpool are improving game by game, something that is apparent for anybody to perceive. The following ten fixtures are of an essence for Brendan's men. By March, we could be talking about an extremely successful season, or one marred by disaster, and in the end, trophy-less. This all depends on how the players perform from now until then, and whether individuals such as Sturridge will maintain peak form and condition throughout the season.
Next up for the red men is the first leg of the Capital One Cup semi-finals, where high-fliers Chelsea travel to Anfield. We have got some match on the cards come Tuesday night, with both teams in relatively good form of late. Let us hope that come Wednesday morning we are waking up whilst still in the running and talking about the possibilities of a return to Wembley on the 1st of March.