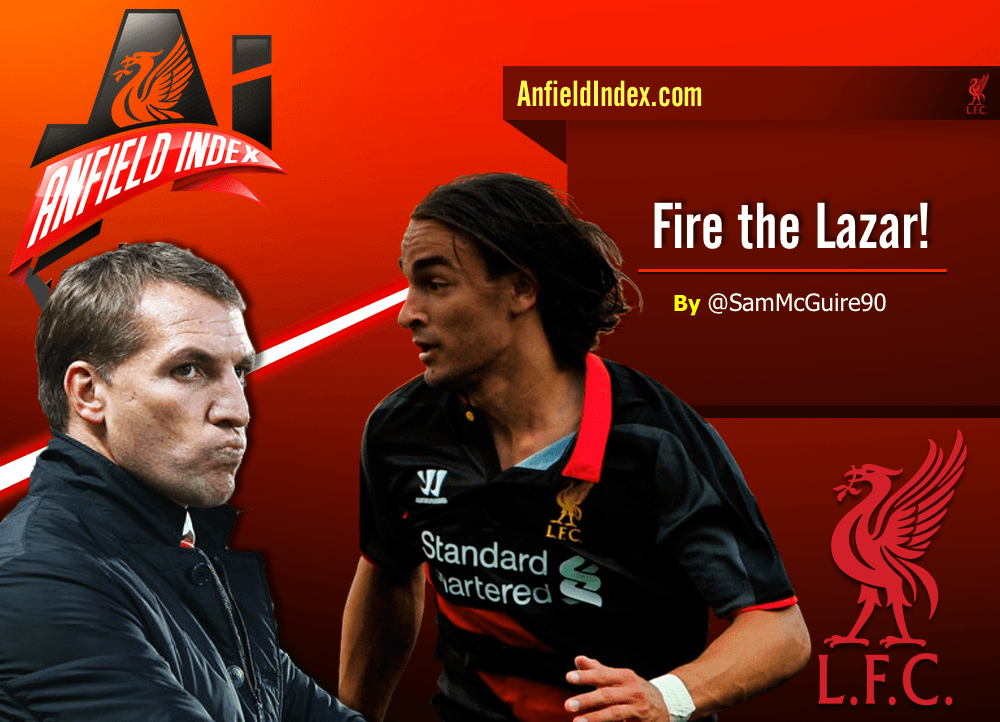 Fire the Lazar

"Fire the laser"

– Doctor Evil, 1999.
Not many teams are able to call on a laser to do the damage for them but Liverpool currently have a Lazar of sorts that's starting to showcase why the club forked out almost £20 million in the summer of 2014.
When rumours spread of a bid for the talented Serbian, I ,for one, thought it was just that, a rumour. This was some serious talent and he was supposedly promised to Chelsea, another talented youngster to add to their stockpile before selling for a profit a la De Bruyne and Lukaku.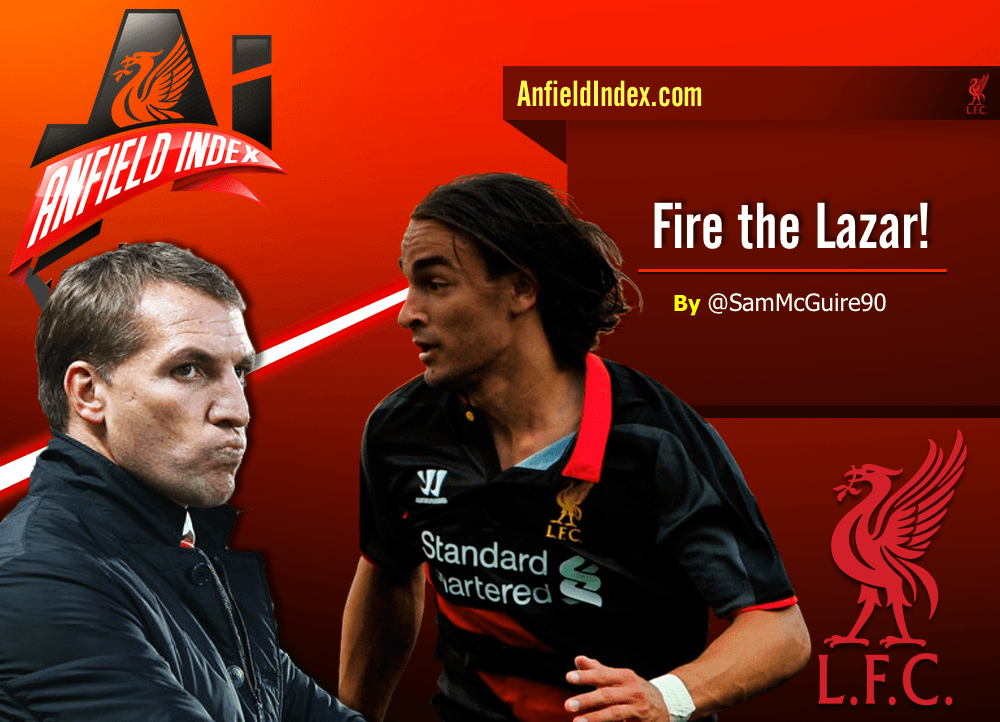 However, for once, the rumours were true, the 20 year old was heading to Anfield and this was some coup for the Merseyside club. Personally I thought this season would be a bedding in season for him, having only been in Portugal for one season he was uprooting himself yet again and moving to another foreign country. Expecting miracles from him this year would've been misguided.
I'm sure when the signing was announced many of you took a moment to Youtube Liverpool's new number 50, and having seen the pure arrogance in one of the goals he scored for Benfica were he chips the ball over the keeper, follows it and then controls it on his knee to score, would have been foaming at the mouth at this prospect.
The hefty price tag and the bias Youtube videos had people expecting the new Suarez, when in reality this wasnt going to be the case and to assume otherwise, well, that's why if you search 'Markovic Downing' you'll find a lot of people stating Lazar was on par or worse than Downing. How he was a waste of money and a key part of why this summer's transfer budget was wasted. Many even wanted him loaned out in January. Just as in December 2013, many wanted Sterling to be loaned out after his performance in the Hull defeat, only for him to explode in the latter half of last season. Similarly to how Jordon Ibe has been loaned out this season and been a revelation at Derby.
These two instances differ to Markovic though, the ex-Benfica man has been playing regularly in league winning teams since 2011/2012. This isn't just some youngster whose got a reputation that's derived from football games, this is a talent that needs nurturing, game time and most of all, confidence. It's peculiar, how Liverpool fans write off youngsters who arrive with a tag early on. Still to this day, the future Liverpool captain, Jordan Henderson, is underrated by many.
It's safe to say, much like Emre Can, appearances for Markovic were rare in a difficult first half of the season for a transitional Liverpool team hampered by injuries to important players and poor tactics. The glimpses of the youngster divided fan opinion, some saw the talent he possessed whilst others thought he should have influenced the game more.
The game changer arrived against Basel. Coming on at half-time, he had the fans on the edge of their seats whenever he got the ball. This was a player who had a shot of confidence and knew he had the Basel team on ice, he could take them whenever he wanted. He was going in for tackles, shaking off players bigger than him and generally showing the arrogance fans of his knew was there. Sadly this cameo was short lived, but he showed he was up for the fight.
Next up, the game against Bournemouth. Operating as a wing-back, a position he wasn't really accustomed to, he caused havoc against the Championship leaders. Drifting in from the left wing-back position he was influential in the first Liverpool goal, picking out his fellow wing-back Jordan Henderson with a beautifully weighted pass, who then squared it back across goal for Sterling to nod in. That one moment showed what the naturally attacking player could do. He then added Liverpool's second with unnerving accuracy, hitting a rebounded shot from the edge of the area having drifted in from the left once again; the shot nestled into the bottom corner. Just showcasing one of his many attributes with the finish, great technique.
The same technique we saw against Sunderland when he hit this otherworldly shot that hit the bar. I won't begin to describe it as no words do justice to the sheer audacity of what he tried. The vine of Connor Wickham's face that's doing the round does a good job showing what we all thought. He was the match winner in that game, operating as a right wing-back this time, his runs from deep caused the Sunderland backline problems. The fearless directness of his play leaves opposing players scrambling to keep up with the flying Serb.
The attacking aspect of his game isn't the sole reason many are impressed with him lately, playing in an unnatural role in a league that's known for his physicality, he is excelling defensively. Note on Saturday against Villa his late 'lunge' at Cleverly to put him off. That's something you'd expect from a natural defender. Positionally to begin with he was arguably too far advanced but the effort to get back and make that challenge tells you all you need to know about his work rate. It also shows how not only is he interested in assisting and scoring goals he also wants the team to keep a clean sheet. An all round team player who is playing far beyond his age.
Since the change of formation to 343/3421 we've seen a marked improvement in Coutinho's game. A player that needs movement around and ahead of him to fully utilise his skill and talent. It's no coincidence that his form has been on an upward trajectory ever since Markovic has been deployed as a wing-back. His work rate and style of play has a positive effect on the Liverpool side as a whole but also on certain individuals that Liverpool should be building a side around.
Building a side around Daniel Sturridge may not be the way to go, but it's safe to say his return to action will likely benefit the team. His movement upfront, the way he drifts deep and wide, will allow the likes of Markovic, Sterling, Coutinho and even Moreno to exploit the space gifted to them by this movement and maybe chip in with a few more goals so they aren't reliant purely on the strikers.
From a selfish point of view I'd like to see a side start with Coutinho, Markovic, Sterling and Sturridge, purely to see if they could hit double figures in a single game.
The next few months could be important if Rodgers gets to prolong his reign at Anfield, he will want to be able to call upon Markovic to "Fire the Lazar" to possibly turn this season into a trophy filled one with three of them still up for grabs. The form he's in now, you'd be naive to write it off just yet.
The Mizuno-boot-wearing, non-celebrating Serbian has been likened to Eden Hazard and you can see why. The versatile forward is an integral part of the Liverpool future, if they can keep hold of him, the number 50 could well soon become an iconic number for Liverpool. Not as a like for like replacement but he could also fill the void in Reds fans' hearts, left by a certain Uruguayan, in years to come, and the fee paid for him, well that could be a bargain.