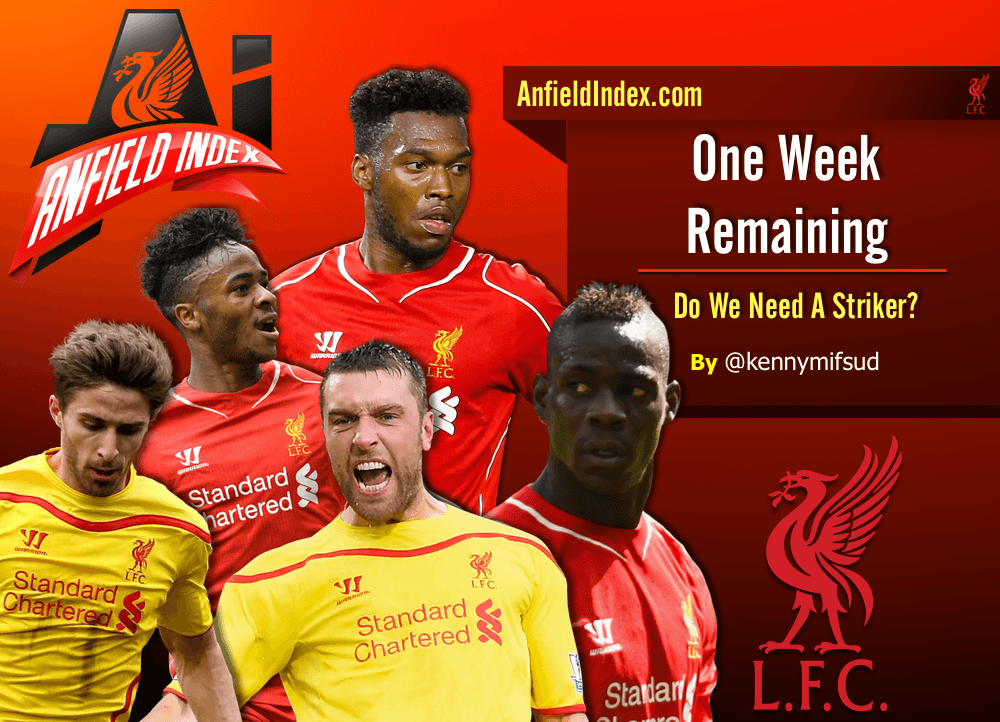 One Week Remaining: Do We Need A Striker?
Paramount. Critical. Fundamental. A Necessity. Each one, and more, of these many adjectives were used to describe Liverpool's desperate need for a striker following the sale of ex-icon Luis Suarez in the summer. The 75 million pound price agreed may be a tad lower than what Reds' fans were anticipating, however we could not afford to bite off more than we can chew, especially where a player who has been involved in three previous 'biting incidents' is concerned.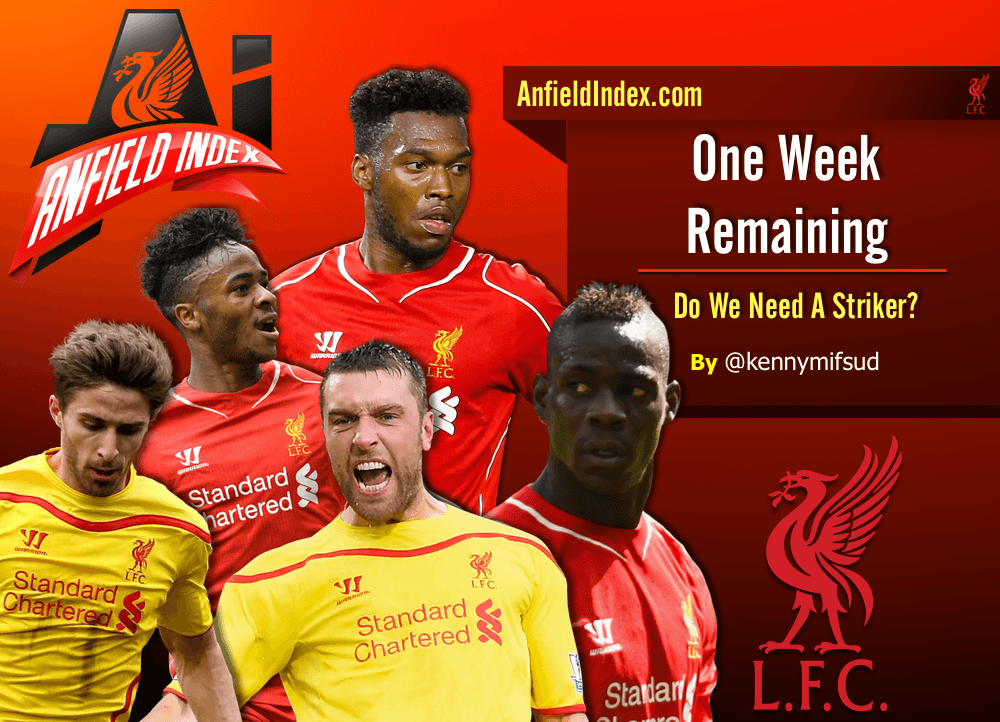 Rodgers responded by bringing in two fairly divergent players in Rickie Lambert and Mario Balotelli. The former, a 32 year old centre forward who was unplayable at times for Southampton last season, was the first of the bosses nine summer recruits. The latter was the ninth and final of our expenditure, a controversial figure who surprised the majority of us by his move.

And so they kicked start their Reds career, with the boss hopeful they will gel in immediately alongside the 'red-hot' Daniel Sturridge. A mere three games into the new season though, and disaster strikes. Sturridge sustained a knock whilst on International duty in early October and has been out of action ever since. To further add to the misery, Brendan's two forward recruits have failed to live up to the billing as of yet, accumulating a petty two league goals between themselves.
As Sturridge nears an eagerly-anticipated return to football at the end of this month, whilst the transfer window deadline day looms in the distance, we begin to ponder the prospect of new recruits entering the club. Liverpool's current Premier League top scorer is Steven Gerrard with five goals, followed by Sterling, Lallana, and the unattractive title of 'Own Goals' , each with four. That is nowhere close to being good enough for a team aspiring to secure that final Champions' League spot up for grabs. With this being said, do we possess enough fire-power amongst our current crop to maintain top form for the rest of the season, or is it of essence that Rodgers reaches for his wallet and forks out the big bucks for a 'world-class' centre forward? In this blog, I will assess our current forward options.
Daniel Sturridge
Whichever club you support in world football, whether it is Liverpool or Manchester United, one has got to feel a tad sorry for young Danny. After playing an enormous part in our success last season, and aiding us in our return to European football, the 25 year old is yet to even play a Champions League fixture for the reds. His prolonged injury problems have brought us reds fans in near tears, especially after observing just how well he and Balotelli gelled up-front in their only game on the same pitch thus far. (3-0 thumping of Tottenham).
 Will Dan return portraying the red-hot, fiery form he sustained alongside Luis Suarez in the last campaign? Could this be the start of the S.A.B partnership? His sheer presence amongst the first team will undoubtedly bolster Brendan's options going forward.
Fabio Borini
Rewind to last summer, and the ever-willing Fabio Borini found himself hours away from a 15 million pound move to Gus Poyet's Sunderland. (Yes, 15 million!). The Italian wanted to prove himself at the highest level however, and instead opted to stick with the manager who bought him in three summers ago. The 23 year old may well have his fair share of regrets about rejecting the move to Tyneside. His chances amongst Liverpool's first team set-up have arrived at a minimum thus far, resulting into a number of personal rants from myself in previous blogs, which have seemingly come to no prevail.
His smooth strike against Aston Villa the other day would have certainly boosted the youngsters' confidence in front of goal, however I remain unsure where the Italian's future at Liverpool is concerned. He seems to lack the overall traits necessary to become a world-class striker, and one or two lacklustre performances from his behalf have shown us exactly that. The 23 year old does make some positive runs off the ball, however when the chance does come to your feet, you have to bury it, and Borini has failed to do that on many occasions.
It seems Rickie cannot seem to do anything right at the moment. After netting the crucial second goal against Aston Villa, a bare eight minutes after his introduction, Rodgers seemed content in placing the Englishman on the bench yet again for our Capital One Cup first-leg tie against Chelsea the other night, which caused a puzzled stir amongst the reds faithful. (Of which was instantly distinguished following our extremely positive performance). No, the childhood Liverpool fan has endured a torrid six months or so, and although he is slightly improving game by game, has found himself on the end of intense speculation regarding his future, as deadline day nears arrival.
Rickie Lambert
As previously stated in my "Assessment of  summer signings" blog ( http://anfieldindex.wpengine.com/12370/rating-liverpool-summer-signings-halfway-first-season.html), I reckon that Brendan made a huge error in selling Andy Carroll because he did not 'fit our style of play', yet opting to recruit an older and cheaper version in Lambert. With this being said, the 32 year old is a relatively decent option to introduce from the bench once the need arises, although that is not what is needed right now. Rodgers needs goals in his team, and I highly doubt Rickie can produce such a request week in, week out.
Raheem Sterling
The 20 year old 'golden boy' could thank his team-mate Sturridge's injury for his inspiring form this season. Whilst the immediate plan to play Balotelli as the 'lone striker' failed miserably, Brendan decided to introduce the 'false number nine' strategy to his squad, an idea that has set Raheem on leaps and bounds ever since. He seems to be thriving in this new scheme, and apart from netting a goal or two with his efforts, his lightning quick pace and runs made behind the opposition's defence oft causes a stir, not to mention his constant dragging of defenders, enabling one of his team-mates to fill the void and produce their own bit of skill.
The negative aspect of this game plan is the lack of a solid presence up-front. Whenever Sterling does go out-wide, his position up-front is scarcely filled, thus resulting into a wayward cross or loss of the ball. This is where Daniel Sturridge comes into the frame, a return that may abolish the whole 'false number nine' idea entirely. Rodgers has unearthed an exceptional 'Plan B' "When all else fails" option, nonetheless.
What do you guys think? Where should Sterling be deployed once Sturridge returns?
Alongside him (CF Role)            Behind him (CAM role)                 Out-Wide (Winger Role)
Mario Balotelli
Finally, to our enigmatic Italian centre-forward, the man who is continuously "ill", however posts Instagram pictures of himself supporting the Reds from the sidelines on his 100-inch 'home cinema'. The surprising signing of the summer arrived in August, with Reds fans worldwide praying to the heavens that Mario develops a maturer approach to this club, in contrast to some of his child-like behaviour shown with past teams. His 'off-the-field' antics seem to be improving, which is a plus, however his football on the pitch is deteriorating by the minute. When the 24 year-old is not out of action due to "illness", he is proving a frustrating watch on it, which has resulted into his lengthy stint on the bench of late.
Now, the return of Daniel Sturridge gives me a slight cause for optimism, and is probably the only reason why Brendan has not sold the forward as of yet. The duo excelled in the only fixture they have played alongside each other, and Danny's rebirth should indeed light a spark in the ever-so-fiery Mario Balotelli. Who needs S.A.S? S.A.B is back in full effect, let us hope it gels instantly, akin to the former of the partnerships.
As I conclude my piece, the question behind the debate remains in the air. Do Liverpool need to buy a striker in the upcoming week or so? In my opinion, yes we do. Relying on a partnership to work out with immediate effect is risky, and an extremely tall order. I reckon Rodgers should look at names such as Higuain, Lacazette, Benzema, amongst other players linked, as that 'world-class' figure to bring in. However, with this being said, I give the likelihood of Rodgers actually going ahead with this a teeny 2 %.
"I've said before we wouldn't be doing much over the course of January. For us, it will be pretty quiet." The above quote all but dampens any slight hint of optimism regarding incomings this month, however as seen previously by the signing of Mario Balotelli, the ever-so elusive Brendan Rodgers does not always stick to his guns regarding what he tells the press