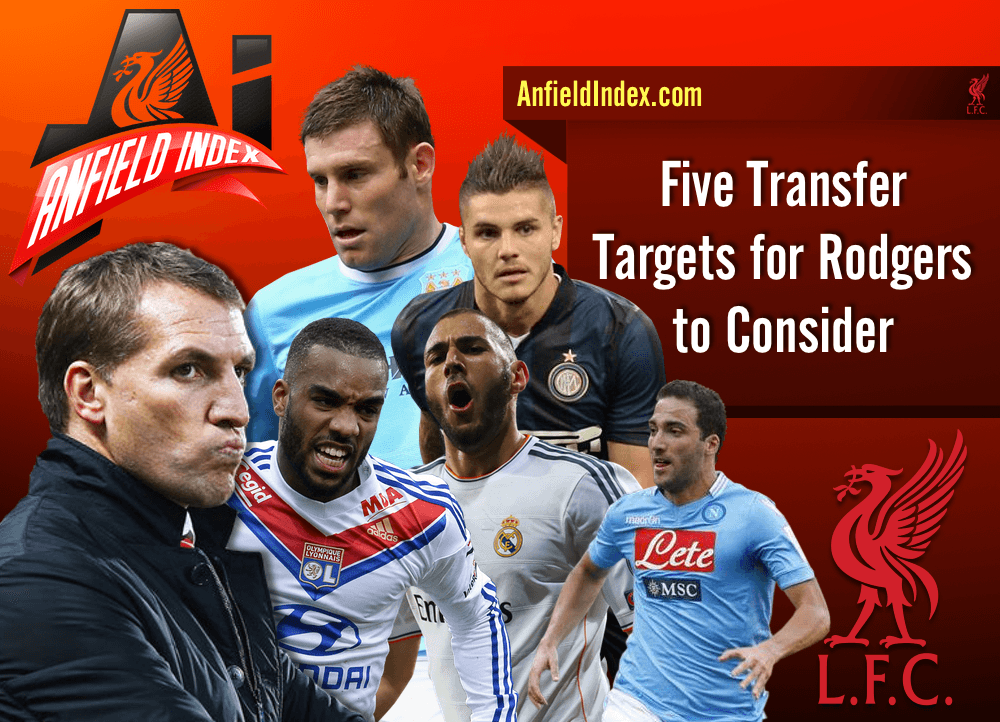 Five Transfer Targets for Rodgers to Consider
It won't be long before Jim White and the yellow Sky Sports breaking news ticker will be tattooed across our television screens as January draws to close. But for Liverpool, who haven't made any significant signings yet, time is of the essence if they want to add that extra piece of quality to push them back into contention for fourth spot.
So who should Rodgers consider bringing to Anfield in the January window? Here are five targets that have been linked with a switch to the Merseyside club.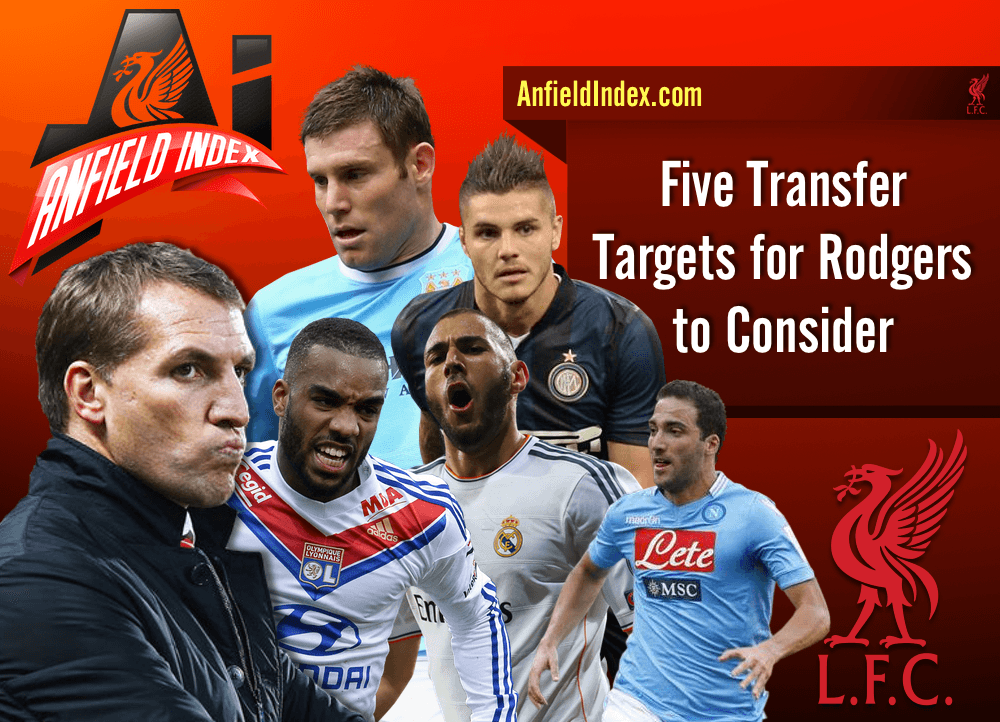 Alexandre Lacazette – Lyon
The 23 year-old French striker's timing is just as impeccable as his scoring record. Lacazette has already plundered 20 goals in 21 league games for the Ligue 1 pacesetters – while he has scored 11 goals in his last seven outings for Lyon – which has ramped up the interest as Europe's top sides look to seal a deal in the January window.
There will be firm resistance, however, from Lyon who see Alexandre as a key figure in firing their way to domestic glory.
Rodgers was reportedly tabling a bid for the French goal machine but no further developments have surfaced. Paris SG also look likely to enter the race for his signature and that could spark a bidding war that would price Liverpool out of a January switch. Either way, Lyon look to hold all of the aces.
James Milner – Manchester City
The versatile Manchester City midfielder has just six months left on his current deal at Eastlands and could be on his way out of the club. Milner has established himself as a top class performer that could grace any of the top four clubs in the country – but his tag as "jack of all trades and master of none" has seen Milner's contributions for club and country go relatively unnoticed.
It's rare for Milner to complete 90 minutes in a City shirt as Pellegrini uses the 29 year-old to plug a gap left by his more trusted lieutenants. So Milner, if given assurances about his role at a new club, would be open to a new chapter in his career, then Liverpool would seem like a perfect fit.
Gonzalo Higuain – Napoli
Liverpool fans worship Rafael Benitez for bringing a fifth European Cup to Anfield, but his stock would rise even higher if he allowed Gonzazo Higuain to leave his Napoli side for Liverpool.
The striking issues are obvious at Liverpool – they need goals – pure and simple. So a January move for the Argentine striker would go some way to filling the void that Luis Suarez and perhaps even Fernando Torres had left and Mario Balotelli has failed to cover.
Higuain may appear to lumber about the pitch on occasions and lacks the pace offered by Sturridge and Sterling, but his predatory instincts rank him alongside Europe's top marksman.
However, the Napoli striker won't come cheap, so Liverpool will need to flex their financial muscles if they are to prize way the man who has scored 27 goals in 51 games since joining Napoli 18 months ago.
Mauro Icardi – Inter Milan
Another Serie A striker that should be on Brendan's radar is Mauro Icardi. It seems like the 21 year-old Argentinian forward has been linked with a stream of Premier League clubs over the last six weeks but Liverpool would seem a likely destination given their profligacy in front of goal.
Icardi has scored 10 goals in 18 league games for Inter Milan this term and looks to have bags of potential but whether or not the quoted price tag of £30m represents value for money is another question.
Liverpool need a striker to hit the ground running and Icardi, while looking like a potential world beater, has yet to prove himself at the very top level and will need time to adjust to English football. Rodgers might well be best served looking for a striker with a few years more experience.
Karim Benzema – Real Madrid
The Frenchman has been heavily linked with Liverpool in the last 48 hours as the Anfield club weigh up a £38m bid. Benzema represents one of their few top strikers in world football – with 80 goals in 175 appearances for Real Madrid and 75 caps with France under his belt.
It's a strange rumour given Liverpool are unlikely to have Champions League football next season and the alternative clubs that Benzema would attract.
However, should this mooted transfer actually happen then it would send a clear message out to the rest of Europe that Liverpool mean business.