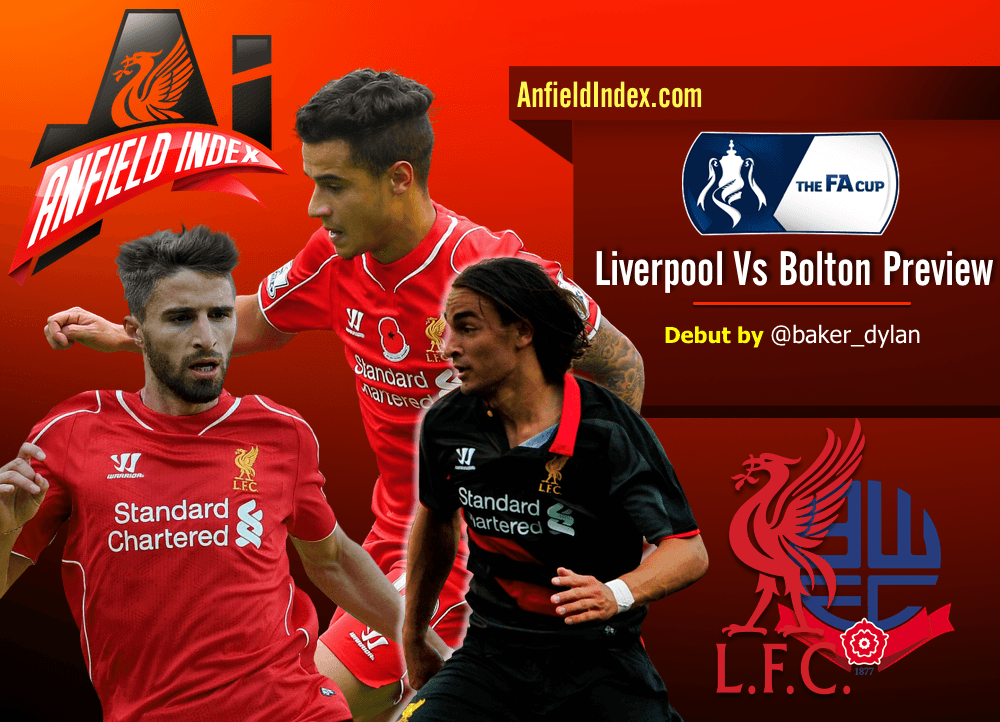 FA Cup Fourth Round Preview: Liverpool vs Bolton
A fourth round cup tie against Championship side Bolton Wanderers might feel favourable at the moment. Rodgers and the Reds haven't lost in a span of eight games, and have only recorded one loss since the blasted ruddy terrible horrendous eye-opening Crystal Palace match in November. I wouldn't venture into the realm of "brilliance" to describe recent weeks, but you've got to say that Liverpool are looking better, yeah?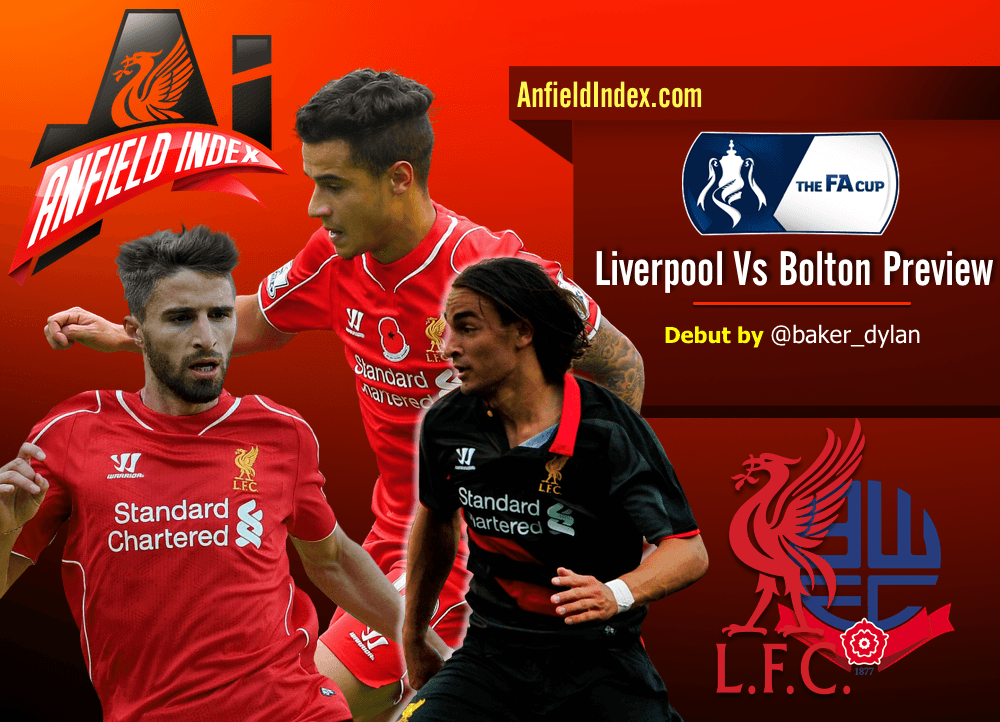 On the other hand, Bolton have seen an upswing in their form that might be more admirable than Liverpool's. Prior to the 2-1 away loss to Norwich on Halloween, the Trotters had only won three matches. Since the first of November, however, they've only lost once. So the fourth round tie finds two sides in an upturn of form that's changing their season for the better. However, neither are in a praiseworthy position in their respective divisions (Liverpool in 8th, Bolton in 14th).

The Reds and the Trotters actually have much in common heading into Saturday's match. While Bolton currently have a -4 goal differential, Liverpool only recently pushed themselves into positive numbers. Both sides don't have a standout goal scorer, either. Gerrard leads the Reds with 5 while Sterling and Lallana trail with 4 apiece. The Wanderers' Darren Pratley, Joe Mason, and Craig Davies each have 4 to their names as well. Bolton can at least boast that strikers Mason and Davies can score while Lambert, Borini, and Balotelli struggle to find their niche.
One thing Reds fans can be confident of going into this match is the focus placed on the competition. As we all know, the Premier League season and now-exited Champions League run have been less than desirable. A quick look at the Liverpool side that went to AFC Wimbledon on January 5th proves Rodgers' focus on winning a trophy. A full-strength squad was played with Javi Manquillo returning to the starting line up while Jordan Henderson gets a chance back in the natural middle. All to compete against a League Two side. Meanwhile, Mourinho changed the Chelsea formation to accommodate nine new players in the Jan. 4th win against Watford. Rodgers means business in the FA Cup; there's no reason for his tactics to change after drawing a second division club.
That doesn't mean, however, that the gaffer won't make some changes to personnel. The Wimbledon match was still during the early days of the 3-4-3 system, which probably explains why Rodgers didn't rest many players. After more time and visible comfort with the three-man back line (see: Capitol One semi-final performance), I think this is a good time to introduce some out-of-favour players back into the side. Rodgers will probably want to get guys like Manquillo and Lovren (settle down, people!) back into the side to try and work their way back into form. Despite the similarities between Liverpool and Bolton as we begin the second half of the campaign, there's no reason to play our best side when Stamford Bridge looms ahead next Tuesday.
Predicted Liverpool line-up:
After scoring at the weekend, I imagine Borini will get another call-up. Never you mind the three other shots he put well over the bar, because Brendan Rodgers will feel more comfortable with Borini's pace going forward. But Sterling needs to be match-ready against Chelsea in the Capitol One second leg, especially if there's a chance Sturridge is healthy enough to come back. Lallana looked well-enough as a second-half substitute, and should be good to go for a starting nod. As I said before, I see Lovren coming back into the side. As poor as he's played, there's enough reason to believe he can cope with Bolton's forwards. Being paired with the not quite so attack-minded Manquillo should help, anyway. Gerrard will likely sit as he did at the weekend so he's full-speed at Stamford Bridge, and I'd like to see Can back in the midfield.
On the whole, I think the result should be easy enough. At home, against a lower-half Championship side, and enough time spent in the 3-4-3 formation should produce a favourable cup tie. I'm calling 3-1, with goals from Lallana and Skrtel on a set piece in the first half. Second-half sub Rickie Lambert comes on to seal the win after Davies equalizes around the hour mark.