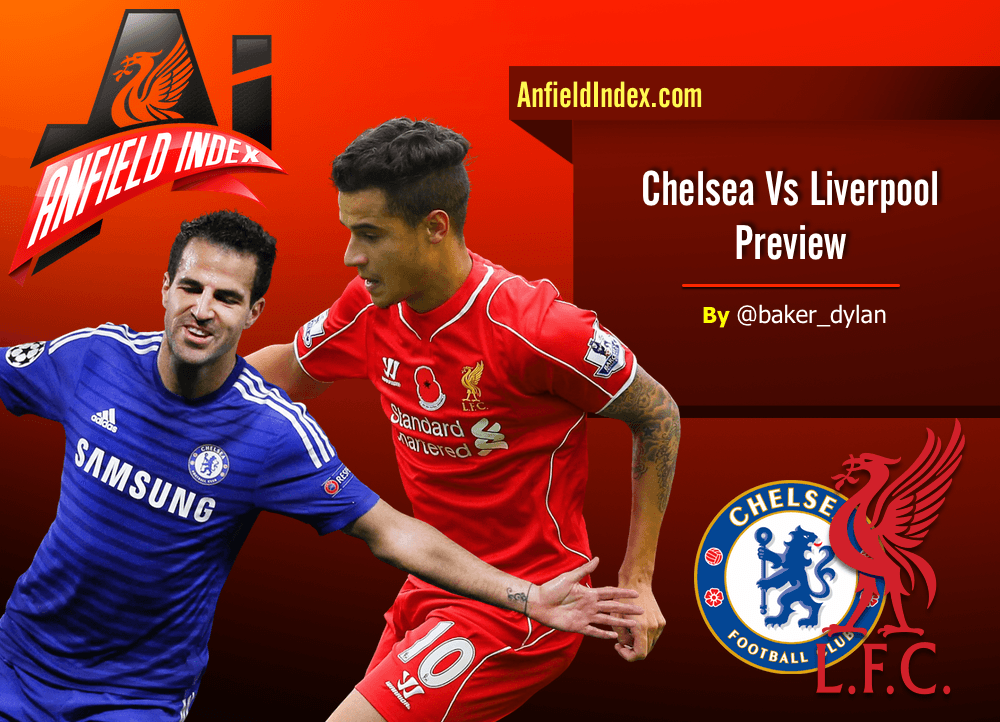 Chelsea v Liverpool | Capital One Cup Semi-Final Second Leg

"Final ball, finish it off.  Final ball, finish it off."  I found myself repeating this phrase over and over again during the last two cup clashes of the past week.  To be fair, we've all been saying it pretty consistently over the course of the season, but never more so than against Chelsea and Bolton.
Last Tuesday, there was a sort of excitement to my voice that I hadn't really heard since last season.  Liverpool attacked and countered hard and fast, maintaining a speed to their performance unrivaled in this 2014/15 campaign.  I mean, we looked good, friends.  Sterling, Coutinho, and Markovic were unrelenting with their pace, Stevie G played and created like he was ten years younger, and the back line put in a resolute ninety minutes.  Even after going 1-0 down after the Hazard penalty, there was the general feeling that Liverpool weren't defeated just yet.  At no point in the match did it feel like we would lose.  The Sterling goal to draw level was a great finish, but it seemed there easily could have been more from the side to take pressure off the second leg.  Some will argue (and they're probably wearing blue) that Courtois showed his class, and he undoubtedly performed very well.  But of the thirteen off-target shots, I can immediately recall three or four that should have troubled the keeper more than they did.  With a goal in six on-target shots, a few more may very well have added to the tally.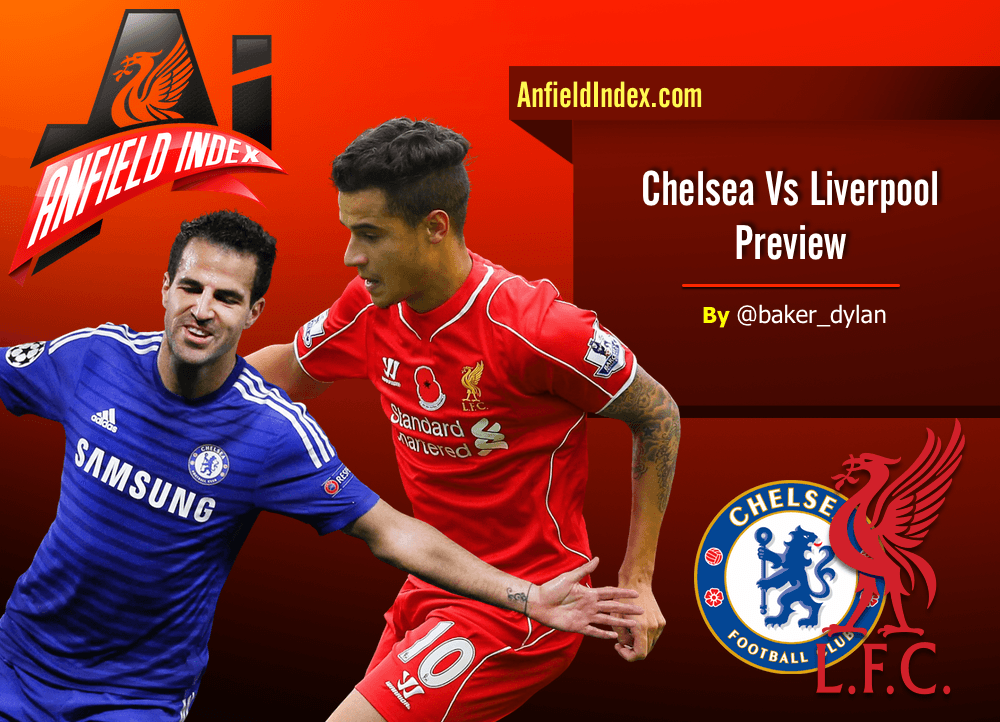 Alas, let bygones be bygones, right?  We'll leave the disappointing Bolton performance and my thoughts about Glen Johnson never, ever, ever starting at centre-half again to someone else.
What Could Happen?
Liverpool have put themselves in an interesting little situation leading into the second leg match.  Typically, matches end in a win, loss, or draw (duh).  But because the Capital One Cup has an away goals tiebreaker before spot kicks are taken, a draw here is no longer a singular event.
To get the fairly obvious out of the way: whoever wins goes to the final, and the losers go home.  One of the major positives to take away from the first leg is that we didn't dig ourselves into a hole.  The looming Stamford Bridge visit doesn't also include a goal deficit to make up for away from home.  The current situation also means that Liverpool don't have to win pretty, either.  Grinding out a 1-0 win is enough to push them on to the final match.  But that's more Mourinho's style than Rodgers's, so the gaffer has several decisions to make concerning the side's approach to the second leg.
On the other hand, a draw here can mean several different things. The nil-nil draw will see Liverpool off after extra-time according to Rule 13.5 in the official Capital One Cup ledger. Brendan and the Reds know one very important thing for Tuesday: there has to be at least one goal scored by the side.  Defence against that prolific Chelsea attack will have to be on par with, if not better than the performance a week prior.  If Liverpool can squeak out that 1-0 win, fantastic.  Should they let one in, however, there will be more played.
A 1-1 draw wouldn't be the end of the world; in fact, it wouldn't even be the end of the match.  Since the aggregate score would be level and the away goals for each side even, a half-hour of extra time would then be played to try and produce a winner.  If the score stays the same throughout, then penalties will decide the match.  In much the same way that a 0-0 is good for the Blues, drawing level at 2-2 is good for Liverpool.  Again, the away goals will be in our favor there, so the Reds would march on to the final.
Boy, if it wasn't for your friendly neighborhood American soccer football writer, who would know what was going on at all?
Speed is Key
If we're going to get a positive result at Stamford Bridge, we have to come out of the tunnel with the same speed and intensity that we saw at Anfield.  The motors of Sterling, Markovic, Moreno, and Coutinho will have to be running for 90+ minutes again.  Lucas and Henderson will have to bully people in the midfield and feed it forward quickly.  The combination of Skrtel, Sakho, and Can at the back proved favorable last time out, and they'll have to stay focused against the Chelsea attack that will surely have more fire than last week.
Most important is the pace of the match.  Mourinho will want a stronger performance for the home crowd, and his side almost always come out strong in the first half.  Chelsea want some early goals that they can sit on for an hour.  The Special One's tactic is even more prevalent against the bigger sides, and the confidence he puts in his defense is well-deserved.  But Rodgers and the Reds proved that they can be beaten with speed and a well-placed ball.  Receiving less pressure than I expected from Chelsea in the first leg, Brendan kept 6-7 men pushing forward for the majority of the match.  That needs to be replicated at the Bridge.
Predicted Line-up
The XI that take the field are, I imagine, going to be the same as last week.  Gerrard will play as a false nine in the middle while Sterling, Moreno, Coutinho, and Markovic run their behinds off.  Lucas will hang back to protect the defence, hopefully never taking another shot on goal again.  Henderson will play his usual box-to-box role to connect the back to the front.  There's also been the rumour that Sturridge might be back for this cup tie, which Rodgers confirmed in hypothesis during the post-match interview.  I say he doesn't get risked here, to be honest.  Look, I want to see the guy back just as much as everyone else, but I get the feeling that Brendan Rodgers has confidence in the side he played a week ago.  If Danny gets thrown into the fray before he's exactly ready, there's a decent enough chance that he goes back on the injured list.  If anything, put him on the bench should he be available.
For what seems like the thousandth time this week, I repeat: final ball, finish it off.  The service to the forwards must be excellent and Courtois has to be beaten at least once.  The defence must be stout, organised, and unforgiving.  Take some yellow cards if need be.  While every match needs to be respected and opponents prepared for, Tottenham/Sheffield United are not Chelsea.  In my opinion, Stamford Bridge may well be the more important match.
The Baker Forecast
I have to admit that my last prediction was way off.  Now, be kind, friends: who could have predicted that sloppy play against Bolton, so poor that a replay was forced?  However, I will not be deterred from my forecasts, no matter how erroneous my first official attempt was.  So, here goes: we're going to penalties, folks.  Chelsea will score first because that's what they do.  Liverpool will get the equalizer because I said so.  The half will end at 1-1, and so too will regular time.  Both defences will remain strong throughout the second half, but play will be opened up until extra time.  The added half-hour will result in no goals because fatigue will have set in.  Spot kicks will be taken, Liverpool advance to the final 4-3.