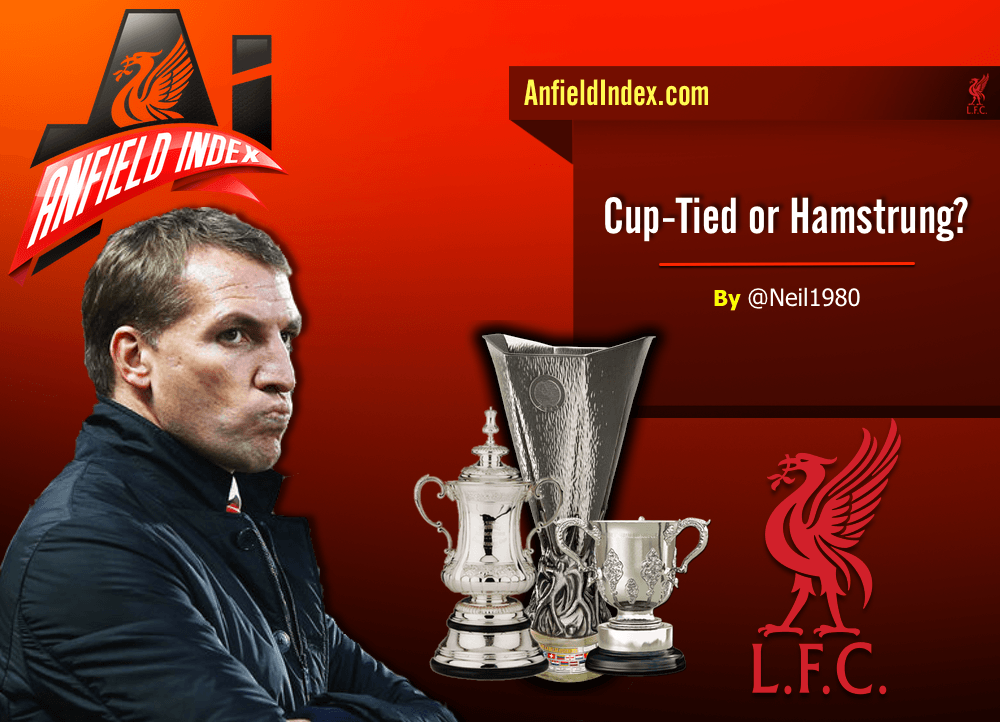 Cup-Tied or Hamstrung? | Liverpool FC
The Magic of the (FA) Cup. We all love a good cup tie, don't we? Every fan, surely, must want to see their team go on a great cup run, musn't they? I mean, winning breeds winning; it's a great way to gather momentum; the players just want to get out there and play; When you're winning you want to win again, and if you're losing, you just want to go out there and put things right. After all, that's what football's all about, isn't it – winning trophies!
The first paragraph certainly contains one point of view; a popular enough standpoint that one might even call it the perceived wisdom of the time. Heaven knows it's a narrative that's rammed down our throats by so many pundits and hangers on; propogated by journalists and perpetuated by hoardes of fans. A historical interpretation of English football's trophies; holding them in the same esteem with which they'd traditionally been regarded. It remains a valid stance, only up to a point.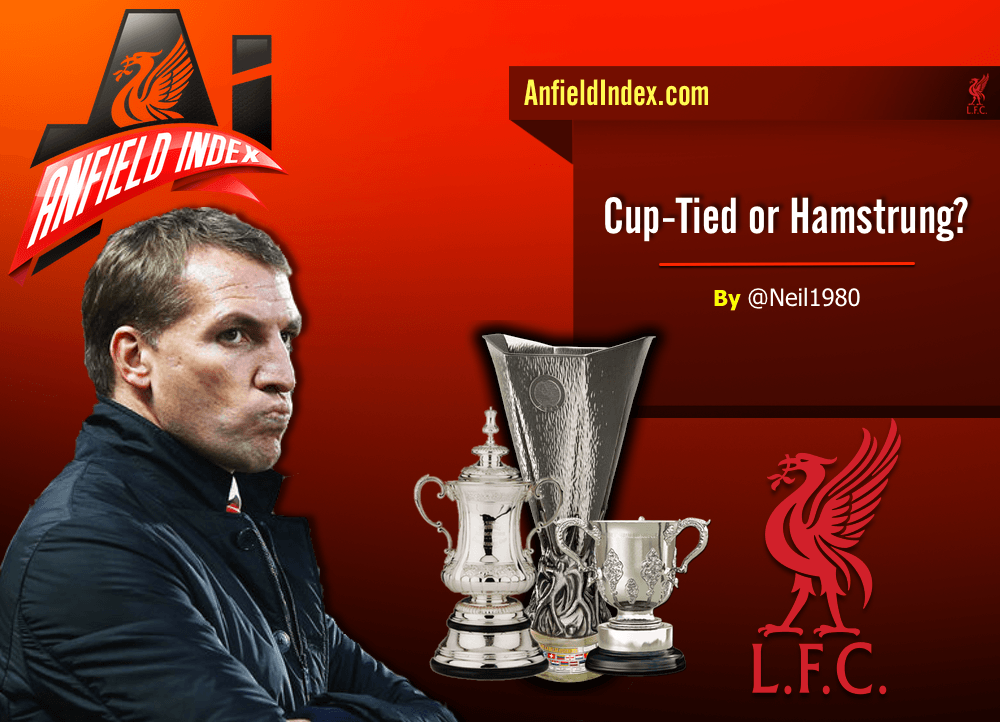 Like it or not, times have changed for English Football. No longer do the domestic cup competitions hold such an allure for the managers of England's elite level (Premier League) clubs. Every manager would, of course, be more than happy for his captain to lift one of the two recognised trophies at some point; a successful attainment of either trophy adds a little shine to a CV, boosting the chances of further employment and providing players, management and club with a real sense of achievement. Very often however, managers and players don't pay enough attention in the early rounds, to give their side a chance of progressing.
The reasons for this are many; however, the overriding factor is the will/need to safeguard a Premier League position – top, middle or just above relegation, this applies to all clubs in the league. Take Liverpool for example; second leg of a Capital One Cup semi-final against Chelsea, and still in the FA Cup – facing a tough replay away at Bolton in the 4th round.
Winning against Chelsea at Stamford Bridge, followed by winning the Cup at Wembley would undoubtedly be fantastic. They would be two tremendous days out for Reds; the capture of the League Cup would add to the club's long list of honours; the boss and players would potentially gain a psychological edge against one of our biggest rivals; this team would've won it's first trophy – discovered the winning touch.
The last paragraph list a few of the potential positives of LFC winning the Capital One Cup. One point worth remembering is: the last time the Reds won the Carling Cup (as it was then), the club was in a similar position – pushing desperately for top four – and most of those positive factors listed above, did absolutely nothing to stop Kenny Dalglish's side from losing eight of its final thirteen league matches, thus falling well short of the requisite fourth place.
(Another fact which bears consideration: of the last four winners of the League Cup, Birmingham were relegated after recording just two victories after winning the trophy, and Swansea also won just two of their remaining games – the start of a woeful run which would see Michael Laudrup sacked. We've already seen what happened to Liverpool; in fact, only Manchester City went on to achieve their objectives following their victory.)
Falling so far short after winning the League Cup, back under Kenny's tenure, marked the end for one of Liverpool's best loved and most revered of adopted sons. Even an FA Cup final in the same year couldn't save the embattled Scot, as FSG flexed their ownership muscles and laid clear for all to see that the Cups, in their eyes, were mere asides to the main goal: a Champions' League place.
Fast forward a few seasons, and despite ascending a mountain last year, Brendan Rodgers has taken his current Liverpool team on a break-neck absail down the other side, to practically right back where he started. All of a sudden, it's all gone a bit deja vu: 8th place, in a League Cup semi (against the top club in the country at the time), and still in the FA Cup. This time around, there's the added headache of the Europa League for the manager to contend with too. Suffice it to say, the situation regarding priorities has not deviated: Liverpool Football Club must finish fourth, at least, in the Premier League. Neither the manager, nor the players can afford to have their focus affected, nor their efforts hamstrung; by too many extra fixtures, in the form of cup – ties.
Modern football realities, both financial and competitive, make it absolutely imperative that LFC (playing catch-up very successfully under FSG) don't allow themselves to fall further behind their rivals, in particular Manchester United and Arsenal. Everyone is well aware that the Champions League money is set to double next season, and that United are set to receive massive sponsorship bonuses should they qualify at the end of this year. Realistically, only two places remain open, so pretty simple maths tells you that either we need to leapfrog the perennial 4th placers in North London, or usurp Louis van Lately at United. The realisation of this goal, and what it would mean for LFC in the coming seasons, repeatedly reverses a Panzer over any instant gratification the successful pursuit of a cup would deliver.
There are those who talk of winning the Europa League as a viable way of reaching Europe's top table next year. Not beyond the realms of possibility, to be sure. Given the strength and quality of some of the remaining sides in that competition, however, coupled with the manager's inexperience in European competition, it would seem that putting all eggs into that basket will likely lead to tears before full time.
In summing up, I'd like to say that I'm not a cup hater. Since we're in the semi-final of the League Cup, against Chelsea, we should obviously try to win it. Whatever happens though, the club must be vigilant in not letting it adversely impact the team's mindset. I would love to see the Reds do a 2001 – winning a cup treble and coming second – however, that particular feat was 14 years ago and, I believe, a one off in the Premier League era, therefore very unlikely to be repeated. We can dream, as fans, but the manager has to prioritise, and that must mean putting the focus squarely on the Premier League fight for fourth. I had it put to me by a fan over the weekend, that
"We are Liverpool. We fight for trophies, fourth should be a minimum".
"We are not Arsenal"
To which I replied,
" You're right, we're not Arsenal, for them fourth is the minimum. We've finished in the top four once in five seasons."
"When we begin to achieve top four with a mundane regularity, like Arsenal, perhaps then we'll need to focus on winning domestic cups again."