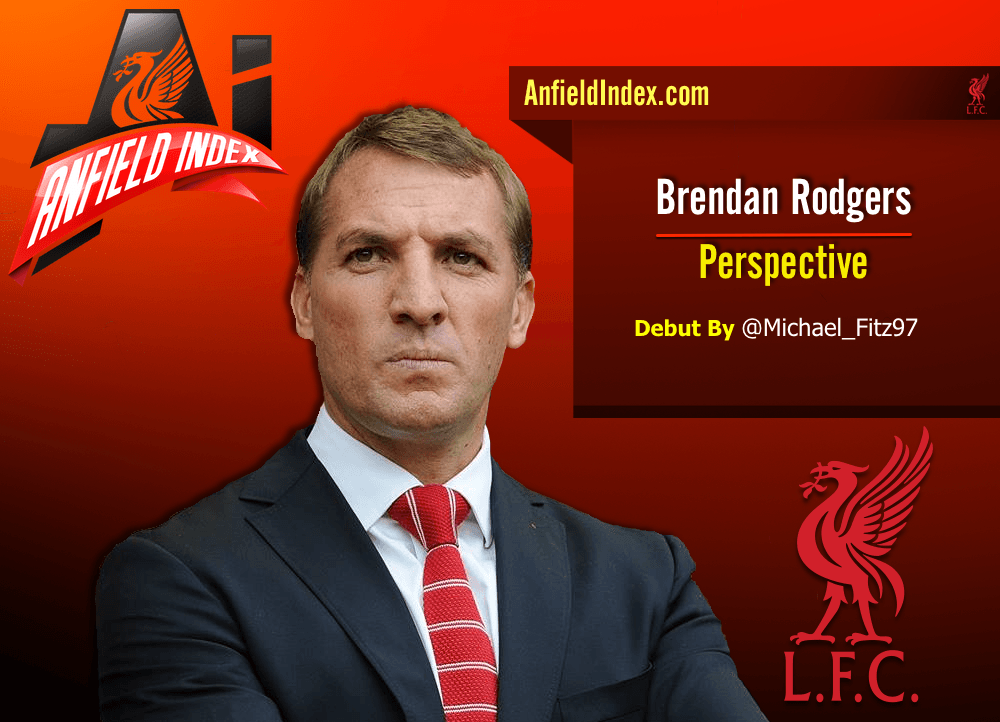 Brendan Rodgers - Perspective

Many Reds could be forgiven for believing Liverpool could actually go on to win the league last season. The cluster of Luis Suarez's magical spectacle, Raheem Sterling's rise to prominence and Daniel Sturridge finishing behind only the former as the league's top goal-scorer. This season in contrast has been…well, slightly different. It's the latter stages of January and Sam Allardyce is ahead of us. So, yes, a bit more than slightly. Also, Suarez is now firmly settled in Catalonia, a 20 year-old Sterling is now carrying the side and Daniel…wait, who?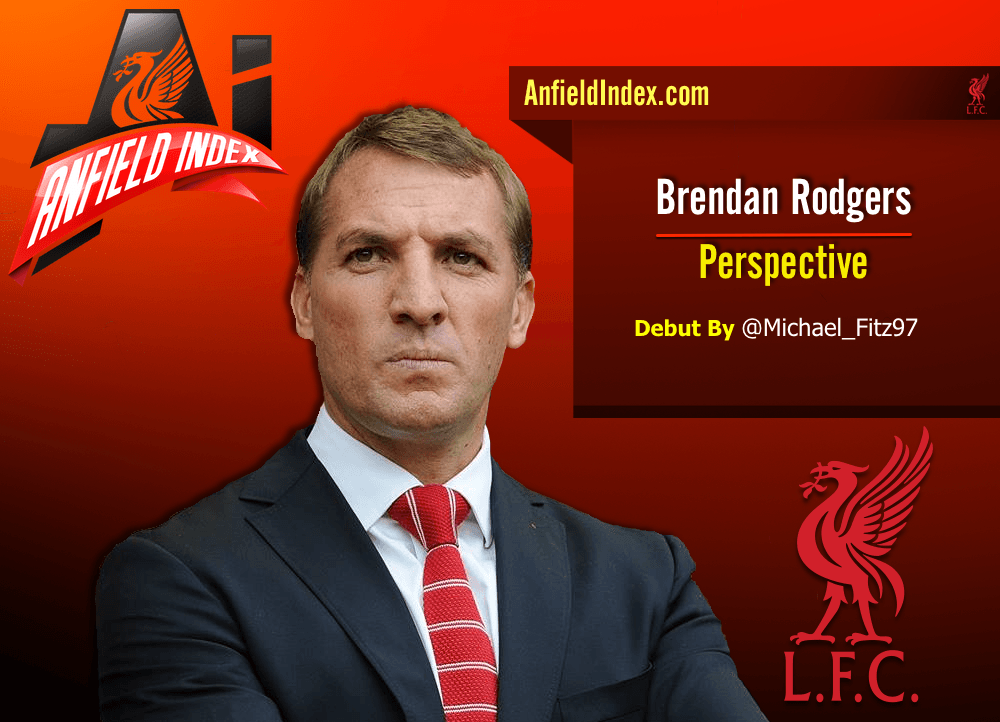 Despite the indifference, we've finally reached the stage where Liverpool just may have turned a corner. The wretched state that haunted Anfield and other Premier League stadia that is the 4-2-3-1 over the past few months has finally made its way into the bin, he says hopefully, and Liverpool have partially revived. 13 points from a possible 15 since Boxing Day and a fine performance against league leaders Chelsea on Tuesday has offered a desperately needed boost. Sturridge is due back imminently, Coutinho and Sterling are rumoured to be penning new contracts soon and Jordan Henderson has been staring perpetually at Diego Costa since the first leg at Anfield. Everything suddenly seems a bit brighter.
Rodgers' pre-Bolton press conference was his most interesting for a while. And, when I say the most "interesting", I mean one I gave my undivided attention to. Many Liverpool supporters – myself included – have grown weary of divulging Rodgers' template press conference must-haves, and plenty – myself included – have criticised his lack of responsibility at times. Patience was lost as a consequence of horrible results, even worse performances and questionable management of key players.
Regardless, he's now swooped past the uncertainty of UCL qualification for this season to drop the somewhat premature bombshell of: "We will be ready to challenge for the title next year".
This degree of optimism, however admirable, has gone almost too far in the other direction. Brendan has seemingly pointed the gun at his foot needlessly again. Of course, it's a delight to finally see the doom and gloom of the past five months appear to vanish, but let's gain some perspective. I mean, it's not usually hard for us to not get carried away, is it?
The notion Rodgers was trying to convey was his* summer signings will have fully integrated by the summer, and next season will see a vast improvement. In this respect, he has every right to be hopeful as evidenced by the likes of Lazar Markovic, Emre Can and Alberto Moreno playing an integral part to the turnaround. Markovic and Can especially, who didn't feature regularly in the earlier parts of the season, have proved instrumental. Markovic was prematurely assaulted with an unfair portion of ludicrously hyperbolised criticism, while many debated whether not only had "Liverpool done a Spurs?" but had "Emre done a Wilfried?" Markovic has relished his recent role at RWB and has been rightfully applauded for some standout performances while Emre Can has performed brilliantly as a makeshift CB – a £10m midfielder from Germany is keeping a £20m centre-back on the bench. Clearly, both players present a fine example of how, come next season, the 'transitional period' should be over. Again.
Suarez's departure was a tremendous set us back and with other injuries hampering the side this season, such as the prolonged and painful absence of Daniel Sturridge, this season was always going to be a struggle. However, does Brendan Rodgers genuinely believe we can suddenly leap back into battle with the league's strongest two? Can we really mount a plausible title challenge?
No. Probably not.
Though there have been times this season where I wish we could revert back to conceding three at home to Swansea and still take all three points – we don't need 100 goals a season. We need the ability to defend and our backline has been nothing less than farcical for the majority of the season. Hilariously bad, at times. And even as I write this, the news doing the rounds on Twitter (and indeed heads in) claims Rodgers himself is intervening in Johnson's contract situation. Yes, Glen Johnson. No, I know. Can't believe it? Unfortunately, I can. This comes after the rumoured contract renewal for Martin Skrtel, too. Lovren isn't going anywhere, and the odds of seeing Rodgers invest in a defensive midfielder are alarmingly minimal. You don't win titles with inadequate defences.
We're not going to be anywhere near Manchester City or Chelsea next year. The magic of last season was largely down to the mastery of Luis Suarez whereby his presence alone would allow other players to perform. Toll in his goal count, his number of assists and his dressing room influence and it's obviously a mammoth loss. It's a testament to him that we took City all the way to the 38th game last season. Bereft of a world class player, which we sadly are, mounted with Chelsea and City both having four or five in their arsenal and it's transparent; we're not ready for a realistic title assault.
That's all a bit too negative, isn't it? After all, this is a debut piece. Instead, it's time for a few shining lights.
Last summer could easily be looked back on, even with the displeasures of Lovren, Lallana and Lambert, as one of our best of recent times. The aforementioned Emre Can, Lazar Markovic, Alberto Moreno and Javi Manquillo are all aged between 20 and 22 and to envisage the level they could be performing at in two or three seasons; combined with the current crop of Raheem Sterling, Philippe Coutinho, Daniel Sturridge, Jordan Henderson and Mamadou Sakho; is extremely rousing.
So much so, it questions the need for the world-class star mentioned earlier. Simeone's Atletico Madrid provide a clear example. Simeone hasn't had the budget juicier than that of Barcelona's, and nor could he possibly compete with the financial juggernaut of Real Madrid. Instead, with carefully exercised transfer swoops, he made cautious yet apt replacements of key players lost, allowing the team as a whole to become stronger. The end result last season was a La Liga trophy, and a Champions League runners-up medal. This season? They're amongst the top end of the table again. We ourselves are only three players shy from having a strong, dynamic and competitive starting eleven that is as strong defensively as it is in attacking prowess.
One quick glance at my Twitter page and you'll come across at least something anti-Rodgers almost instantly. His eventual revision of the insufferable mess that is 4-2-3-1, however, has changed my mind and installed some at least temporary patience in his managerial capabilities. Long overdue, admittedly, he finally appears to be shifting his equally insufferable stubbornness for the gain of the team. To some extent, his hand has been forced with Johnson and Lovren both picking up injuries, but it will be intriguing to see whether he continues with the triumvirate of Can, Skrtel and Sakho as our back three. Moreover, the return of Daniel Sturridge will pose questions over the role of Mario Balotelli and whether Rodgers will unite the two, while Steven Gerrard will be keenly focused on during his final four months. If Rodgers can continue in the current vein, be it a 3-4-2-1 or a 4-4-2 diamond, it will bode well for the months ahead with a possible trophy in mind.
To conclude, we arrive back to perspective. No fair-minded Liverpool fan would expect Liverpool to challenge for the title next season and, frankly, I find it unfathomable that we're even entertaining the notion. Unfortunately, it will only likely result in an avalanche of unfunny memes and tiresome 'Vines'. But, if there is something important to be drawn from his optimism, it's that we're not too far in the other direction, either.