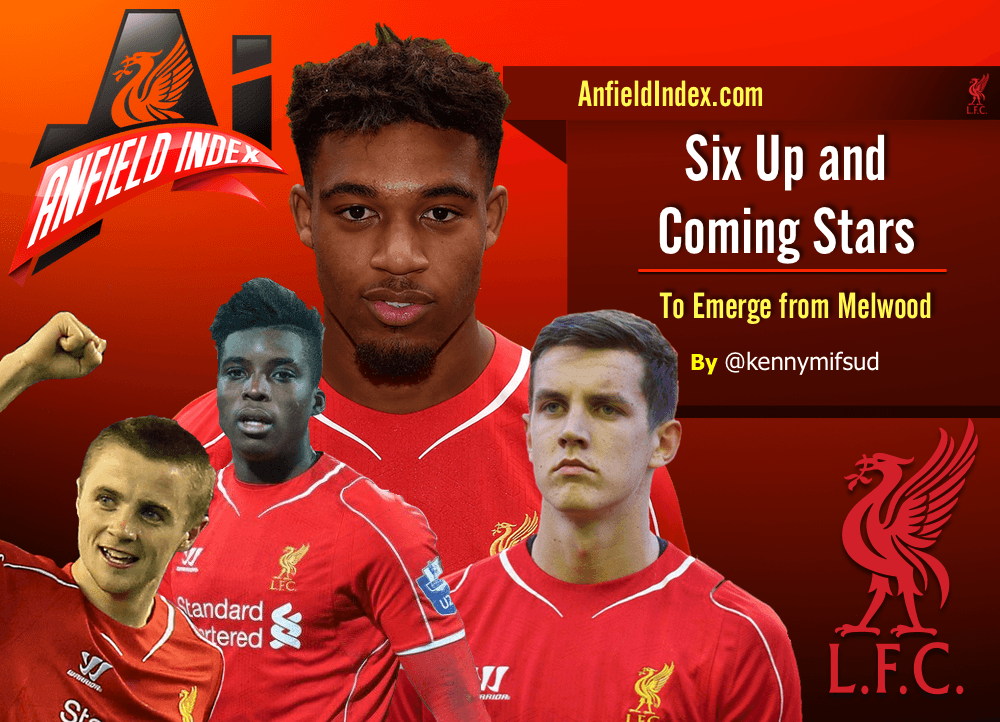 Six Up and Coming Stars to Emerge from the Melwood Youth Academy
Liverpool FC boasts one of the strongest youth systems in world football. In contrast to recent polls conducted by Bleacher Report, Givemesport.com, amongst others, who seem to have disregarded the Merseyside club entirely and placed them towards the bottom end of the pile, players such as Steven Gerrard, Jamie Carragher, and Raheem Sterling demonstrate just how wrong these poll-makers are, and that our base at Melwood is as strong as it has ever been.
The most recent of emerging professionals who have received the trustworthy call by Brendan at least once in the past include Raheem, Jon Flanagan, Jordon Ibe and Jordan Rossiter. Michael Beale and Neil Critchley's Under 21 and Under 18 sides are brimming with quality and promise, and although we have sadly lost a young gem in Suso to AC Milan, Liverpool's youth academy carries on going from strength to strength, and in this blog I will name you six of the best of these up and coming young Melwood talents.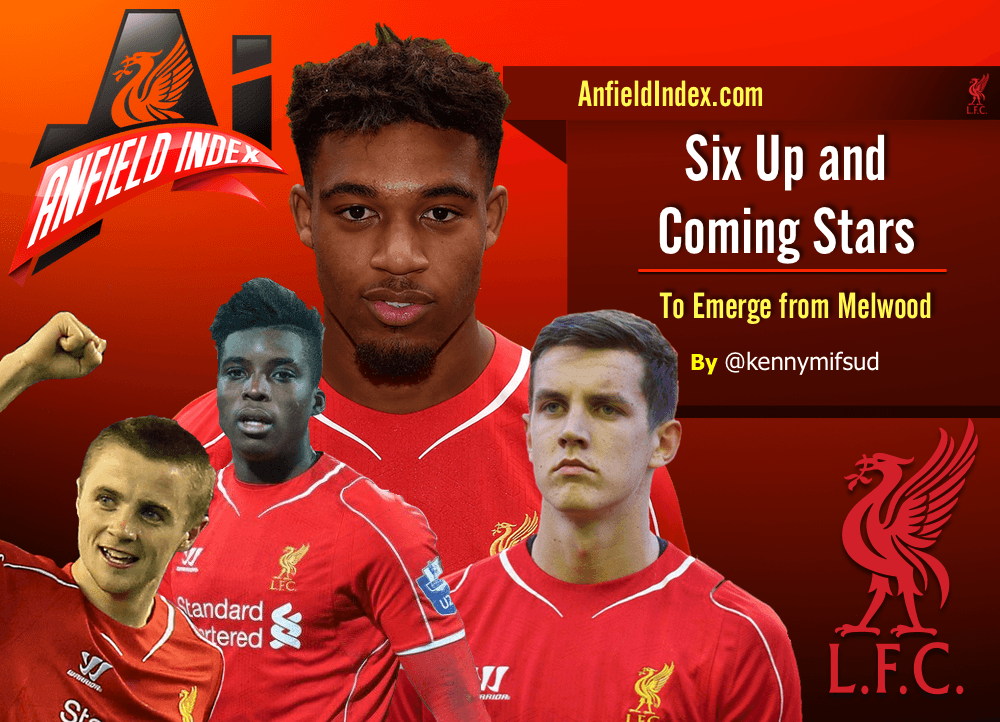 6.

Jordan Williams (19, Centre Back/Defensive Midfielder)

Prior to the Welshman's first-team debut in our Capital One Cup win over Middlesbrough, Jordan Williams was an unknown figure to 90 % of us Reds fans. His introduction seemed a surprise to many, with the likes of talented prospects such as Harry Wilson and Jack Dunn yet to get a sniff in by Brendan. No, the 19 year-old was given the green light and excelled once introduced from the subs' bench that night, shoring up the Reds' defensive line and scoring a crucial penalty in the lengthy penalty shoot-out in the process.

The youngster can play in the centre of defence as a centre-back, or as a defensive midfield "anchorman", a position that looks somewhat weakened amongst Brendan's first-team options.
5.

 Jerome Sinclair (18, Striker)

On the 26th of September 2012, a certain 16 year-old by the name of Jerome Sinclair replaced Samed Yesil in Liverpool's 2-1 win over West Brom in the Capital One Cup to break Jack Robinson's record as the Reds' youngest ever player. Since then, the now 18 year-old has yet to play a single minute for Brendan's first-team squad, and has scarcely been involved with the under 21's either.

The youngster's immaculate pace and eye for goal has resulted into a number of reporters across the country dubbing him 'the next Raheem Sterling', in comparison to his slightly older compatriot. His wonder-goal scored against World Cup and European Championship winner Victor Valdes for the under 21's the other night is enough to give us cause for optimism, and the Englishman some much needed confidence as he eyes another call-up from the boss in the near future.
4.

 Harry Wilson (17, Attacking Midfielder/Winger)

From a club record breaker to one on the international stage. The wonder kid that is being touted 'the next Gareth Bale' broke into the limelight a mere one or two seasons ago, producing a string of exhilarating performances for Neil Critchley's Under 18's. This did not come unnoticed by Wales manager Chris Coleman, as the youngster made his international debut at just 16 years and 207 days, beating the record previously set by Welsh icon Bale.

Wilson is now 17, and has yet to be called upon by Brendan. It is pivotal that the boss nurtures these youngsters the right way, and I do not reckon we should be piling the unnecessary pressure of first-team football and the strains that come with it on the shoulders of a 17 year-old, however promising the lad is. There is no doubt that the Welsh wizard's future lies on Merseyside, as we begin to be dazzled by a youngster who possesses all the traits, and then some, to become as successful as his Welsh compatriot Gareth Bale.
3.

 Sheyi Ojo (17, Attacking Midfielder/Winger)

 Similarly positioned to Harry Wilson, Ojo joined the Reds' youth system from League 1 outfit MK Dons in 2011, aged 14 and a half years old. A more mature individual now at 17, the Englishman has immersed us at Under 18 level with his jaw-dropping pace and trickery down both flanks. He has flirted with the first-team on several times as well, resulting into his name being placed on Brendan's subs bench for a number of first-team matches thus far.

Recent reports have linked Ojo with a loan move out of the club, a decision that, in my opinion, is best for all parties involved. A kid Ojo's age, although still very young, needs game time to develop and improve, and I reckon that a loan move to a lower-league side would entrust him exactly that. I highly doubt that, with Sturridge returning, Ojo will be given much of a look-in from now until the end of the season, especially with penultimate league and cup ties on the horizon. One thing we cannot question is the massive amount of talent this lad possesses. Will he return from his loan spell a better player, or will the current competition for places in Rodgers' side hinder just that?
2.

 Jordan Rossiter (17, Central Midfielder)

"A young lad just about to come on for a few mins for Liverpool in the NextGen… Jordan Rossiter, big  shout but potentially a young Stevie G."

Now, whenever a statement that factual is tweeted by any Reds fan, it is quickly shrugged off as an 'over-excited fan tweet'. However, when that fan's account is owned by one Robbie Fowler, it simply cannot be taken in the same manner. Ever since the Tweet was published, the 17 year-old has gone on leaps and bounds for the Under 21's, cementing his place as a regular, although he is four years younger than the competition's title.

Brendan himself has not shied away from his deep admiration for the youngster, hinting that we will be seeing more of Rossiter in the upcoming few months. To already have a number of first-team appearances for a club as high-calibre as Liverpool under your belt at the age of 17 is alone an incredible feat, and although I do not want to pile unnecessary pressure on the kid, I DO believe that he is Steven Gerrard's future successor. His eye for a pass, no-nonsense approach and attitude, and utter passion shown to play for Liverpool FC tells me that in itself, as we see a player who will undoubtedly be a regular in Liverpool's first-team squad in the next two-to-three years.
1.

 Jordon Ibe (19, Attacking Midfielder/Winger)

Although the most experienced of my list, young Ibe is an up and coming talent nevertheless. The lad who shares the same birthday as fellow 'wonder-boy' Raheem Sterling has all the attributes to equal, and even exceed the Jamaican's rocketing career on Merseyside. One could just imagine it: the Liverpool boss publishing his starting eleven in two years time, portraying Ibe on one side of the wing, and Raheem on the other. Unquestionably a recipe for success. The 19 year-old's ability is there for everyone to see, and young Ibe has definitely matured in his time on loan at high-fliers Derby, a statement echoed by Under 21 boss Beale.

The majority of Reds fans questioned the abrupt termination of his loan spell at the Championship club. Should Brendan have kept Ibe at a club that is certain to play him week in, week out? Will he return and continue to be left frustrated on the sidelines, whilst jealously watching Raheem strutting his stuff on the pitch? A lot of pondering to do for Brendan, however his cards have now been played and it is essential he finds time to introduce the sensation that is Jordon Ibe to his starting eleven.

Liverpool's youth academy seems to have taken a substantial hit due to the recent haphazardness of the first-team. One cannot generate a table consisting of top youth academies and not include Liverpool. We may not be performing as relentlessly as we would like to, however a plan for the future is evident.

As the plans to expand the iconic Anfield stadium get under-way, and one or two of the Reds' next-gen stars slowly begin to get introduced by the boss, one can only think positive thoughts when the phrase 'Liverpool's future' pops up. As you have probably read in last week's papers, Real Madrid's new signing Martin Odeegard will be earning a staggering 80,000 a week, at just 16 years of age. As unbelievable as that sounds, this is where I fear for a couple of our current young crop. If Rodgers' side does not improve its league form and fails to qualify for Europe next season, we may see one or two of our young talents be lured away by the likes of Real Madrid, Barcelona and Bayern Munich, who will undoubtedly offer lucrative wage offers and brainwashing promises of first-team football. European golden boy Raheem Sterling has already been the subject of a few high-end offers, and I am afraid that if we maintain our mid-table positioning, we may well lose the youngster.

Will Brendan begin to introduce one or two of these six players listed, in such a pivotal point in time during the season, or will he wait till summer and plan from there? A minor thought amongst many in the bosses mind at the current moment, as Michael Beale prepares his Under 21 team to face Birmingham on Friday night.