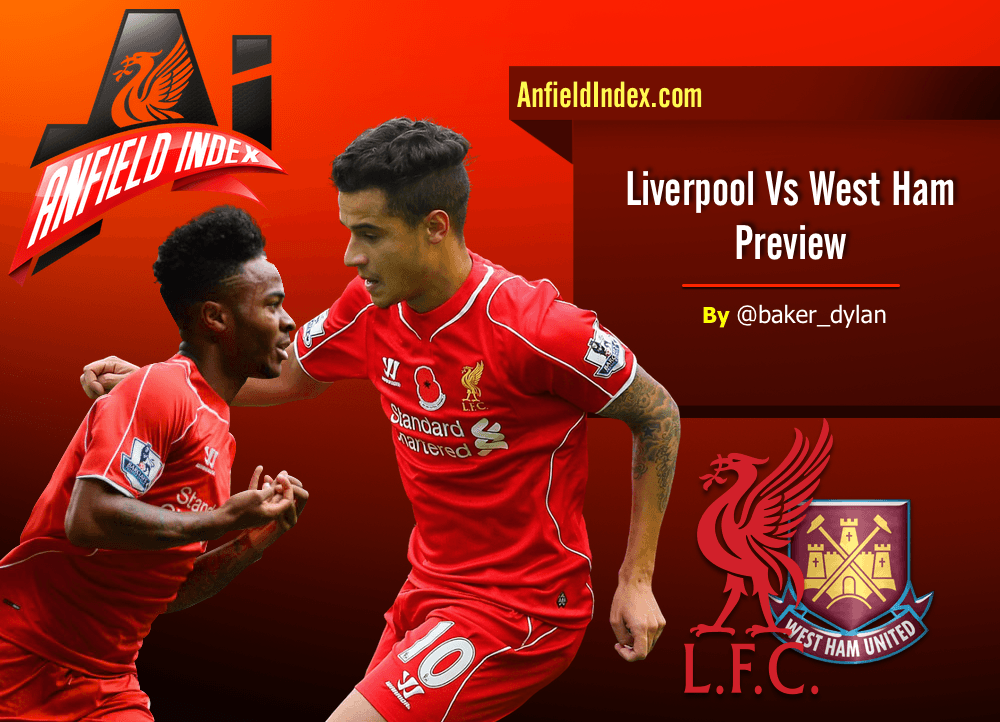 Liverpool v West Ham | Premier League Preview
After an abysmal showing at Boleyn Park, the Reds face West Ham at Anfield Saturday evening. We've got a different story to tell this time out concerning form; back in the "wish we could forget it" month of September, Liverpool registered no Premier League wins. In fact, the only 3 points taken from that month came from the 2-1 Ludogorets win that's scarcely memorable. The Hammers, on the other hand, were just hitting their stride that led to a Champions League place at Christmas.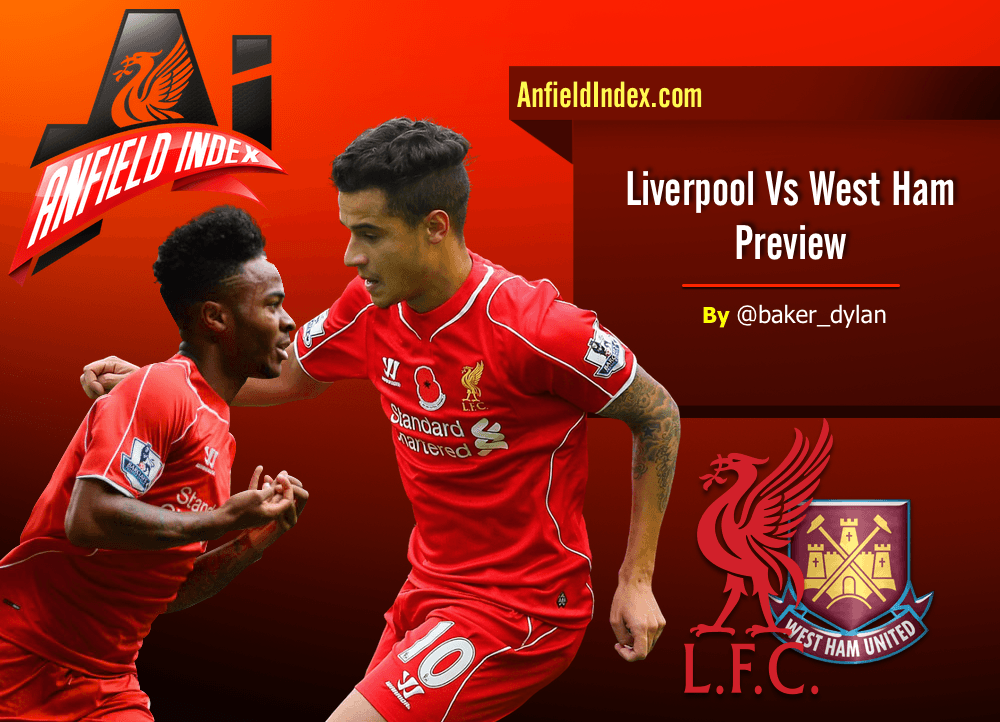 At the current time, West Ham sit a point above our Reds on the table, but the form of the two sides has arguably switched. Liverpool have taken thirteen of the last fifteen available points, though not entirely convincingly. Scratchy, sloppy wins against Sunderland and Aston Villa in recent times have pushed our league position from dreadful to more-than-worrying, with the Chelsea ties of the past week serving as our only shining moments. But West Ham won their first Premier League fixture since Christmas last time out against a poor Hull side. The holidays haven't served Sam Allardyce's Hammers as they have for the Reds, and their FA Cup win at Bristol City wasn't spectacular, either. Hopefully, the change in tides for both sides are indicative of the upcoming weekend result.

Back in September, it's pretty universally understood that the revolutionized West Ham side attacked with pace and direct passes that were simply too much for the back line. Boasting newcomers Dejan Lovren, Javi Manquillo, and Alberto Moreno that were yet to settle in at the club, we looked rather lost in our feeble attempts to defend. Each of West Ham's three goals came from some mistake or another: our typically poor set piece defending allowed Reid to net within two minutes, striker-Sakho capitalized on a Mignolet error, and out-of-position Lovren allowed Morgan Amalfitano to rather simply slot in the third. Listening to our own Dave Hendrick and Gags Tandon lament the poor performance was the only bright spot in memory of the shocking, but not altogether surprising defeat.
West Ham's biggest assets against the Reds were their strikers and Sam Allardyce. Expecting the typical Big Sam long balls and crosses into the box, the Hammers' gaffer came out with a prettier, more fluid style that simply caught Liverpool out far too often. The pairing of new signings Enner Valencia and Diafra Sakho worked brilliantly for West Ham in their drive to a Champions League spot, and the narrative was no different when the Reds went to their ground. Since then, however, an injury to striker-Sakho and the return of Andy Carroll has forced a sort of mix between Allardyce's two systems, and their league position has subsequently dropped. While he was substituted on during the Bristol City FA Cup tie, there's reason to believe that the nimbler Sakho won't feature at the weekend. Expect a style closer to what we've seen in recent weeks from West Ham, which should prove beneficial to our boys at home.
As Gags mentioned in the most recent podcast, Rodgers would be mad to change the formation for the match, even if to accommodate the defender-Sakho's injury. If the Reds line up in a four-man back line on Saturday and the result goes poorly, expect to see Brendan Rodgers signing up for a SnagAJob profile by Monday.
Additionally, the much-discussed 3-4-3 formation change should actually help out quite a bit in terms of dealing with the attack-minded opposition. I imagine Carroll should get the nod to start, so having an extra man back should help with the aerial balls inevitably played forward to the big striker. The extra wide coverage from our wingbacks should be enough to cover Valencia as well. Ultimately, with defender-Sakho's injury and the fitness of our midfield in question, this one will most likely come down to personnel. So, let's get straight into it.
Predicted Line-Up
Now, before we get into this, allow me to preface: this is what I want to see and what I believe will work to our advantage. In some of these cases, I imagine that there's no chance of getting my way.
Can and Skrtel nearly go without saying; both have performed very well in recent matches, and only injury will take them out of the side. My primary issue with the back line will be Rodgers' choice between Glen Johnson and highly out-of-favor Dejan Lovren for the left-sided center back. Lovren performed so poorly at the beginning stages of the season that when Mamadou Sakho needed in-game replacement, the gaffer chose a right-sided fullback in Johnson over the £20 million summer signing. Personally, I chalk that up to a management error; no matter how poor Lovren may or may not be, Glen Johnson is the last person to whom I would attach the label of "defender." Give me a center back, left-sided no less, whose mistakes can be covered by Skrtel over an attacking full back any day of the week.
But will Rodgers agree with my assessment? Remains to be seen, and I don't count the chances high.
The rest of the selections come down to fitness. By the final whistle on Tuesday, Gerrard, Lucas, and even Henderson were absolutely gassed. Lucas, who had a great match until he tired out, was walking with a quarter of an hour remaining in regular time. Extra time was not kind to Stevie, either. Of the three, Henderson will easily recover the quickest. In a match like this, I think it's a good time to rest the captain, and I imagine Lucas will still be recovering from his extended run of fixtures. Instead of forcing one of them to play and risking injury, I think Coutinho can move back and play a deep lying role going forward. The Brazilian is strong in the tackle and has the wits about him to escape midfield pressure. If Henderson sits defensively and allows Coutinho to range forward as he does, then Rodgers can get away with the switch. In particular, I don't think this prediction will come to fruition because the manager doesn't have the stones to sit Gerrard.
Moreno should be fit enough to start, but moving Coutinho back means a position opens in the attack. This is the perfect opportunity to get Markovic in an advanced role and allow the boy to bloody show off for once. Taking him off the back line for the first time since the formation change will be good for him. The Reds need to match West Ham pace for pace, and our defense needs to be as sturdy as possible. Glen Johnson, then, needs to be left entirely out of the side and Manquillo gets the nod at right wing back.
Sterling, of course, remains in the attack. I'm going to go out on a limb for Balotelli here, though. Towards the end of the Chelsea match, he seemed to connect with Sterling and Coutinho more so than I've seen all season. I want to see more of that before Sturridge comes back to improve my confidence in the big Italian. Whether the long-awaited return of our treasured English striker comes this weekend or not, the boy won't start immediately. Keep Borini on the bench just in case, but it's about time Mario gets another full chance.
The Baker Forecast
So very nearly on the last one, mates. All of us surely felt that equalizing goal was coming so my penalties prediction could ring true! But, alas, we march on.
I truly believe a win is upon us here. This time, however, I base my forecast on West Ham's winless track record at Anfield since the introduction of the Premier League. Tradition certainly has to be maintained, and our recent run of form should see us come out on top. I so, so badly want to call a Balotelli goal here. You could tell by the way he kept checking the sidelines during the last match, as if to ask "Am I doing this right? Is this OK?" that the forward is trying to assimilate to Rodgers' playing style. Effort has to show through eventually. Rather than risk an inquisition against me, we'll leave him goalless until he gets one. I'll say 2-1 to us. Carroll will surely get a goal with his noggin at some point, and playing back in Anfield should be motivation for him to do so. However, nets from Marko and Sterling from out wide will send the points our direction.