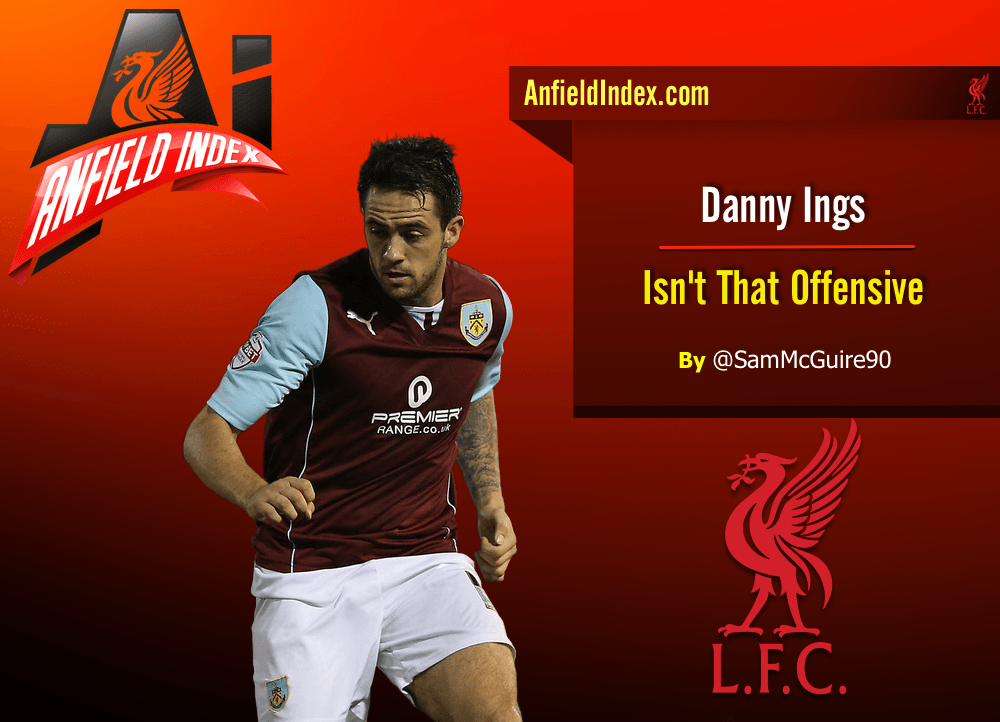 Danny Ings Isn't That Offensive
The news broke last night on Twitter. Mass hysteria, a fan base divided (no change there then) and for once it wasn't about the defensive midfielder subject, instead it was about a potential deal to bring Burnley Striker Danny Ings to Anfield, the meltdown that followed was borderline apocalyptic. Granted, It is in the opinion of the fanbase as a whole Liverpool should be looking at a better standard of player, in a league other than England. However, is Danny Ings for less than £5 million that bad?
The Burnley striker currently has 7 goals in 19 Premier League games in his debut season in England's elite league, roughly 1 goal every 3 games. Not prolific but by no means is it something to be ashamed of, especially considering the team he's playing for. He's still on course to hit double figures, an achievement many think is easy. Two examples, Jermaine Defoe and Peter Crouch, both regarded as players who will get you goals, yet Defoe has only hit double figures on 6 occasions in the league, and Crouch on 3 occasions. Both primarily playing for teams better then Burnley, it has to be said. So Ing's goal scoring record may not be the best but it's certainly nothing to be laughed at.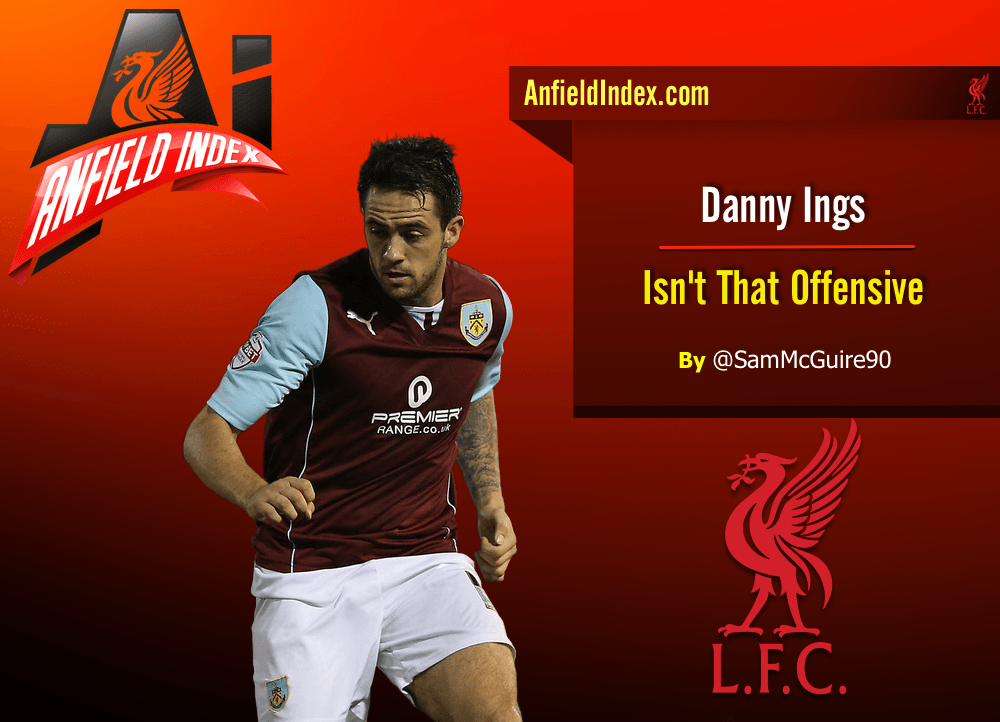 The fee quoted has ranged between £3-5million, in the modern game that's a bargain. When teams are paying £8 million for Jordan Rhodes in the Championship, and £11 million for Ross McCormack in the hope they can fire them into the Premier League, managing to sign a striker that did their job and is younger than both of them mentioned above and significantly cheaper too. Surely that can't be bad business? The fee for Ings is due to him running down his contract, not because of his quality. In todays market a young English striker with Premier League goals goes for minimum £10 million.
Some context to the potential fee in terms of Liverpool, Fabio Borini cost Liverpool £10. million when he signed from Roma, he had the potential and many tipped him to improve his game at the club. For various reasons that hasn't happened, however the fee is almost three times more than what Ings could be costing.
"But Borini was played left side at Sunderland and never given a chance at Liverpool"
Danny Ings has played numerous games for Burnley as an attacking midfielder, having the ability to link the midfield to the forward, usually Ashley Barnes, in the absence of Sam Vokes. Out of his favoured position he's still doing a job, much like Borini did at Sunderland.
Another comparison to make would be to that of the signing of Emile Heskey. When he signed for Liverpool, he was at the time breaking the club record transfer fee, and came from an inferior side in Leicester. Emile averaged 1 in 3 for his hometown club, was aged 22 at the time and was coming into a side with Michael Owen and Robbie Fowler. Similar scoring rates, similar age, coming from a smaller club. Twitter would have made interesting reading had it been around back then.
What will he bring to the team? Well on fifa he has pace of 89  He's quick over 10-15 yards, can link play by coming deep, can finish with either foot and has the hair and beard combo I know many are envious of (not me though). He's by no means ready to lead the Liverpool line in the Premier League, but in my opinion he'd be 3/4 choice striker, an option off the bench but not one that limits us in style like unfortunately Rickie Lambert has.
Can he do it on a cold, wet, windy night in Stoke you ask? Yes, he can. His quick fire double gave Burnley their first away win of the season.
Nobody is comparing him in terms of talent, but it is worth noting both Ruud Van Nistelrooy and Diego Costa were relatively low scorers in their early days and became goal machines at the age of 23/24, the former was averaging 1 goal in 3 games in the Dutch second division whilst Diego Costa scored 9 in 35 for lowly Albacete. For not one moment am I saying Ings is, or will ever be, as good as those two, but the ones writing him off due to his age should look at past great strikers. Not all develop at a young age.
The frutration amongst Liverpool fans is the club keeps signing English players from English clubs that don't strengthen the first XI. All very true and the summer highlighted the woes of shopping in the Premier League; overpriced average players. The differences though between the Ings deal and the Lallana deal are high in number. Adam Lallana is at the point now in which growth as a player is harder to achieve, Ings is still young, especially in terms of a striker. Adam Lallana was supposed to improve the first team, whereas Ings is coming in as back up, I'd imagine. Lallana cost £23 million and Danny Ings is costing the same, or even less, as the summer 'bargain buy' Rickie Lambert.
In terms of context you're potentially signing an average Premier League striker for next to nothing due to his contract running down. If he doesn't settle, doesn't impress or just isn't what's wanted by the club then the chances are Liverpool could sell him for triple what they paid. There are always Premier League clubs looking for a goal scorer, it's why the players mentioned earlier, Defoe and Crouch, have gone for vast sums throughout their careers.
If the news has broke that Spurs were signing Ings for £3 million 90% of the fans moaning about his potential arrival would be up in arms about Spurs getting him so cheaply without us even showing an interest. It could be worse, we could be linked with Harry Kane for £15 million, or that Andy Carroll lad looks talented…