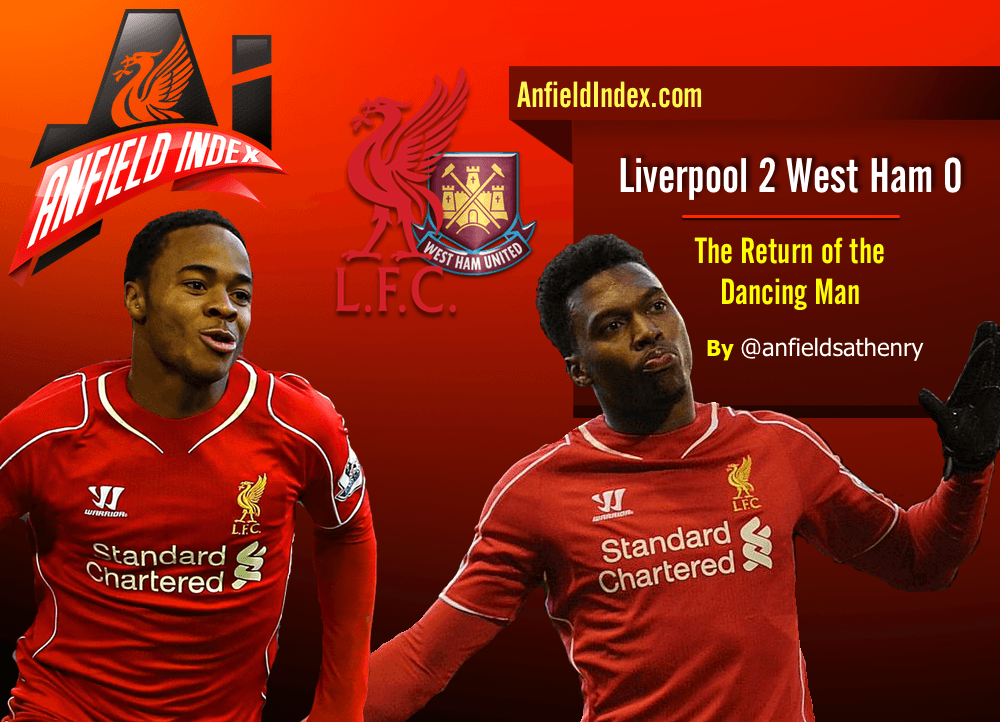 Liverpool 2 West Ham 0 - Talking Points: Return of the Dancing Man
The win at Anfield was as far away as you could have got from the disappointment at Upton Park in the reverse fixture in September.
Liverpool dominated and took their chances, while West Ham struggled to impose their own unique brand of physicality on the game and create openings.
In September, Liverpool were effectively bulldozed by a strong and decisive West Ham team on its way to putting together its best ever season. This time round the Reds stood up to the challenge and stifled the threats from set-pieces.

The big talking point is undoubtedly the return of the Daniel Sturridge to the team and scoreboard, but along with the star man's perfect comeback, there was plenty to be smiling about.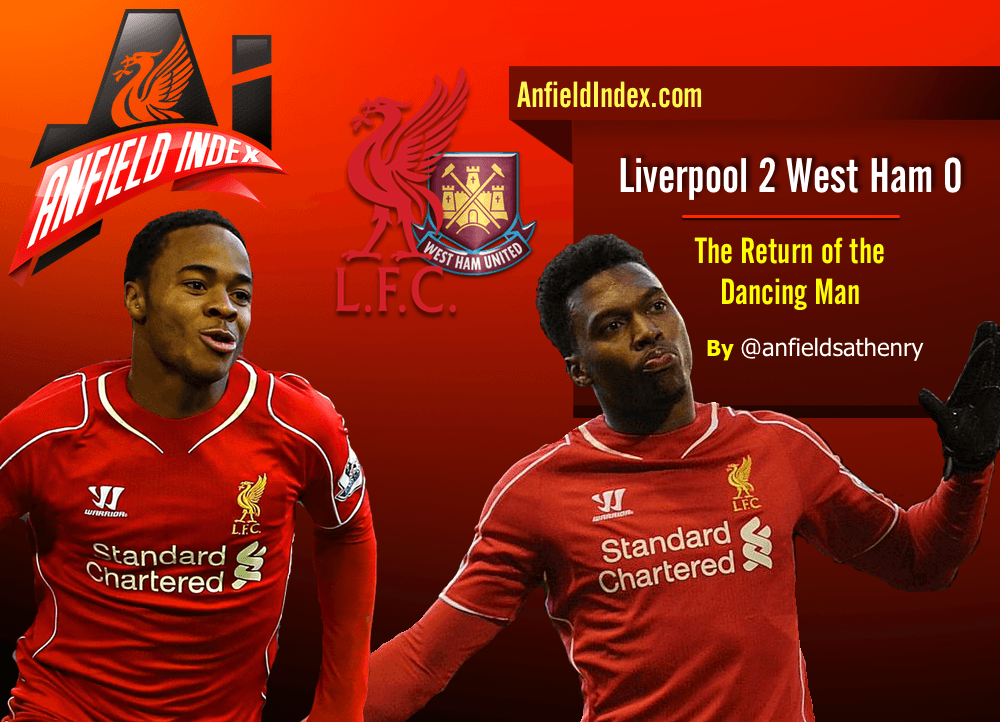 Sterling and Coutinho partnership
The midfield pair's form has been a huge part of the revival on Merseyside, and has encouraged more and more fans to reserve tickets for Liverpool games. The two have displayed an almost telepathic understanding, not unlike the one Luis Suarez and Sturridge shared. Their link-up play carved open the best chances in the first half and was central to Liverpool breaking the deadlock.
One-twos, threaded passes and tricks are trademarks of both players' game but combining all their talents together has made them a constant source of inspiration and creativity. Their partnership has always shown signs of flourishing but since the turn of the year it has blossomed. On two separate occasions in the West Ham game their interchanges produced shots on goal and together they created six openings.
One such one-two was punctuated by a perfect back-heel return pass to Coutinho from Sterling.
The two ran riot at Chelsea, demolished Swansea and put away Burnley and Aston Villa with moments of class. Both players have an 81% passing accuracy. Sterling has five assist while Coutinho has four. Of Sterling's five goals, Coutinho has assisted two of them.
When these two play together something fantastic is likely to happen.
Sturridge maybe missing ingredient
In the grand scheme of things, Liverpool have struggled without him. The English striker's runs, class and finishing has been sorely missed at Anfield this season.
As Liverpool's form picked up, so did the optimism that when Sturridge came back so would the old Liverpool of last season, or at least something similar. Putting away chances has been a problem all season and although Sterling has done well in his absence, Sturridge's 20 minute cameo showed exactly what Liverpool need.
Clinical finishing and composed touches in the final third were hard to come by in the first half and although Sterling and Coutinho eventually found the breakthrough, Sturridge's goal was an example of how a great striker works.
He didn't need more than one invitation and he calmly finished from a tight angle.
If the dancing man can continue to regain his fitness and keep his scoring touch, Liverpool might well find themselves fighting for a European spot.
Defence isn't terrified
When Liverpool travelled to Upton Park in September, their defence was dismantled by West Ham's set-pieces and physicality. Two high crosses produced goals and one simple counter attack killed off the game. It was a dismal performance and was only the beginning in terms of Liverpool's suicidal defending.
This time Liverpool were decisive in their defensive half and strong in their challenges.
Emre Can was quickly brought up to speed when he received an elbow from Andy Carroll in the first minutes, but from there he, along with his fellow centre-backs, looked comfortable.
West Ham were restricted to just two shots on target and both were comfortably saved. The back three made 34 clearances between them, conceded just two fouls and up against a West Ham side that has scored 14 headed goals this season, and won 56% of their aerial duels.
As the back three ensured they had a good afternoon, so did Simon Mignolet. The Belgian goalkeeper was thought to have played his last game for Liverpool when he was dropped, but an timely injury to Brad Jones has allowed the stopper to regain his place and some form.
His play has become more aggressive and he is less likely to kick a ball straight to an attacker now than he has been in the last year. Although he is far from a perfect goalkeeper, Liverpool can take heart that he has turned a corner and is moving forward instead of backwards.
As is well known, one game isn't an indicator of a season's success. If Liverpool are to have a successful final few months and possible challenge for a top four place, then progress must continue and everyone must be kept fit.
This game though, shows the building blocks of what Brendan Rodgers wants from his team. If they can continue to produce, then why can't Liverpool set Europe as a realistic target?