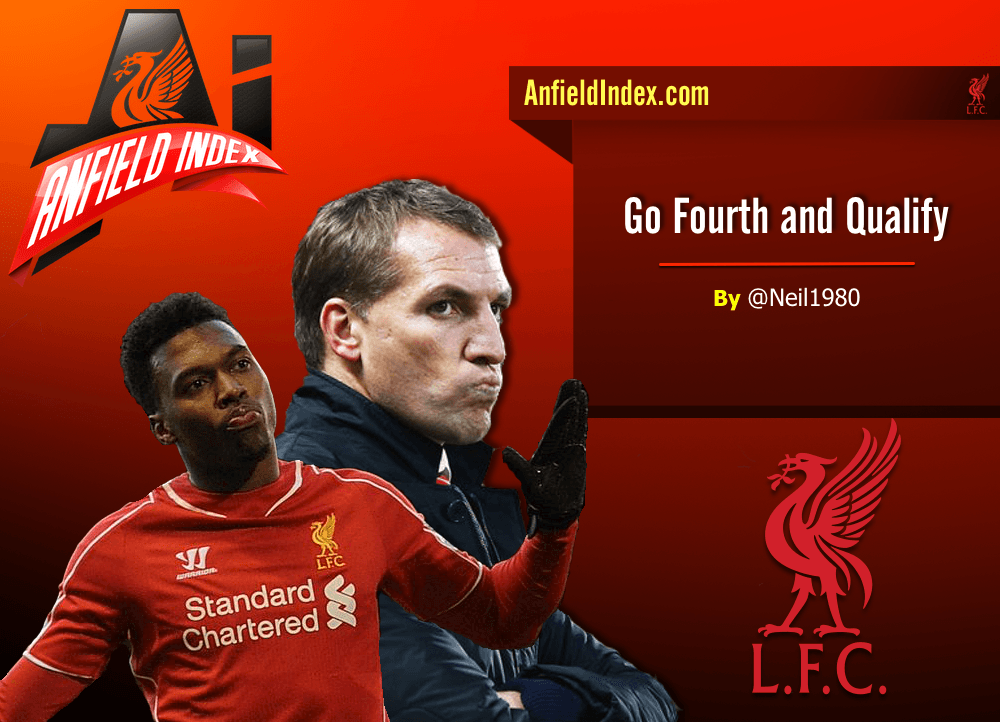 Liverpool FC | Go Fourth and Qualify!
The Monday after another three point display at for Brendan Rodgers's Liverpool, and this week fans of the Mersey Reds have got more than a Premier League victory to celebrate. Seemingly, at times, built from crystal, Daniel Sturridge's goalscoring return made it abundantly clear to the home crowd, and millions of football fans worldwide, exactly the kind of potency in front of goal that the Reds had been missing since August.
Sturridge had to wait until past the 70 minute mark at Anfield for his re-introduction before his adoring public; once on the pitch however, the wait for fans was minimal. The goal, twelve minutes after his entrance, was Sturridge at his clinical best: one touch with his left to control, a second, with his right, to fire the ball between Adrian and his near post – game over.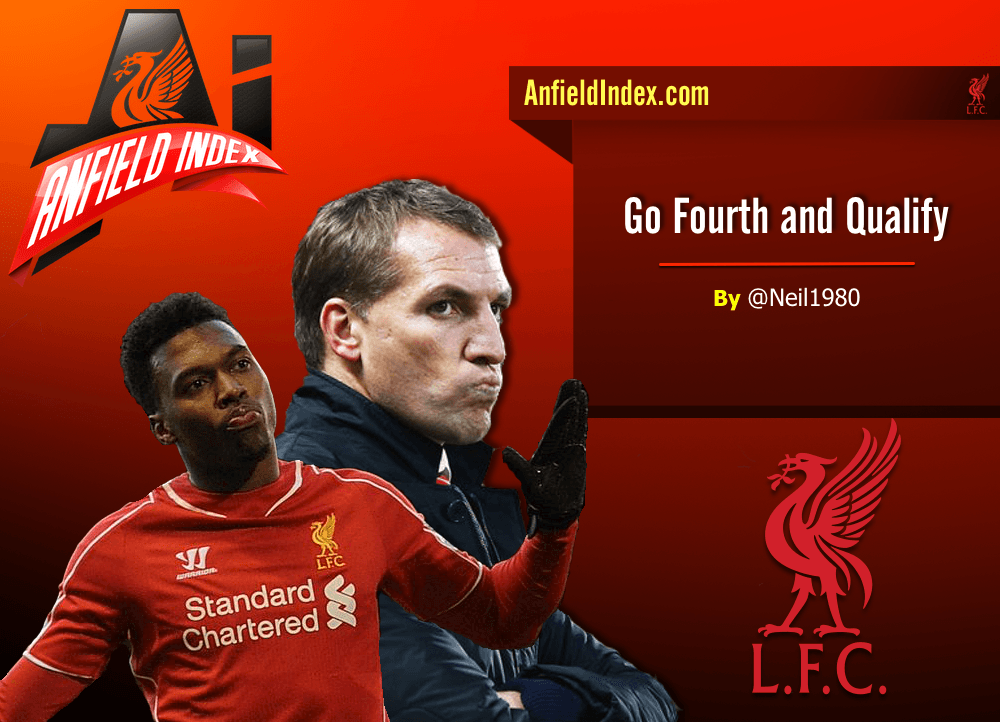 The goal was greeted with a joyous cacophony of sound, reverberating not only around the immediate vicinity, but across the globe as happiness, hope, relief and, above all, belief, rolled themselves into one deafening explosion of emotion, exclaimed by fans in unison. Sturridge is back (if not yet quite match fit), and that changes everything.
The season  provides one real priority for Liverpool Football Club and Brendan Rodgers: a Champions League place. The two avenues which lead to participation in Europe's elite club competition, and the riches which accompany it, are: to win the Europa League, or to finish the season in the top four of the Premier League.
The former, whilst it may look easier on paper – less games to play, two legged matches etc – is nevertheless fraught with danger. Brendan Rodgers is at an elementary stage as far as his education in European competition is concerned, and his relatively poor showings as LFC manager, in both the Europa and Champions' Leagues, suggest he's a little way off guiding Liverpool to a major European trophy of any description. Add to this relative lack of know-how, the stature and quality of some of the other remaining sides in said competition – Roma, Sevilla, Ajax, Zenit, among others – and you've got a very tall order indeed.
That leaves a top four finish as the most viable route to the top table; a big ask for a team currently in seventh, but certainly not an impossible task. Saturday's win, coupled with Southampton's shock defeat to Swansea, (cheers Jonjo!) has left Liverpool just four points off fourth place, five behind United in third, in what is a relatively low (point) scoring league from third down.
This time last year, Liverpool were 4th on 46 points; four points higher than Southampton's current total, whilst Chelsea were third, seven points clear of United's current tally. Bearing in mind that Arsenal's total of 79 last year was a record high and, given the current points totals and fixture list, it seems safe to assume that this season will see a return to roughly a 70 point threshold, with the Reds in firm contention.
A target of 70 points makes the maths rather simple for Liverpool; a fraction over Brendan's holy grail of two points per game, from the remaining fifteen, should just about be enough to send the Reds to the ball. The course of the season to date, has run far from smoothly for the dry-lipped Northern Irishman and his charges. A few poor transfer dealings, questionable team selections and a plethora of injuries, have played their part in providing the Reds with a 1.65 PPG ratio. It is worth noting however, that since (and including) the Stoke home game on November 29th, this Liverpool side's ratio has improved significantly. Over those 11 games, Liverpool have taken 24 points, making their average 2.18 per game, and all, predominantly, without Sturridge.
According to Who Scored, last season LFCs PPG average was 1.4 when Sturridge didn't feature, compared to a 2 point average when he started – a significant improvement to, hopefully, add to the marked betterment witnessed over the last two months. One other encouraging point, statistically speaking, is the fact that the Reds' goals against per game average has fallen significantly – 0.81 over the 11 game period from November 29, compared to 1.55 per game in the previous 11 game sample. It could be argued that the quality of opposition was weaker in the more recent sample, however games against Manchester United, Arsenal, West Ham and Swansea were included in the second sample – all teams that were above Liverpool at the time of the fixture (and in some cases still are).
Apart from accruing the requisite points total, it's imperative, in order to secure a Champions' League place, to stop three of Southampton, United, Arsenal and Spurs from amassing more. It goes without saying that that won't be easy; however, there is assistance in the form of fixtures. Liverpool have to play each of the teams with whom they're vying, Spurs and United at Anfield too! Winning these home games, and not losing any of the four, would go quite a distance towards making fourth place a reality come May.
The fixture list, in general, is fairly similar for all five teams, in terms of difficulty; nearly all teams still have to face each other, and the two above, for the second time this season. Liverpool fans and players can take heart from the fact that they're the only Premier League side yet to lose a league game in 2015; that, and the memory of this time last season, when that breathtaking sequence of victories began. The circumstances may be somewhat different; but ,on current form, a run of similar, if not quite such epic proportions, isn't an altogether outrageous contemplation.
A couple of weeks ago I wrote an article about LFC emerging from transition at potentially, just the right time. Having witnessed the performances which have followed; the energy, the desire, the defensive solidity, the spirit and togetherness, the quality in the side  (Coutinho and Sterling especially) and now the re-introduction of Sturridge, I can't say that I've changed my mind. Provided we can keep our key players fit, we're set up and ready to go; in the slipstream and ready to slingshot. Over to you lads, go forth and qualify!