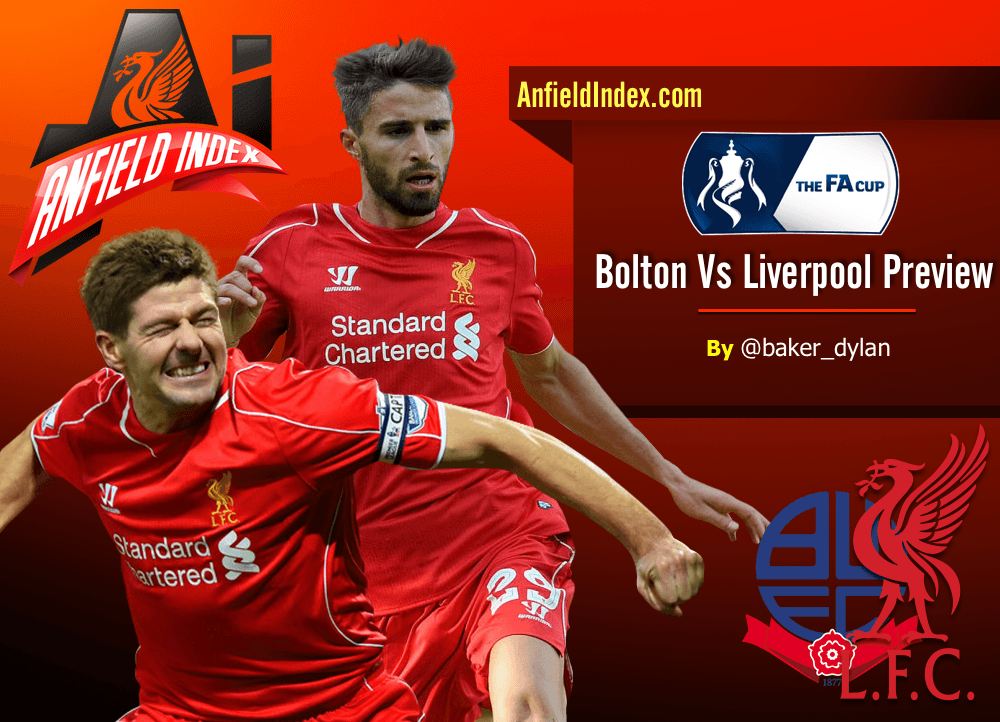 Bolton v Liverpool | FA Cup Fourth Round Replay
After a good win and a fantastic Sturridge rebirth at Anfield, we travel to Macron Stadium to take on Bolton.  At stake: advancing to the fifth round and a tie at Selhurst Park.  The primary question is: does anyone in the side really care?  For the sake of Gerrard's final year at Liverpool, I'd have to say so.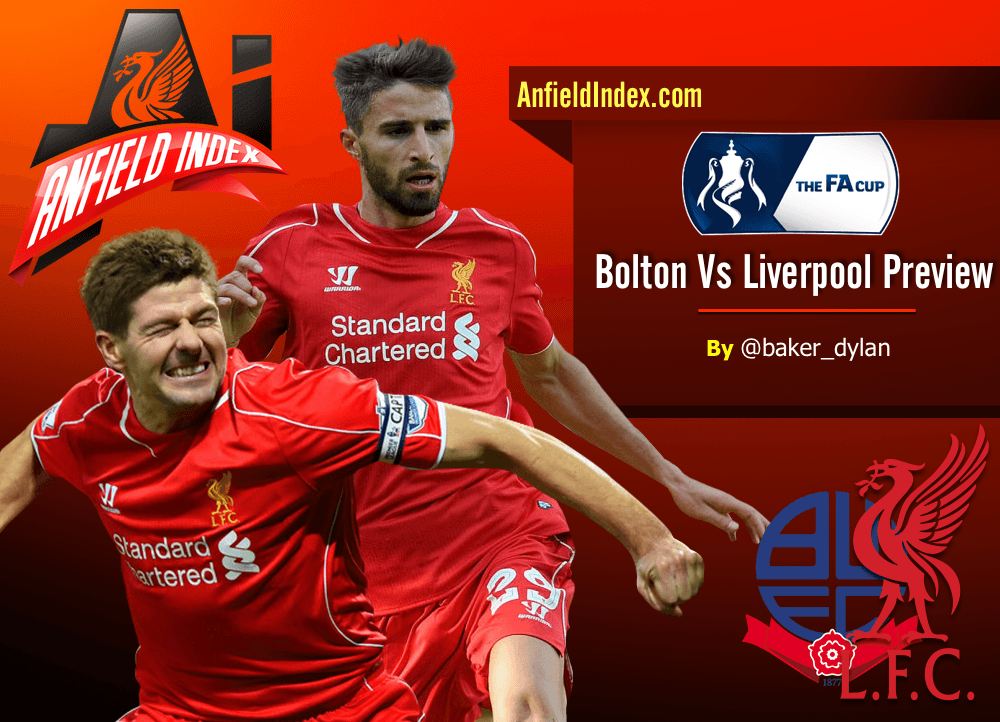 Here's The Deal About the FA Cup
Our form has been much improved lately.  Coutinho and Sterling have really blossomed.  Henderson is showing signs of leadership, and the back line has been stout.  The Reds have shown signs of creativity and flair that aren't identical to last season, but are reminiscent to say the least.  Our league position improved with the win at the weekend, but 7th is clearly less than desired.  Starting in February, the Europa League fixtures will start taking up our Thursday evenings (afternoons for us Yanks).  Including a run in the FA Cup, our schedule is more than full.

Now, the "big teams" are supposed to be able to handle that sort of match cluster.  A side's depth is always important, but it's key when the egg basket is full.  Liverpool's new signings were meant to at least provide that depth.  Some are coming through, some are still struggling.  At this point in the season, Liverpool have to ask themselves a few questions concerning the FA Cup competition.
Is it worth staying in?  Is it worth our time and effort?  Is it feasible to win?  Arguably, a trophy would do some good for the side's confidence.  I'm sure Brendan wouldn't complain much at the chance to point at some fruition from his tenure as manager.  And silverware is always nice for the fans; trophies are near and dear to our hearts, and the FA Cup hasn't been a stranger to us in past years.  But when considering league position and a shot at the lesser of two Europe competitions, an extended run in the FA Cup might prove detrimental.
However, I digress.  For more info there, check out the most recent AI pods.  Those guys over there will explain it way better than me.
Onto the Match, Lads
Regardless of meaning, importance, and all the lovely theoretical stuff, the Reds still travel to Bolton on Wednesday.  After a stinker of a 0-0 draw at Anfield, Liverpool have to try their luck at the Macron in order to get through to the next round.  That is, of course, where Crystal Palace await the victors at Selhurst Park.
The most cited issue for the original match's result was the importance of the Capital One Cup's second leg against Chelsea.  I think it's fair enough to say that the Reds looked lackadaisical throughout the match.  Still, we managed to not be troubled by Bolton, but ninety minutes of poor finals balls and finishing forced the upcoming replay.  Surely, we'll throw more effort into this go, eh?  Nay, for there's a derby on the horizon!  A trip to Goodison Park looms this coming Saturday, and taking only a point from the earlier reverse fixture makes this weekend maybe as important as the Chelsea tie.
So look, lads.  If I had to guess, we'll be seeing a lot of the same drab, unmotivated football that we saw last time out.  Most importantly, I think we rest more than Gerrard here after a rough two weeks on the Reds' legs.  Here's my side:
Predicted Lineup
Not pretty, I'll admit.  But hear me out on this.
First off, he's going to do it.  You bloody well know he is, whether we like it or not.  Sakho played great on Saturday, but after the knock he took last week Rodgers will (should) rest him here.  I don't like it either, but I have the feeling the reemergence of Lovren is upon us.  I was wrong last time I guessed it, and that one's on me: I didn't read the reports in time that Sakho would be around for West Ham.  But I'm both confident and borderline in tears this time, guys: we're going to see the Croatian again.  Alongside him at the back line are the usual Skrtel and Can, with Mr. Mignolet in goal.
I'd love to see Gerrard sit another fixture, but I don't think Rodgers will let it happen twice in a row.  I want forty goals at Goodison Park at the weekend, so if Stevie can sit this one out I'd be over the moon.  But he'll start, never mind my pining away at the inevitable.  Henderson will surely be next to him, which will be both good and bad for the lad.  He looks wonderful when the captain isn't on the pitch, but at least he'll occupy the midfield rather than the right-hand side in this setup.  Meanwhile veterans Johnson and Enrique start on the wings.
Up front, I think Borini gets the start over Balotelli and Sturridge.  Before crosses are burnt and my image cut with scissors, let me explain.  I think Rodgers was very interested in the Balotelli-Sturridge pairing during the Tottenham match back in August.  But Balotelli likely won't see the field until the England international is fully back in the side.  Because he's as frail as a centenarian (knock on wood), I think it's best to ease him back into the role.  The boy only needs a quarter of an hour on the pitch to net, so why chance a reoccurrence with ninety minutes against Bolton?  Our need for Sturridge is better argued for the derby.  Include him in the final eighteen and have him come on for the last twenty minutes or so, when I'm sure the aggregate score line will still read nil-nil.  It wouldn't hurt to have Sterling rest for a match as well.  I keep Coutinho simply because I want his incredible little creative streak to turn into an incredibly long creative streak.  Practice makes perfect, and dealing out passes to Borini and Lallana should prove a nice challenge for him.
The Baker Forecast
I did better last time with West Ham, so I'm going to stay safe with this one.  I don't think there's any reason we should go out to Bolton, joining ten fellow Premier League sides falling out of the competition.  An extended run is unnecessary, but I refuse to believe we go out to Wanderers.  However, I'm sticking by my guns here: it'll be nil-nil at half, and when everyone wakes up at the end of the match we'll find out that Sturridge netted again to advance onward.  Once I rub the sleep dust from my dainty little eyes and watch the highlights, I'll talk about it like I watched it in all its glory.
You heard it here, folks.