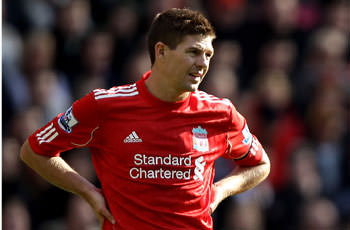 The statistical demise of Steven Gerrard
As players advance through their careers, they normally improve their playing standard till they peak and then begin a demise in playing standards till they reach an age they find it appropriate to retire.
Our captain and talisman Steven Gerrard is no exception, despite being the stand out player in the side since his first inclusion at the end of the last centenary.
This article will look at Steven Gerrard's peak season and then look at his slow demise as a player over the last two seasons.

08/09, Liverpool's best league campaign since the start of the Premier League and Steven Gerrard's best in the red shirt of Liverpool.
The majority of the campaign he found himself playing as an attacking midfielder behind the now departed Fernando Torres.
A few statistics from that season: Steven Gerrard amassed a total of 16 league goals, a career record for him, at a total of six shots per goal.
Nine assists, almost one every three match that he played.
As I said earlier this season was played out with Stevie mainly playing in an advanced role behind the striker, which really brought out the attacking side of his game.
But over the last two seasons Steven Gerrard has not been able to perform as he did in the 08/09 campaign.
This could be put down to the natural aging of Steven Gerrard, who turns 31 this May, or down to a slight change of position.
I believe both to be a contributing factor in his demise, over the last two seasons Steven Gerrard has been used deeper and deeper on the pitch but still expected to provide the same attacking fire power that he unleashed in the 08/09 campaign.
Here are three chalkboards which displays how far Steven Gerrard is now coming towards his own goal over the last three seasons (from left to right: 2011/2010/2009).
It is clearly evident that Steven Gerrard has now taken up the role of a central midfielder, which has led to his demise.
In 2008/09 Steven Gerrard played 30 league games, in those 30 matches he made on average 56.6 open play passes at an 80.4% completion rate.
That is 1366 accurate passes for the season. Not only did he provide the team with accurate passes but managed to get 98 shots on goal with 41.8% of those being on target.
The following season (09/10) he only made 66 shots on goal with just under half of those being on target (32)
He also made 1330 accurate passes over the course of 32 league matches but only went on to make 7 assists,two less than the previous season.
Despite actually improving statistically his effect on the pitch from the deeper position was lesser than that of the previous season and position.
But from the deeper position is this helping the team in defence? The answer is no, in his advanced role Steven Gerrard made 53 tackles at a success rate of 69.8%. The following season saw him only make 52 tackles at a 65.4% success rate.
However in 2009/10 he did make more possession duels, 317, but only at a 46.4% win rate. Where as the previous season he made only 266, but won 51.9% which is only 9 less than the amount he won the following year.
The slight demise could be down to the departure of Xabi Alonso, who left a huge gap in the midfield which Steven Gerrard was tasked with filling preventing him from wreaking havoc on opposition defences across the country.
This season steps the case up further that Steven Gerrard is being played out of position and now heading down the slippery slope to retirement.
Over the course of this season Steven Gerrard has made 22 league appearances, actually making more passes per match than the 08/09 season (57.4), but with only 79.9% of them being accurate.
Which isn't the main issue as his passing can still be effective from a deeper position, but the main statistic that has taken a beating from the positional change is his shots on goal, only making 35 shots with 13 of them on target.
These shots have only resulted in 4 goals, if he finishes the season on the same amount it will be his joint lowest tally since 2003/04.
Defensively he has churned out similar statistics to the last two seasons, but these pale an insignificance on what are his best attributes and how the team actually benefit from him playing in an attacking role.
Like all players, Steven Gerrard will one day retire and Liverpool will have to plug his gap as he will no doubt remain a key man at Liverpool Football club.
This can be backed up by the teams win rate when he is in and out of the side.
in 2008/09 the team won 70% percent of games with him in the side and only 50% with him absent.
The following year the side won 46.9% with their captain present and only won 40% without him.
And finally this season 45.4% with him in the side and 37.5% without him.
No one player is bigger than the club and no one player will be around forever, but Steven Gerrard over the last few years, despite his mild demise has been the driving force behind Liverpool Football Club.