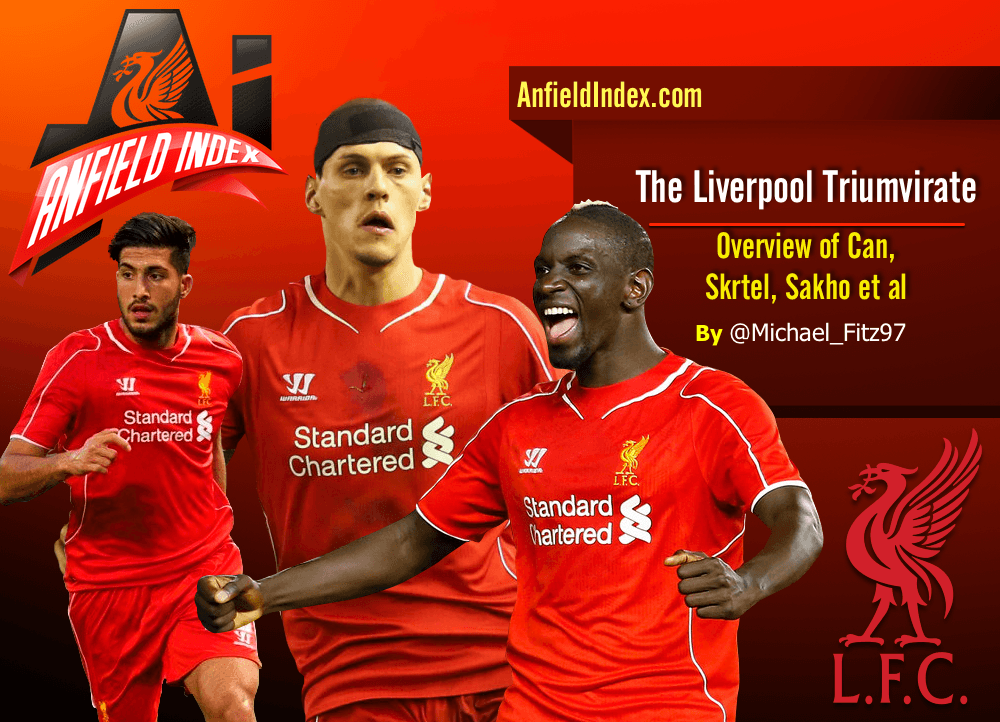 The Liverpool Triumvirate | Overview of Sakho, Can, Skrtel et al

With the exception of relegation battlers, you would be hard-pressed to find a defence in the league that has come under the same level of scrutiny as Liverpool. Whether it's Neville or Carragher on a Monday night, or the ingenious Alan Shearer perceptively offering some of his innovative, ever-insightful though perpetually crap "analysis" on a Saturday night – we have heard it all since the beginning of Rodgers' tenure at the club. The undeniable yet fundamental elephant in the room has been the absolute mess that is our defensive line. Few would argue otherwise. Some would even argue it cost us a league title. I'd agree.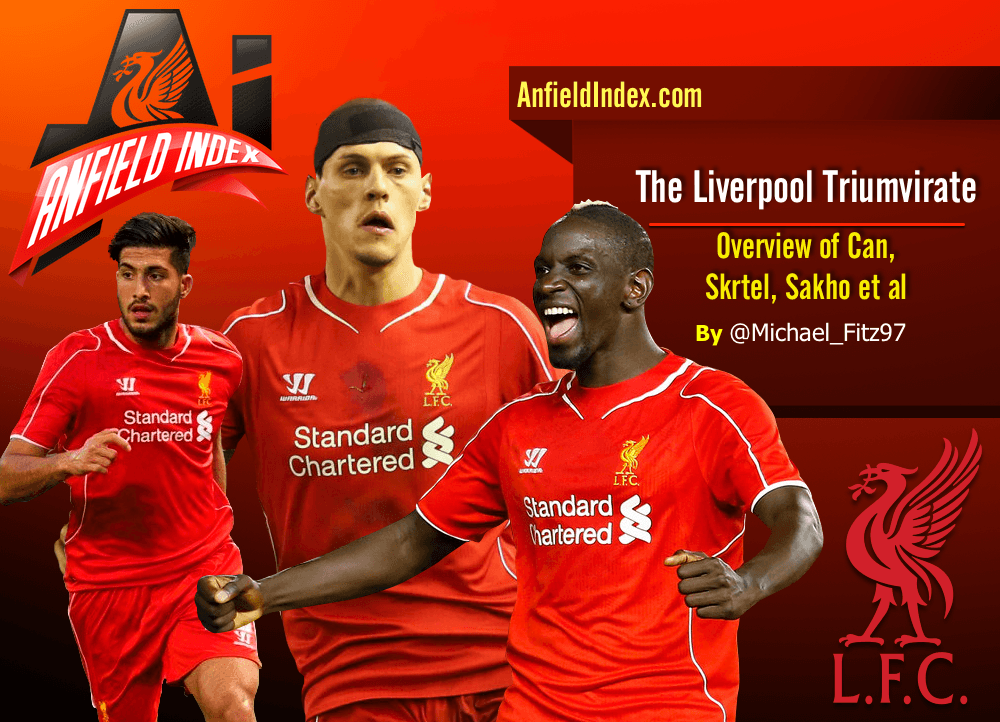 Rodgers, to his credit, at least attempted to address the glaring issue with the acquisition of Southampton's Dejan Lovren – highly praised for his defensive displays last season by the aforementioned Sky Sports duo Gary Neville and Jamie Carragher. It was even suggested the latter recommended Lovren to Rodgers last season, in the hope of solidifying a punctured defence. Lovren was signed, for the small fortune of £20m, and firmly cemented his place quickly into the starting XI. Lovren held a commendable Q&A, a select group of Liverpool supporters splurged onto their keyboards after his Dortmund debut (Ah, yes…That classic cycle of incomprehensible stupidity: the transition from truly believing in a lost cause to arriving at the same conclusion everybody else arrived at before Dejan even put pen to paper) and Rodgers was just delighted he finally got his own way. Great.
Once the dust settled and reality finally hit home, Lovren proved to be nothing less than a (£20m) disaster. The wild arm-swinging was underway; the leader façade quickly vanished and the repulsive myth that is "Premier League proven" was proven as just that – a myth. His baby-sitters of last season remained on the south coast, replaced by the tandem of Gerrard and Henderson, and the protection offered by both Wanyama and Schneiderlin was well and truly gone. His fragilities were brought to the forefront whereby he cost us, whether solely responsible or partially, at least 10 goals. £20m.
Emre Can – Martin Skrtel – Mamadou Sakho
The, albeit eventual, understanding of this concept has led to the acceptance of Mamadou Sakho as the club's superior CB. Sakho's inclusion was Rodgers' hand being forced as a result of injuries to pet-favourites Johnson and Lovren. Since then, we've conceded three league goals – two of which came against Leicester. He has been a revelation in distribution, being the only defender Liverpool boast who always looks for the positive forward ball, naturally increasing the tempo of our game. He's our strongest tackler and aerially dominant. Contrary to a once popular belief, he's exceptionally comfortable in possession. Some argued he didn't look as good against Chelsea in the second leg…Well, if Dejan Lovren had produced that level of performance at Stamford Bridge, it would have been his best performance in a red shirt to date. Easily. He's been the subject of many debates on Twitter, coinciding (as if even comparing the two is consider acceptable, ha!) with Dejan Lovren. He's suffered a number of injuries since his arrival, as well as being on the receiving end of some poor man-management from Rodgers, too. However, he has looked far more settled since his return. Heck, even James Pearce has issued the odd compliment! Now we're all ready for Rodgers to praise him half as much as he banged the Lovren drum for months on end.
The other cog in our newfound defensive triumvirate is the introduction of Emre Can, the £10m midfielder from Germany. Initially finding appearances scarce, as bewildering as that looks now, Can has established himself as a prominent figure in our back-line. It's been unbelievably refreshing to have not one, but two technically gifted defenders featuring simultaneously. Similarly to Sakho and Moreno, on the other flank, Can has done exceptionally well with Lazar Markovic, deployed at RWB. It's common sense to have your best distributors of the ball on the two sides of a back three. Can has been encouraged to move forward, often ending up in finding himself outside of the opposition's penalty area. He's also shifted into wider areas frequently, which is a fitting generalisation of an integral component to Liverpool's resurgence: the ball has been exercised considerably better. We're exploiting wider areas, with two offensively-minded wing-backs relishing the opportunity to bombard forward, enhancing our attacking prowess. Teams have become a lot more stretched against us as opposed to seeing us concentrate possession centrally. The most damning fact: He's kept a £20m CB on the bench. Comical? To the detriment of Lovren, perhaps.  Can has the natural traits expected of a midfielder of his ilk: his excellent distribution, his pace and stamina in abundance, his combined strength and power, his ability to travel with the ball, his reading of play, his tackling ability. His audacity to glide into midfield against Bolton, arguably being the catalyst for an inspired comeback.
Take nothing away from Emre Can – we've signed the gem of all gems in him.
Martin Skrtel completes the trio. To be clear, I've never been the greatest lover of Skrtel's ability. A long-term 'Skrtel sceptic', actually. On his day he can be reasonably good, but one good performance is typically followed by two or three stinkers. There's always some form of amusement within those two or three – if that's any kind of a bonus. Since the adoption of the 3-4-3, Skrtel's performance has improved considerably. It's only natural a CB will look better when slotted between two other CB's. His instinct to be dragged out-wide, usually covering for the myriad of defensive fragilities imposed by that of Glen Johnson, has been negated by the presence of Emre Can. He's now operating centrally, essentially acting as a sweeper to his two partners. Aston Villa's Ron Vlaar in the World Cup last summer was deployed in a back-three. Having looked somewhat average in a back-two, like Skrtel, he looked considerably better slotted alongside two other centre-backs, De Vrij and Martins Indi. A back-three allows to carry one average CB; in our case Skrtel. Ergo, unless the back-three is viewed as a long term plan of a Brendan Rodgers' team, Skrtel still needs upgrading. The FA Cup replay at Bolton saw Skrtel move into RCB, replacing Emre Can who slotted into the centre and the difference was immediately clear. Skrtel looked exposed and the alarming weak link of the back three. This issue is thankfully disguised when he is in the centre, where he has a lot more protection. Let's not pretend Skrtel is anywhere near the standard we require. We've been crying out for a new RCB partner since the days of Agger, who the former arguably halted, and the need remains today. Not as divisive as the defensive midfielder, perhaps, but still a major priority. We're not going to let another talented LCB in Sakho be restricted by an average partner again. Surely.
Key Defensive Components
It would be preposterously unfair to ignore the contributions from the likes of Lazar Markovic, Alberto Moreno and Lucas Leiva in Liverpool's defensive resurgence. Markovic has understatedly surprised at RWB, particularly for his defensive output. Expectedly not the strongest defender, given his offensive tendencies, but he's proved to be somewhat of a nuisance for the opposition. He's the wasp in the car – no matter how many times you swear, beat it away or indeed blame somebody else, he just won't leave you alone. He's a pain. He harasses you, always trying to win the ball back. His pace, as with Moreno on the opposite flank, allows to him to atone for errors further up the pitch. He's been an absolute joy to watch, marking a number of stand-out performances over the last few weeks. Moreno has looked far more settled now partnered with a strong LCB. As previously mentioned, he has formed a promising relationship with Sakho on the left flank, and has thrived in his current LWB role. He's instinctively an attacking full-back, anyway, and the current formation has allowed him the room to manoeuvre. He has the freedom to bomb forward connecting defence to attack and spreading the width of our current play. The defensive aspect of his performance leaves a lot to be improved; remaining at LWB could potentially harm this given the position's offensive leanings. However, time is on his side at such a tender age, and  could well be negated with the signing of a strong RB on the opposite flank. One offensively minded full-back isn't necessarily a problem so long as the other is as strong defensively. His Spanish compatriot Javier Manquillo does in fact offer this, but whether he will be allowed the opportunity to stake a claim to stay remains to be seen.
The defensive midfielder. We all love a chat on that, don't we? Well, since the inclusion of the only one on our books, we've improved. Hardly coincidental. Lucas Leiva isn't a great DM by any stretch of the imagination but, like the aforementioned Skrtel, he can be good on his day. Recently, Lucas has had a number of those 'good' days. It's actually been refreshing to see Gerrard move away from the CM area to be replaced by Lucas. We've looked far more assertive in the area; we're no longer easily penetrated; Henderson has been allowed the freedom to surge forward, no longer having to carry the burden loaded on to him by Gerrard and it's been absolutely marvellous. Defenders behind him have improved, no longer feeling the need to push forward to cover. We're not susceptible to the opposition pinging a player to track Gerrard for 90 minutes. So just imagine what we would be like with a good defensive midfielder.
The Future
This is all relative to our current formation. Is 3-4-3 considered a viable long-term option? After all, we were playing with three at the back last season to accommodate Sturridge and Suarez upon his return, at least up until the defeat at the Emirates in November 2013. It worked rather well, actually. From a defensive aspect, we are unquestionably stronger with our back-line titular triumvirate; the current crop of players (translating into our lack of a quality RCB and DM) would indicate this is the only system plausible to keep a tight and assured defensive front. Last year's preference was of course the diamond formation, and despite its attacking fruits – we conceded over 50 goals. You don't win titles when you concede 50 goals. Teams cottoned on how to dilute Gerrard's effectiveness as the deep-lying playmaker, and it was essentially Jordan Henderson who performed the DM role. Lucas doesn't have the adequate passing range to perform the base of the diamond position, either. Therefore, it's certainly possible. It's indisputably cutting it at the moment, and it's difficult to imagine Rodgers shifting away from it in the near future.
From the 3-1 atrocity at Selhurst Park in late November to restricting league leaders Chelsea – for all their attacking prowess – to two shots on target in 180 minutes of football, only stresses the monumental improvement undergone at Liverpool. We largely balanced the defensive mess of last season with the magic of Suarez and Sturridge, and predicting not whether we would score but the damage we would inevitably inflict. With the former now gone and the latter only just returning, it remains to be seen how effective our newfound back-three will prove to be over the next few weeks against admittedly tougher opposition and, more importantly, whether Rodgers keeps it unchanged…The early signs are positive. And for that, Brendan, I salute you.
Long may our defensive might continue.