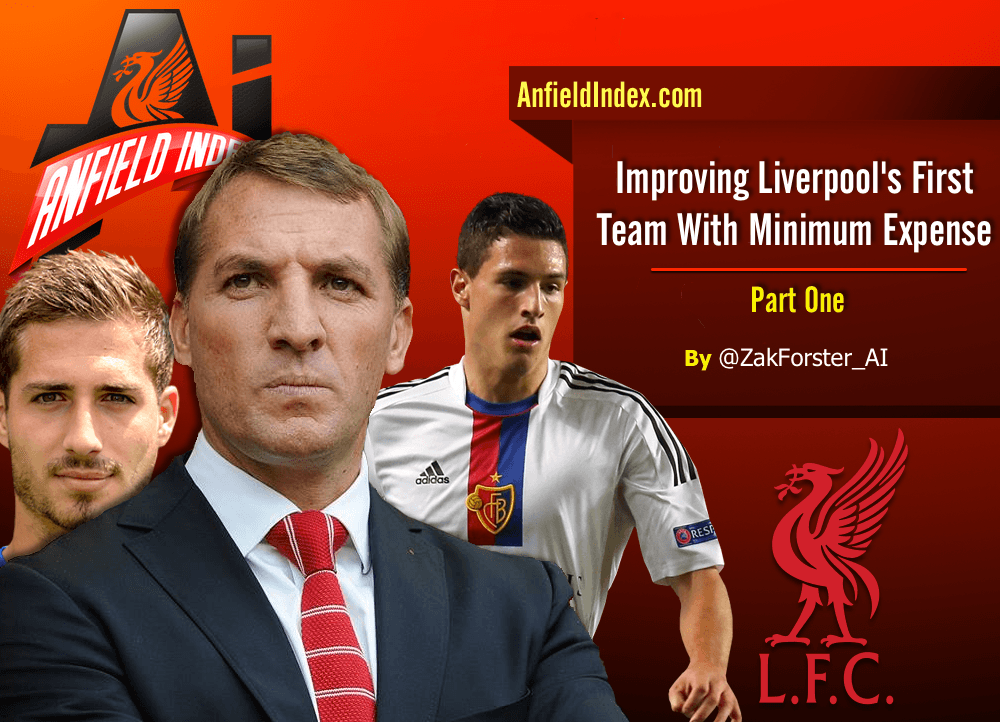 Improving Liverpool's First Team With Minimum Expense: Part One
Liverpool, and the rest of the English footballing community, have just endured one of the most boring transfer windows ever. Nothing really happened, nobody was even slightly interested in the usual tabloid talk involving player rumours and silly price tags and Liverpool signed nobody – discounting the recalling of Jordon Ibe from his loan with Derby County. Despite this lack of activity, it was obvious for most supporters that there were issues with the squad. A new goalkeeper could have been useful given the erratic form of Simon Mignolet, a new centre-back was warranted (more so before the switch to 3421) and a new striker to imitate Daniel Sturridge was seen as essential – someone who could come in for the England man with minimum disruption to the footballing system.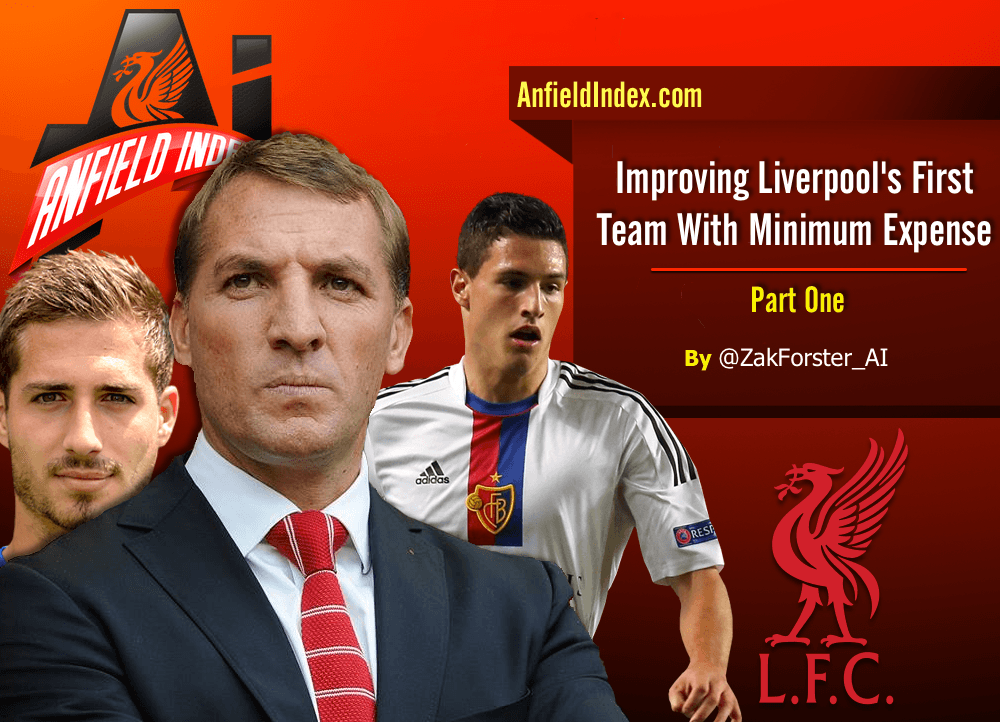 Alas, as I said earlier, Liverpool signed nobody. The problems remain but, thankfully, to a lesser extent thanks to the reworking of Liverpool's formation to a 3421 system. However, these problems cannot go unresolved during the summer. This could be another massive window for Liverpool with European football perhaps disappearing once again. So, who could Liverpool chase during the summer months who is, firstly, affordable and secondly, an upgrade? Here are my picks and why I think they could improve us.

Kevin Trapp – Goalkeeper – Eintracht Frankfurt
In my opinion, upgrading Simon Mignolet is a no brainer. Not only does the 26 year old Belgian look shaky with the ball at his feet, he is also erratic when it comes to coming for crosses or staying on his line. His style, which is a weird blend of both coming to punch and staying rooted to his line, confuses the defenders ahead of him especially when he calls to let them know he's coming for the ball and then fails to make contact through a crowded penalty area.
I've mentioned this early on because I don't want any of my readers to be confused by the statistical figures I've used above. Yes, Mignolet completes more catches and more punches per 90 minutes (p90) than Kevin Trapp, the German 24 year old who plays for Eintracht Frankfurt and my preferred choice for a new 'keeper this summer, but the stats currently in use for goalkeepers cannot accurately reflect positioning and, obviously, how a goalkeeper can make a back line feel. I just thought it was useful to include because I think this shows what kind of 'keeper Trapp is – one who doesn't tend to come off his line too much, although this cannot be said conclusively given his small sample from this season after his ankle injury in September. However, some figures can be much more useful – such as the first number on the above table. Trapp, the German 24 year old who plays for Eintracht Frankfurt, makes 1.91 saves per goal conceded which beats Mignolet's slightly lower figure of 1.7. That's not a huge improvement but an improvement nonetheless, especially given the fact he's recovering from a serious long term injury.
Putting stats aside for a moment, let's look at the other pros for signing Trapp. Firstly, he wouldn't cost a lot and would instantly improve the first XI as part of a highly talented pool of German goalkeepers. Not only would Trapp improve the first XI, but his arrival would improve the second string too. Dropping Mignolet does not necessarily mean we have to sell him on, I believe keeping Mignolet and allowing him to fight with Trapp would improve both goalkeepers and we know for certain than the Belgian international is an upgrade on Brad Jones – it could be difficult to persuade Mignolet but it'd be worth a try given his average salary. This would allow Liverpool to rotate their 'keepers like Chelsea have this season, with cup games used to keep the first XI 'keeper fresh by allowing rest and recovery.
I do like Mignolet, and acknowledge his recent improvement in form during January but a long term upgrade is needed.
Fabian Schar – Right Centre-back – FC Basel
Time to address the elephant in the room, Mr. Rodgers. You can do better than Martin Skrtel. Seriously, there are much better options out there that can improve Liverpool right now and keep improving us as the years roll on. Fabian Schar is one such player. The Swiss centre-back has become one of the most highly rated young defenders in Europe since his move to FC Basel in 2012 and he's available on a free this summer. That's right, as it stands Fabian Schar is available on a free in the summer of 2015. Quite frankly, I'm amazed that he hasn't already signed for one of Liverpool's European rivals.
In terms of profile, Schar is still only 23 years old which is young for a centre-back but his experience is at least a little beyond his years as the Swiss defender has two Swiss Super League championship medals under his belt alongside a clutch of European appearances – which will be added to come February. Physically, Schar is quite pacey for a central defender, which always helps and he's decent in the air with a headed duels win percentage of 55.56% (better than Mamadou Sakho's 50% but worse than Skrtel in the Champions League with 71.43%). He has improvements to make in the tackle with exactly two tackles won p90 compared to 2.17 that he loses – however, it must be noted that Basel probably faced more pressure than Liverpool in this season's group stage which meant he had more work to do than Skrtel (25 vs 8 in terms of tackles contested by each player).
The reason I've chosen to compare Schar to Skrtel in the graphic you will see above is because Schar is a right sided centre-back; he also played in the same Champions League group as the Liverpool man which means they played the same teams as well as each other that gives accuracy to the figures that we don't always see. Schar would prove useful to manager Brendan Rodgers in both 3421 and the 442 Diamond. In 3421, Schar could occupy the right side of the three man defence with Emre Can pushed into midfield alongside Jordan Henderson (this raises the question, who would you rather have, Schar or my next player?) whilst Skrtel could retain his place in the centre which is a position we have seen a personal improvement. In the 442 Diamond, Schar could again occupy the right centre-back slot, at Skrtel's expense, with Can again pushed into midfield as either a Lucas replacement or a Coutinho replacement in tough away matches – perhaps he'd even be on the bench, that is, if you'd choose to sign both Schar and my next target from part 2.
Schar would also be an intriguing proposition going forward because of his threat at set pieces and from the spot. With Steven Gerrard leaving, the penalty taking berth is free for someone to claim whilst Schar is also excellent at attacking offensive set pieces. He's also good at playing the ball out from the back and has a number of assists to his name from the past eighteen months. This guy is available on a free, do what it takes to sign him.