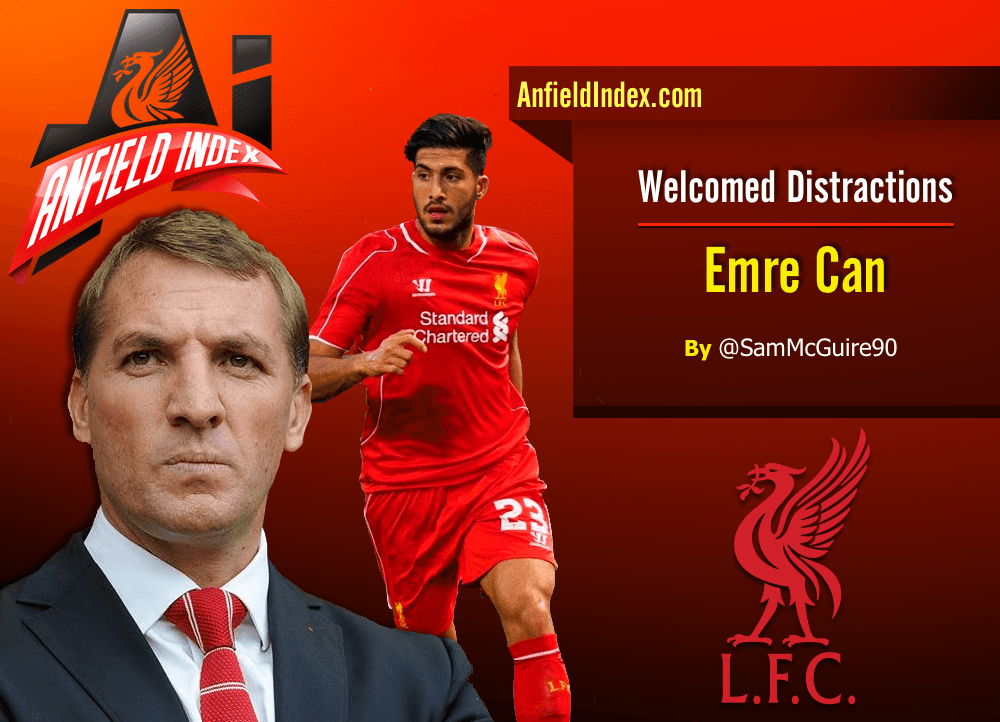 Welcomed Distractions - Emre Can
Ha remember that summer Liverpool paid £20 million for Dejan Lovren. What a waste of money, ey? The same summer they spent close to £25 million on Adam Lallana and another £16 million on Mario Balotelli. Three big signings, none have hit the ground running. What a way to waste the Suarez money. All big distractions to the media and fans, when one deal in particular was key to the future successes of Liverpool FC.
Emre Can. Imperious, marvellous, magnificent, imposing, majestic. You really do run out of superlatives for Liverpool's number 23. The midfielder is showing his sheer class in an unfavoured position.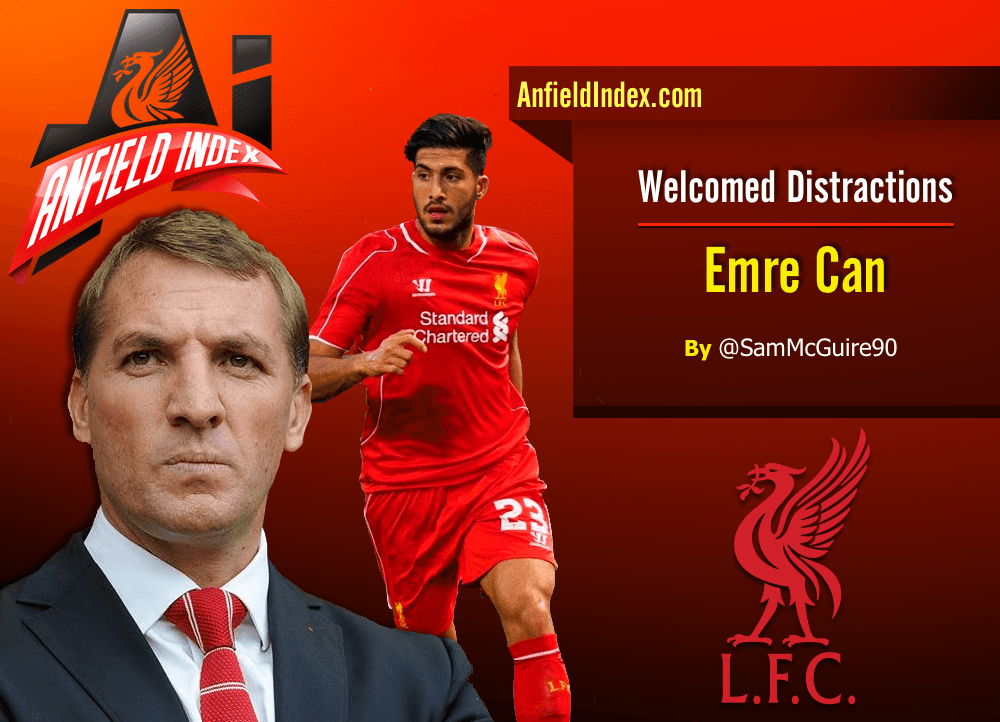 Bought for the future, the poor form of Dejan Lovren and injuries have meant he's been thrust into the Liverpool's line up as they try to save what was an ailing season. They've been greatly rewarded for this 'bad luck'.
The £10 million fee is looking like Bayer Leverkusen have been ripped off, the cultured German has been integral to Liverpool's impressive form as of late. Their once porous, confidence deprived defence is now, over the last 10 games, the third meanest defence in the Premier League. The defensive unit has this air of confidence, a confidence that stems from Emre Can. In recent weeks we've seen an assured Martin Skrtel put in some monumental performances against the current league leaders, Chelsea. Simon Mignolet, who at one point wouldn't leave his line, is now chesting the ball outside of his area and punching away anything near him. Mamadou Sakho is able to play the game many fans all knew he had in him without worrying about Martin Skrtel beside him. The French colossal is in the form of his life in many peoples opinions. All this optimism derives from the inclusion of Emre Can.
The exuberant 21 year old is dominating as a right sided centre back in the current Liverpool system, occasionally dropping into the centre of the three to become a libero. His driving runs into midfield give Liverpool and extra option in the middle. Cultured far beyond his years, the German has the power of a young Steven Gerrard, the defensive awareness of Javier Mascherano and ball control you'd expect from a Brazilian (apart from Lucas Leiva).
It's no wonder Bayern Munich supposedly wanted to resign the youngster they'd sold the previous year. He'd be ideal in their current set up, a set up which sees Pep Guardiola use midfielders as defenders and defenders as midfielders. Fluidity and domination. With his performances as of late it'd be hard to argue the case in which Can wouldn't be a starter for Bayern this season.
Steven Gerrard's announcement that he would be leaving in the summer was a distractions and was met by many questions from fans –
"I know he can't be replaced, but who will replace him? Not properly replace, but replace him as a member of the squad"
"Which Gerrard will we replace? The youngster who was reckless in tackles? The goal scorer from the Torres period? Or the defensively minded Gerrard?"
Silly questions really, if Liverpool wanted to replace the young Gerrard they've had over a decade to do so. The goal scoring legend? Well remove his penalties and he's a 6 goal a season midfielder on average.
With the rise to prominence of Emre Can you've got to ask; did Liverpool buy their evolved midfielder who'd take Steven Gerrard's place in the squad before he'd even left?
His strongest position? Nobody knows, but he's shown a varied skillset. There is no doubt that Emre Can could perform at the base of a midfield, his passing range and drives from deep would be a great asset. However, why not utilise him higher up? He could operate in a two and make those marauding runs that opponents can't seem to deal with. There are arguments to keep him in defence, let him evolve and develop what he's doing so well with as it stands. Then you look at the game vs Bolton and see his assist for the Sterling goal and you have to consider it a crime for a player so talented on the ball to spend the majority of his time in the defensive third.
The mercurial talents of Coutinho and Sterling could be complimented in style with the power of Can. Cast your eyes to Manchester City who have Samir Nasri and David Silva, both effective but it's Yaya Toure that does the damage. A late developer has had such a positive impact on the Manchester City's performances, yet his attitude is questionable.
If Liverpool find a position that allows Can to bully opposing number 10's, dominate midfield but then contribute offensively, with his footballing brain, Liverpool could have a Yaya Toure 2.0 on their hands. More talent and less attitude problems. You've seen him, it's not likely anybody at the club will forget his birthday!
Many have noted that Liverpool have lacked leaders for many years. Many, myself included, said adding experience would be key this summer, but Liverpool aren't bereft of leaders as first thought. Captain in waiting Jordan Henderson has showed his leadership qualities, enough so he was rewarded with the vice captaincy. Mamadou Sakho has captained previous club PSG and the French National team, with this run in the team not looking likely to end in the near future he adds a wealth of experience. Finally, the man in question, Emre Can. So young in terms of age, but mentally he is older than many on the pitch. He commands respect, diffuses situations and has the passion that you expect from a captain. Not only is he a leader of men, he has an aura of authority that will inevitably lead to calls for him to be captain. Liverpool certainly have an abundance of talent that will peak at the same time, that talent needs a leader.
As mentioned earlier, Liverpool needed a new Steven Gerrard figure, he might be under our noses already. One change though, we can't afford to let this midfielder carry the burden of the team by selling stars.