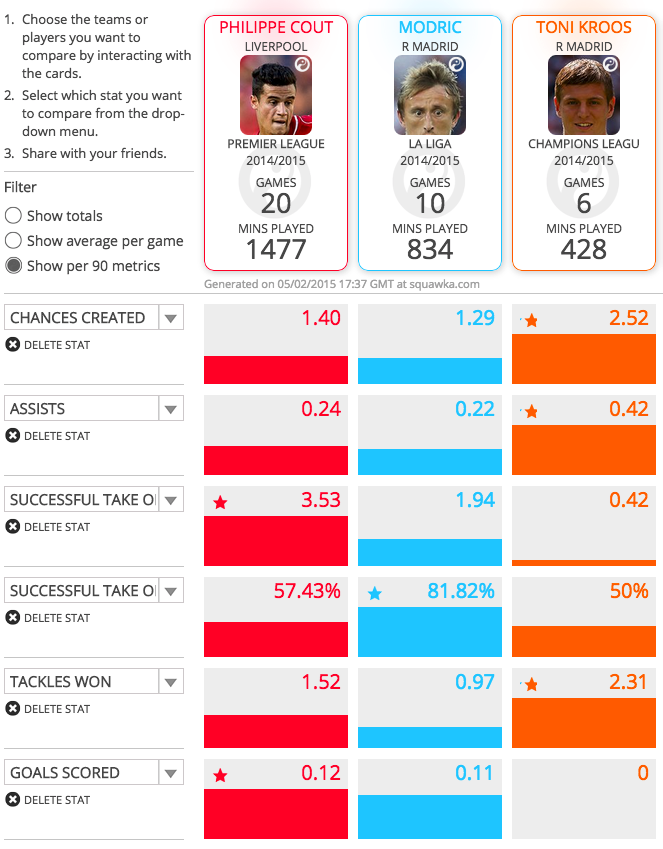 Coutinho compared to Kroos and Modric
It's not the first time Brendan has likened his player to a superstar. Remember his comments on Joe Allen being the next Xavi? Highly debatable regardless of what team you support. But, is Brendan right in saying that Coutinho could be as good as Kroos and Modric? The comments were made after the Brazilian signed a new contract which will keep him at the club until 2020.
"If you look at that type of player he is, you look at Modric," he told reporters.
"He doesn't have a big goalscoring record, but he is a world-class player, a continuity player. He can make passes and put the ball in behind and he gets the odd goal from outside the box. He is a top-class player who can create the game who is so important in opening up doors for the team. Toni Kroos is another of that type; a wonderful footballer and great passer. They maybe don't get as many goals for what their technique is, but their role is to sit behind the ball and create goals for others. Their role is not to score 20 a season. Phil's numbers will improve, but it is not the be all and end all if he doesn't get 20 a season."
Granted, he doesn't commit into the box like Manchester City's David Silva or Chelsea's Hazard and as a result Coutinho has only managed to get on the scoresheet 3 times this season and has bagged four assists (2 against West Ham over the weekend).  Whilst you can be critical of his goalscoring record it's the other aspects of his game you must marvel at. Like Kroos and Modric he has this ability to play a precise pass, he's able to tackle and press the opposition and hound their midfielders. At the age of 22 it's clear the kind of player Brendan Rodgers thinks he will become and being likened to the dynamic duo at Real Madrid isn't a bad shout.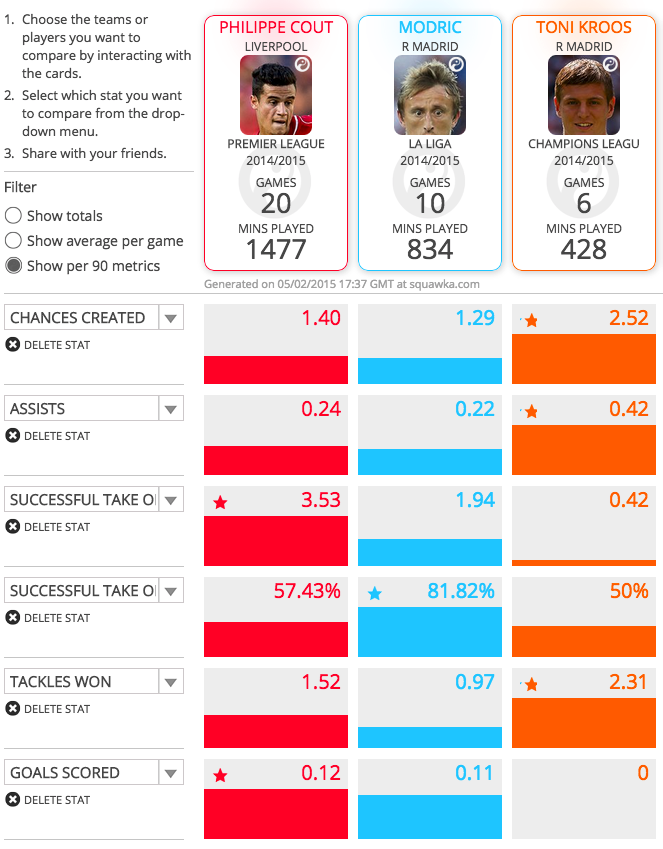 Despite Brendan saying he could be as good as the Madrid duo, he's actually comparing favourably to them on a number of metrics already, as shown above. Coutinho is the youngest of the three and is still developing as player at Liverpool in a side that is still finding it's feet after Suarez's departure. Meanwhile, Real Madrid are the complete article and are defending European champions. Despite Brendan's concerns regarding Coutinho's goalscoring record as you can see from the image above his goalscoring is slightly better than the two he was compared to.
Thanks to Goal.com for the quotes.