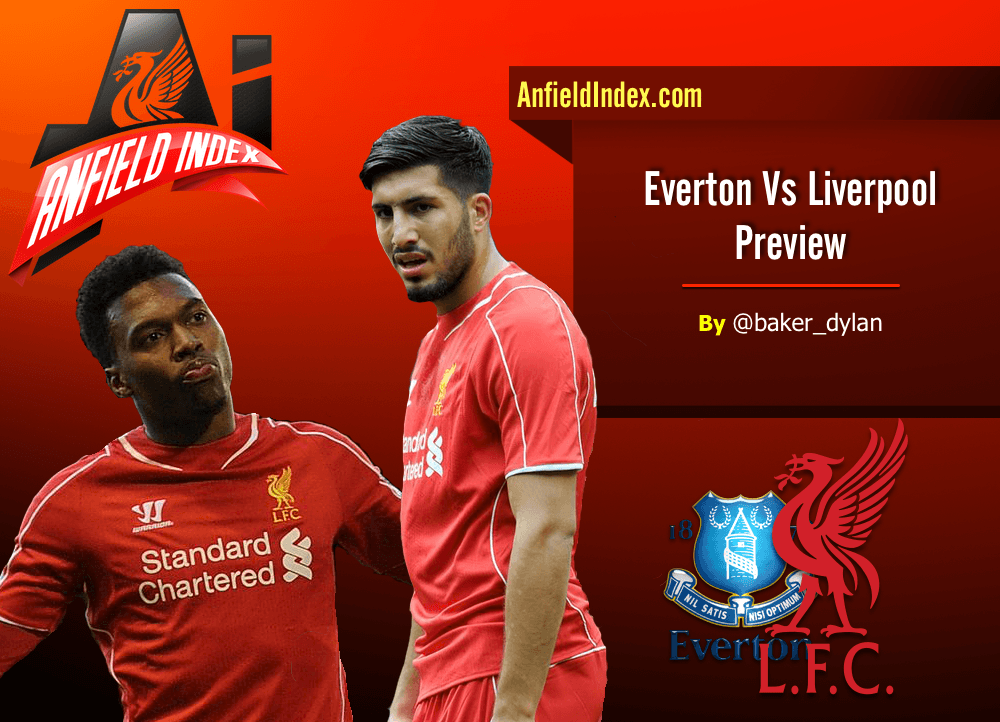 Everton v Liverpool | Merseyside Derby Special
Derby day.  What more could we ask for at this point?  Liverpool haven't lost in 2015, and Everton won their first game since mid-December this past weekend. True, it was Crystal Palace, but a resurgent Palace nonetheless (insert sarcastic smirk here). Last time out, both sides were in a poor run of form and drew 1-1. I'll bet the house on a vastly different scoreline after 90 minutes on Saturday evening.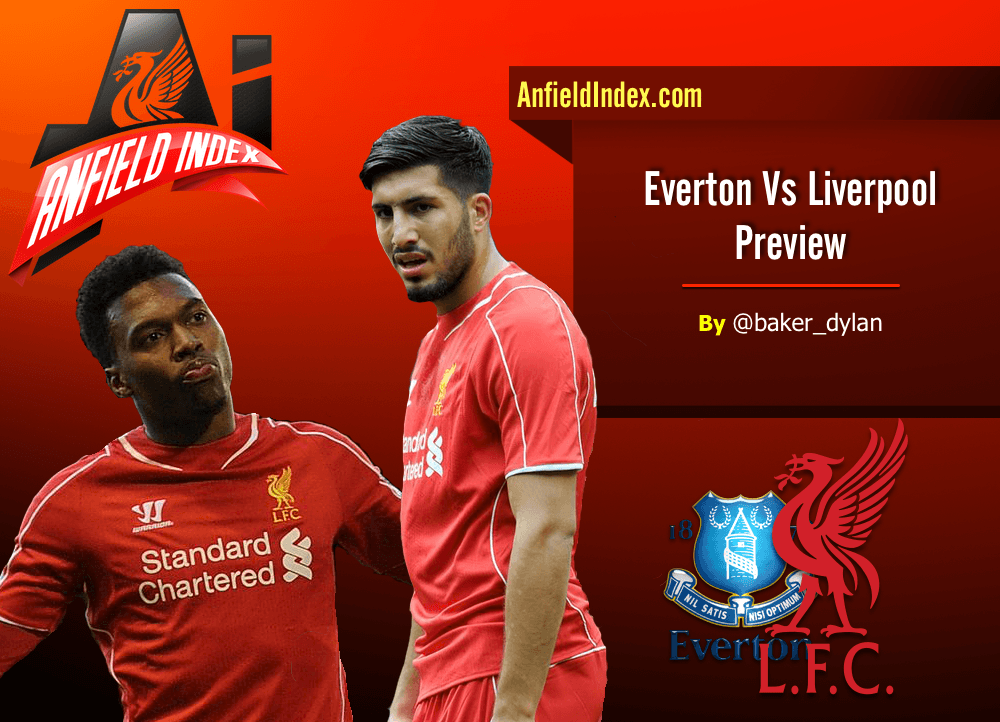 What Do They Think?
So, this is my first covered derby. That means I want to make this a bit special for everyone. Throughout the week, I've been listening to some Evertonian podcasts and team-talks to try and gauge some sort of game-plan out of them. What are the fans expecting?  Who do they want out of their side when the clock strikes half-past on Saturday?  In this preview, I'll relay some of the things I've picked up on for everyone here to see.

James McCarthy should be back from injury for the match, and he should replace Gareth Barry in the double pivot to play alongside Besic.  I'll start by agreeing with them on a point, I suppose. Gareth Barry, as we've seen since the McCarthy injury, has been in poor form. The veteran tends to hold onto the ball too long when looking for the right pass, and the Reds will simply murder him for it. The pressing game we've been playing has impressed, but with Sturridge back in the side it'll only be stronger. Steven Gerrard will have moved back into our own double pivot to make room for the striker, leaving Sterling and Coutinho up to with him. Each has the pace to cause all sorts of problems at the back, and Gareth Barry simply can't handle it. So, yes, I imagine he will drop out to make room for McCarthy, and will probably sit on the bench until needed. But that doesn't mean I'm too worried about his replacement, either. McCarthy has a load of Premier League experience, but lacks the pace to keep up with the members of our attack. Besic, the younger and faster version of McCarthy has had a good enough season so far, will then be left to cover, and there's just simply not enough there. The boy can't be everywhere at once. The options at holding midfielder for Everton, no matter the combination, will inevitably be to our benefit.
Steven Naismith should play as a false nine with Lukaku out on the right wing, looking to cut inside.  Sorry, Evertonians. As I believe Ryan McTrippy said a few pods ago, I relish a Lukaku-Sakho battle for the match. Aerially, our French center back has been dominant. Really, our whole defensive line has. Andy Carroll found no love last weekend, and Bolton couldn't squeeze in an open-play goal with a center back playing forward!  Lukaku has also been in and out of form this season. The young Belgian hasn't shown the goal-scoring prowess he had at West Brom and last season at Everton. But he scored the winner at Palace! Scrappy, a bit lucky, and a poor performance for the rest of the fixture sort of discount that for me. Now, Naismith playing as a false nine is a bit troublesome. His runs from a bit deeper in the midfield are quite incisive, and he's good in front of goal. As the Men in Blazers say, "You can't defend against what you can't see!" However, we'll surely have Lucas in the midfield, who's been in excellent form. Skrtel's top priority will be those kinds of runs as well. His job as the central stone of the back line is to take care of anything that gets past someone, and he's done it quite well. Whether it's Naismith from the center of the park or Lukaku/Mirallas/Barkley from elsewhere, his task is simple.
The best thing we can do at the weekend is bottle Coutinho so his creativity is stifled.  True.  Everton do need to do that. The question is, rather, can they? Mention the Magician's form, his pace, or his skill on the ball and my fellow Reds will arrive at the same answer I did: no. Chelsea's Matic and Ramires tried and succeeded only marginally. West Ham surely didn't with Alex Song. My conclusion also lies in the formations against one another. As they have all season, Everton will be playing some semblance of their 4-2-3-1. They'll stay tight in the midfield to allow Leighton Baines and Seamus Coleman to burst up the wings. One thing I'll grant Baines is his knowledge of when to stay back. With Raheem on his side, I imagine he'll split his duties half and half. Coleman, on the other hand, hasn't really exhibited that same caution. Coutinho will be lining up on the Welshman's side, allowing the Brazilian to slide right in the gap Coleman leaves. That sets up a 1 v 1 with either Jagielka or whatever random bloke they put next to him (it's been John Stones the last few weeks, to be fair). I'll take that sort of situation all day.
I predict a win for us here, I really do.  Nah.  Not this time, boys.
What About the Reds, Mate?
Alright, alright, enough trash talk.
Rodgers fielded a strong side against Bolton in the FA Cup, and many of those players will remain in the side for Everton. I did notice, however, two key men left out of the side midweek. First, Lucas got a match to rest, which should bring him back at Goodison in top shape and fresh. Second, and thank God for it, Sturridge only came off the bench. If he'd have started against Bolton, I'd have gone mad. I imagine, however, he'll get the derby as his first nod back into the side full-time.
In a nutshell, we are in a great run of form right now. I don't know how anyone deals with it, because I always get nervy. An away from home Merseyside derby to determine not only bragging rights, but whether we stay on our run? Shoot me dead. The first round at Anfield went poorly, in my opinion. There's no reason we should have dropped points the way we did, and in such a heartbreaking fashion. A stunner from Jagielka?  Please.  That, at least, won't be happening again.
We simply need to keep up our form this time around. What are the things that have gone well for us? A high-pressing attack. Playing the ball wide and splitting back inside. Using our wingers to bring the attack forward, and our forwards to finish. Sturdy, resolute defending.  In any match, Liverpool have to maintain these tactics.  Rodgers knows that, of course. The primary issue we'll run into is the personnel change to make room for Gerrard and Sturridge. Lallana starting last weekend and midweek was only to replace Gerrard. The captain will undoubtedly be in the side for the derby, no questions. With the front three comprising of Sturridge, Coutinho, and Sterling, he'll be forced into the deeper midfield position alongside Lucas. That means either Henderson goes to the bench or replaces Markovic. I'll have to go with the latter option there. I love the young Serbian and what he brings to the side from the wing back position, but Rodgers sees Henderson as a must-play footballer.  I don't necessarily disagree, but the boy's not a winger.  So, I suppose it's graphic time.
Predicted Line-Ups
The Baker Forecast
We've already done line-up discussion throughout this article, and I despise being redundant. So we'll look straight at predications here. As much as I'd love to go with Dan Rhodes' 18-0 victory, I find it hard to believe that we'll only score 18…
Alright. Honestly, I think we've got a 2-0 here. I'm not totally positive we're gelling enough to hang more than two on the Toffees. Having Sturridge back is a bonus, and I might have been more willing to call three or four goals if he'd scored at Bolton. On the other hand, I think he's going to run circles around the defence with Sterling and Coutinho. I think Sterling will score again, assisted by one of the other two surely. Because it's a derby, I have to call a set piece netter for Gerrard.  How can I not?  Sterling scores earlier, and the Gerrard free kick will push the knife deeper somewhere before the hour mark.