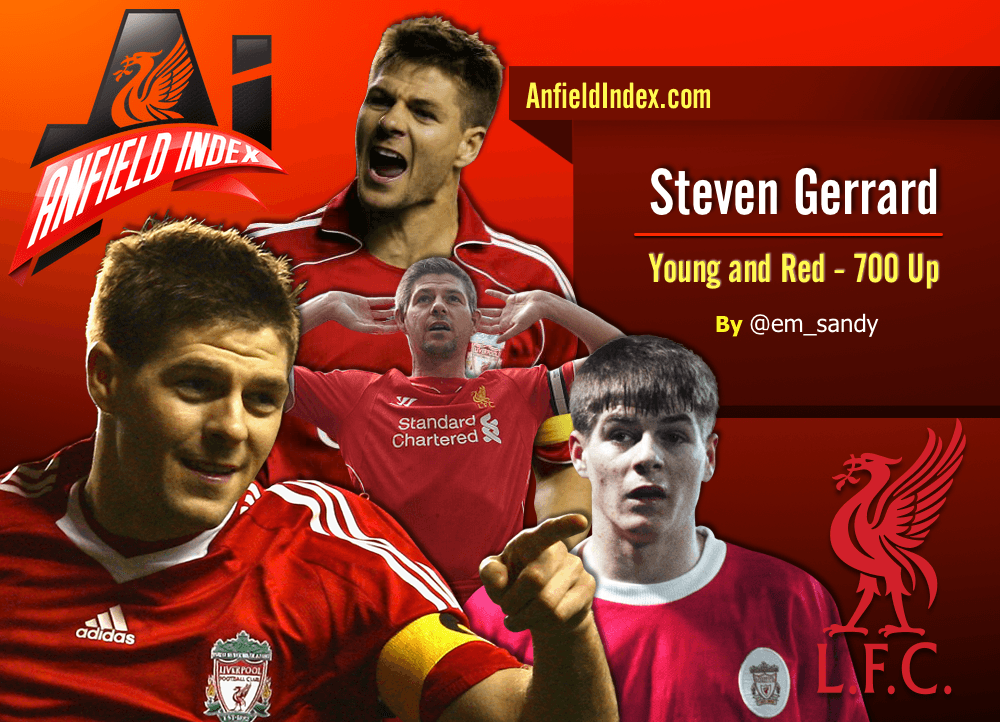 Gerrard: Young and Red | 700 Up for Captain Fantastic

A young Steven Gerrard charged around the football pitch, aged 12, showing strength and ability beyond his years under the guidance of Tim Johnson with the Liverpool U14's academy team. Now, 16 years since his Liverpool senior debut and Gerrard boasts one of English football's greatest careers after achieving 700 appearances for the Reds.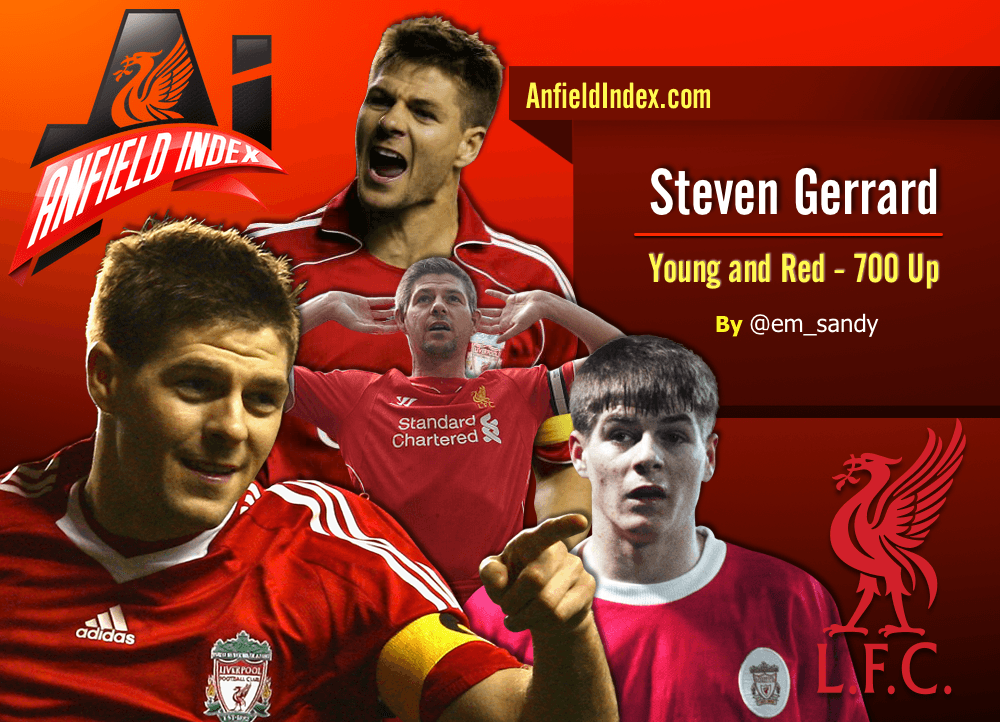 Speaking in an interview with the Daily Post and the Liverpool Echo in 2000, Tim Johnson remembers how he admired Gerrard's ability and admits many strengths of his current game were visible even then;
"The most impressive feature of Steven's play at the time was his speed of thought. He could evaluate a situation and take advantage quicker than any school footballer that I had seen. He also had the basic technical skill to put his thoughts smoothly into operation. He was a very good tackler. Even when playing against bigger boys he had the courage to put his foot in and win the ball and that is a skill he quite obviously retains today."
Owing to injury, Gerrard failed to win an England Schoolboy Cap, after representing club and country at all other youth and senior levels. His debut for the Liverpool first team came in 1998 on the 29th November when he appeared as a late substitution.
Amongst his team-mates on that day were some of Liverpool's finest players. The young Michael Owen, who would go on to score one of the greatest goals in England World Cup history against Argentina later that season, goal-scoring legend Robbie Fowler and loyal team-mate and former vice-captain, Jamie Carragher, all started for Liverpool.
It wasn't until December 8th in that same year that Gerrard made his first full debut for Liverpool in a clash against Celta Vigo in a UEFA Cup second leg tie. Phil Thompson looked back on the resilience of the Liverpool captain in the book, 'Steven Gerrard: For Club and Country:'
"It took Gerrard a little while to settle down but once he touched the ball a few times, the pre-match nerves had gone. Liverpool lost the game 1-0 to a decent Spanish outfit and although he was disappointed to make a losing start on his full debut, Gerrard was pleased to find out he had been named the Carlsberg Man of the Match. He had shown the management and the Anfield faithful that the big occasion didn't faze him in the slightest."
Although Gerrard had impressed as a young debutant in his first senior year for the club, it wasn't until late 1999 that the headlines started to report on the first of many heroics from the midfielder.
On the 5th December, Gerrard scored his first goal for Liverpool and Sheffield Wednesday. The Liverpool Echo's match report recorded his dazzling finish:
"Until Gerrard rescued them, Liverpool's largely inexperienced midfield, which had been so diligent and so productive earlier, suddenly became a worry, offering its rivals far too much space. But just when they needed inspiring they were inspired in the 68th minute."
"Gerrard didn't just step forward, he side-stepped, danced and dribbled past three defenders before finishing decisively. Gerrard is a wonderful talent, a young man with the steel of a Stiles and the style of a Souness. And he couldn't have chosen a better way to fire his first senior goal."
On Wednesday evening, Steven joined Jamie Carragher and Ian Callaghan as only the third Liverpool player to perform for Liverpool on at least 700 occasions. He captained the side's 2-1 victory over Bolton Wanderers in a close FA Cup fourth round encounter.
The Liverpool skipper will be leaving the club at the end of this season and therefore won't surpass Carragher's 737 appearances but he hopes to end his Reds career on a high – dreaming of success in the FA Cup final on his birthday.
On Saturday, Gerrard could make his 33rd appearance against local rivals, Everton. He's scored more goals against the Blues than any other Liverpool player and will be hoping to extend his record of ten goals against them and cap off a memorable week for the skipper.
Here are ten key stats from Gerrard's 700-game career with Liverpool;
Gerrard has scored 5 hat-tricks for Liverpool, all of them coming at Anfield,
including one against Everton – the first Reds player to do so.
13 goals have been scored by the skipper against Aston Villa – more than he's scored against any other side
Surpassing Liddell's previous record, Gerrard has now scored in 16 consecutive seasons for Liverpool.
Gerrard's highest scoring campaign came in the 2008-9 season when he found the net on 24 occasions including 16 in the league.
A British player's record – Gerrard has scored 41 goals in European competition for Liverpool.
Steven recorded 54 appearances in the 2002-3 season – the highest number of his career.
115 different teams have faced Steven Gerrard during his time at Liverpool.
Gerrard has played alongside 159 team-mates throughout his long career with the club.
A total number of 162 goals have been scored by the midfielder for Liverpool he currently lies in 6th place in the club's all-time scoring list, below Robbie Fowler.
Gerrard has captained Liverpool on 461 occasions since 2002.