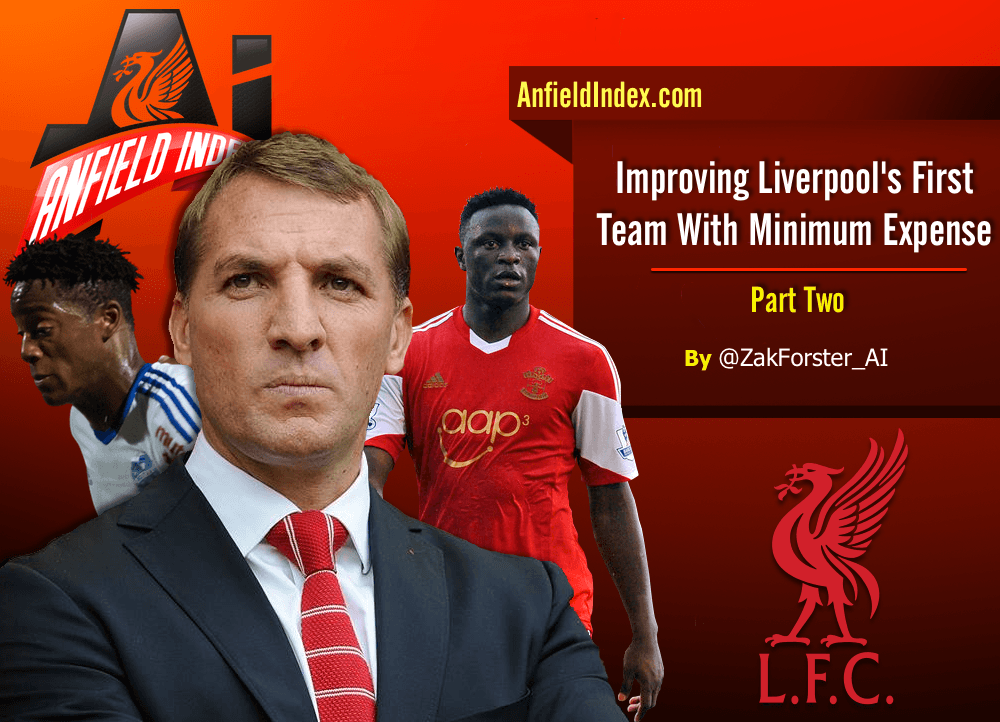 Improving Liverpool's First Team With Minimum Expense: Part Two
If you missed part one of this series you can find it here where I talk about the defence and goalkeeper: Improving Liverpool's First Team With Minimum Expense Part 1. In this part I look at the defence and strikers.

Victor Wanyama – Defensive Midfielder – Southampton
If you follow me on Twitter or have listened to my views on any of the Anfield Index Writers' Podcast then you'll know I am a big fan of Victor Wanyama. I'm such a huge supporter of the powerful Kenyan that I've already written about him on two occasions. First of all I wrote a comparative piece on him and Nemanja Matic last November before writing a second piece on him in December as part of the Anfield Index Xmas Wishlist series (clearly, my wish did not come true, bad Santa!). I'm a really big fan of Wanyama despite the varying degrees of failure associated with our other Southampton purchases.
One of the biggest reasons I'd like to see Wanyama at Liverpool is his ability to play in both of the Reds' favourite formations. Firstly, you have the current 3421 which includes two players in central midfield roles. At the moment it's Lucas and Henderson (with Allen and Gerrard there against Bolton in the FA Cup Replay) and it would be Lucas himself who made way. As you can see, Liverpool's fortunes have improved now that they are playing a defensive midfielder to protect the defence – Lucas is playing well, but most of the improvement stems from the fact any defensive midfielder is better than none at all. So, with that formula in mind, think how much better Liverpool could be with an upgrade in this role. Sounds exciting to me. Not only would Wanyama be the defensive rock that every side needs, he also has the ability to score. Despite his out-and-out defensive attitude, Wanyama has scored three league goals this season including a 40 yard peach against Hull City. This means he'd be an attacking threat from this central midfield role which in turn means he's already an upgrade on Lucas before you consider the defensive side of his game. However, remember that point I made in Part 1 where I mentioned that signings two and three could be "either or" type choices? Well, here's the difficult part when you sign both Fabian Schar and Wanyama. In 3421, Wanyama moves into central midfield with Schar at right centre-back – where is Emre Can going to play? Assuming Henderson operates in the other central midfield slot you have one of Liverpool's best talents and best players wasted on the bench. Now, you could argue that this is serious squad depth but, for me, Can shouldn't be missing out on the Liverpool first team so it's either Schar or Wanyama but you guys can have both, you greedy things (let us know what you think of this potential dilemma)!
Now, the diamond. This bit is pretty straight forward. Wanyama would play at the base of the diamond like Steven Gerrard did last season except we'd have presence and solidity there instead of vision and creativity. Again, in this formation, you could have Schar or Can at right centre-back – depending on your level of greed.
True enough, Wanyama would take up the large bulk of any transfer kitty this summer with the Saints man probably setting the club back over £20m. However, with Schar on a free and Trapp, as a young goalkeeper, probably costing less than £15m the club could have these funds available. Nevertheless, the fee shouldn't put off any potential buyers because if you're going to solve a problem in your team, you may as well do it right and spending big on the right player is completely acceptable, especially when Wanyama is the man spearheading a Southampton charge towards the top table in European football. The stats speak for themselves too. Not only is Wanyama superior in the air and more mobile than Liverpool's Brazilian, he's also a more effective tackler and a more intelligent presence when it comes to closing down avenues and spaces in-which the opposition would like to thread passes or play inside. He'd be my number one target this summer and I think he'd take Liverpool to a new level.
Michy Batshuayi – Striker – Marseille
Michy Batshuayi is my choice for a new second striker at Liverpool. Since the injury to Daniel Sturridge in August 2014, Liverpool have limped around like a lost dog with no direction and no vision until very recently with the introduction of the 3421 formation. At one point the Reds couldn't defend and they couldn't attack either. Chance after chance went begging when the Reds weren't creating enough chances to warrant such a high percentage of waste. All of Liverpool's strikers have struggled thus far with Fabio Borini, Rickie Lambert and, most of all, Mario Balotelli all proving to be below the required standard. Balotelli and Lambert simply do not fit Liverpool's fast style whilst Borini is simply not a good enough finisher in and around the box.
So what should Liverpool's reserve strikers be like? Well, they should be as close to Daniel Sturridge as possible in terms of skill sets and attributes that they bring to the team. They should be pacey, tricky, of a high standard when finishing chances and they should be mobile whilst actively looking for the ball from the likes of Raheem Sterling and Philippe Coutinho. With Michy, Liverpool could have this set-up. Sturridge would remain the main man, but depending on him to handle a full season is unrealistic and downright dangerous, Michy as a slightly younger member of the squad would be the second choice striker who could score goals in Sturridge's absence or even alongside him in a diamond formation or in a slight variation of the 3421 – the 3412. Divock Origi would return as the third choice striker and current young star Jerome Sinclair would be the fourth choice. This allows a clear path to the first team and also creates a conveyor belt of similarly styled players who can all replace each other. When a machine breaks, you don't buy a new and very costly replacement you just replace the cog with a similar cog which then allows the overall system to continue in a normal manner with minimum disruption to any operation. This method would also allow Liverpool to flesh out their squad with talented youngsters who could do a good enough job on a fraction of the salary compared to players such as Borini, Lambert, Balotelli and Iago Aspas. This second choice player would have to be younger than Sturridge but better than Origi so somebody like Alexandre Lacazette is unrealistic as he'd be a nailed on starter meaning the 3412 formation would be required, you then lose Sterling or Coutinho – tough choice, right?
Now let's have some information on Michy. The Marseille striker is currently 21 years old and is right footed, although he is adept at finishing with his weaker left side. The young man impressed at Standard Liege during the 2013-14 season and moved to France in a £4.5m move. At Standard Liege, Michy managed to bag 39 goals in 97 league games with those goals being scored between 2011 and 2014. He's currently struggling for game time at Marseille but the Belgian striker has two goals in three starts and eleven substitute appearances. Internationally, Michy has scored 7 goals in 13 games for the Belgian U21s with a senior call-up hopefully on the horizon.
Despite the lack of starts for Marseille, Michy scores more goals p90 than Fabio Borini (Liverpool's current number two striker) with 0.34 compared to 0.25. His shooting accuracy is also higher at 44% compared to the Italian's wasteful 38% whilst his successful take-ons percentage is also superior – a skill he excels at using his pace and strength – with 56% of his attempted take-ons proving fruitful. Borini does have more shots inside the penalty area p90 played but even that small victory can be seen as a loss as we could say he's more wasteful with his chances. Personally, I think Michy would be a great upgrade and the sales of Borini and Lambert could pave the way for his transfer despite his contract being just a year old this coming summer.
All in all, I think Liverpool could assemble these transfers with a transfer cost of just £45m. That's not a lot considering there are potential sales to be made for the likes of Borini, Aspas, Lambert, Enrique and Lucas.
Let us know what you think in the comments section below.