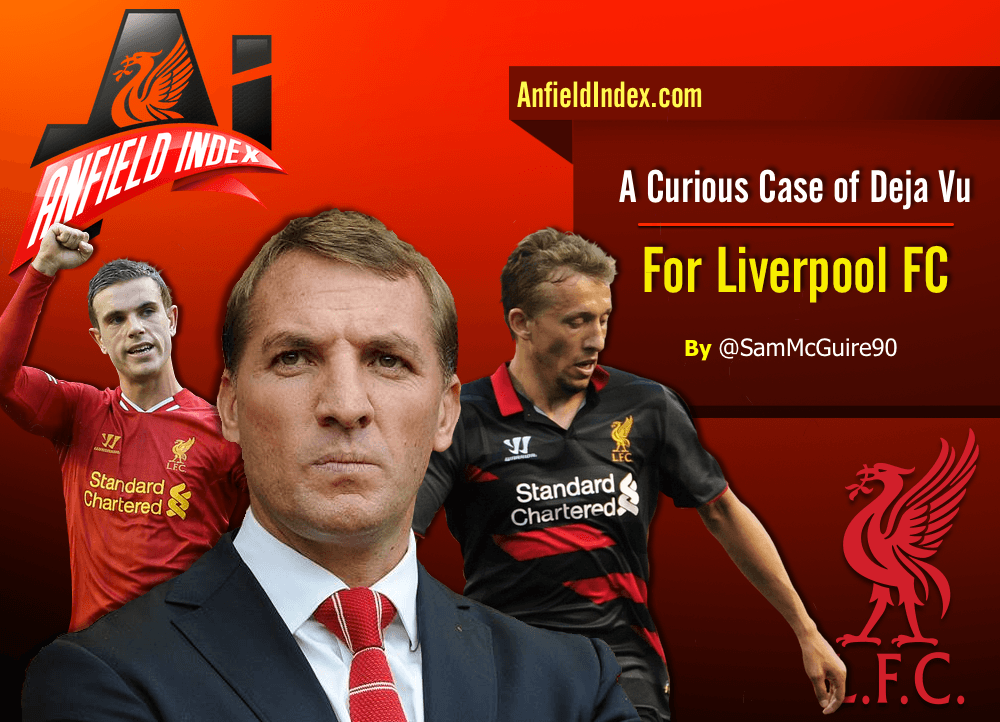 A Curious Case of Deja Vu for Liverpool FC
I'm sure many of you have been in a similar situation. You've been planning this moment for a while, you've ran through the situation in your head a vast amount of times and you're bordering on arrogance at how sure you are it'll be a success. You don't plan for a mishap, why would you, things are going good. You feel infallible. Then the inevitable happens and you're punished for your cocky ways leading you to have to live with the consequence.
Could anybody really be that naive enough to not take into account a worst case scenario after you've let it happen to you once before?
Step forward Liverpool FC.

The recent Injury that the unfortunate Lucas Leiva picked up in the derby has fans questioning the squad depth in key areas of the team. Sounds familiar doesn't it? The 3-2 win against Manchester City towards the end of last season was bittersweet. The win put The Reds in pole position for the title, but the loss of Henderson to suspension meant Liverpool weakened.  This, for many, was when the pendulum finally swung against Liverpool and the title they had in their grasp slipped away.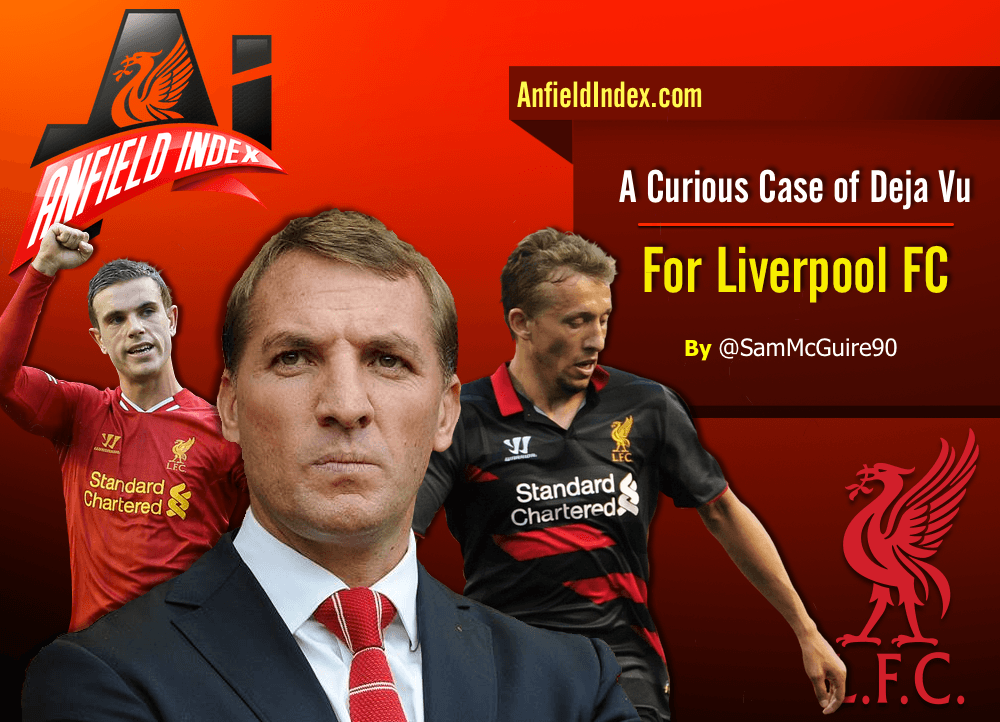 Brendan Rodgers even acknowledged this at the end of the eventual season. "I knew I couldn't replace him" sighed the Northern Irishman. Could Liverpool's 2013/2014 season been over long before April had the Teeside native been injured? No contingency plan was in place, Liverpool had nobody in their ranks capable of doing the job Jordan did.
"I was living in a state of perpetual deja vu"

– Tyler Durden, Fight Club.
Liverpool once again find themselves in a situation where an unlikely player is key to the system, and is out of the team and the squad lacks a natural replacement. Lucas has played an imperative role in Liverpool's recent upturn in form, not the best defensive midfielder but he's doing a job. After all, a defensive midfielder is better than no defensive midfielder. The form began in December and carried on through January, the same month as the transfer window. It's hard to fathom why an alternative to Lucas wasn't brought in during this window, what with the Brazilian being renown as being Injury prone.
Not only is Lucas a cog in the system, he's a key aspect, like many defensive midfielders are to their teams. Many will have you believe defensive midfielders are a fad, hyped by the media. These people are the same ones who say Brendan Rodgers doesn't believe in these midfielders because he wants all of his midfielders to be confident on the ball. I know the first rule of Liverpool football club is don't disagree with the manager, but whether that's true is open for debate, but you cast your eyes on the fact Liverpool are currently deploying two ball playing centre-backs in their back three and the DM not being good on the ball issue disappears.
Lucas has been influential in the current system, the players have worked up and understanding with him. Emre Can knows he can make those powerful runs from deep and Lucas will step in to cover for him, Sakho knows Lucas will drop to give him a passing option and Jordan Henderson knows he can push forward and there is a defensively minded player behind him. He might not be the best on the ball but he certainly uses it better in a deeper situation than many of the other alternatives, which in turn allows the team to play out from the back.
Another beneficial aspect to Lucas' game as of late is the fact the defence take their position from his. With him moving slightly further forward than a deep lying playmaker would be it means the back three can push forward. This just allows Liverpool as a team to have a higher line, this means the opposition have less space to play out from and Liverpool can win the ball higher up. If the opposition want to go long then Liverpool restart the play in an advanced position.
All this positivity in Liverpool's game stems from the fact they've been using a system that utilises a DM, Lucas. Him limping off in the Derby was detrimental to the way we played. The usually impressive Jordan Henderson looked lost playing in a pivot alongside Joe Allen. Coincidentally Joe Allen was the man tasked with replacing Jordan Henderson in the title run in. It means the Welshman has been asked to deputise in a box to box role and now a defensive midfielder role. It's no wonder many fans don't rate him when he's being asked to fill in a various roles, none of which are his favoured position.
This brings you back to the same question as last year; why aren't replacements for key players to winning systems brought in when opportunities arise?
The extent of Lucas' injury hasn't been established yet, but if it's to go by previous ones the Liverpool number 21 could be missing for a few months. This injury could lead to not only a change in personnel but also a change in system. An uncertainty about the once porous back-line will once again overshadow the games. Will Simon Mignolet keep up this inspired form as of late if Liverpool switch to a back 4? Will the centre of the team look as solid if a DM isn't being used. Should the Liverpool fan base be worrying this much over an injury to a player 80% of them thought should be sold?
I'm all for a versatile squad in which players can play various positions, but sometimes you need specialist players. A defensive midfielder is one of those positions. Liverpool have a tough run of games to navigate and a Lucasless squad will make it harder for them to progress in both cups, and in their quest for Champions League qualification. I for one hope better planning goes into the summer window and key players are identified to the system the manager wants to play and adequate back up is signed.