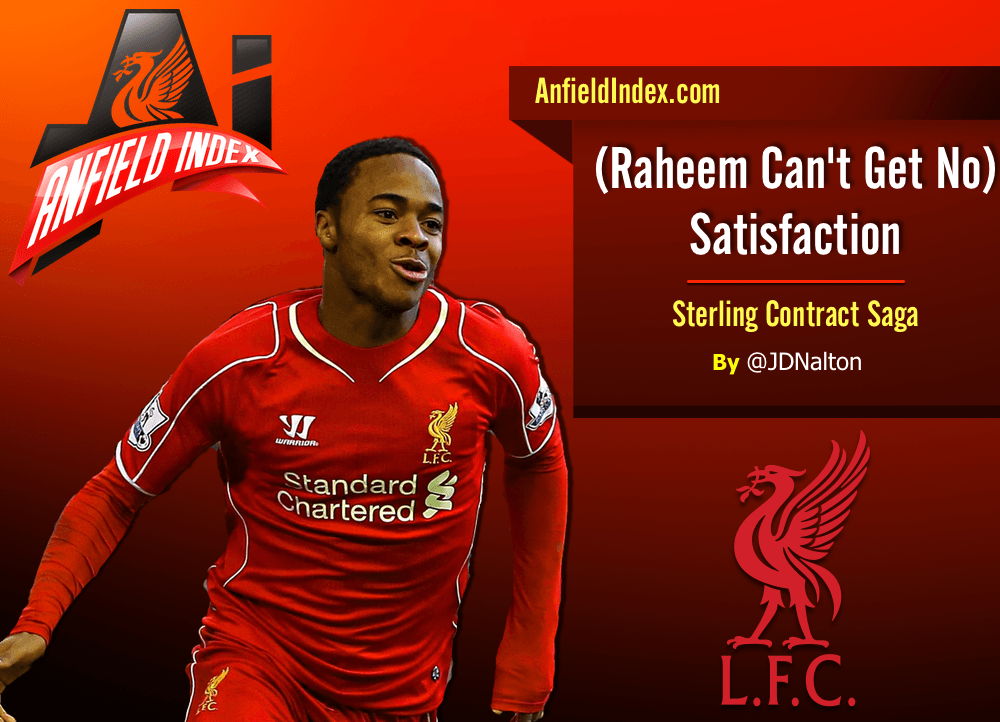 (Raheem Can't Get No) Satisfaction | Sterling Contract Saga
As the seemingly annual Raheem Sterling contract saga drags on into another week, it's worth taking in the following quote from one of the best man-managers the game has seen:
"You can't be satisfied just because you've achieved something. Satisfaction is the biggest enemy of an athlete."

Ottmar Hitzfeld
Brendan Rodgers' approach to these situations aligns well with Hitzfeld's words, as the Liverpool manager always reinforces the dangers of rewarding a young player too early. In his recent comments on the contract negotiations, he said:
"The club has offered an incredible deal for a young player. If they get too much, too young then it really sabotages their development.

"It is very important for young players, not just Raheem, that they have something to strive for."
The worry is that Sterling will become satisfied with his lot at Liverpool and stop improving, or worse, regress as a player.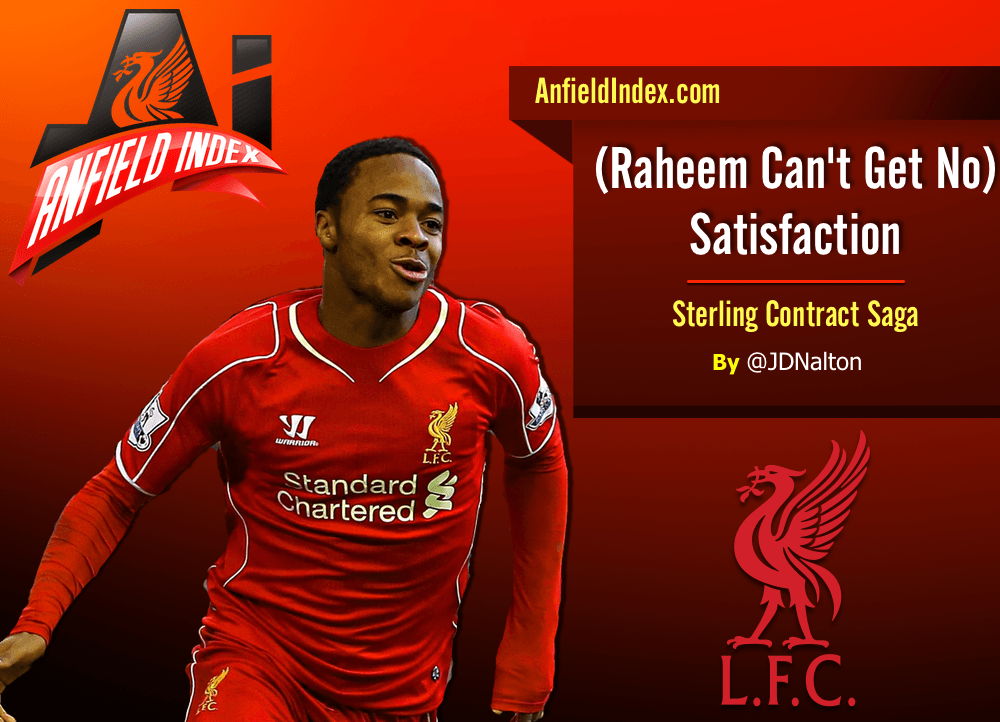 However, as a player who's merely dipped his toe in the water of world football, Sterling could be realising that he has no trophies to his name, and the decisions he makes at this stage of his career could well determine how many honours he winds up with in 10-15 years time.
Can he achieve his goals with Liverpool, or will he go the way of Luis Suarez and opt for the route to guaranteed silverware at one of the juggernauts of European football?
The promise Sterling has shown will have attracted admiring glances from the continent, as he's a player who would be ideal for a ruthless counter-attacking side, as well as being one who could provide the attacking spark required in a more possession oriented playing style.
Should the club bow to demands of the young winger's representatives, or should they play hardball (don't mention Moneyball) and insist that Sterling has to improve further before he can justify a lucrative contract?
The latter option could lead to their player looking at potential offers from other clubs, with the former risking the satisfaction and complacency mentioned earlier.
A similar scenario is playing out at a lower level with Liverpool target Saido Berahino making noises about wanting to leave West Bromwich Albion. The way his new manager, Tony Pulis, handled this situation, was by challenging the player to prove he's worthy of a move to a higher level, by proving without doubt that he can consistently be the best player at his current club.
From Ottmar Hitzfeld to Tony Pulis, via Brendan Rodgers; this may not seem like the obvious path to take when seeking guidance on the future career of one of Liverpool's most talented young players, but the constant setting of new targets and the belief that there is always another step on the ladder, are common ideas when it comes to this type of man-management.
Another thing to bear in mind is that this situation could also have a knock-on effect on other players in the team, who'll no doubt have an idea as to the amount Sterling is being paid.
There are players of a similar age and stature such as Emre Can, who are probably already on less money than Sterling's current deal; players of a similar if not superior ability such as Philippe Coutinho, for whom the ink has only recently dried on his own new contract; and those such as Jordan Henderson who have, or are likely to have, leadership roles in the team in the near future.
No matter how much a player wants to play for a club, his manager, or even the fans, it's only natural that people will want their share of the Premier League riches, and if others are getting more, it could affect team morale.
On the face of things, Raheem Sterling comes across as a player who's had a certain amount of self-motivation built into him during his formative years in the first team under Brendan Rodgers. When the team suffered poor form early in the season, he never shirked or took it easy, and was arguably Liverpool's stand-out player in 2014, through the good times and the bad, ahead of Luis Suarez, Daniel Sturridge, and Philippe Coutinho.
It's for these reasons that Liverpool should do their best to keep hold of their home-grown star, with the aim of building a squad of similar quality players around him, so all involved can add to their trophy haul with Liverpool, rather than use it as a stepping stone.