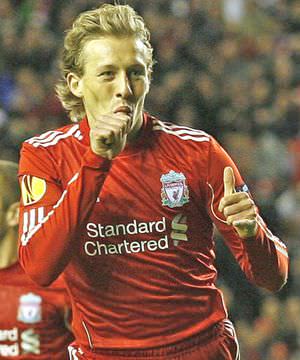 Lucas Leiva - Which side of the divide?
Dividing Kop opinion on players is seldom achieved, however this young Brazilian has over the last couple of season's caused more debate up and down internet forums than Andy Gray's sexist tirades. It is easy to understand why, in his early years Lucas Leiva was hailed as a Brazilian prodigy, the anfield faithful longing for some flair expected Lucas Leiva to deliver the class of kaka, however his then manager Benitez had seen the qualities and efficiency of the less eye-catching under-rated former World cup Winning Captain Dunga. Lucas Leiva has taken time to settle, a new country, language and team-mates contributed to this, and in a Midfield of Alonso, Gerrard and Macherano he was constantly in and out of the side looking out of his depth in the fast and furious Premier League. Benitez, however continued to show faith and allowed Lucas to grow, and to the back end of last season and so far this season he has begun to take over as the general of the Liverpool's Midfield.
Lucas Leiva has been forced to step up in the absence of Alonso last season and more recently following the departure of Mascherano, this added responsibility appears to have facilitated his growth, He is neither as industrious as Mascherano nor as cultured as Xabi, he is however a youthful blend of both that is aging well. This is backed by his impressive stats.
His successful pass % this year of 84% in Premier league is impressive given the backdrop of LFCs form earlier in the season, and how Liverpool as a team under Roy Hodgson had been dominated in Midfield the rest of the team averaged 75%.  It is however important to point out what the stats don't show here, Liverpool have one of the smaller pitches in the League (source: albeit a year old http://www.funny-football.co.uk/news/premier-league-pitch-dimensions-2009-2010/), and thus a successful pass is that much more difficult to execute given that the angles are more acute and space is tighter. His worst passing performance this season at 75% successful pass completion was at Stoke, the smallest ground in the league, a game where Lucas Leiva also got sent off. Surprisingly this was actually the game that got me to notice his improvement, I had expected he would be light touch in the Midfield dual with a team renowned for its physical prowess as opposed to finesse, however Lucas did not shirk a challenge and gave the type of whole hearted display that no-one expected he could deliver in what was a scrappy affair, on a night when Hodgson had lost any remaining sympathisers.

Lucas's most accomplished game of the season in terms of successful passes, was at White Hart Lane, in a game Liverpool arguably deserved to win, a 90% pass completion in his 1st game back after the suspension from the Brittania, in a battle with the industrious Wilson Palacious Lucas Leiva looked comfortable and kept the ball well, he however lacked support from his team-mates (average 75.4% pass completion) in a game of high intensity and on one of the smaller pitches in the league.
Lucas Leiva has an array of passes and as his confidence has grown his whole repertoire is beginning to be displayed, however he must push on and not rest on his laurels, the opportunities to get forward in this Dalglish team are there for him to take, as displayed so spectacularly by Raul Meireles, the young Brazilian is by no means assured of his place in the team as Commoli & the King look to invest and strengthen this summer, what is lacking in his game is goals, under the Hodgson regime; Lucas only had 3 shots during that whole period, clearly not enough for a player in his position. It could be argued that as a holding midfielder his responsibility is to boss the Midfield and impose himself on the opposition, however the likes of Barry, Essien, Ramires, Denilson & Fletcher all have similar midfield responsibilities' and have managed their fair share of goals.
What is clear under Kenny, is that Liverpool will look to cherish the ball and return to Liverpool traditions of pass and move, this will suit Lucas as his strength as mentioned earlier is in his passing, but in order for Liverpool to be able to impose their game they will need to win the ball in the first place, Lucas's tackling has improved and his presence is increasingly becoming like that of a certain Didi Hamann, quietly going unnoticed in Midfield, at 57.4% his successful tackles are important to the whole Liverpool team, however this is still an area for improvement, Lucas Leiva needs to make every tackle count, be it ruffling the opposition or just plain winning the ball.
Overall Lucas Leiva is one of the few players can look back at the Hodgson regime fondly in terms of personal growth, he must now look forward and work hard at those weaknesses identified, he is an intelligent player and will be in no doubt of where his weaknesses lie. He has proved he can adapt well to the various formations that Liverpool play and is equally comfortable, therein as the squad grows and improves, Lucas Leiva as he stands now will have a place in the 25 man squad next season, he does however have 3 months before the season closes to prove he is worthy of a regular spot ahead of the transfer window opening.