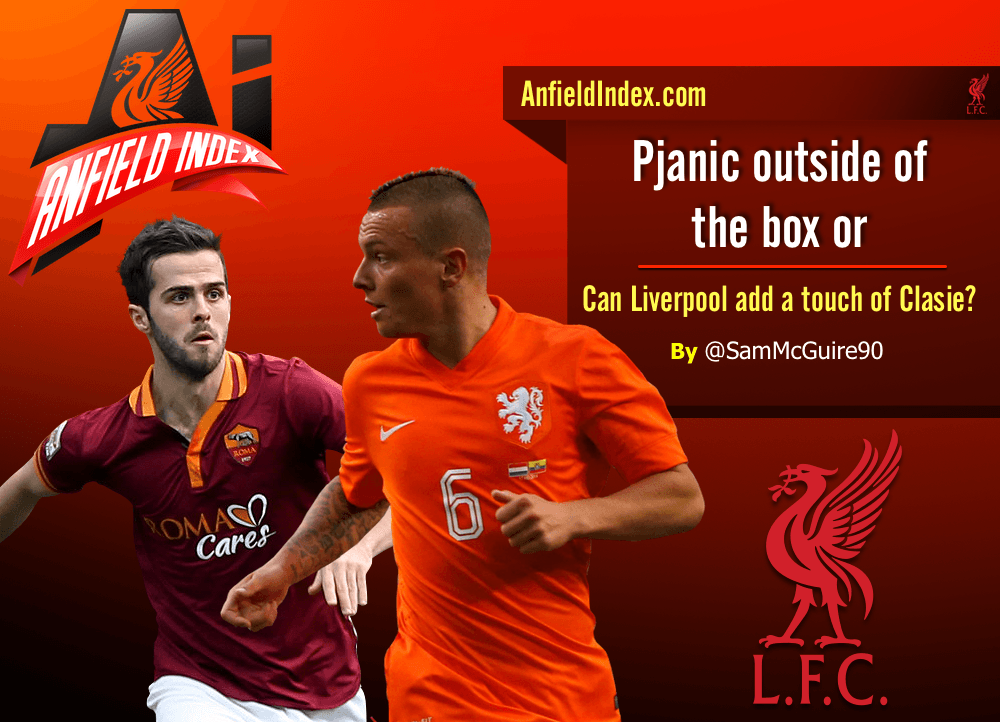 Pjanic outside of the box or Can Liverpool add a touch of Clasie?
The link to Miralem Pjanic is a welcomed one. No doubt it's just a rumour but to be linked to someone of that quality is refreshing. I'm not convinced the numbers being quoted are that accurate, they seem steep but what'd you expect when the story is made up.
However, there is sense in making a move for Pjanic, and not just in the obvious way. He's undoubtedly in close proximity to being in the top tier of European midfielders. One of his strengths is his ability to shoot from long distance, this is something the Liverpool squad currently has a lack of.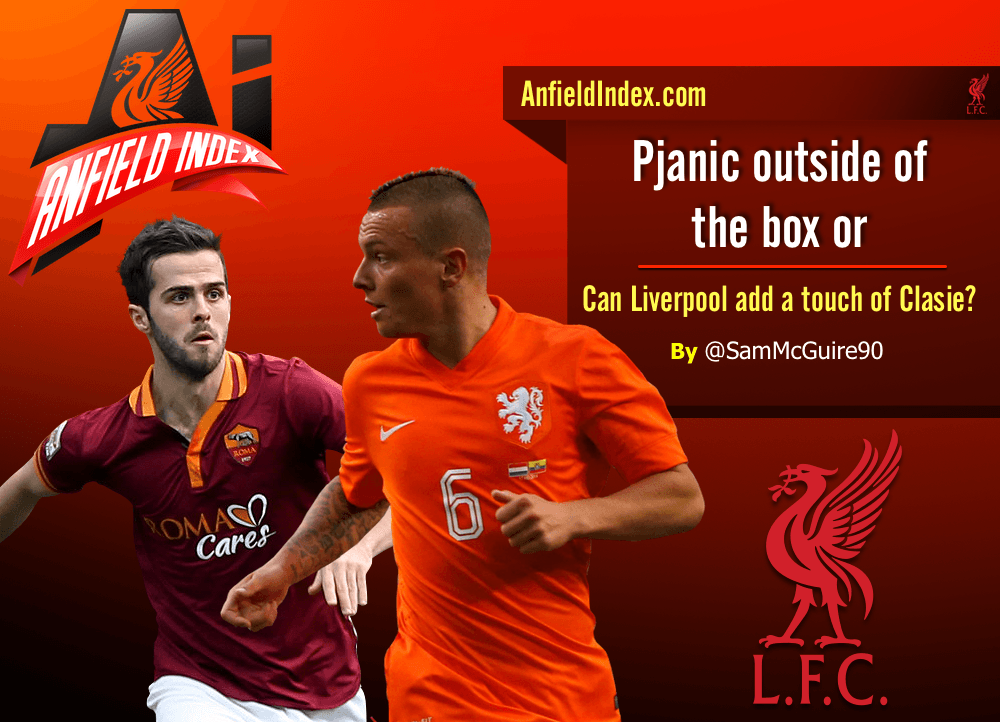 Liverpool currently average 16 shots per game, of these 16 shots 5.2 of them are on target. A big factor in this average of 1 shot hitting the target every 3 is the fact Liverpool take an astonishing 49% of their shots from outside of the area. To add some context to this, Liverpool are ranked third in Europe for most shots this season with 398, behind only Real Madrid and Manchester CIty. Yet for shots outside of the area The Reds are ranked third behind, 2 shots behind Fiorentina and 1 behind Spurs.
Of course the perception of Mario Balotelli is he shoots from distance and wastes possession, but he hasn't played in that many games and the number is still so high. Why such a high percentage of shots without a long distance shooter within their ranks? Could frustration play a part in all? Teams have been coming to Anfield and defending deep which in turn means Liverpool are forced to play in front of them. They then get frustrated and "buy a raffle ticket" as the commentators like to say. Sometimes it's wiser to keep your money in your pocket and not buy a ticket.
This theory is backed up when you isolate League home games Liverpool have had the most shots in Europe with 236, 116 of those shots have been from outside of the area. From these 116 shots Liverpool have scored 3 goals, that's a poor return for the amount of shots effectively wasted.
Then when you look at away stats you find Liverpool have had 162 shots, 68 of which have been from outside of the area with a return of 0 goals. There is a decrease in the percentage of shots taken from distance compared to how many shots are taken, but that's still fairly high and when you consider Liverpool have scored 0 goals from outside the area away from home it's a woeful sign. Especially when you're away you supposedly get more freedom when attacking.
Opposing teams can sit back, defend deep, and know Liverpool will eventually get frustrated and have a shot from distance. Wasting the good play that comes before the shot. With a little more patience, or a play that has the long range shooting ability, it could well be a game changer for The Reds.
Last season Liverpool had a certain Mr Suarez who had the ability to shoot from distance, it certainly gave the opposition something to consider which afforded Daniel Sturridge and Raheem Sterling some freedom in the area. Teams started to second guess what the mercurial Uruguayan would do, it was pointless as they couldn't stop him, but his long distance shooting was a string to his bow.
You also have to take into consideration how poor Liverpool were in the opening few months of the season,  and of course the fact their main striker has been injured for large parts. They even went through a spell of playing with a false 9 so shots from distance were inevitable, no bodies in the box meant players were taking pop shots without any commitment.
This is why a link to Pjanic is a positive. He'd be a great addition to the side and would certainly help with the shooting from distance conundrum we currently have. Another player to look at would be Jordy Clasie. Both players would fit snug into the Liverpool set up, brilliantly proactive on the ball but both have strengths our current midfield don't have. Current being the key word, because as soon as Emre Can is pushed into midfield they have a threat from distance. Either footed, he showed his talent against Bolton with a rasping left footed drive from distance that rattled the bar. This a few months after he scored against Chelsea with a right footed shot from distance.
There are plenty of talented midfielders in world football, but not many have the ability to shoot from distance to such devastating effect.  Steven Gerrard and Frank Lampard are both coming to the end of their careers. Juventus seem to stockpile those players with the likes of Vidal, Pirlo, Marchisio and Pogba. The successor to Emre Can at Leverkusen, Hakan Calhanoglu, is one of the best from 40 yards to name but a few.
As mentioned above, Juventus have an abundance of these types of players. 45% of their shots come from outside of the area, of their 17 shots per game 7.7 of them come from outside of the box. Not too dissimilar to Liverpool, but they've scored 14 goals from outside of the area this season. That's the difference in class that those type of players can bring to your team.
With such slim pickings Liverpool should act swiftly to improve this aspect of the team. Not only will their midfield benefit, but the attacking players will be able to make more of the space created for them when midfielders/defenders push to close down the talented long distance striker.