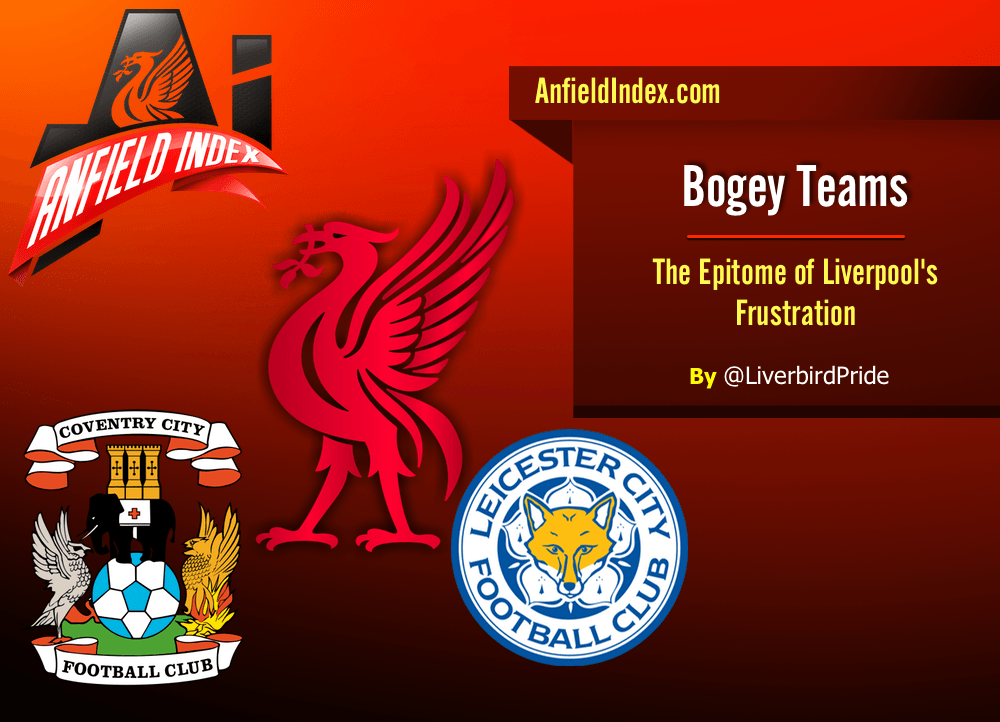 Bogey Teams | The Epitome of Liverpool's Frustration
For the centuries that this magnificent sport has been played, there is always that 'one team'. The team that gets you so spontaneously dazzled as to why you can't seem to break them down. From Tenerife to Real Madrid or Dundee Utd to FC Barcelona, everybody's had one. Liverpool of course, being the wonderfully brilliant yet brain fart of a team that they are, have had many "bogey teams" over the last number of years.
Looking back over maybe the last 30 or 40 years, Liverpool had some memorable and not so memorable teams who were thorns to the various managers' sides. Is it a psychological factor that cripples the team's ability or is it the sheer confidence that the other team possesses that makes the performance go missing?  A combination of both some say, it's only a myth say others. You can try answer that question yourself! I'm only here to discuss the previous abnormalities from a Liverpool point of view, so sit back, relax and enjoy the miserable previous memories!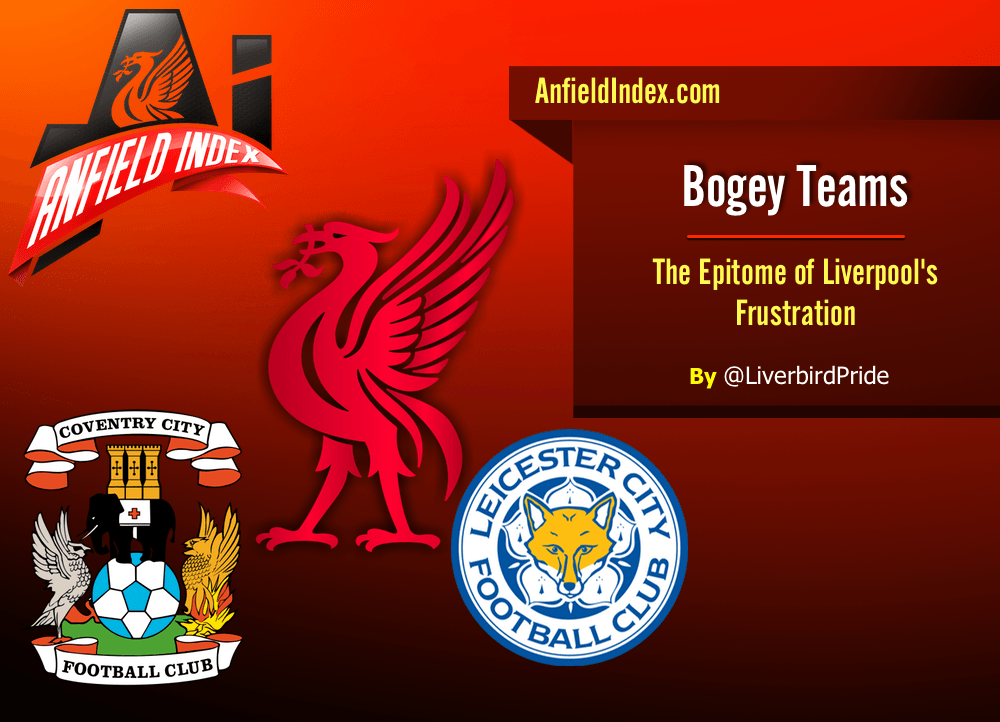 Coventry City
From 1992-1999, the lads from the West Midlands were Liverpool's biggest pet peeve. For seven straight years, The Sky Blues took 21 out of 48 from the Anfield side. On the 19th of December 1992 came the biggest thrashing when The Reds went to Highfield Road and suffered a humiliating 5-1 defeat. To add to Liverpool's frustration, Jamie Redknapp also received two yellow cards and got sent off in the 70th minute. Some Coventry fans would say it was the ultimate payback for the 6-1 defeat they suffered to Liverpool two years previous.
Essentially knocking Liverpool out of the title race in 1996 is a different but totally hurtful encounter nonetheless. Playing Coventry the day after United lost to Derby County was surely enough to make The Reds feel comfortable going into the game. Yet, in spite of Liverpool going ahead through Robbie Fowler, The Sky Blues equalised and eventually scored the winner via a Dion Dublin header after David James had a 'Mignolet' moment in goal. It is surely a day to forget for all.
Being knocked out of the FA Cup in the third round in 1998 quite possibly pushed Liverpool over the edge with Coventry, but on 28th of April 2001, two late goals from Sami Hyypia and Gary McAllister essentially relegated The Sky Blues and we never played them again! Good Riddance!
Leicester City
Over many years, The Foxes have cost us many valuable points. Frustratingly, from the 26th of December 1996 to 3rd of March 2001, The Reds failed to take 3 points more than once. Some say Martin O' Neill was the man responsible for Liverpool's failure to collect the points with his exemplary work. Since his arrival in late December 1996, Liverpool only managed 3 points out of a possible 21, failing to win at least once until his departure on June 1st 2000. However, as stats from O' Neill's time displays to us that it was not the man himself who got one over on Liverpool as The Reds managed to pick up 12 points from 24.
One of possibly the cruellest defeats at the hands of O' Neill's Foxes came in 2000 when the sides met on the 3rd of May, a week after the defeat from Chelsea at Stamford Bridge. Liverpool were in a fierce battle with Leeds and Chelsea for the coveted top 4 spot when The Foxes showed up at Anfield and produced a dominating display, winning 2-0. This didn't impact Liverpool's final league standing, however, as they managed to secure a 4th place finish with Chelsea missing out. When the Northern Irishman departed, Leicester began to struggle and were eventually relegated a season later, thus ending O' Neill's 'reign of terror'.
And Lastly…
This may sound strange and trust me, it may come across as an unpopular opinion but the biggest bogey team to Liverpool, is Liverpool. Yes, we have been a disappointing team when it comes to important matches in the past. Sure we've had some good moments which define our history (05, 06 etc.) but typically we often go missing in 'those' big moments. Last season for example, against Chelsea we had a manager who perhaps was too stubborn to change a simple tactic and play for a draw. We went for the all-out attack method which bailed us out so many times and we got shown up for it. A week later we crumbled against Crystal Palace (another small bogey team in the recent past) and effectively lost the title.
Another slight, less recorded slip up would be the 2-0 defeat to Middlesbrough on the 28th of February 2009. Liverpool were again close to leading the Barclays Premier League table upon arrival into this match and an own goal from Xabi Alonso and a strike from Tuncay Sanli sealed Liverpool's faith. Losing these 3 vital points and other careless results such as 0-0 vs Stoke City and 1-1 vs Wigan Athletic, teams which The Reds should overcome, proved to be pivotal moments in the season as Liverpool went on to lose the league by 4 points.