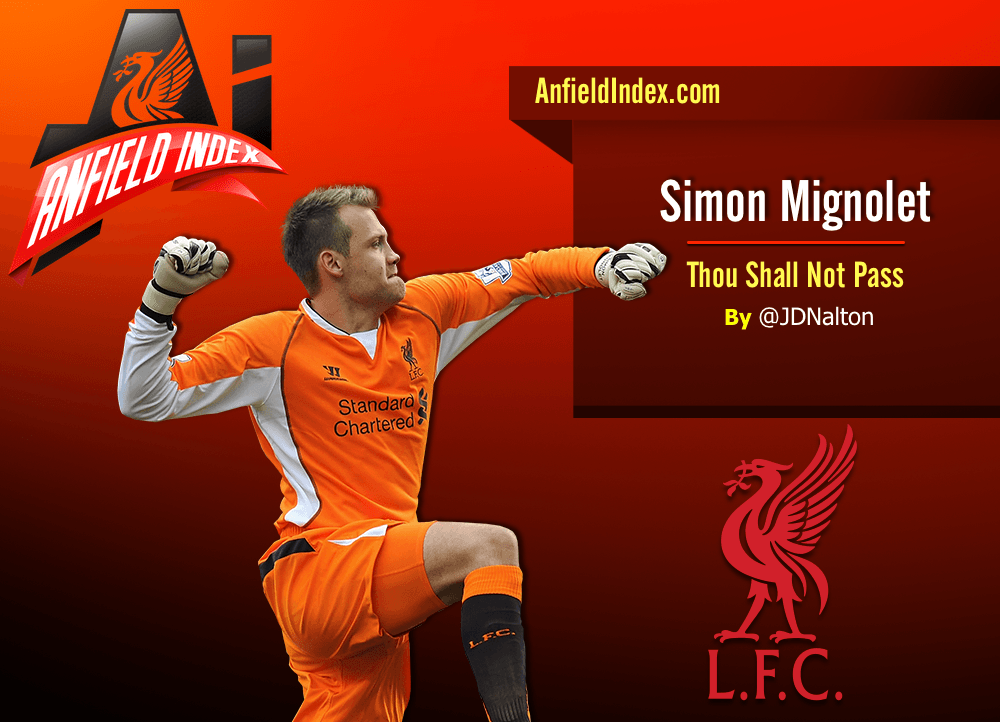 Simon Mignolet: Thou Shall Not Pass

On a popular football management game – the one inventively titled Football Manager – the attribute for a goalkeeper's distribution with feet is called "kicking", not "passing". This crude definition of one of the footballing aspects of a goalkeepers' game, indicates that there's still some way to go before they're considered the eleventh outfield player.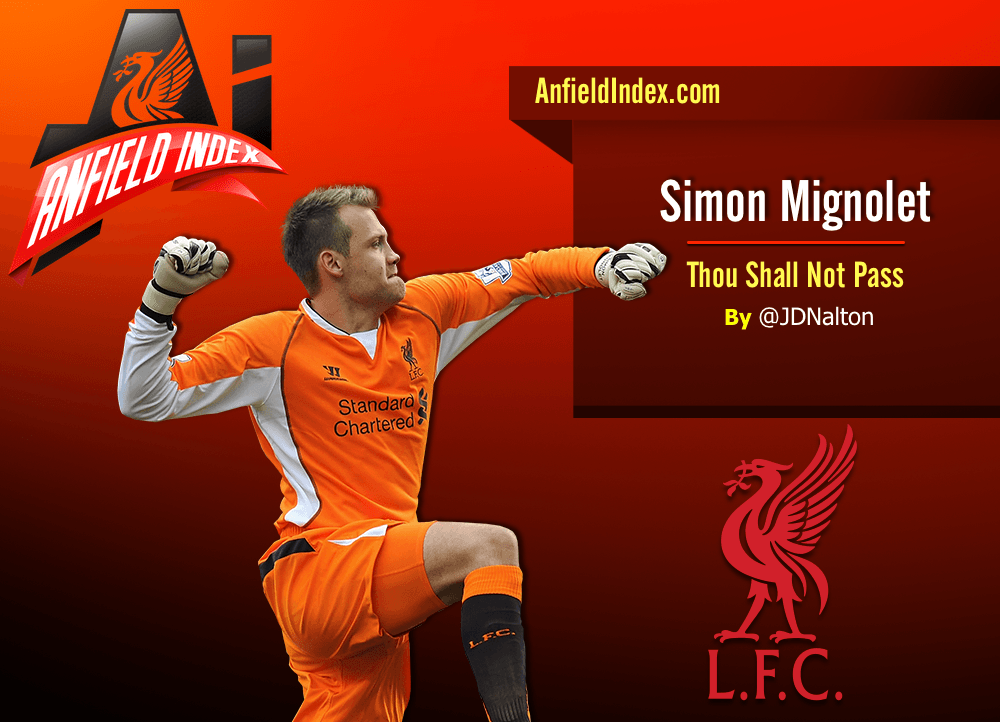 Brendan Rodgers is one of a growing number of coaches who would like their man between the sticks to contribute more when the team has the ball, and this increasing trend has seen goalies who "play football", have praise heaped upon them. At the head of the current movement is Manuel Neuer, who is considered one of the best players in the world thanks to a combination of traditional goalkeeping skill and outfield prowess.
This said, the sweeper-keeper isn't a new phenomenon. Colombian 'keeper Rene Higuita is one famous example of the role amongst several others in the history of the game, but his exploits were often viewed as crazy and irresponsible as opposed to groundbreaking or pioneering. The sweeper-keeper was once a novelty, but for some managers it's now almost a requirement, and Brendan Rodgers is one of those managers.
So why did Liverpool sign Simon Mignolet? He was a goalkeeper renowned for his excellent shot-stopping ability in a Sunderland side where he had lots of practise, but never one known for his skill on the ball. The thinking could only have been that the ball playing skills could be coached into him, and his shot stopping ability was so good that it meant the risk that this coaching might not work was worth taking. After all, in the system with which Liverpool saw relative success in the 2013/14 season, they would need a keeper who was exceptional in a one-on-one situation, such was the side's disregard for defending.
The transformation of Mignolet into the eleventh outfield player didn't quite work out. He's never been a comfortable passer and it looks like he never will be. Despite improving slightly in this aspect of the game, the things being asked of him were beyond his ability, and his mistakes in possession were affecting his confidence. This was then detrimental to areas of his game which were previously strong.
A summer transfer splurge saw Liverpool spend £20m on one player in an attempt to fix the core of Liverpool's defence but Dejan Lovren's arrival made things worse in the early part of the 2014/15 season.
The lack of trust amongst the triumvirate of goalkeeper and centre-backs led to many a nervous moment on football grounds across the country, especially in front of a tense Anfield crowd. The three of them held no power or conviction, and opposition attackers would prey on their weaknesses.
Eventually the Liverpool manager realised things had to change. Simon Mignolet was dropped after 15 consecutive league games, with Brad Jones stepping in. The Australian was far from an ideal option, but during his handful of games in the side prior to picking up an injury, he at least made the defenders look more confident of what was behind them when in possession.
Dejan Lovren was finally dropped for good after the 3-0 defeat at Old Trafford, and at the same time a new formation was brought in to offer a safety net for Liverpool's precarious defence.
Mignolet eventually returned to the fold thanks to the injury to Jones, but Mamadou Sakho and Emre Can came into the defence either side of Martin Skrtel to form a back three. In this set-up Skrtel is often the last pass when the team are building play from the back, with Sakho and Can offering good ability on the ball either side of him.
The Belgian keeper will occasionally get involved in the build-up with a short pass to one of the centre-backs, but if there's a slight hint of doubt he kicks it long. There's now less responsibility and culpability on the shoulders of each player, and the core back-three turning into a core back-four means that if they do make a mistake, it's likely that a team-mate will be mopping up.
One aspect of Brad Jones's game Mignolet could learn from his his throwing. It's not necessarily anything to do with distance (as it was with another great attacking 'keeper – Peter Schmeichel), but the quickness of the throw and the ease with which it can be received, which can then launch an incisive counter-attack.
A ball rolled into a team-mate's path can make a big difference when it comes to being a step ahead of the opposition, whereas a ball thrown at a player rather than to him can take vital seconds out of a quick break.
The 3-4-2-1 formation gives Mignolet three centre-backs, two central midfielders, as well as two wing-backs to aim for with throws or kicks, and on top of that he can always go long to one of the three attackers. Whilst none are target men in the traditional sense, it's better that the ball is lost or goes out of play further up the pitch, than around his own 18-yard box.
Below: The success of Simon Mignolet's distribution from goal kicks. Shows how short passes from goalkeeper from centre-back were abandoned somewhat at the end of 2014, leading to a lower success percentage.
In addition to this change in system, a recent interview with the press revealed that there has also been a change in his mental approach to the game. He commented that his fiancée, as well as the club's goalkeeping coach John Achterberg, came up with the same tonic to turn around his lack of form from a mental perspective. They suggested that he think less, and act more. Mignolet said:
"I tried to change and just make a decision – rather than thinking too much – because then you are doubting what to do and you are losing time and don't have that, especially in the Premier League. After that I made sure I acted and was more decisive and commanding, and ever since it has gone very well. I am very pleased with what we changed"
Whilst Mignolet is definitely a kicker and not a passer, the change in system coupled with some words of wisdom from those close to him, both at the club and away from it, have seen him return to doing what he's good at, and doing it well. If Liverpool are to finish in the top four or win one of the cup competitions, then the Belgian will need to remain at the top of his game for the rest of the season. To paraphrase Rudyard Kipling:
"If you can keep your head whilst those in The Kop are losing theirs, you'll be Liverpool's number one, my son."